Every golf resort undergoes a renovation eventually. But few extend over a decade, cost $200 million, and keep going through multiple ownership changes. Omni La Costa Resort north of San Diego recently finished—finally—just such an arduous process in an attempt to regain its former glory as a must-play destination on the Southern California golf landscape.
When La Costa opened in 1965, it attracted a Hollywood who's who (Sinatra, Hope, Crosby, etc.) to Dick Wilson's original 18 followed by a hybrid course that included holes from a second 18 designed by Joe Lee. The PGA Tour's Tournament of Champions was held at La Costa from 1969 to 1998, the World Golf Championships Accenture Match Play Championship in 1999 and 2000 and then from 2002–06. The roster of winners was star-studded—the wall of champions features names such as Player, Nicklaus, Miller, Watson, Trevino, Mickelson, and Woods—but less than stellar course conditions drove away the high-profile events and the resort lost much of its luster.
While renovations to the lodging and living areas began in 2002 (all 611 rooms have been redone, public spaces enhanced, and new restaurants introduced), work on the golf courses didn't start until 2011. The old North Course was rechristened the Champions after a total renovation by Damian Pascuzzo and Steve Pate (winner of the 1988 TofC at La Costa), who began by focusing on drainage and turf. By the end of the year, every green had been replaced and four holes redesigned.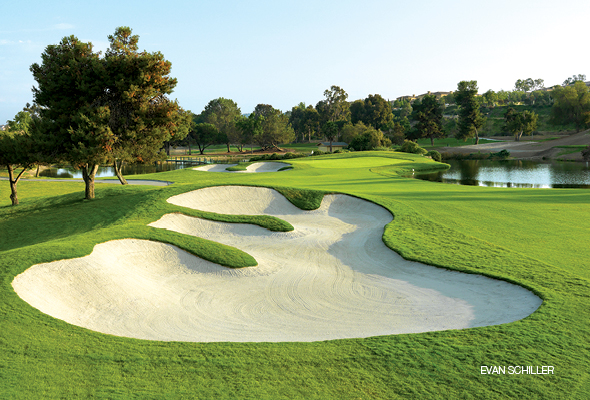 Work on the slightly less challenging Legends Course (formerly the South) was completed last November. Every green was redesigned and enlarged, tees and bunkers were completely rebuilt, and a handful of holes dramatically altered to improve and modernize the layout.
The differences between the adjacent tracks are most noticeable on the greens: Champions' are larger and feature more subtle breaks; on Legends, many are humpbacked to bring sharper contours into play and emphasize chipping.
"The Champions Course lays everything out in front of the player; there are no hidden surprises but it does require careful consideration of each shot and the proper angles of attack," says Pascuzzo. "With the Legends Course, we stayed with the Dick Wilson routing but opted for a different style for the greens and bunkers. We created a layout where golfers can get off the tee, find their ball, and move on to the green. That's where we challenge them—around the green, with the putting surface and green surrounds that create different kinds of recovery shots."
The resort's current owner, Omni, purchased the property last year after all the expected world-class amenities were in place. Lead among them is the world-renowned spa, which is joined by a Performance Fitness Center with both weight reduction and golf-specific programs; pools for adults and children; a tennis center with 17 courts; even the Deepak Chopra Center for Wellbeing, where you may be able to banish negative swing thoughts forever.
Through all the changes and expense, golf remains front and center. The California State Amateur is coming to La Costa in June, the first of what could be the start of a new tradition of quality tournaments. Next year, the resort will celebrate its 50th anniversary—and, it is hoped, a return to star status.