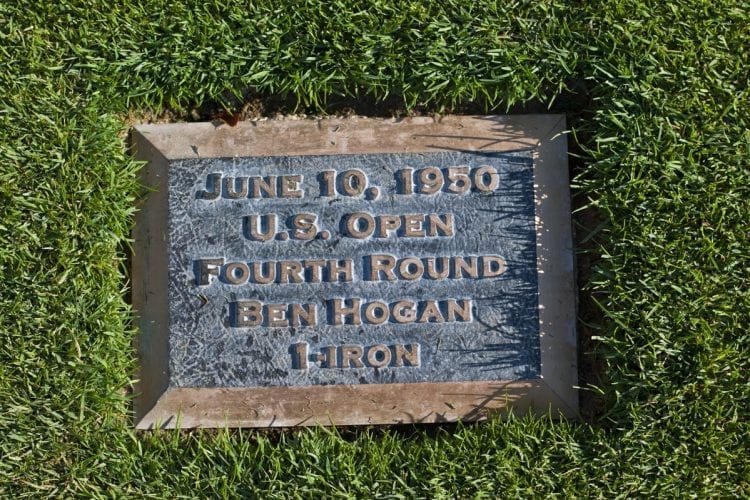 Mid-June, 1950. I'm a 20-year-old junior from LaSalle College in skimpy khakis, a tee shirt, and scruffy sneakers, riding two buses, two trains, and a subway up Philadelphia's ancient Broad Street to 20th Street. And paying not a penny for the privilege: 1950 kids did not pay—period.
I'm bound for the Golden Anniversary Open. Into the melee on Ardmore Avenue I trudge, bent on reaching Merion as the second round of the hallowed Saturday wore on.
Ben Hogan's 69 on the second day for 141 had left him two strokes behind Dutch Harrison, one back of Julius Boros, Jim Ferrier, and Johnny Bulla. He was limping noticeably on his left leg, a painful remnant of the auto accident that had nearly killed him 16 months earlier. Each night he and wife Valerie unwrapped the heavy elastic bandages he wore from his ankles to hips. Then he would soak in a cauldron of water for at least an hour. So far, from what I'd been told, he'd avoided muscle cramps.
Asked on Friday night whether he could survive the 36-hole grind that was then the finale to the Open, Hogan replied with uncharacteristic humor, "Don't worry about me. When I come up the final fairway a second time, you'll think you're seeing another Jesse Owens." Saturday's morning round had seen the lead transfer to the mustachioed Texan Lloyd Mangrum, who had returned a fine 69, the only sub-par round of the morning. Harrison was in second a stroke back, and Hogan was tied for third, two behind, with Cary Middlecoff and Johnny Palmer.
Hogan played the first nine in the afternoon decently, that's all—eight pars and a three putt from 30 feet for bogey at the 3rd. But Middlecoff could do no better than 39. The greens were now hostile—concrete to the irons, glass to the putter. This observer, watching his first Open, saw Sam Snead, uncomfortably perched above the par-four 12th, putt straight downhill off the green and into the fairway. Way into the fairway!
On the strength of his lackluster 37 in the third nine of the day, Hogan had backed into the lead. He was four over par for 63 holes, Middlecoff and Mangrum were six over, Harrison, Joe Kirkwood, and Joe Nary seven. If Ben could play the inbound nine in par, he might well finish with 284, three strokes to the good on Philadelphia's George Fazio, who had finished well earlier. His opponents now were Middlecoff, Mangrum, Harrison, and bone weariness.
By now, every step had become agony. He no longer marked his ball on the greens: Middlecoff had kindly assumed that responsibility. And he no longer picked his ball out of the cup: That was his caddie's task. I could not discern the aching, swollen legs. What I did see was the healthy tan, the lean, muscular back and chest, and above all, the massive forearms.
When Hogan parred 10 and 11, the Open was his for the taking. Mangrum had managed to tie Fazio at 287, but if Hogan could play the final seven holes in even par he would win by three. Even a couple of bogeys would be acceptable, the cushion was that fluffy.
The high drama commenced back in a tunnel through the woods, where the 12th tee is sited. Hogan nailed his tee shot through the embowered trees safely into the left center of the fairway but nearly buckled to the ground as his legs abruptly locked. Struggling to maintain his balance, he leaned toward Harry Radik, a friend standing at the edge of the tee. "Let me hang onto you for a little bit," Hogan whispered through a spiral of cigarette smoke. "My God, Harry, I don't think I can finish."
"I thought he was going to collapse," Middlecoff said later.
Hogan gingerly tested his legs. They felt like stone.
"I eased off to hit my second shot, a 7-iron, to the back of the green," he said later. His delicate lag putt from on high gathered momentum as it ghosted down the short slope to finish about seven feet past the cup. His tentative comebacker failed to hold its line. Bogey and one stroke was gone.
Middlecoff and I and Hogan and Radik and a crush of hundreds more crossed the curbstone and hedges at Ardmore Avenue. Hogan's mouth was set in a tight line. He was not even touching his white cap when the gallery applauded. He parred the short, par-three 13th as well as the par-four 14th, and at 15 struck the ideal drive, a wisp of a fade to drift it away from Golf House Road, so unnervingly close on the left. His iron up the hill, perhaps an 8, may have been the purest shot he hit that afternoon, a high, elegant floater pulling up about 25 feet below the cup.
With every chance of birdieing the hole, he bogeyed it—three putts (two wishful jabs and a tap). The huge gathering was silent, bewildered. The failure of Hogan's legs was nothing compared to the failure of his nerve. But, of course, it was impossible to separate the two.
His approach to 16 left him just off the green, but he chipped to four feet and this time saved his par.  Two more pars on 17 and 18 would give Ben the championship. His 2-iron from the 17th tee (the hole measured 224 yards) was perhaps too precisely struck. The Hogan fade never materialized and the ball found sand. He played a lovely soft explosion to five feet, but again failed to hole. Hogan trudged over to the final tee. He had walked close to nine miles since breakfast on those pitiful limbs.
The 18th played 458 yards, up over the quarry, down into a little valley, then up again and over a gentle swale that is open across the front and that, once crested, inclines to slip off to the back.
A par to tie for Ben. The thought of fashioning a birdie, a three to win, crossed his mind fleetingly. But the supreme perfectionist was also the supreme realist. His objective was simplicity itself—drive into the fairway, find the green, get down in two putts, live to play tomorrow.
After accomplishing his first objective, Hogan weighed his club choice on the long second shot and promptly relinquished any notion of fading a high 4-wood at the right-hand pin, behind
a bunker. Instead, he determined to aim for the front left of the green, even if that meant leaving a putt of 40 to 45 feet. And he elected to use his 1-iron.
The exhausted man now needed to summon the concentration to make one last good swing, and with the most testing club in the bag.
He lashed away as though there could be no doubt but what he must do, what he had willed it to do. It drew up some 40 feet from the hole. As he hobbled up the slope to the green—a figure somehow combining, at that moment, pathos and nobility and gallantry—there was no welcoming cheer from the crowd.
"I thought my long putt would break slightly to the right," he noted later. "Instead it broke left and I still have a four-footer. I was so discouraged, I thought I'd blown the tournament. If you can't hold a three-shot lead through six holes, you ought to be someplace else. Then I thought the devil with it. I didn't take any time with this putt. I didn't rush, understand; I just slotted my putter behind the ball and rapped it. It went right into the middle."
Hogan had shot 74, four over par. His card showed 14 pars and four bogeys. It did not show that he had needed 38 putts, had hit 16 greens in regulation, had never one-putted. But he knew.
In the locker room, Mangrum greeted him, saying, "See you tomorrow."
"Yep," Hogan smiled tiredly. "See you tomorrow." The afternoon round had taken more than five hours.
The next day, Sunday, June 11, the playoff began at 2 p.m. The extra hours of recuperation had clearly served Hogan well. He arrived at the first tee looking fresh and if there was no spring in his step, he was at least buoyed by the realization that his newly bandaged legs would have to carry him only 18 holes.
After 14 holes, Hogan at even par led Mangrum and Fazio by two,  but when Mangrum made a flawless birdie at the 15th, he cut the margin in half. Then Mangrum made two mistakes, the second of which was lethal. First he drove into the rough at 16, leaving him unable to reach the green. He pitched his third shot to about 12 feet, outside of where Ben's second lay. Then, as he took his stance to putt, he looked down and saw an insect crawling across his ball. With no hesitation, he placed the toe of his putter next to the ball to mark its position, lifted the ball off the green, and blew the bug away. He then replaced the ball and holed the 12-footer. Hogan missed his birdie try.
"We went to the 17th tee thinking the hole was halved," said Hogan. "Then a USGA official told Lloyd he was being penalized two strokes for lifting his ball to blow off the bug. In those days, we couldn't clean our ball. We could only lift it to mark it."
Mangrum, known to risk large sums on the role of the dice, was told of the penalty by the USGA's Ike Grainger and asked, "You mean I had a 6 instead of a 4?"
"Yes," answered Grainger.
Mangrum stared at him coldly for a moment, then added mirthlessly, "Well, I guess we'll all eat tomorrow."
Three strokes ahead now with only two holes to play, Hogan snaked in a putt of at least 50 feet on the 17th for a two, then parred the 18th for an inward 33 and a total of 69. Mangrum had 73, Fazio 75.
It was over. The improbable triumph was Ben's. He had reclaimed the national championship. "Merion meant the most," he said, "because I proved I could still win."
In the cramped press headquarters, the victor said, "You fellas have been good to me. Real nice. But I'm damn tired of being called an invalid. I wish you wouldn't write it any more." They did not grant him his wish. "Back from the Grave" was good copy, and they played it for all it was worth.
James W. Finegan, a member of Pine Valley and Philadelphia Country Club, is Philadelphia's pre-eminent golf writer and historian.