The great recession produced many boom-and-bust stories about golf communities: Rapidly rising prices followed by a shocking plunge; homeowners and developers losing their shirts and more; lawsuits, bankruptcies, fire sales.
This is not one of those stories.
Most of the communities at the very top weathered the storm, perhaps none better than Kiawah Island on the South Carolina coast just south of Charleston. Thanks to a unique location, good stewardship, and geographically diverse customer base, Kiawah—which celebrates its 40th anniversary in 2016, as well as the 25th anniversary of the "War by the Shore"—didn't take it on the chin like a lot of communities did.
True, Kiawah was recently sold: A Charlotte-based, boutique private real estate investment firm, South Street Partners, bought the community two years ago from the local-family development dynasty that had owned it since 1988. As part of the transaction, South Street acquired 500 developable lots; the Kiawah Island Club with its two courses (each with a clubhouse), Sports Pavilion, spa, and Beach Club; the Kiawah Island Utility Company; and Freshfields Village, the on-island shopping center. (The famed Ocean Course, four other resort courses, and the five-star Sanctuary hotel are owned separately and were not part of the transaction.)
"This was a once-in-a-lifetime opportunity," says Chris Randolph, one of South Street's four principals. "Ultimately, much of the credit is due to the previous ownership. They just did a very good job of keeping this place as a best-in-class type of asset. There was never any real overbuilding."
And never much of a downturn. Even in the depths of the recession—between 2008 and 2010—Kiawah managed to sell a total of nearly 600 properties for close to $800 million. Last year, 273 properties were sold for more than $300 million, including one oceanfront lot that went for $22 million—the largest real estate transaction in South Carolina history (and more than what the Kuwait Investment Company paid for the entire island when it first took the property private in 1974). This year, Kiawah is on target to do pre-Recession-type numbers: In 2007, 287 properties were sold for $441 million.
"If you look at pricing and sales in the second-home market, even during the worst times, Kiawah got dinged but there was no real kind of bottom to it," says Randolph. "It was more of a dip and less of a kind of 'V.' So we took a pretty bullish view on obviously not only the island but on the recovery story in general. And the nice part of it is that the remaining real estate is some of the best that Kiawah has ever offered."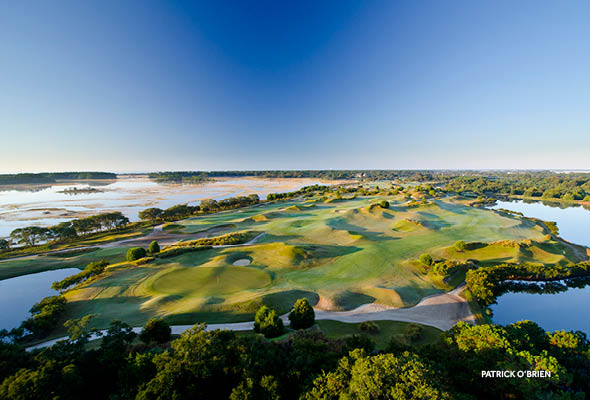 Given how Kiawah has developed since offering its first lots and homes in 1976, that's saying something. You can't play the outstanding Pete Dye-designed Ocean Course—site of the 2012 and 2021 PGA Championships as well as the 1991 Ryder Cup (aka, "The War by the Shore")—and not be impressed by the grand yet tasteful design of the homes you see, a testament to the commitment of the architectural review board. The homes sit well back across the marsh, preserving the views and the serenity of the course.
"Do not disturb" is a common refrain at Kiawah: Self-imposed setbacks keep development well away from the beach while hundreds of acres of dunes have been deeded to the local community association as permanent green space.
The 10,000-acre island also is the rare oceanside property where the beach is getting bigger. Because it is a depositional barrier island rather than an erosional one, the tides and surf add more sand than they remove, creating striking dunes covered with long-stalked sea oats that dance in the ocean breezes. One study found that the island gained as much as seven million cubic yards of sand over a period of 16 years.
For the past 40 years and through three ownership groups, a pro-conservation mindset has guided Kiawah's development. The master plan has always been to create value by maximizing the natural environment and the protection of wildlife. With its miles of oceanfront, maritime forests, and salt marsh, few places are as rich in natural beauty. Initial zoning allowed for 12,000 residential units, but a previous ownership group had cut that by more than half to preserve the natural habitat and make the homes even more valuable for the current 4,200 property owners.
Another constant has been the quality of the amenities. In the beginning, homeowners had access to the resort's facilities. In 1992, the Kiawah Island Club started taking shape with the opening of The Beach Club, which features a Robert A.M. Stern-designed, shingled clubhouse and three pools situated along the island's most expansive stretch of shoreline. The first course exclusively for members, the Tom Fazio-designed River, opened in 1994; it was recently treated to a major bunker renovation. Six years later came a second private course, Tom Watson's links-like Cassique, with its giant mounds, Scottish-style burn, and long-range views of the marsh. Each course has a clubhouse, and each clubhouse has a locker room elegant enough to live in. Members also have exclusive use of a large sports pavilion and spa.
Kiawah gets a boost from the resort, which enjoys a world-class reputation. It hasn't hurt that the Ocean Course has hosted major golf tournaments and brought the name Kiawah, along with its spectacular scenery, into living rooms around the world.
One of those attracted by the big events was John McCallum, 63, a banker from New Jersey, who has owned three different homes on the island since 1990. "It occurred to us that something like 300 million people watch the Ryder Cup and they're all going to discover Kiawah," he says. "That was a great initial launch pad for a much more widely acclaimed island and international publicity."
If that's what got McCallum there, the addition of first-rate amenities has helped keep him. "The developers went top-shelf the whole way. They really wanted to maintain the community and put a great deal of thought into it. It's been well-managed—great people and attention to detail."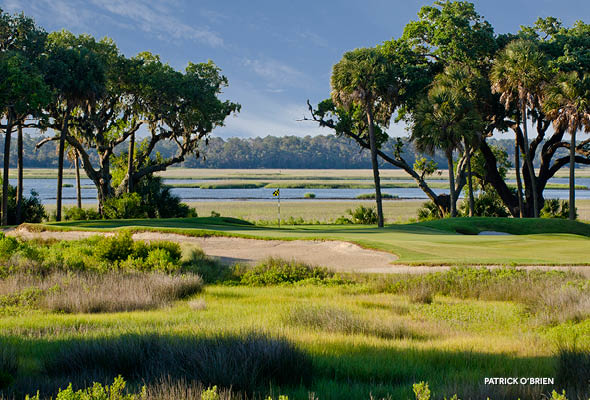 The new ownership group sees themselves not only as stewards but builders, continuing the commitment to adding amenities as good as those already in place. Recent additions include Ocean Park, an 80-acre green space that winds through a collection of 200 homesites, features a pool house, and serves as the site for community events. A sporting club for skeet shooting and turkey hunting just opened. They've also introduced a family program called "GoKiawah" that offers amusements both on and off the island, everything from kids games (offered both during the day and while parents enjoy dinner) to shuttle service—by bus or by boat—to and from nearby Charleston and its thriving food scene. Randolph jokes that "We're in an arms race with Charleston" when it comes to fine dining, but given the recent upgrades to the club's food and beverage services, including new "comfort stations" on the courses, eating at home has never been better.
"The old owners did a fantastic job, but it's been a breath of fresh air with the new owners to see family- and kid-friendly things being done," says Adam Fuller, 44, who has three daughters between six and 12. "That was a huge add that was not there before. Our kids are beside themselves when it's time for Bingo."
Fuller, who lives in Atlanta and co-owns automotive repair facilities throughout the Southeast, looked at a number of golf communities on the East Coast before buying at Kiawah in 2010. While he might have been able to save a little money on a similar home somewhere else, he wasn't so much looking for a great deal as for a great place for his family. "My wife and I wanted to give our kids that same sense of freedom that we had as kids where you could just jump on your bike and go. We were really looking for a place we could create memories and spend a lot of time as a family together."
The day after Thanksgiving this year, the new owners threw a big "Party in the Park" at Ocean Park to show their appreciation to residents. No doubt the property owners feel a sense of gratitude, as well, because it's unique for a community to successfully retain its original vision through the decades and a change in developers.
The party at Kiawah Island has never really stopped.