by Scott Kramer
Three years ago, when Milwaukee-based travel consultant Brian Weis took a golf trip to Bandon Dunes, the airline charged him hefty extra-baggage fees for his travel bag of clubs. Upon reaching Bandon's pro shop, he noticed a FedEx truck out front, its doors wide open. "There was a massive dump of golf clubs," Weis recalls. "Those people had had the foresight to send their clubs beforehand."
Like many golfers, Weis thought traveling with his clubs was the least pricey approach. Plus, on the way back home, he could stuff the bag with dirty laundry. But then he began hearing about airlines forbidding golfers from packing non-golf items in their trave bags while raising the already obscene fees for second and third bags. He also saw how baggage handlers tossed around golf bags and began worrying that his clubs might snap, even in the sturdiest of travel cases. Plus, if the airlines were to lose his clubs, the most he'd be reimbursed would be $500—provided he could find the original receipts.
"Ever since Bandon, the only way I go on golf trips is shipping my golf clubs ahead," says Weis. "It eliminates so many headaches, like pulling my clubs through airports late at night when I'm exhausted. It's peace of mind."
There are a number of shipping choices. You can go directly to FedEx, UPS, and DHL, or enlist a golf- specific shipping service, such as Luggage Forward, GBS, or Ship Sticks, which use those same carriers but offer some advantages.
"We focus on tracking golf bags, so you don't need to," says Nick Coleman,CEO of Ship Sticks, based in West Palm Beach, Fla. "We have direct links to all points, so we can call hubs and reach customer service. FedEx will only give you a tracking number to follow online; we'll actually track your bag based on its scans. We'll know if and where a bag missed a scan. It's a much more effective service that's actually cheaper."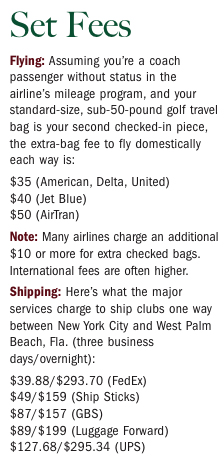 Companies like Ship Sticks work in volume and pass the savings, which can be considerable, to the consumer. And they're hassle-free: Just pack your golf travel bag and they do the behind-the-scenes legwork, necessary customs paperwork, picking up, and delivering.
Plus, they offer security: "We'll get the bag to you by your first starting time," says Coleman. "If for any reason the bag is delayed—even though it's not our fault—we pay for your rental clubs and give you $200 of pro shop credit. We also build $1,000 base insurance into our price. Airlines won't." Nor will FedEx, which charges extra for declaring a package's value.
There are some downsides to shipping. The farther the destination and the faster you need the clubs, the more it costs (international shipping is especially expensive). Some courses are reluctant to accept shipped sets so check first (the shipping service should do this). And shipping clubs home means they won't arrive until a few days after you do.
If you're planning to play only a couple of rounds, it may make sense to rent clubs (about $50 a round). Many high-end resorts offer newer-model clubs in R and S flexes (but they're not your clubs, which means getting used to them).
Local club-rental services are springing up in popular golf hubs, such as Phoenix, where Travel Golf Center charges $35 to $55 a day for new, fit-to-your-specs TaylorMade, Ping, or Callaway clubs, collected at the airport or delivered to the course.