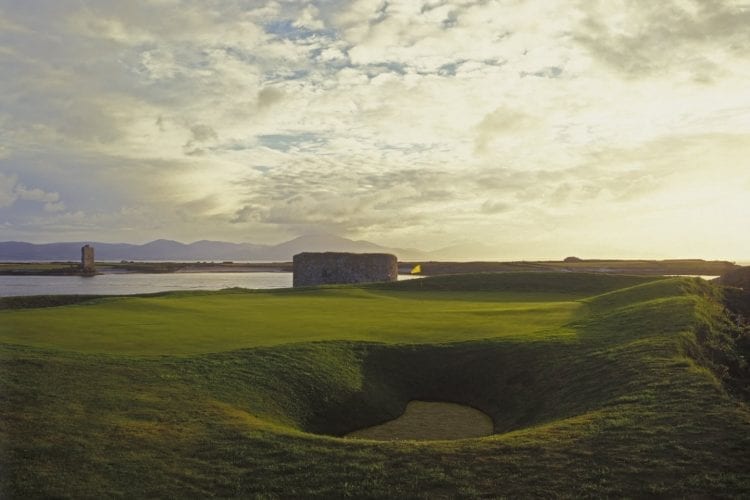 The elderly gentleman clapped his hands and signaled thumbs-up as he chugged by in a golf cart on the 12th fairway of Tralee Golf Club. Considering I had just played a 9-iron lay-up and still sat 100 yards shy of the green on this long par 4, I wondered if he were complimenting me or just playing the wise guy.
Turns out he was simply happy to be out on this rollicking Arnold Palmer layout that sits atop a rugged swath of Ireland's southwest coast. "That was Chuckie," says Palmer Course Design VP Harrison Minchew, immediately recognizing my one-man gallery when I related the story. "He had a stroke and can't get around as well anymore, so the members gave him a cart. He goes out and rides the course almost every day."
Clearly, Tralee people love their golf. Ed Seay, Palmer's long-time design partner, recalls working on the beachside par-3 16th hole on a frigid day. "We had to hide in a concave sand dune for about 40 minutes," Seay says. "It was raining and blowing so hard, little ice chips blistered my eyes behind my sunglasses. The captain told me, 'We'd be playing today if the golf course were finished.'"
That resolute spirit helped Tralee's membership secure this wondrous slice of linksland eight miles northwest of Tralee proper. The present location, on a rocky peninsula known as Barrow, is the club's fourth site 1896, each of the previous in-town tracts having been plagued by rainfall and poorly draining soil.
Not so the Barrow property. The front side is an open and wind-whipped expanse that loops along Tralee Bay, across which are sublime views of the Dingle Peninsula and the Slieve Mish Mountains. The inward half treks through a violently rising and tumbling dunescape that's rife with constricted fairways, plateau greens and steep falloffs into chasms of thick, Titleist-gobbling grasses.
The holes are thrilling, to be sure, and have often been likened to Palmer's own swashbuckling style of play. But Tralee has long owned a reputation for being too harsh—concerns that have been addressed with piecemeal "softening" renovations over the past several years, a project that's finally set for completion this spring."I tried to emulate the other Irish and Scottish courses by doing minimal gradework in the fairways, but looking back, I needed to grade more," says Seay. "On some of those holes you'd hit it down the middle and it would wind up in the rough. If that happens every time, you're going to destroy the enjoyment of the game."
Even with the revisions, the 7,000-yard layout still has plenty of teeth, especially the 458-yard 12th. The impetus for my meek lay-up second shot was a yawning gully that falls some 40 feet in front and left of the plateau putting surface.
The 399-yard 8th is another tester. It swings left from tee to green, hugging the beach all the way and daring you to hit driver to a sliver of barely visible fairway—a risk/reward option that easily could result in you re-loading for your third shot from the same spot.
That 4th hole has a large sandstone rock beside its fairway. Legend says it was hurled from a neighboring mountain peak by the mythical Irish hero Cuchulain. A close inspection of the rock reveals ripples that are said to be the imprint of his giant fingers. Whether you believe that or not, it's hard to dispute the slogan printed on the cover of Tralee's yardage book: "Created by God … designed by Arnold Palmer."