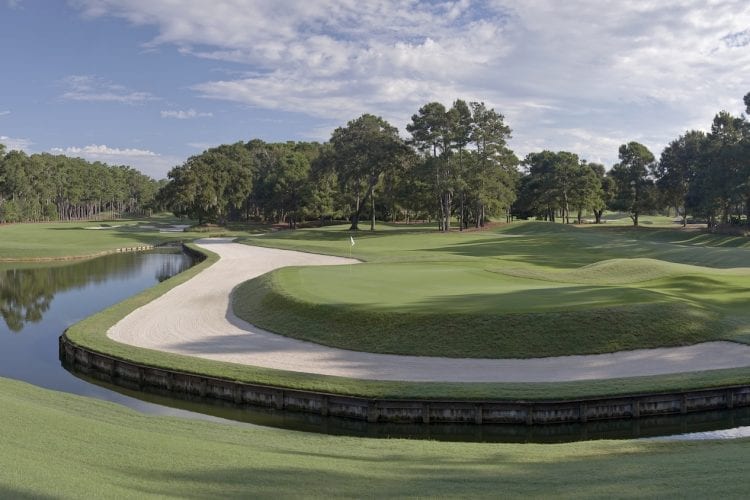 In the quarter-century since former commissioner Deane Beman unveiled his concept of a PGA Tour-operated network of fan-friendly golf venues, the Tournament Players Club (TPC) "brand" has quietly morphed into a machine for selling homesites and golf memberships.
While certain facilities in the TPC portfolio—including the very first, the TPC at Sawgrass—are praised for their architectural brilliance and tournament-hosting capacity, the remainder have not lived up to the standards set by Pete Dye's 1980 design in Ponte Vedra Beach, Fla. A typical TPC club today stands for first-rate golf operations and upscale real estate ventures, but not necessarily strategic and memorable golf well-suited to hosting the game's top players.
"They're too caught up with marketing, and not enough with the details of good design," says one current tour player, who insisted on anonymity to avoid being fined by his association. "The bottom-line obsession would bother me less if we could play some fresh and interesting holes instead of the same thing over and over again."
Of 41 official tournaments on the PGA Tour's 2005 schedule (not including majors and World Golf Championship events), 10 are staged on TPC courses. With more TPCs on the drawing board, can the "stadium golf" concept be resuscitated, or has it been permanently hijacked by the tour's business interests?
"The [tour's] corporate structure has now somewhat diluted what was an ingenious idea Deane Beman," says architect Bobby Weed, who headed the tour's in-house design division for six years before starting his own successful architecture firm. "Unless the tour can build more TPCs like Sawgrass, Scottsdale and River Highlands—creating a discernable motif—the entire concept becomes further weakened. Shouldn't the game of golf drive the business side of TPCs?"
According to players and architects questioned about the network's 10 daily-fee and 15 private TPCs, the positives are undeniable. By providing rent-free venues for certain tournaments, TPCs have boosted purses and increased charitable donations by some $50 million. And they've always owned a reputation for impeccably managed facilities with a focus on golf and environmental sensitivity.
A typical TPC is run by PGA professionals skilled in providing a quality golf experience. Members of private TPCs have access to other courses in the network, while PGA, Champions and Nationwide Tour players relish full access to world-class practice facilities. (Vijay Singh, for example, carries out his legendary practice regimen at Sawgrass when he's not on the road.) Architecturally, however, the TPC brand has been tainted by a number of courses that fail to foster exciting competition and others that prove unenjoyable for everyday play.
The TPC family was born when the tour purchased 415 acres of "soft marshland" (translation: North Florida swamp) in Ponte Vedra for $1 from a shrewd developer who later cashed in on surrounding land sales. Beman's original goals were to provide "better viewing and a good test of golf" and to accommodate "all those things necessary to put on a successful tournament."
The TPC at Sawgrass opened to less-than-glowing reviews, Beman worked with Dye and a player advisory committee (Jack Nicklaus, Ed Sneed, Jim Colbert) to iron out the kinks. Within 10 years of its debut, Sawgrass had been altered more times than Cher's facade, but the annual home to the Players Championship is a polished and stern-but-fair test of golf almost universally praised by tour pros today.
Sawgrass was originally planned as an exclusive club with 40 charter members, but Beman instead adopted the successful financial and golf-focused model created by then-burgeoning Landmark Land Company (La Quinta, PGA West)—and a new source of tour income was born.
In the early days, a TPC course had to host a tour event to maintain its licensing agreement.That once-strict standard was loosened after the Honda Classic was moved from the TPC at Eagle Trace in Coral Springs, Fla., a windswept Arthur Hills design that proved unpopular with players. Its successor, the Mark McCumber-designed TPC at Heron Bay, met a similar fate and is now up for sale.
These days, a TPC facility no longer need host an event to retain the TPC name. This new policy opened the door to several real estate-focused projects that marketed the tournament-golf concept, except their developers forgot to build a golf course suitable for championship play. At TPCs in Boston and Potomac, Md., for example, tour players received letters in their lockers asking them not to publicly criticize design features. It may bear mentioning that, other than the Players Championship, Byron Nelson Championship and Deutsche Bank Championship (in which funds go to his foundation), TigerWoods has played only one tour event at a TPC course in the past five years. On the Champions Tour, the SBC Classic chose not to move from Valencia Country Club across the street to the new TPC at Valencia, which one player says "may be the worst course in the world."
Then there are TPC properties like Jasna Polana, a secluded, baronial private community occupying the former J. Seward Johnson estate in Princeton, N.J., and a one-hit wonder as a tournament site (a Champions Tour event in 2000). A visitor might wonder how a golf community could be more alluring, but at the same time one could ask: Why is this a TPC club?
Architect selection has been a bone of contention with many players, including the unnamedsource who says, "I'm sorry, but it's time to hire someone besides Jack or Pete Dye. "Nearly every TPC project has a "player-consultant" in the design credit, but those names are often selected for marketing purposes or simply because the consultant hails from the region where the course is being built.According to full-time architects who work on TPC projects, rarely is an interest in course design a prerequisite for a consulting gig.
Architects also find their hands tied by bizarre design guidelines derived from player surveys. The resulting template of standardized green, tee and fairway sizes leads to a sameness that limits an architect's hand. Tom Weiskopf, who co-designed the TPC of Scottsdale with former partner Jay Morrish, was sufficiently irked by these guidelines to publicly declare he would never do another course with the tour (although he has since designed the TPC at Craig Ranch in McKinney, Texas).
It's TPCs like Weiskopf's at Scottsdale (home to the FBR Open), along with the TPCs at Sawgrass and Connecticut's River Highlands (Buick Championship), that continue to be praised for melding the needs of the field, the galleries, television and the bottom line. These more successful TPCs also prove fun to play for the average golfer and exciting for fans watching at home. Not surprisingly, their popularity begins with architectural integrity.
"They create that arena atmosphere," says Weed, who did the tour's redesign work at River Highlands and Sawgrass, and also co-designed three other TPCs. "All you have to do is attend one of those three events and you'll know that's about as exciting as it gets on the PGA Tour."
Weed points to a common denominator that he says sets Sawgrass, Scottsdale and River Highlands apart: an absence of real estate development within their routings. "They're all core courses. You have instant integrity on a core golf course that you don't ever get once you start stretching it with road crossings or out-of-bounds on both sides of the hole."
Within that core, the architectural details also elicit heroic play. "Scottsdale is cool because down the stretch they've got a reachable par-5, a driveable par-4 and a shorter par-3," says architect and former tour player John Fought. "All those elements are exciting. Just as on the back nine at Augusta National, it's exciting not simply because they're all bruising holes, but because they require so much thought."
River Highlands sports a watery, drama-filled finish highlighted by its driveable par-4 15th. Sawgrass' short par-5 16th has probably impacted tournament outcomes as much as Dye's famed island-green 17th. Combine well-balanced risk-reward elements with the massive crowds who envelope the action on these holes and the atmosphere becomes electric.
ABC golf producer Mark Loomis says the ideal TPC offers "finishing holes conducive to large galleries … the possibility of significant changes in the leaderboard." He cites Sawgrass and River Highlands as perfect examples because "eagles are possible, as are bogeys and double-bogeys."
Loomis loves River Highlands' short 15th because "it's a par-3.5 but driving it in the water is possible and it's a hard up-and-in from the right if you bail out." As for that infamous 17th at Sawgrass, Loomis says "it's exciting to see the best players in the world sweat over a 9-iron. These holes give the viewer the feeling that no lead
is safe."
Looking to the future of TPCs, contemporary architects favor a return to classical design elements, which they say would enhance the experience for weekend golfers and tournament players alike. This means strategy, unpredictability, intimacy, sandy-soil sites and more holes that fall into par's gray area.
"I think you can still build 'half-par' holes that elicit creative options," Weed says. "Too many courses today are played specifically from the physical standpoint. Mental agility doesn't come into play."
Architect Brian Silva would like to see more holes that require players to "put the ball down on the ground during an approach shot. I'm just so entirely exhausted watching these players play darts, and darts with no thought or invention."
Silva would also like to see more driveable short par-4s with a "Redan feel" where players "would have to bust a shot to reach the kick slope that would help them onto the green." He also says TPCs need more "greens where they don't hit right at the pin, but hit to a spot and then let the green take it to the hole."
Most TPCs have been designed to fit the modern player's target-golf approach. But Fought believes unpredictability is what creates exciting golf. "Why should the hole have to fit the player's shot?" he asks. "The players are concerned about getting from point A to point B in the least amount of strokes. They don't want any distractions and they don't want any unpredictability."
Fought also says TPCs need "a couple of places to watch three or four holes. Having a few little intimate spots is so interesting. Just look at Amen Corner and everything that goes on there."
"It would be cool if somebody could build a TPC where they could use natural contours to fit the spectators in with natural features, so that it's not this constant series of dug out holes with ridges up the sides," architect Dana Fry adds. "They are just so overbuilt. They're not really places where I would want to play golf. With few exceptions, you're not going to learn a lot about golf design when you experience them."
Fry floats an intriguing idea: What if Bill Coore and Ben Crenshaw built a TPC? "They would probably build a course that wasn't 7,500 yards," he says, "and they would put some interesting green contours in front of the players."
But could the PGA Tour ever hand over design chores to some of the modern game's more provocative designers? "I don't know if they're open-box people," Fry concedes.
Still, Weed believes the tour has all the inspiration it needs to build more intriguing TPC courses in the future. "They need to just go back to those initial three [Sawgrass, Scottsdale, River Highlands] and see they had a formula that worked and set them apart," Weed says. "And they'd realize that the concept was phenomenal and ahead of its time."