Much as the "Intel Inside" label lets computer buyers know they're getting high quality, the TPC designation lends golf courses a certain cachet. The letters, we all know by now, stand for Tournament Players Club, but to many golfers they could just as easily mean "tough-playing course."
The oft-challenging TPC layouts share a number of recurring design features: short, risk-reward par-4s; grassy mounds and swales; tightly mown chipping areas; and at least one short-but-dangerous par-3, which often seems to appear at the 17th hole (Exhibit A: TPC Sawgrass).
Surely one of the top dogs in the TPC kennel is Snoqualmie Ridge, located about 30 miles from the high-tech, coffee-guzzling metropolis of Seattle. Replete with all the aforementioned bells and whistles, it's so highly lauded it even managed to unseat 1998 PGA Championship host Sahalee Country Club as Washington's best course in the Seattle Post-Intelligencer's annual rankings.
Designed by Jack Nicklaus, Snoqualmie lies at the center of a planned community owned and operated by the real estate division of timber giant Weyerhaeuser. After muddling through a decade-long morass of permitting and zoning headaches, and 13 years of planning and construction in all, the club finally opened in 1999. That's a much slower track than the one followed by many of its members, who average a mere 43 years in age—no doubt a reflection of young higher-ups from Microsoft and other Seattle-area tech firms.
So, was an aging bear like Nicklaus up to the task of satisfying such new-money sensibilities? Indeed he was. Like a roller coaster racing through the foothills of the Cascade Mountains, Snoqualmie Ridge alternately climbs and dips throughout its 7,264 back-tee yards, constantly building in drama to a go-for-it par-5 finish, which comes with a genuine stadium-golf green.
"I want to play golf in a pretty place," Nicklaus says. "And if I can design great golf holes, all the better. I take the aesthetics and the view lines and tie them together. That's what we accomplished at Snoqualmie Ridge."
With the beauty and strategy comes a healthy dose of TPC toughness. While Snoqualmie Ridge is fairly described as "generous off the tee," players are advised to show up with their iron games honed—107 bunkers dot the course, the majority protecting Snoqualmie's typically elevated, Providence Bentgrass greens.
The adventure begins with little fanfare, however—No. 1 is a moderately interesting, 554-yard par-5 that swings right and asks the golfer to favor the left side on the lay-up to allow for an open approach. No. 2 is equally uneventful, although it does at least confirm that greens here are firm, fast and true, and likely to be wearing scarves of short grass that tend to funnel balls into collection areas.
Just when you might be tempted to doze off, Jack serves up the caffeinated third hole. Aside from being the No. 1 handicap, this long par-4 tops out at the highest point on the property, whence views abound of the Cascades and nearby Mount Si.
The adrenaline continues to flow at the 426-yard fourth. Here an elevated tee seems suspended in the treetops, but well-grounded golfers will take care to avoid not only the hidden stream in the canyon below, but also the steep bunkering that runs along a ridge to the left.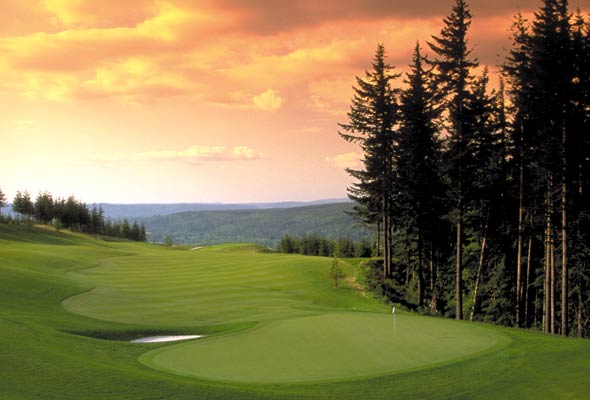 At the par-4 seventh, the green complex resembles a shelf extending from a hillside toward a line of firs. In fact, many of these enticing greens appear as flat fold-outs emerging from more severely tilted topography—an illusion that often disguises their many idiosyncrasies. Water enters the picture at the 529-yard eighth hole, where a small lake guards the green and makes a bump-and-run approach virtually impossible. On the very TPC-ish 207-yard ninth, a much larger lake stretches from tee to green.
The action on Snoqualmie's back nine is hot enough to melt surrounding glaciers. If you can negotiate a minefield of pot bunkers with your drive at the 353-yard 10th (appropriately named "Bunker Hill"), you'll face but a short pitch to the green. The 426-yard 12th offers a look at what may well be the tallest waterfall visible from a golf course anywhere: Snoqualmie Falls, all 268 feet of it, spills 100 feet more than even Niagara. It seems to create its own weather, which during my visit took the form of a misty cloud hovering above the plunge pool, accompanied by a giant rainbow that portended hope for a successful finish.
And so it goes, long and short holes, up and down—the pacing of the layout is invigorating, like breaking up a long-distance run with a few blood-pumping sprints and climbs. I found the par-4 14th to be the biggest wow-inducer of all. Although the scorecard reading is 448 yards, the green is reachable from the tee—provided you're gutsy enough to shortcut the horseshoe-shaped fairway and carry a drive 290 yards across a canyon. Unfortunately, 285 will leave you at the bottom of the gulch calling for search-and-rescue. Even if you choose a more conservative tack, you'll still need 280 yards to clear a pesky fairway bunker at the corner of the bend, so you may as well bet the ranch, right? Plan C (and certainly the most sane strategy) is to deposit your ball on a hidden swath of fairway to the right, leaving 200 uphill yards to a tiny putting surface that's jealously defended by a 14-foot-deep bunker.
No. 17 presents another TPC money hole—211 yards over rock and water with a small bailout area to the right. The march up the 498-yard, par-5 18th must dodge an array of pot bunkers scattered in and alongside the dogleg-right fairway. Making the last few steps to the amphitheater green, I pretended I was waving to the gallery as I polished off another tour victory. So far, no real-life championships have been scheduled for Snoqualmie, but not for lack of effort—management hopes to secure a PGA Tour or Champions Tour event here one day soon.
Nicklaus calls Snoqualmie Ridge "the best-kept secret in the Northwest." Not for long, though—these TPCs seem to have a knack for finding their way into the public eye.