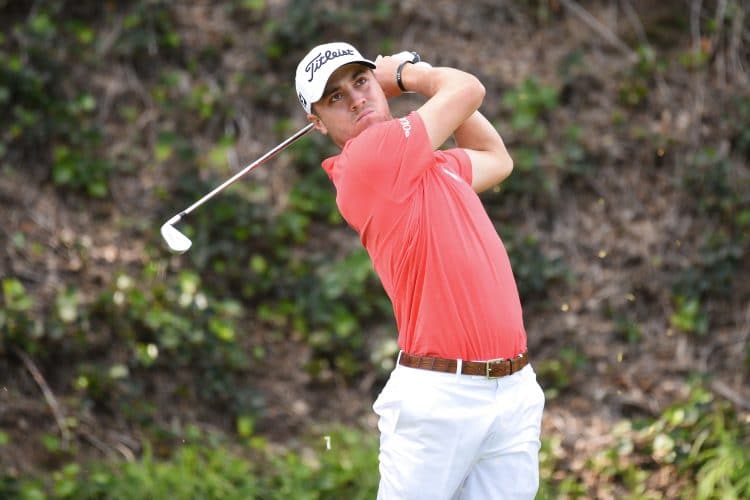 Justin Thomas has been known to show his emotions on his sleeve.
Starting the final round with a one shot lead over eventual winner Dustin Johnson on Sunday in Mexico, Thomas was visiably frustrated throughout the day. Everything seemed to boil over on the par 5 11th when his tee shot went way left and his driver went with it. Thomas immediately went over to the gallery to apologize, but that didn't stop some on twitter from giving him a hard time. That led to this tweet from JT after the round:
Yes I'm an emotional player. It's in my character and always has been, I'll always have fire in me. Sorry to those offended by my actions

— Justin Thomas (@JustinThomas34) March 5, 2017
Some of Justin's fellow Tour pros decided to have some fun at his expense.
.@JustinThomas34 it was so on plane though… should be proud of that! pic.twitter.com/CwKoIEpIXF

— Rory McIlroy (@McIlroyRory) March 5, 2017
Practice makes perfect @JustinThomas34 @McIlroyRory https://t.co/e0dAx5FETd

— Rickie Fowler (@RickieFowler) March 5, 2017
To Thomas' credit, he took it all in stride, even firing back a jab of his own:
. @McIlroyRory I do learn from the best… pic.twitter.com/Xv9mYorh2H

— Justin Thomas (@JustinThomas34) March 6, 2017
Thomas went on to shoot a 1-over 72 for the day, finishing the week at 11-under and in a tie for fifth. No need to feel too bad for JT though, he still has three wins on the year and sits atop the FedEx Cup rankings.