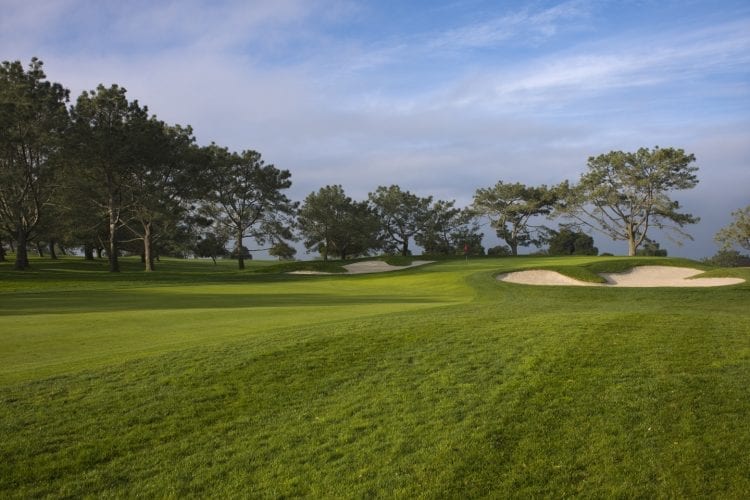 At Torrey Pines, it is possible to pack two life experiences in a single day: playing a U.S. Open course and enjoying the exhilaration of paragliding at the Torrey Pines Gliderport, the self-proclaimed mecca of free flight in the U.S.
Every year, during coverage of the Buick Invitational at Torrey Pines, CBS' cameras always catch shots of the colorful gliders soaring over, alongside and even under the cliffside layout from the Gliderport, located adjacent to the 13th tee at Torrey Pine South, which hosts the U.S. Open this week. (NBC will not have such a chance; the gliderport will be closed June 7-16.) Sometimes, especially during one of Tiger Woods' recent runaway Buick wins, I would be more intrigued by the gliders than the golf.
When I visited Torrey Pines in March, I was hoping to sneak in a 30-minute tandem flight with an instructor. Alas, my planning was poor. I only had one day at Torrey, and my tee time was noon, which meant I only had the morning for paragliding. Unfortunately, the best time to take to the skies is the afternoon, when the wind is up.
So instead of my first free flight, I had to settle for my eighth U.S. Open course. I'm not sure what it's like in paragliding, but in golf, there's nothing quite like your first time.
My first was Bethpage Black, although it was far from an Open course back then. But even with the unkempt fairways, shaggy greens and bunkers that resembled a sandbox after recess, Black clearly was different from any course I had played previously. It was bigger, more intimidating, more sweeping-an epic. If golf courses could be compared to movies, Bethpage Black would be Lawrence of Arabia.
Maybe it's my East Coast bias, my affinity for Bethpage Black or that my senses have been dulled by playing too many great courses (I know, we should all have such issues), but Torrey Pines, despite the setting overlooking the Pacific Ocean, just does not have that epic feel the way that Bethpage Black, Oakmont or Pebble Beach do.
That's not an indictment, because epic-ness is hardly a prerequisite for holding the Open. Torrey Pines will hold a successful Open because it is a great test of golf: As usual, the winner will need to have all the shots, including a strong mental outlook to grind through the various challenges.
Plus, there is a difference between playing an Open layout and playing a course in Open conditions. Setup aside, I think Winged Foot West and Bethpage Black are far more difficult than Torrey Pines South. But even three months before the Open, I had never played a course set up so punitively-there was only about a 50-50 chance that you would even find a ball hit into the rough.
Even from the middle tees at 6,628 yards, more than 1,000 yards shorter than the Open tees, I knew there was no chance my 5.2 index would enable me to break 80. Given my propensity for spraying drives, I figured breaking 90 would be a feat.
For the Open, Torrey's Course Rating will be 79.7, which means a scratch player would do well to break 80, and its Slope is 153, so a bogey golfer can expect to shoot 110. And that's without any forced carries, which jack up Slope, and only a handful of lateral hazards, which have the potential to add penalty stroked to one's score.
As it turned out, I did only hit only four fairways (there's no shot that's more demoralizing and less fun in golf than the 100-yard gouge back to the fairway), and I had to scramble pretty well to shoot 87.
I simply did not have the shots to handle the huge par 5s-612-yard 9th, 614-yard 13th, 573-yard 18th-and the long par 4s like the 488-yard 4th, 515-yard 6th (a converted par 5), 504-yard 12th and 478-yard 15th. (All yardages are for the Open.)
I have had long golf days before, like the time in college when I played a one-day, 36-hole event after staying up all night to write an art history paper. Because of the difficulties, this round at Torrey Pines South felt like that day. On the long 4th, the only hole that is entirely on the cliff, hundreds of feet above the Pacific, I was lining up a 20-footer for bogey when a paraglider sailed by.
He looked as if he were enjoying himself.