The PGA Tour's OHL Classic at Mayakoba concludes this weekend on the El Camaleon course along the Riviera Maya south of Cancun, one of the top resort layouts in Mexico, a country now flourishing with great golf. Here are the top 10 golf courses in Mexico that you can play…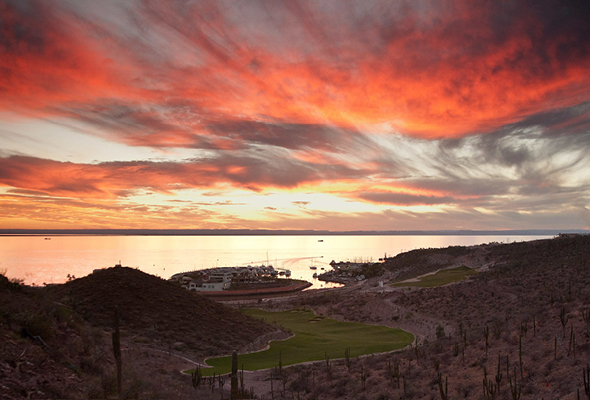 10. CostaBaja
La Paz
This beguiling layout, its holes chiseled into the desert, features stellar views of the Sea of Cortes and the pristine coast from its elevated tees. Opened in 2010, CostaBaja, the first Gary Player-designed course in Mexico, has canted fairways that climb gently rolling hills and lead to large, well-contoured greens. The first six holes are tough; the back nine presents more scoring opportunities.
__________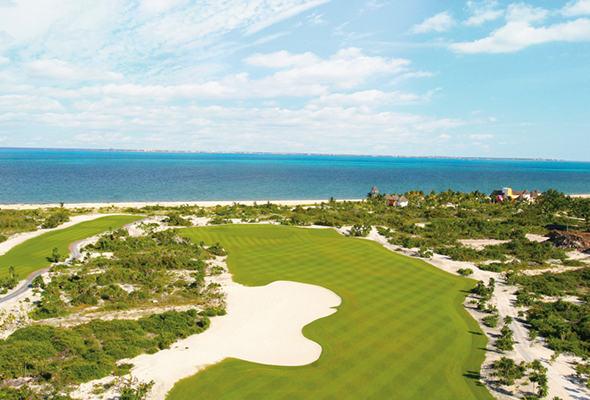 9. Playa Mujeres
Cancun
Sketched across a secluded peninsula between the Caribbean Sea and the Chacmochuc Lagoon on the outskirts of Cancun, this ecologically-friendly, Greg Norman-designed course weaves through the site's tropical plants, trees, and indigenous foliage. Swept by tradewinds, this flat, sea-level layout relies on water hazards and yawning bunkers for its challenge. A bruiser from the tips at 7,218 yards.
__________
8. Cabo del Sol (Desert)
Cabo San Lucas
Sculpted into rugged, cactus-covered foothills crisscrossed by canyon-like arroyos, the Desert Course, Tom Weiskopf's first design in Mexico, is an upcountry stunner with an ocean view from every hole. Broad landing areas and large, undulating greens framed by rock outcrops characterize this well-balanced test revered for its outstanding mix of long and short holes.
__________
7. Riviera Maya Golf Club
Akumal
Situated along the Riviera Maya between Playa del Carmen and the Mayan ruins at Tulum, the rolling front nine on this Robert Trent Jones II-designed layout was carved from a dense jungle marked by cenotes, or watery subterranean caverns that pockmark the region's limestone bedrock. The club's flatter, more open back nine brings water, sand, and wind into play.
_________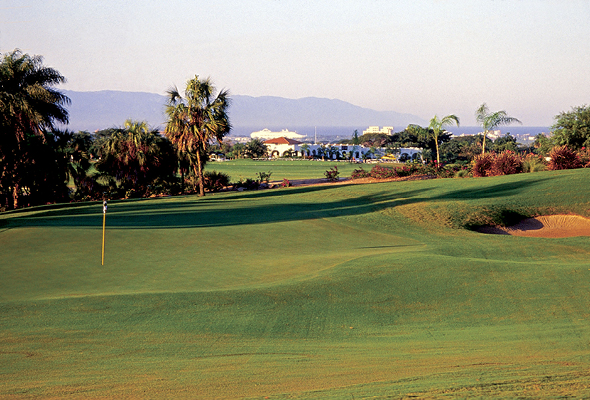 6. Vista Vallarta (Nicklaus)
Puerto Vallarta
Routed across former ranchland at nearly 500 feet above sea level, with several holes pushed to the base of the Sierra Madre Mountains, this impressive Jack Nicklaus-designed layout, host of the 2002 WGC-World Cup, overlooks the broad sweep of Banderas Bay. Giant ficus trees, tall palms, and grassy hillsides frame the holes, with a spidery network of arroyos and creeks in play.
__________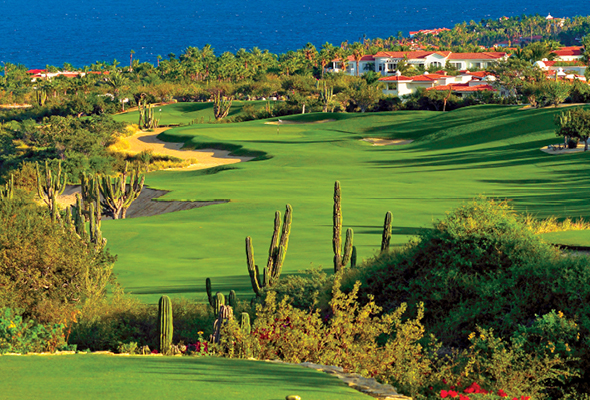 5. Palmilla (Mountain-Arroyo)
San Jose del Cabo
The core 18 at this landmark club, home to the first Jack Nicklaus Signature course in Latin America (1992), is the venue that launched Los Cabos as a world-class golf destination. In a box-shaped canyon backdropped by stark brown peaks, Nicklaus built a scintillating, target-style track that brings boulder-strewn arroyos and vast waste bunkers into play, though forward tees give duffers a fighting chance.
__________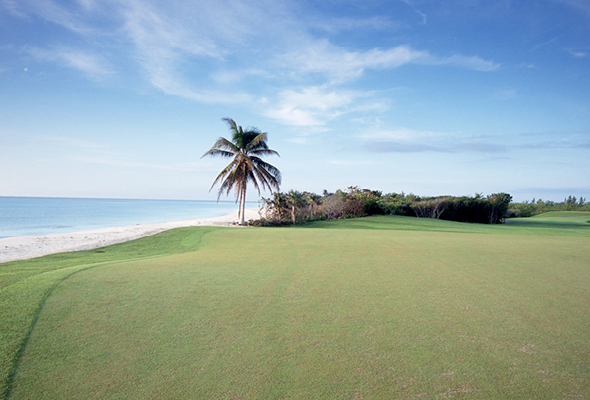 4. El Camaleon Mayakoba
Playa del Carmen
One of Greg Norman's finest "least-disturbance" creations, this lovely course 45 minutes south of Cancun is shoehorned into the jungle, its sinuous fairways tracing the curve of the resort's winding waterways. The course name was chosen because the layout transitions, chameleon-like, from thick jungle and mangrove swamp to rolling dunes that shelter a fine pair of par threes set above the Caribbean Sea.
__________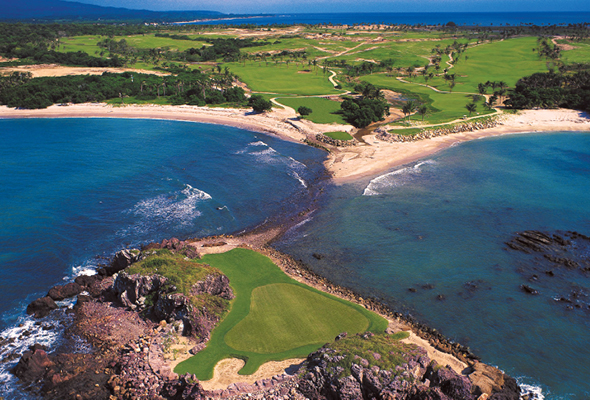 3. Four Seasons Punta Mita (Pacifico)
Nayarit
Situated at the head of Banderas Bay 45 minutes north of Puerto Vallarta, this dazzling Jack Nicklaus-designed course, marked by swaying palms and dune-like mounds, is splayed in all directions across a spear-shaped peninsula thrust into the sea. Forward tees at Punta Mita ("Tip of the Arrow") are accommodating, but at Hole 3-B, a heroic par three, it's all carry to a squib of volcanic rock adrift in the Pacific.
__________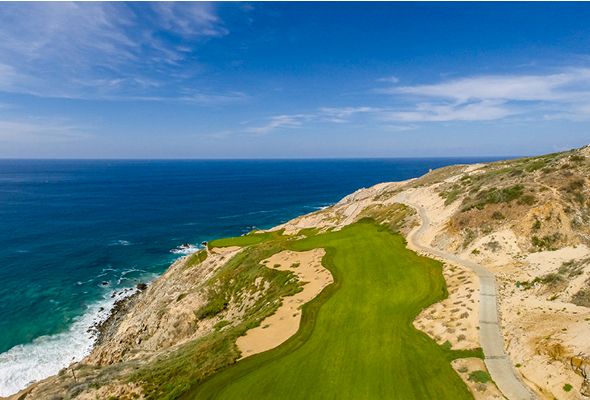 2. Quivira
Cabo San Lucas
On a spectacular site at the tip of the Baja Peninsula marked by massive dunes, sheer cliffs, and desert foothills, Jack Nicklaus unveiled a new course last year that literally scales the heights at Land's End. More than eight years in the making, the $40 million facility starts at sea level near the crashing surf before climbing to higher ground, where the drops are dizzying and the ocean views breathtaking.
__________
1. Cabo del Sol (Ocean)
Cabo San Lucas
Stretched across a striking desert landscape backdropped by stony 6,000-foot mountains, the Ocean Course, a.k.a. the "Pebble Beach of the Baja," has seven holes touching a coastline marked by granite outcrops and golden beaches. Like Pebble, the layout's ebb-and-flow routing, courtesy of Jack Nicklaus, delivers players to the sea on both nines, with thrilling new par threes at Nos. 6 and 7 enhancing the layout's appeal.
 _______________