1 HIRONO GOLF CLUB
Kobe, Japan
Japan's Pine Valley. In a nation with nearly 2,500 courses, this 1932 C.H. Alison design remains the best, its hallmark being a collection of raised, intimidatingly bunkered greens. This is also the home to the closest thing Japan has to a golf museum.
2 SHESHAN INTERNATIONAL GOLF CLUB  
Shanghai, China
Site of the WGC-HSBC Championship, this Nelson & Haworth layout debuted in 2004 and quickly became the most revered in the Middle Kingdom. The design inspiration was Oak Hill, but the conditioning rivals Augusta National, and the menacing quarry at holes 16 and 17 brings to mind Merion.
3 KAWANA HOTEL (Fuji Course)
Kawana, Japan
Another Alison course, set on a cliff high above the Pacific, part of a hotel where in 1954 Joe DiMaggio and Marilyn Monroe spent their honeymoon. The first hole drops nearly 100 feet from tee to fairway, then climbs back up to the green, and that roller coaster continues for much of the round. To get from the 4th green to the 5th tee, you actually take an outdoor escalator.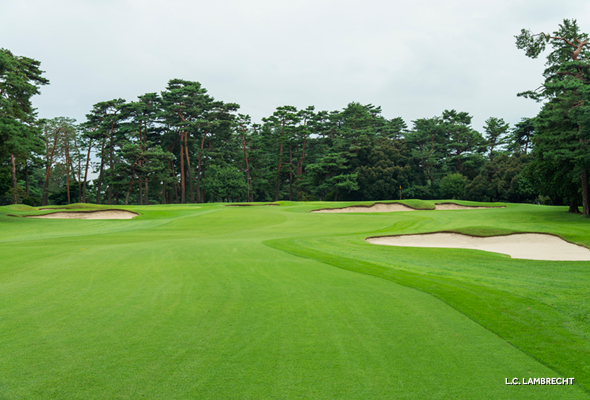 4 KASUMIGASEKI GOLF CLUB (East Course)
Tokyo, Japan
Japan's ultimate tournament venue and the course that put Japanese golf on the map when, in 1957, Torakichi "Pete" Nakamura and Koichi Ono won the Canada Cup (now the World Cup) on home soil. In 2020, after a comprehensive tweak by Tom Fazio, it will be the host course for the Olympics.

5 SHANQIN BAY GOLF CLUB
Hainan Island, China
Perched on a windy bluff above the South China Sea, this Coore/Crenshaw design departs from the style of most China courses. Despite being on the site of a former army barracks, "artillery practice" is not the way here. It's the running game that's encouraged on this links-like layout. The finishing stretch along the cliff is spectacular, as is the initiation fee for members—one million dollars.
6 TOKYO GOLF CLUB
Sayama City, Japan
Five years ago, Gil Hanse restored this parkland layout, designed in 1940 by Japanese architect Kohmyo Ohtani whose work was inspired by the club's original 1932 course (on another site) by Alison. Precision is the key to navigating its tree-lined fairways and small, well- protected greens. 

7 SPRING CITY RESORT (Lake Course)
Kunming, China
One of two stunning courses (the Mountain is almost as good) set beside a shimmering lake in southwest China. A year-round spring-like climate means greens that are as smooth and fast as any in the world while a hillside location with a 150-foot drop means holes loaded with both challenge and charm.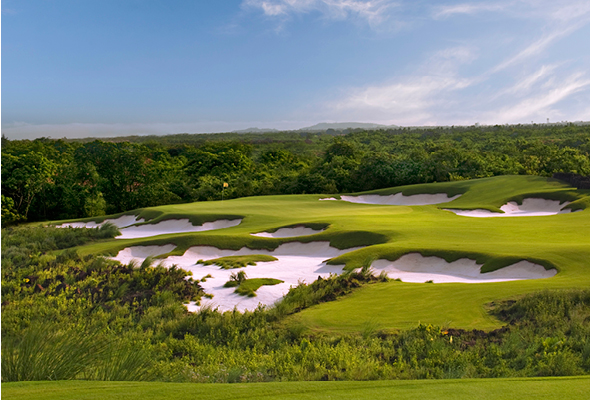 8 MISSION Hills RESORT (Blackstone Course)
Haikou, China
The crown jewel of the ambitious Mission Hills Haikou resort, a 10-course complex on the island known as China's Hawaii. Laid out on a base of lava rock—which comes into play more than occasionally—this rolling championship test is visually arresting, the black lava competing for attention with bright white bunkers and broad green swaths of fairway.

9 NARUO GOLF CLUB
Hyogo, Japan
Yet another effort by Alison, who in one sojourn to Japan managed to fulfill contracts at Hirono, Kawana, Kasumigaseki, Tokyo, and here. As at the others, his signature prevails—large, artfully shaped bunkers lapping at the edges of small raised greens—giving plenty to think about on approach shots.

10 THE CLUB AT NINE BRIDGES
Jeju Island, South Korea
No expense was spared in the creation of this big, beautiful, and immaculately conditioned course set on a volcanic island off the southern tip of South Korea. The two nines provide distinct challenges suggested by their names—Highlands and Creek.