Walking has been central to the game of golf from its beginning, when distinguished gents sporting jackets and ties were accompanied on their rounds by eager young caddies clutching armsful of hickories. Many players today still prefer walking—and why not? It's good exercise, and a lot more social than bombing around in a motorized buggy. But no matter how much you like walking, not everyone wants to lug a set of Big Berthas around on their shoulders for four hours. Enter: the push cart.
These days, the range of choices you have in carts—and cart accessories—is staggering. Modern three- and four-wheel push carts give you features like swiveling front wheels, GPS systems, umbrella holders, even fold-down seats. Some are motorized so you don't have to push them at all, while others are equipped with remote-control systems that let them follow at your heels like a faithful St. Bernard.
Here's a rundown of some of your better choices in 2023. One is sure to be just right for the way you want to walk the course.
Sun Mountain
Sun Mountain's original Speed Cart appeared in 1999. The first folding push cart on the market, it earned a huge following. In the years since, Sun Mountain hasn't been resting on its laurels. Their newest model, the Speed Cart V1R, folds in two easy steps and has a wide handle, making it easy to push with either hand. In addition to an accessory console for holding scorecards, pencils, rangefinder, and the like, there's a mesh pocket for storing headcovers or gloves and a built-in bracket for a seat or seed bottle. The bag fasteners adjust easily, too, so you can go from trunk to tee in no time.
View this post on Instagram
Sun Mountain's three-wheeled PX3 and four-wheeled PX4 fold down to an even smaller size than the Speed Cart V1R, making them incredibly easy to store in just about any vehicle. These are versatile designs that can accommodate either stand bags or cart bags. And they offer a host of other thoughtful features, like a cell phone holder that has a slot that can accommodate a charging plug and umbrella holders on both sides of the console. Sun Mountain is a category leader in push cart accessories, too. Choose from cart speakers, tube coolers, a pouch with a battery in it for keeping electronic devices charged, cart umbrellas, various-sized cup holders, and more.
BagBoy
The front wheels on your car turn, so why not the one on your push cart? That's the idea behind the BagBoy TriSwivel II. On command, its front wheel can swivel a full 360 degrees, so you can steer it around the course without ever having to lift its nose off the ground. It unfolds in three easy steps, and folds back up into a 24-inch square. There's a deep top console, large accessories storage area, built-in cup and umbrella holders, and a hand-mounted parking brake, which I personally find easier to use than models with foot brakes.
The Quad XL is BagBoy's top offering for players who prefer the stability of carts with four wheels over those with just three. It opens in two easy steps, weighs in at just a little over 14 pounds, and offers the same additional features you'll find on the TriSwivel II. BagBoy models come in a range of colors, too, so you can pick one that suits your style.
View this post on Instagram
Big Max
Big Max offers a range of push carts at several different price points, but it's the Autofold FF that gets the nod for its sturdy construction, minimalist design, and its ability to fold down to almost nothing. The Autofold FF's patented ultra-flat folding mechanism with flip-out wheels makes it easy to store just about anywhere. Its console has a space for everything, including the option for attaching an umbrella or GPS device. Want something even lighter? Big Max's Blade IP model folds flat, too, and weighs in at just 14.3 pounds.
CaddyTek
The CaddyTek Caddycruiser ONE Tour push cart is designed to give you the best of two worlds—the stability of four wheels and front wheels that can swivel (or operate in straight mode). It has a patented mechanism that folds up the cart in one click, too. You'll like how the handle is adjustable, and the way you can quickly and easily clamp your bag securely into place. The scorecard station has built-in places for your cell phone or GPS device, and its lower storage area even has a built-in cooler for keeping beverages nice and cold.
Wishbone
Dedicated minimalists will appreciate the Wishbone One, whose ultralight frame lets it weigh in at a scant 8.5 pounds. Made in the UK where the majority of players choose to walk, it features deep-treaded rubber tires that are made to go the distance and perform well on wet turf. Its wheels are removable, too—so storing it's a breeze.
Clicgear
The Rovic RV1S from Clicgear is another cart that features a swiveling front wheel for enhanced maneuverability. At 17 pounds, it's on the heavier side—but its heavy-duty frame is made to last. One of many offerings from Clicgear, this one's got the usual bells and whistles, like a large console and umbrella holder, along with a host of optional accessories, including wheel covers, a cart seat, and cooler bag. One of the Rovic RV1S's most impressive features is the fact that it will fold down to the size of a suitcase—in inches, just 13 x 15 x 24.
Walker Trolleys
The Cape 1.5 from Walker Trolleys doesn't fold down to the size of a suitcase. It weighs a hefty 19 pounds. And if you want to equip it with an umbrella holder, it'll cost you extra. But if you're looking for a push cart that's built like a tank, rolls smoothly, and sports a classic look that hearkens back to golf's Golden Age, you can't do better. The Cape 1.5 is made with premium materials like anodized aluminum, leather, and waxed canvas. And it's got a new buckle system that can accommodate a wider variety of bags. For the golf purists in the crowd, it's a stylish choice.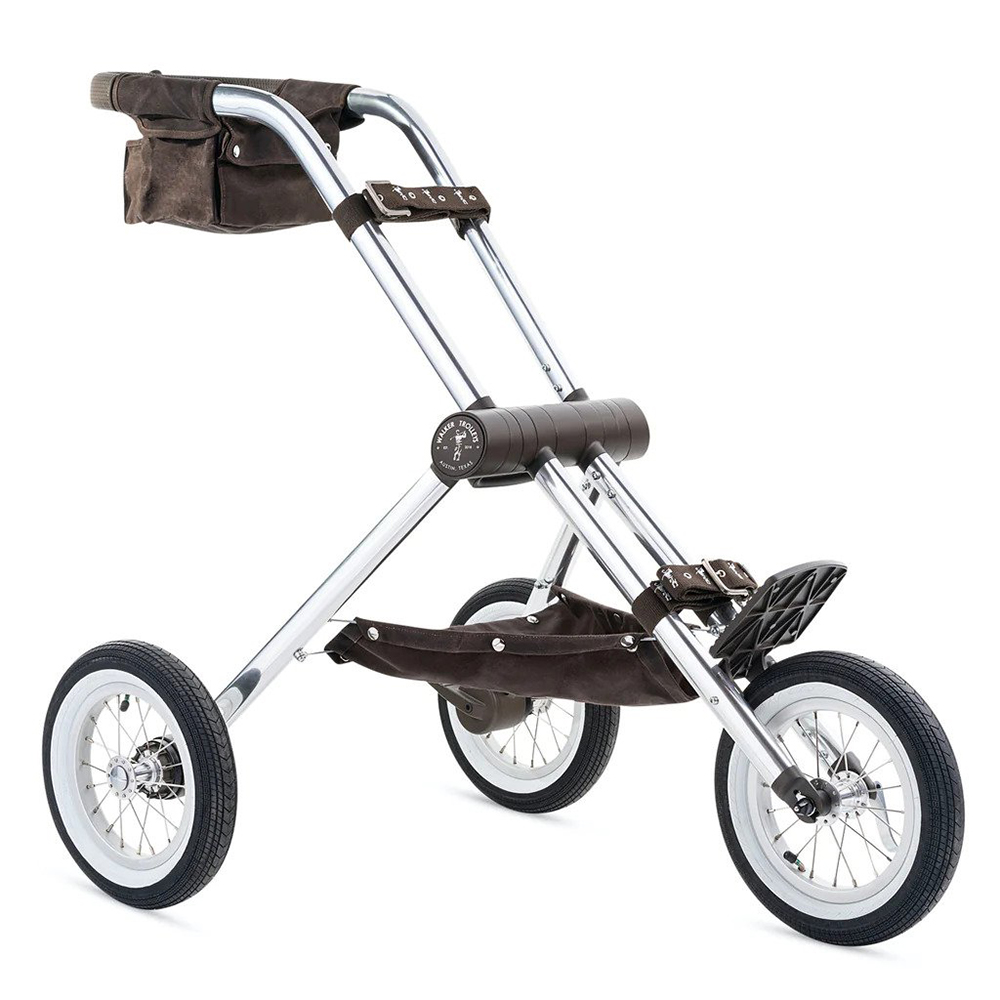 Stewart Golf
Stewart Golf makes and sells ordinary push carts. Its futuristic-looking X10 Follow model isn't one of them. The X10 Follow does exactly what its name says: It follows two paces behind you wherever you go for a hands-free day on the fairways. If you hit into heavy rough, just use the remote controller and have it meet you somewhere up the fairway, where you can also have it walk in front of you if you'd prefer. There are controls located on the handle, too, for navigating through tight spots. The X10 Follow is very stable, and folds down easily. Choose from 18-hole or 36-hole battery sizes, and your days of pushing your push cart will be over.
BatCaddy
BatCaddy makes several different models of powered push carts, some with remote control capabilities and some without. For 2023, the company is introducing its X9R and X9R Carbon models, both of which offer nice upgrades over previous models. Both tip the scales at under 25 pounds including battery—something other powered push carts are hard-pressed to match. And both feature an all-new electronic parking brake, downhill speed control, and an advanced stability package—along with included seats. Their dual electric motors run quietly, and the standard 24-volt power units will keep you rolling for 36 holes per charge. For the price, you'd expect an accessories console, but you do get scorecard and umbrella holders.
CartTek GRi 1500Li V2
The sleek, top-of-the-line CartTek GRi 1500Li V2 has a host of nice features like slope control, automated downhill braking, four factory speeds (or program your own), and dual high-torque motors concealed in the axle tube. The new remote control offers a wireless pairing function and mounts to a magnet on the adjustable handle or clips to your belt. It even has an extra wheel at the rear to help it avoid tipping on severe slopes.
MotoCaddy
High-tech soars even higher in MotoCaddy's new M7 GPS Electric Caddy, which comes with a full-feature, integrated GPS pre-loaded with over 40,000 courses. The touchscreen performs well in all lighting conditions and lets you keep score, view full holes, zoom in on greens, drag-and-drop the hole location for more precise distance measurements, and a lot more. The compact remote-control handset recharges quickly, and via its app, the M7 can give you Bluetooth smartphone alerts when you get a phone call, text, or email. There's even a USB charging port. It travels the course smoothly, too, thanks to its swiveling front wheel, anti-tip rear wheel, downhill control, and all-terrain tires. The M7 is a technological marvel that does everything but sink putts for you.
View this post on Instagram
Have you used any of these push carts? Tell us about your equipment in the comment section.