When sweater weather arrives in northern climes, the days may grow shorter and the nights longer, but golf's playing grounds take on a mantle of color that makes playing in autumn a sublime experience. From New England to the Pacific Northwest, with pockets of color extending through mountain regions and as far south as Alabama and Arkansas, fall's annual foliage show is all the added encouragement players should need to schedule as many rounds as they can before the onset of winter. Warm days and cool nights offer perfect conditions for growing grass, too, so playing conditions tend to be excellent in the fall.
Here's a list of some of the best places in the U.S. to tee it up this autumn.
Robert Trent Jones II describes the job of designing mountain golf courses as something akin to "three-dimensional chess." Playing the course he created at Sugarloaf, with its 150 slope rating, certainly requires concentration, as its routing winds up, down, and sideways on a tree-covered mountainside that's ablaze with color in the fall. Holes like the steeply downhill 10th and 11th holes offer vistas that are dotted with brightly colored maples and oaks as far as the eye can see, making them as unforgettably scenic as they are challenging.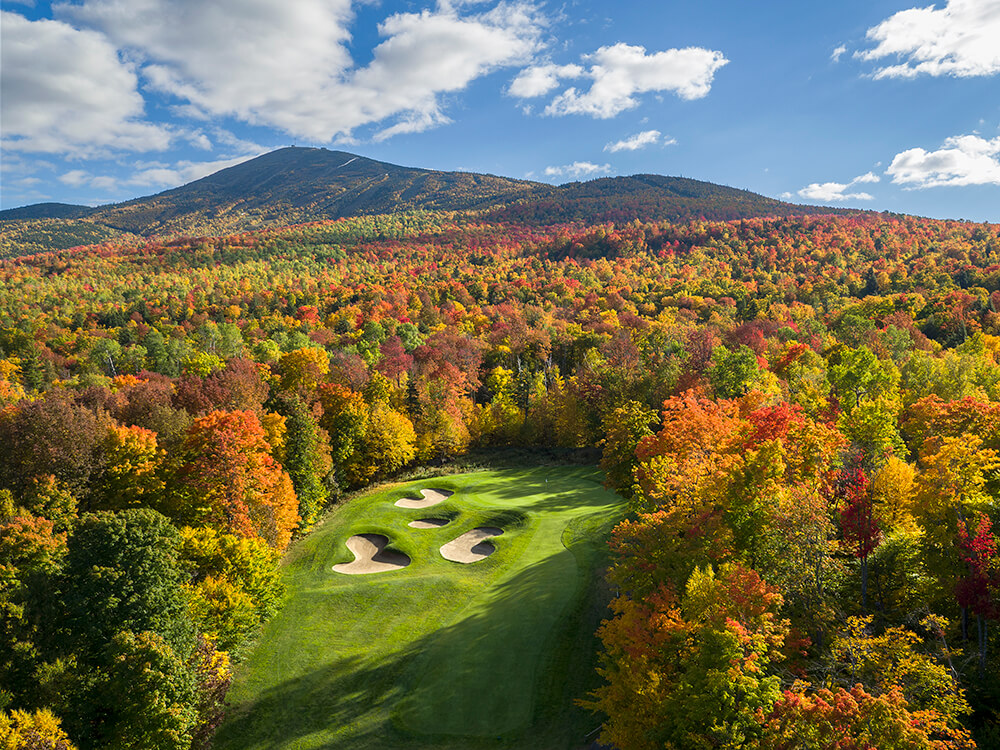 Jones Jr. was at it again at Sunday River. Here, the course is not so much on a mountain as in an alpine bowl surrounded by ski slopes, but there's still elevation change galore, making club selection tricky. As at other mountain courses, reading Sunday River's greens can be a challenge, as the gravitational effects of the big mountain slopes often act like invisible hands that push putts off the lines you may be reading into them. Stay-and-Play packages are available, and can include Sugarloaf and another Maine autumn stunner, Belgrade Lakes Golf Club.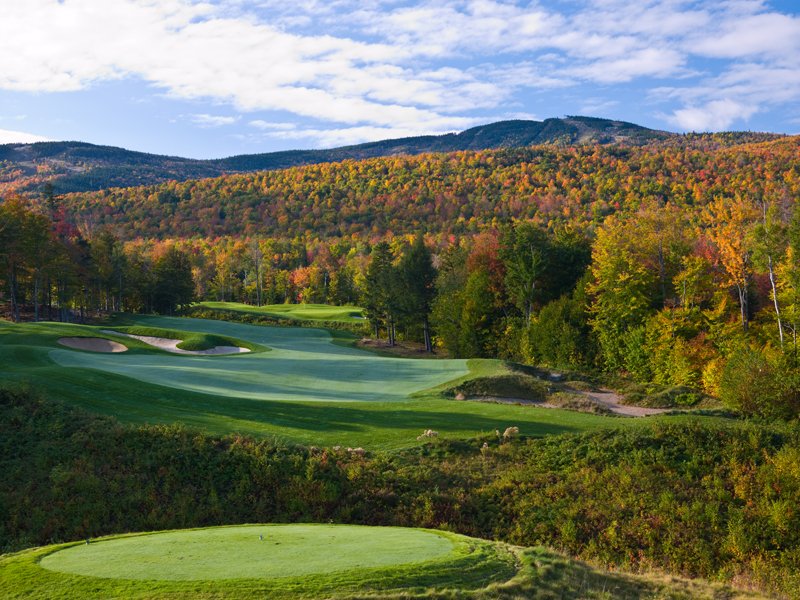 The historic Omni Mount Washington Resort offers two courses for leaf-peeping golfers—the 18-hole Mount Washington course and the equally enjoyable 9-hole Mount Pleasant course. The World Bank and International Monetary Fund were established at this grand resort in 1944, and you'll need some coin to stay here. But the golf courses are accessible to all, and both are worth playing, if only to experience the sometimes-perplexing subtleties of the greens, originally from Donald Ross but restored by Brian Silva. Holes like the dogleg-right, uphill 13th make the most of the terrain, from which the views of towering Mount Washington and the other surrounding White Mountain peaks are never better than in the autumn.
View this post on Instagram
You'll need to be a club member or a guest of the Lodge at Spruce Peak to tee it up here, but at a resort like this, that's certainly no hardship. And the rugged course Bob Cupp designed at Spruce Peak (after working through 18 possible routings) is about as thrilling as mountain golf gets. You'll play through granite outcroppings and along multiple ridgelines shimmering with autumn color. The views from the sharply uphill-then-downhill par-four 14th hole of the Green Mountain countryside and Stowe ski trails are worth the trip alone. And the resort is luxury personified.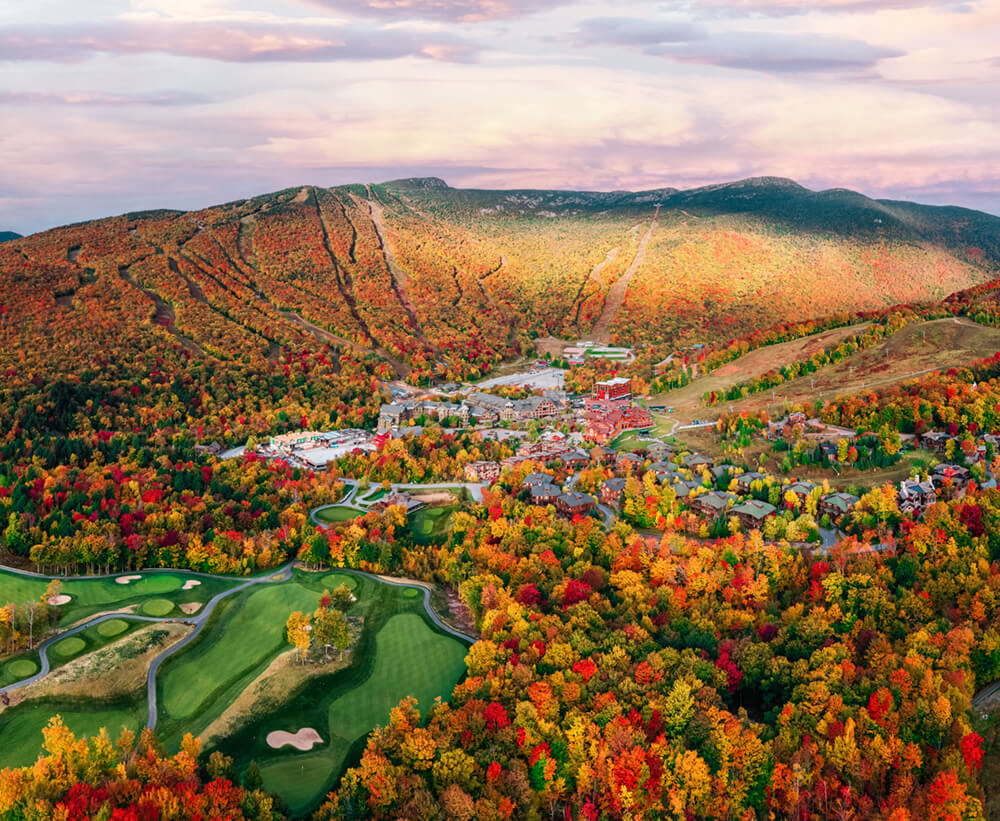 Situated on a former military base an hour west of Boston, Red Tail is a Brian Silva creation that has the feel of a Golden Age layout, with green sites shelved into hillsides, punchbowl greens, and enough elevation change to keep things always interesting. The par threes are particularly memorable, including the downhill 11th, with a sharp drop-off to the right of the narrow green and another dip to the left that makes hitting the green in regulation doubly important. The 18th hole, a par five that tumbles straight downhill to a green fronted by a pond, is a great spot for taking in the fall foliage before you head to the 19th hole for refreshments on the patio.
The Berkshire Mountains of western Massachusetts are home to several noteworthy courses, none of which are more natural and enjoyable than Crumpin-Fox. This course is a world unto itself, with nothing but nature to be seen from its fairways. Here, the short par fours really stand out, as at the dogleg-left 7th hole, where your second shot plays over a pond to a shallow green—or the 12th, with its testing three-tiered green. After your round, lunch on the veranda at Zeke's Bar & Grille will afford you all the colorful autumn scenery you could want.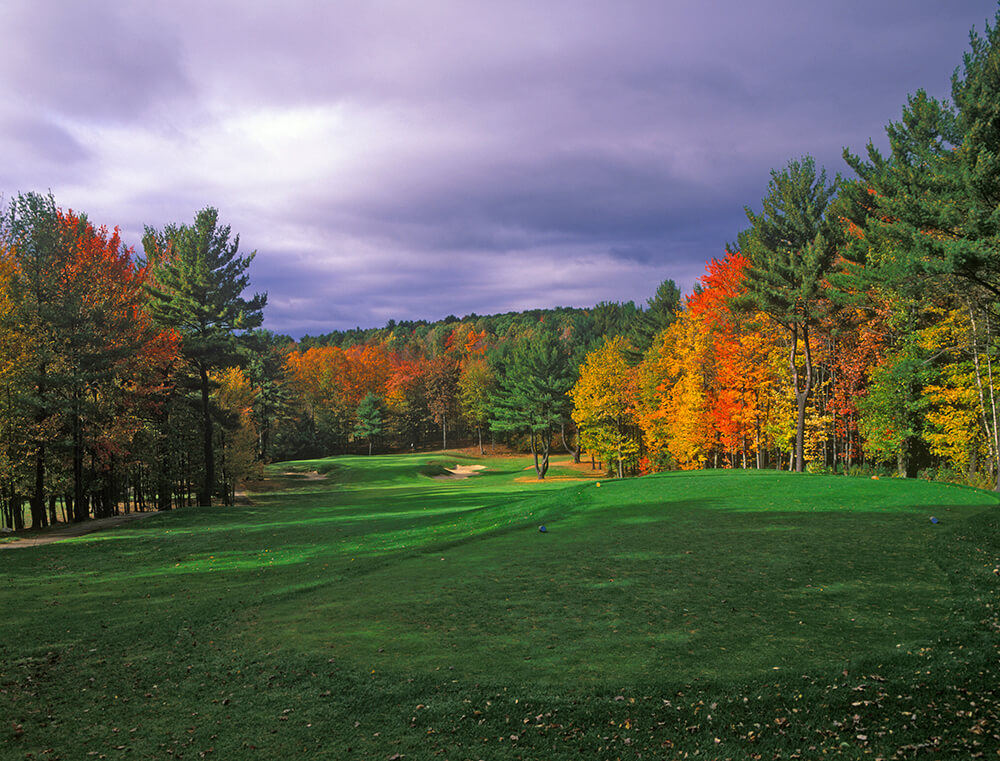 Players have Geoffrey Cornish (the Johnny Appleseed of affordable local golf courses) to thank for the outstanding design at Simsbury Farms, located just west of Hartford in the Farmington Valley. But you have Mother Nature to thank for the views you'll enjoy of the area's tree-covered hills and glacial drumlins as they put on their annual color blitz. Cornish used the hilly land here beautifully, as exemplified at the downhill-then-uphill par-four 2nd hole and the twisting, downhill 7th, a par five lined by apple trees. From the tee and green at the 9th hole, a hilltop-to-hilltop par three, you can see for miles. In the autumn, every inch is gloriously decorated in bright fall finery.
View this post on Instagram
One of five courses at this upstate New York casino resort, Atunyote is a Tom Fazio creation that's a true championship layout stretching to more than 7,300 yards from the tips. When the PGA Tour played here, the 250-yard par-three 11th hole was the longest par three the pros played all year. Large Fazio bunkers frame most fairways and greens, along with wetlands (as at the par-five 5th) and tall hardwood trees (as at the par-four 7th). Attunyote means eagle in the Oneida language, and the course's 18 holes are all named for birds. In autumn, you're likely to see flying-Vs of Canada geese honking their way south when you play there. Imagine the color show they're enjoying from their lofty vantage point.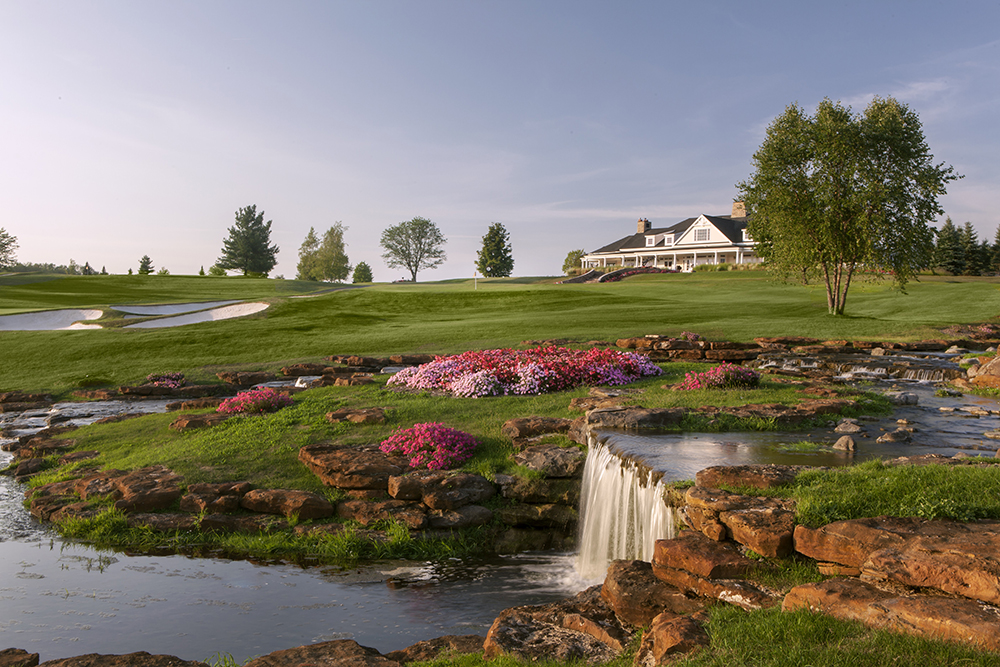 Crystal Springs is one of those rare places where quality doesn't take a back seat to quantity. Two hotel options, six golf courses, and 12 dining outlets—including Latour, with one of the resort world's most outstanding wine selections. The Roger Rulewich-designed Ballyowen course is the standout for golf. A links-style course with waving stands of fescue, some large and strategic bunkers, and a few water hazards, there's not a straight-ahead hole to be found. It's a great chance to enjoy playing the ground game as the area trees put on their show. Crystal Springs is just 43 miles from Manhattan, but its Kittatinny Mountain location makes it feel like it's in another country altogether.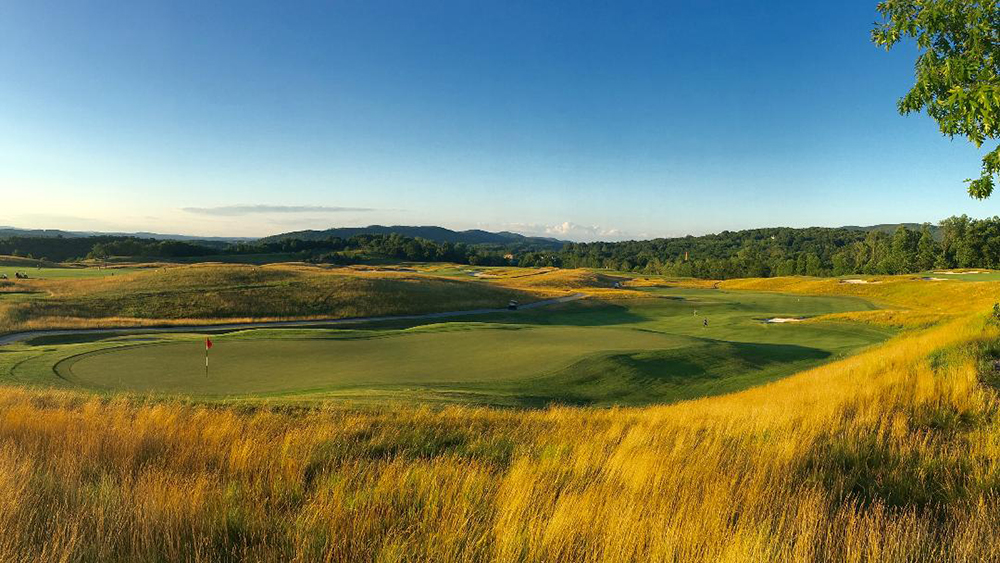 This western Maryland mountain resort offers two courses, with the tree-lined Lodestone course getting the star billing. Hale Irwin's first course design, it sits above 3,000 feet, offering dramatic vistas of Deep Creek Lake and the surrounding mountains. The course is in two loops and is forgiving off the tee, but tightens up as you approach the well-bunkered green sites. Exposed rock is another consistent hazard. Standout holes include the short par-four 14th, with its center-fairway bunker complex and Biarritz-style green, and the par-three 17th, which calls for a carry over a ravine to a green perched just above a stern-faced rock wall.
One of two courses at the Wintergreen Resort in the Blue Ridge Mountains in western Virginia, Devil's Knob sits atop the mountain of the same name, offering views of the surrounding terrain that dazzles in the autumn months. It's an Ellis Maples design that's the state's highest course at 3,850 feet. Like many of its Blue Ridge Mountains brethren, it features fiendish slopes, tight corridors through dense stands of hardwoods and fragrant pines, stone outcroppings, and demanding holes like the 485-yard par-four 9th—an uphill, dogleg-right brute to a two-tiered green. The resort's other course, Stoney Creek, sits at the foot of the mountain, but it's a good test, too.
The mountaintop Highland Course at Primland Resort earns high marks for its Martin Ebert/Donald Steel layout. One of many back-to-nature diversions offered at this five-star Virginia Highlands resort, the 7,000-yard course overlooks the scenic Dan River Gorge, which gushes with color in the fall. It opens with three roller-coaster par fives in the first six holes, and finishes with an uphill-then-downhill par four that demands all your attention. Along with golf, there's horseback riding, trout fishing, mountain biking—even an observatory for star gazing.
Balsam Mountain Preserve is a private club community that, like Devil's Knob, is located high in the Blue Ridge Mountains—this time in North Carolina, just south of Asheville. Though it's private, they make four tee times available each day to members of the public. If you're lucky enough to snag one, you'll be treated to one of the most dramatic mountain courses in America, an Arnold Palmer design that winds through much of the massive 4,400-acre property, all of it at elevations of 3,500 feet and higher. There's not a flat hole anywhere—or a boring one. At the drop-shot par-three 3rd hole, and again at the closing par-three 18th, your tee shot will hang in the air seemingly for hours before falling to earth, giving you time to pause and take in the panoramic views of the virgin wilderness surrounding the immense Balsam property.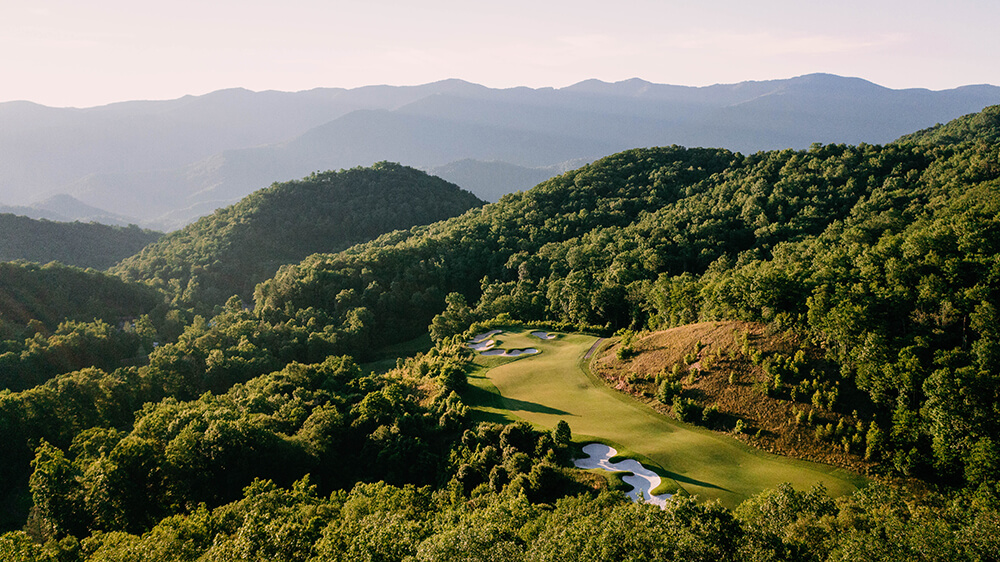 Site of the PGA Tour's 84 Lumber Classic from 2004–06, the Pete Dye-designed Mystic Rock course at Nemacolin gave players all they could handle—and it does the same for guests of this lavish resort located in the Laurel Highlands 70 miles from Pittsburgh. Like all Dye courses, it tempts you off the tee, and if you fail that test, your difficulties will mount the closer you get to the greens, whose undulations are as carefully positioned as its many bunkers. Play the right tees, avoid the many water hazards (and large boulders), and you'll enjoy its numerous challenges as much as the brilliant fall foliage. The resort's Shepherd's Rock course, also from Dye, is a strong layout, too. Make it a weekend and play both.
Bass Pro shops founder Johnny Morris doesn't do things halfway. The 4,600-acre wilderness resort he created in the Ozark Mountains at Big Cedar Lodge now offers five different golf experiences, in addition to a full slate of other outdoor activities that you let you revel in the wonders of nature, which are never more thrilling than in the autumn. The Ozarks National course is the work of the team of Bill Coore and Ben Crenshaw. There are blind shots, gullies, caves, sinkholes, and slopes galore as you wend your way along the many ridgelines that define the course's thought-provoking holes. The views from the tees of the long, par-three 12th; the even-longer par-four 13th; and the short, drop-shot par-three 17th come alive in the autumn and make an exhilarating experience even more thrilling. There's grandeur here, and lots of it.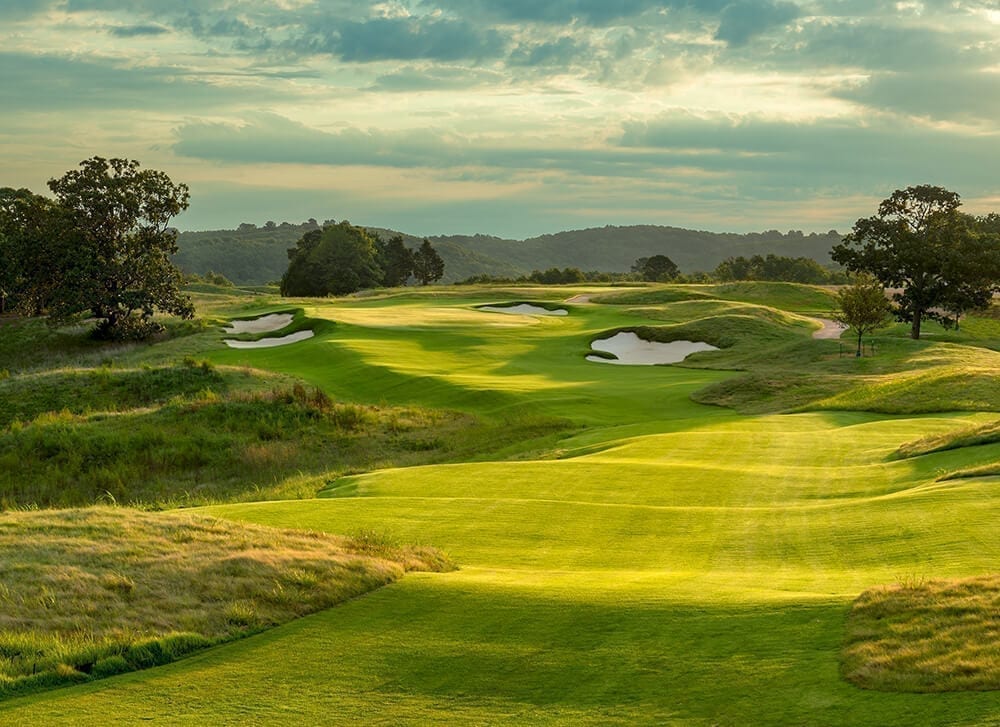 The Gaylord area is home to great golf in any season, with 17 courses to choose from. At Treetops Resort, there are 81 holes to play: four 18-hole courses plus a 9-hole par-3 course. You can't go wrong with any of them, especially during peak foliage season when the vistas come alive with color. Treetops's Robert Trent Jones Sr.-designed course is called "Masterpiece," because that's what Jones set out to create there. It's both the toughest and most scenic course at Treetops, with a slope rating of 147, elevation changes on almost every shot, and fairways that never seem quite wide enough. There are a lot of fun holes, though, including several strong risk/reward holes and the unforgettable, drop-shot par-three 6th. Higher-handicappers may favor one of the resort's other courses, but the Masterpiece Course is a great test for anyone who's up for a heady challenge. During foliage season, make sure to play the par-3 Smith Treetops course, if only to soak in the views it offers.
View this post on Instagram
By any measure, the Pete Dye Course at French Lick is a monster. From the tips, it's 8,100 yards. From the other tees, it's still a beast. Sited on Mt. Airie, one of the highest points in Indiana, the views of Hoosier National Forest you'll enjoy during leaf season are gorgeous. But don't be distracted; you'll need to keep your mind on your work and be precise with both your drives and approach shots. Several holes feature steep drop-offs, and Dye's volcano bunkers and omnipresent mounds pinch the fairways on just about every hole. It's a player's course, not for the timid. French Lick's other course is its Donald Ross Course, a gentler affair—though its undulating greens are a stern test themselves.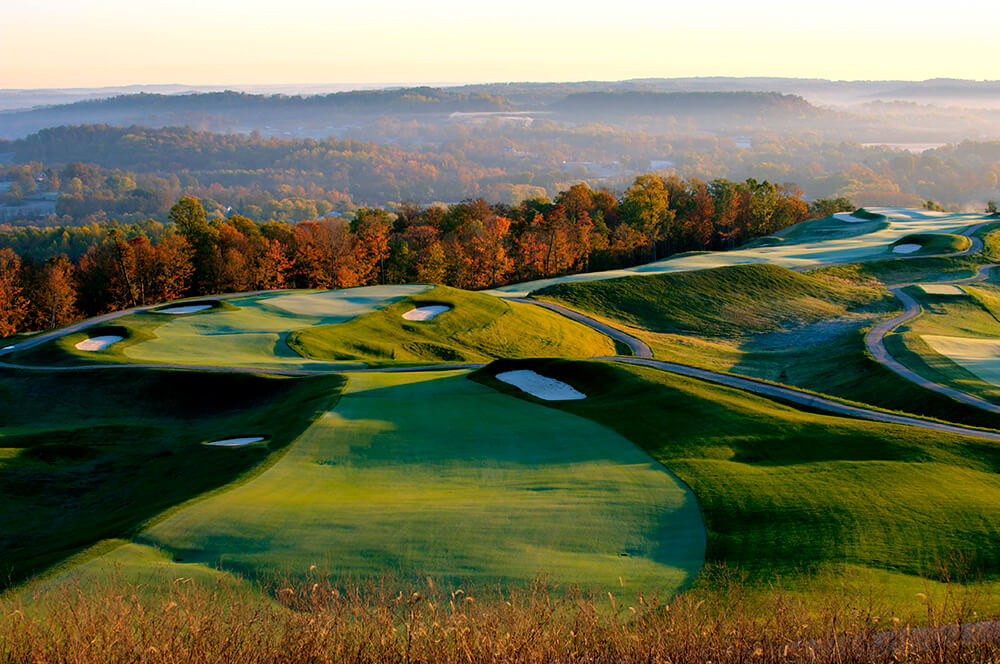 From the first tee, the River Course at Blackwolf Run lets you know that you're in for a fight. The Sheboygan River's on your left, bunkers and rough-covered mounds on your right, and 600-plus yards of double-dogleg par five await. More great Pete Dye-designed holes follow, including: the postcard-worthy par-four 9th, which calls for a tee shot around a stand of trees and a precise approach shot to a green site hard by the river's edge; the long par-three 13th with its seemingly impossible tee shot between trees and river; the 620-yard par-five 16th with its massive left-side bunker off the tee; and the do-or-die par-three 17th with its tee shot that's all-carry over water. The Meadow Valleys Course and The Baths short course add to the fun at Blackwolf Run, which was named for Chief Blackwolf of the Winnebago tribe. And of course, Whistling Straits and all the other five-star amenities of Destination Kohler are also close by.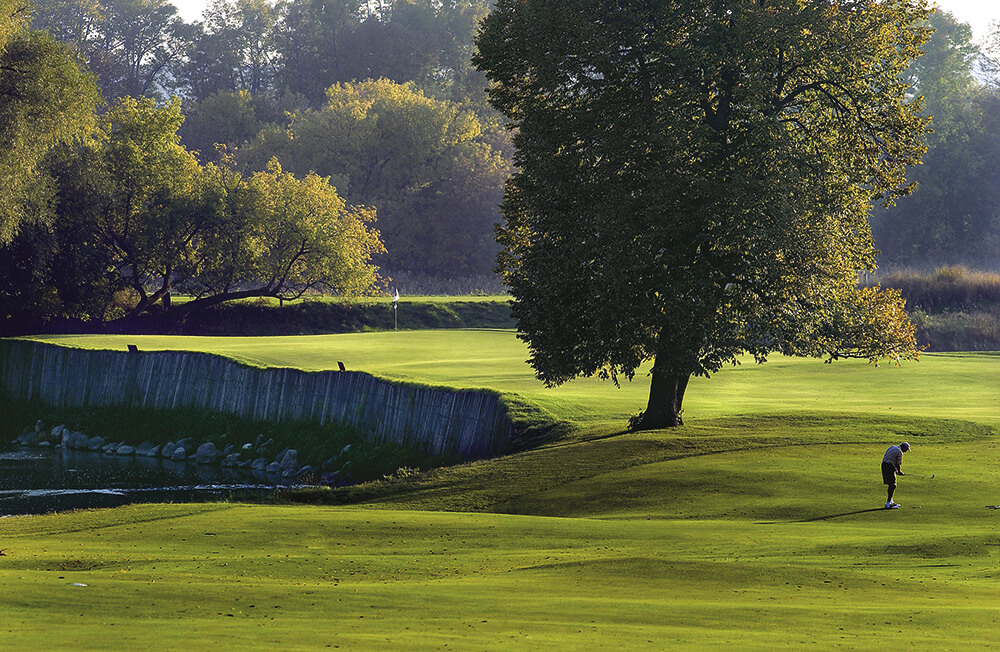 When the aspen trees take on their golden hue in the fall, it's cause for celebration in the Rockies. The change in the light at that time of year is also a factor that contributes to autumn's beauty in these parts. As the sun dips lower in the southern sky, each day's "golden hours" stretch longer. At Arrowhead, located just west of Denver in the foothills of the Rockies, that light falls on towering slabs of red sandstone rock formations that frame many holes and can even come into play, as on your tee shot at the dogleg-right 5th hole, a par four where you may be tempted to carry a slab of red rock jutting 60 feet up from the right-hand rough with your tee shot. Not every hole is a revelation here; a few are downright pedestrian, golf-wise. But for sheer natural beauty, Arrowhead offers a terrific experience, especially in autumn.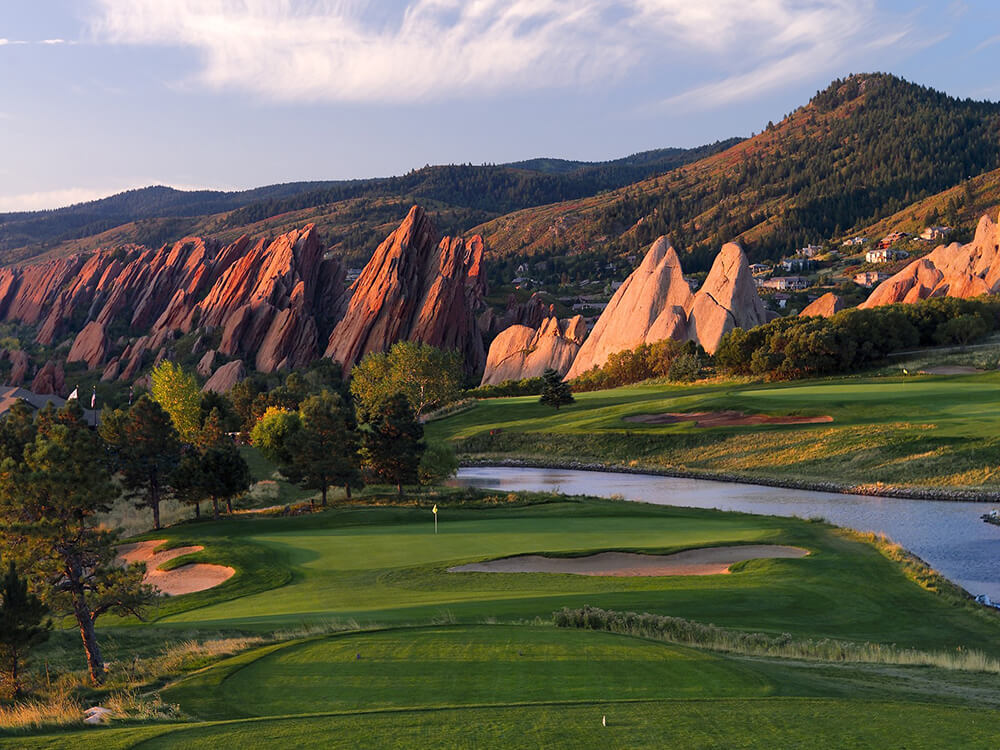 You won't be stunned by dramatic vistas of bright red maple leaves in the high desert around Bend. But autumn brings change to the desert, too—as the sagebrush, rabbitbrush, wooly sunflower, and fescue grasses take on their fall tints and the shadows grow longer with each day. David McLay Kidd did the design work here, and the Scotsman imparted the course with a links-like flavor that benefits visually and strategically from its natural bunker shapes, slopes and swales, and creative green designs. The 17th hole, "Quarry," features a peninsula green surrounded by sand—just one of many memorable moments you'll take home from your round at Tetherow, especially if you hit the green.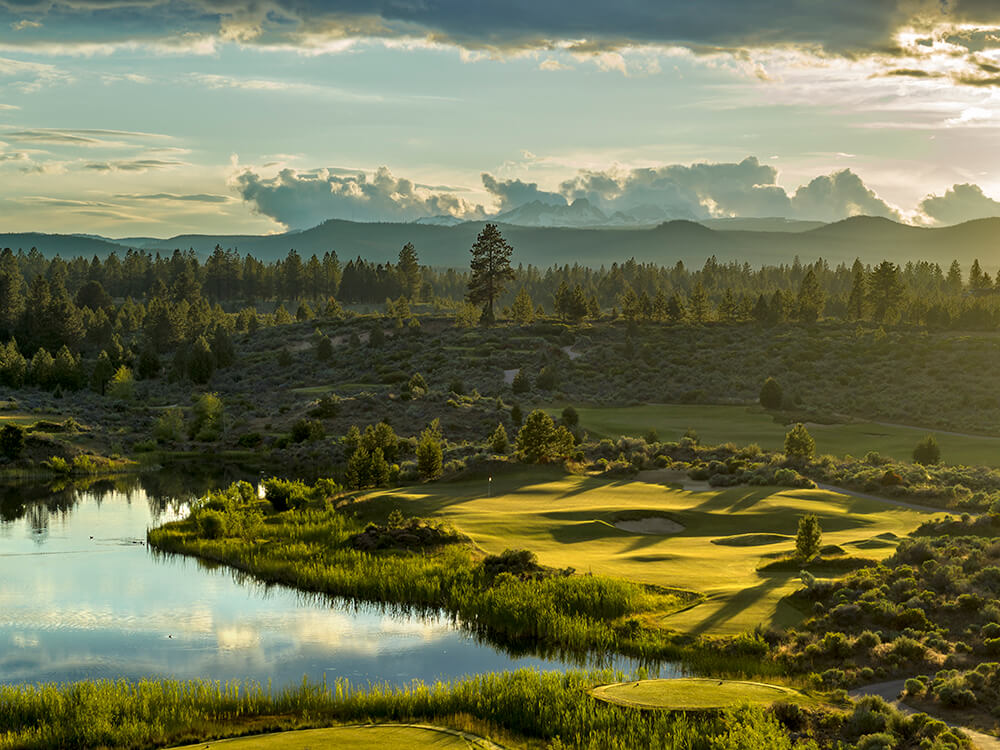 What other courses would you add to this list?