Many course connoisseurs opine that there's nothing better than oceanside golf. However, there's plenty to be said for the glories of golf on a lake. Some lakeside golf experiences deliver so much beauty and challenge that they can vie with any of the top-ranked courses set next to oceans, bays, gulfs, or sounds.
Based on the quality of the design, frequency of memorable lake views and actual encounters with the lake, I've identified a short list of North American public-access lakeside jewels. The other criterion is that each listed course must adjoin a natural, existing, named lake—not a body of water that was created specifically for the golf course.
Here are the top 10 lakeside courses you can play.
Boasting eight holes overlooking Lake Michigan—or what the caddies call, "the Sea of Wisconsin"—the Straits course at Whistling Straits is second to none for lakeside excellence. Home to three PGA Championships and the 2021 Ryder Cup, this 1998 Pete Dye design boasts 70-foot fescue-cloaked sandhills, more than 1,000 bunkers, and a course rating and slope so high they could produce nosebleeds. However, the architecture is compelling and without a weak link, and the views are stunning, notably on the par threes, each of which peers over the lake from high above.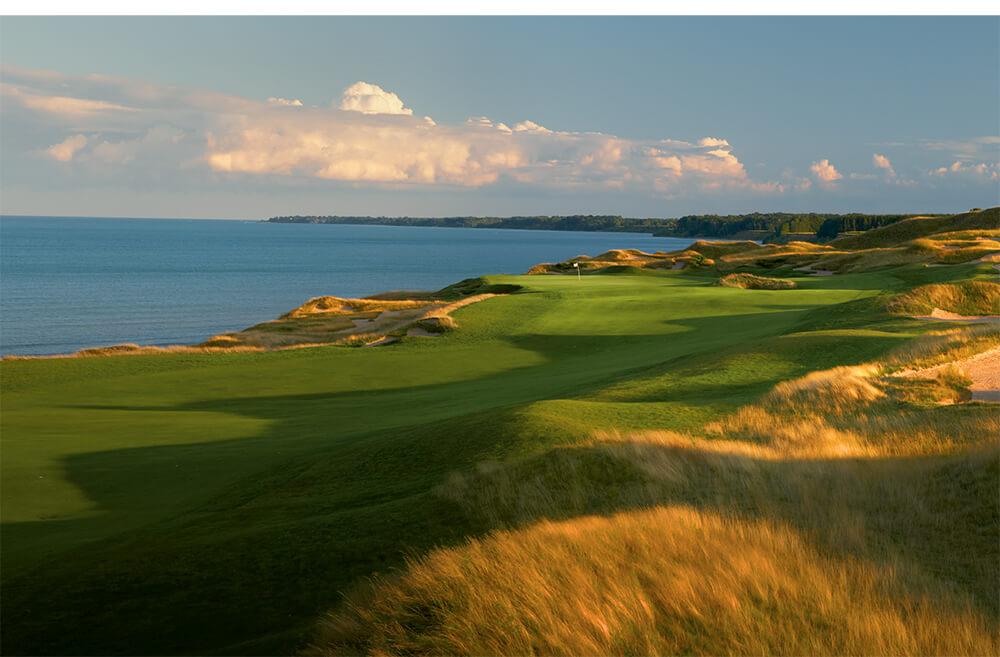 Few courses so successfully fuse beauty, challenge, and playability as this 1992 Jack Nicklaus creation that hugs the shoreline of Lake Oconee for nearly the entire back nine. Tall pines frame most of the holes, but the essence of the course centers on superior risk/reward tests such as the 414-yard par-four 9th, the 351-yard par-four 11th, and the 543-yard par-five 18th, each which challenges the mind and delights the eye with lakeside peril. Following a successful refurbishment in 2019 by Nicklaus and his associate Chad Goetz, Great Waters is greater than ever.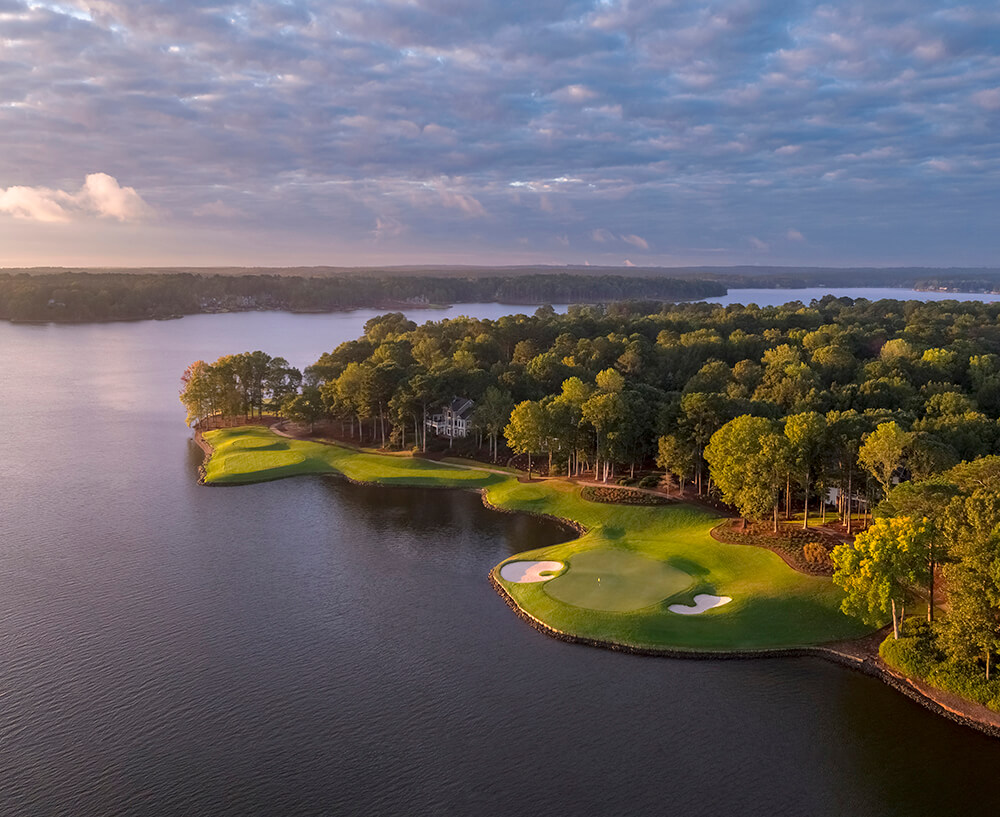 Designed by George Fazio in 1968, with help from his nephew Tom, Edgewood Tahoe is Lake Tahoe's only championship course that actually edges the lake. Home to the celebrity-studded American Century Championship since 1990 and venue for the U.S. Senior Open in 1985, the 7,529-yard layout plays shorter, thanks to the 6,200-foot elevation. It also maximizes scenery, with mountain meadows, Ponderosa pine forests, and closing holes right on the beach. The 207-yard par-three 17th and 572-yard par-five 18th are justly famous, with Lake Tahoe in play for slicers, but don't overlook the 430-yard par-four 9th, which plays straight at the lake, with the snow-capped Sierras looming majestically beyond.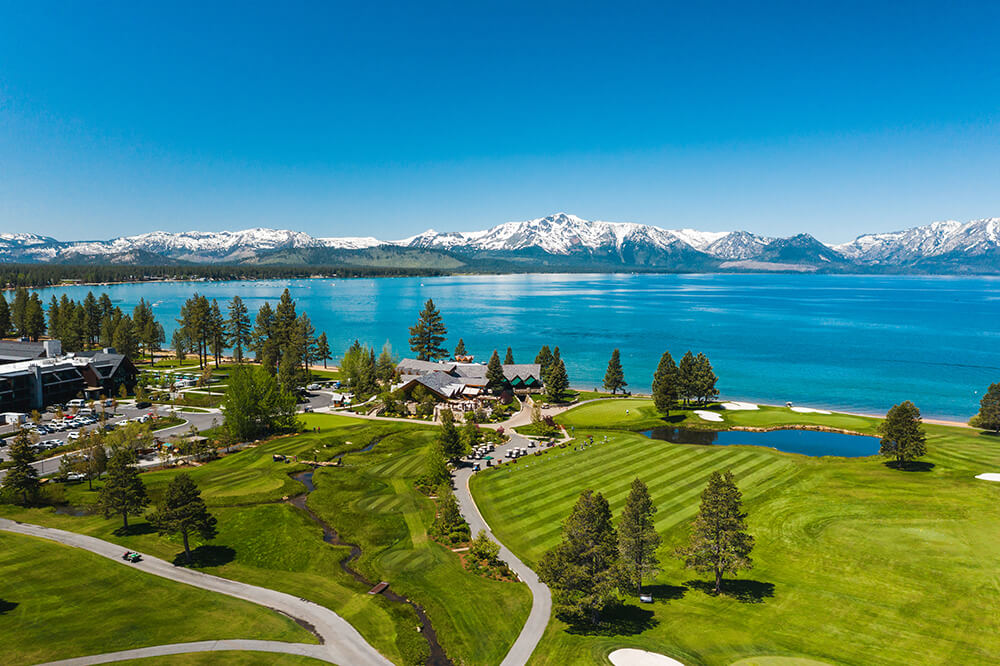 Top teacher Rick Smith and design associate Warren Henderson teamed in 1998 to craft this headlands course that peers down at Lake Michigan early and often, inevitably in spectacular fashion. With breezes off the lake, tawny fescues, and tall sand dunes, the Bluffs course professes a linksy feel without being quite as bouncy as a true links, but at least the wide fairways and large greens make for extra playability in the wind. Dana Fry and Jason Straka conjured up a new course here in 2019 called the South. The retro homage to the Macdonald/Raynor style makes for a rewarding round, but if it's overwhelming lake scenery you came for, the Bluffs is where you want to be.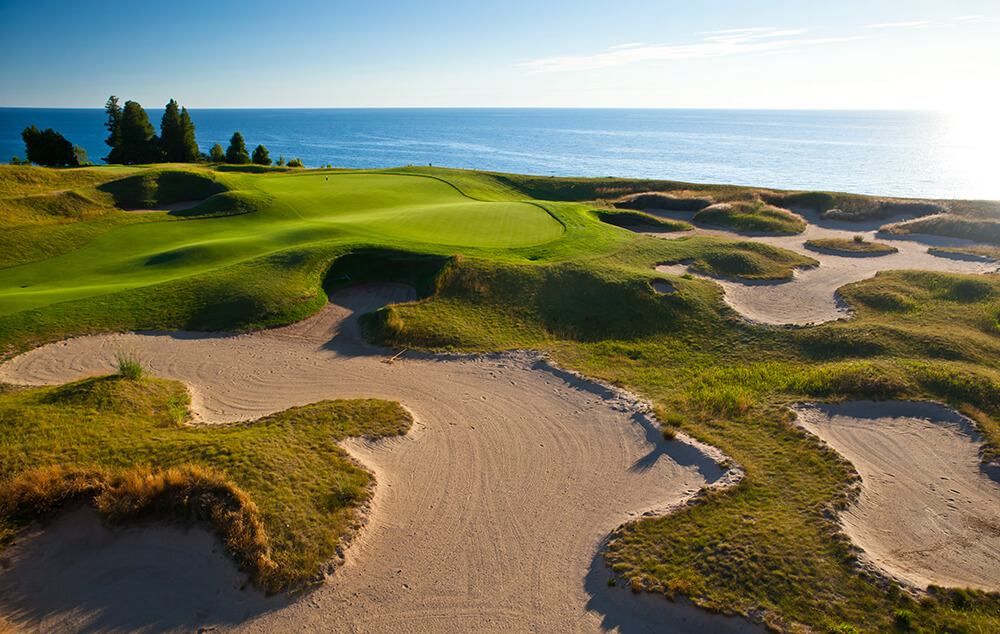 Island greens had been around for decades, but invariably they were connected to terra firma by some strip of land. In 1991, that all changed with Coeur d'Alene Resort's par-three 14th hole. Golfers hit to a genuine floating island, one that's capable of moving up or back on any given day, thanks to a system of cables and winches affixed to the bottom of Lake Coeur d'Alene. A six-passenger mahogany boat called "Putter" transports you to the green, where you dock, then putt out. Scores of red geraniums, a pair of gleaming white bunkers, and a smattering of evergreens add beauty to the green. The scorecard yardage ranges from 95 to 218 yards, though the actual distance that day is marked at the tee. To be fair, the Coeur d'Alene Resort course is far from a one-hole wonder. Five other holes look at, play next to, or carry over a body of water that National Geographic called "one of the five most beautiful lakes in the world."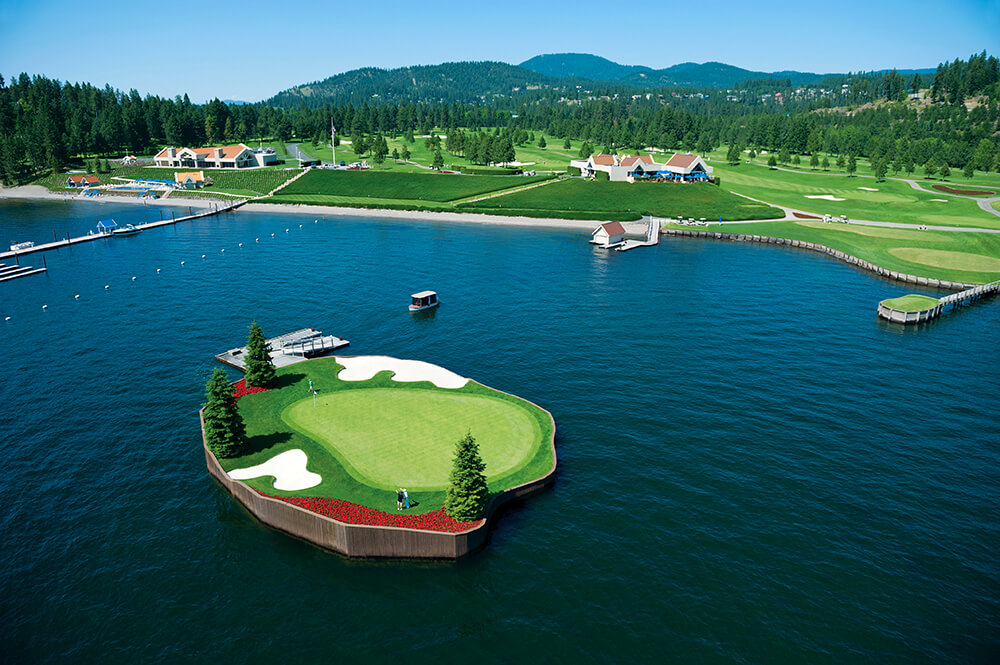 This delightful 1925 Stanley Thompson design engages with forested hillsides, Rocky Mountain backdrops, an imaginative routing, and waves of serpentine bunkers etched into slopes and mounds. Not long at 6,633 yards and an elevation of 3,300 feet, Jasper Park mesmerizes with a trio of holes on the back nine—14, 15, and 16—that skirts the clear, mineral-infused, blue-green waters of glacier-fed Lac Beauvert. The showstopper is the par-three 15th, called "Bad Baby." At 138 yards, it is exactly that, as it edges the lake on the left and plays to a tiny, propped up green that falls away steeply on all sides.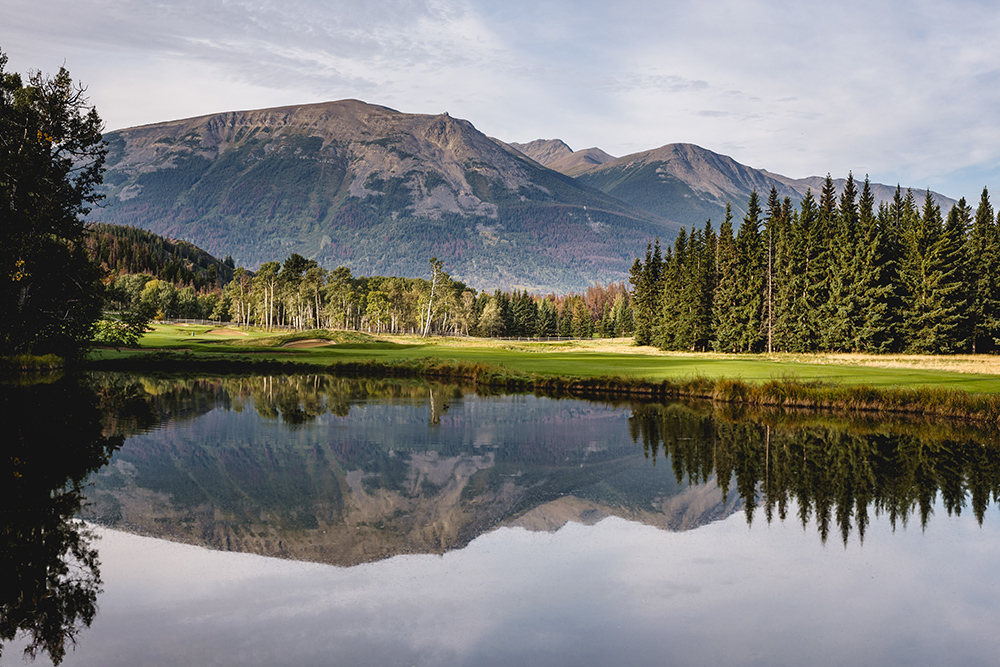 Sprawling, tattered-edge bunkers; huge, undulating, elevated greens; and water hazards galore make Grand National's aptly named Lake the prototypical Robert Trent Jones Trail course. A dozen holes hug 600-acre Lake Saugahatchee, notably the 522-yard par-five 12th that boomerangs to the left around the shoreline and the all-carry, 230-yard par-three 15th, its long, narrow peninsula green looking nearly impossible to hit and hold.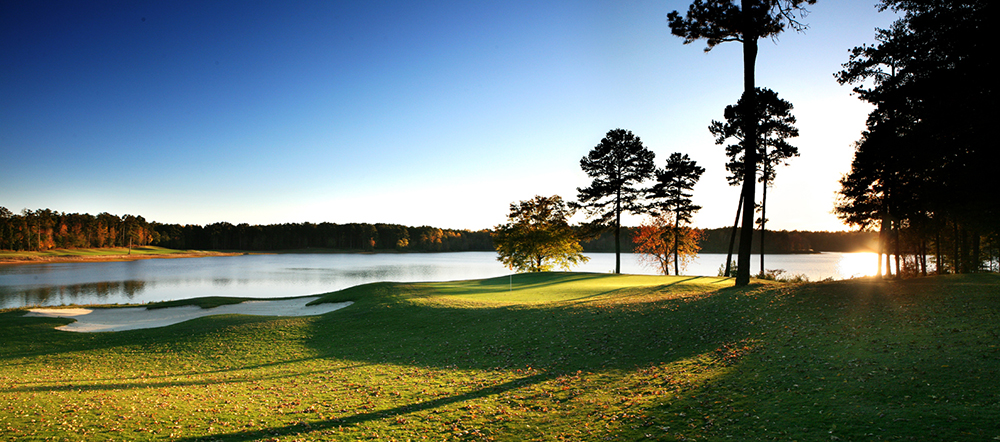 The Mashantucket Pequots pioneered the tribal casino-resort with their prosperous Foxwoods in southeastern Connecticut, yet it wasn't until 2005 that they had a course worth bragging about. Rees Jones chiseled two formidable spreads from the rock-studded hills, the North and the South. Only the North is open to outside play, and with its dramatic visuals, especially of the 90-acre namesake lake, it's all the golf and scenery you could want. Wetlands, rock ledges, and rolling, forested terrain form compelling elements in a spectacular, unyielding design.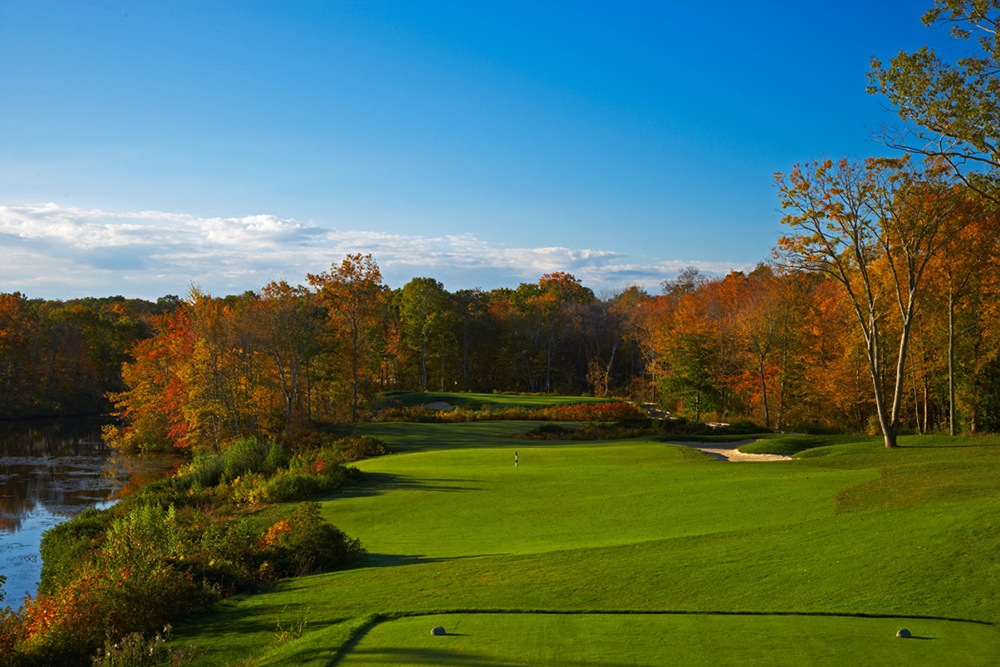 Perhaps it's no surprise that in the Land of 10,000 Lakes, you can have a golf resort that sits on one lake, while your new championship layout skirts another. In 2022, Minnesota native Tom Lehman took nine old golf hole corridors, added nine new ones, and created 18 fresh holes called the Lehman 18 for the venerable Cragun's Resort. The Lehman 18 eases through a 1,000-acre wooded sanctuary and bends around Stephens Lake in its 7,491-yard journey. Holes 2, 3, 8, 9, and 14 through 16 come closest to the lake, and while the lake views aren't as drama-drenched as some others on this list, the playing value of the holes works superbly in tandem with the scenery.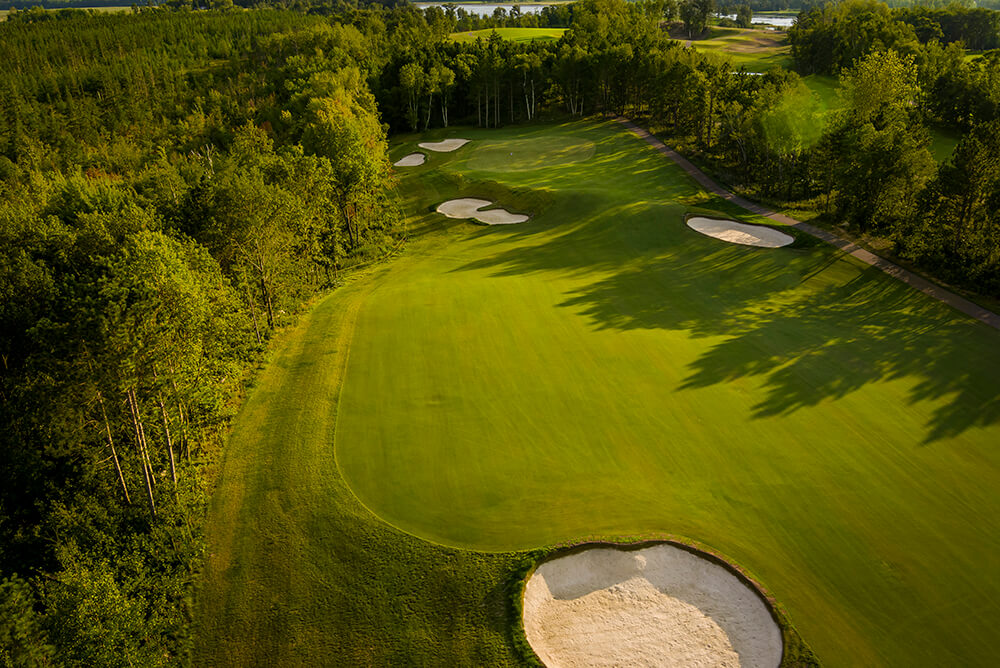 "If there was ever a par-3 course worthy of PGA Tour tournament play, Top of the Rock is it," said then PGA Tour commissioner Tim Finchem nine years ago of this 1996 Jack Nicklaus design. Later acquired by Bass Pro Shops domo Johnny Morris and his Big Cedar Lodge, Nicklaus's pint-sized creation made its debut in 2014 as co-host to the PGA Tour Champions' Legends of Golf event that year. While some purists don't consider par-3 tracks to be real golf, Top of the Rock wows from start to finish, with challenging short shots and incredible aesthetics. From the tips, the 9-hole course measures 1,420 yards, but with massive bunkers, elevation changes, and forced carries over water, it's all the golf you could want in a small package. Island greens and Augusta homages characterize several of the holes, yet most memorable are the 171-yard 1st, the 114-yard 2nd, and the 163-yard 9th, which dish out dramatic panoramas of Table Rock Lake.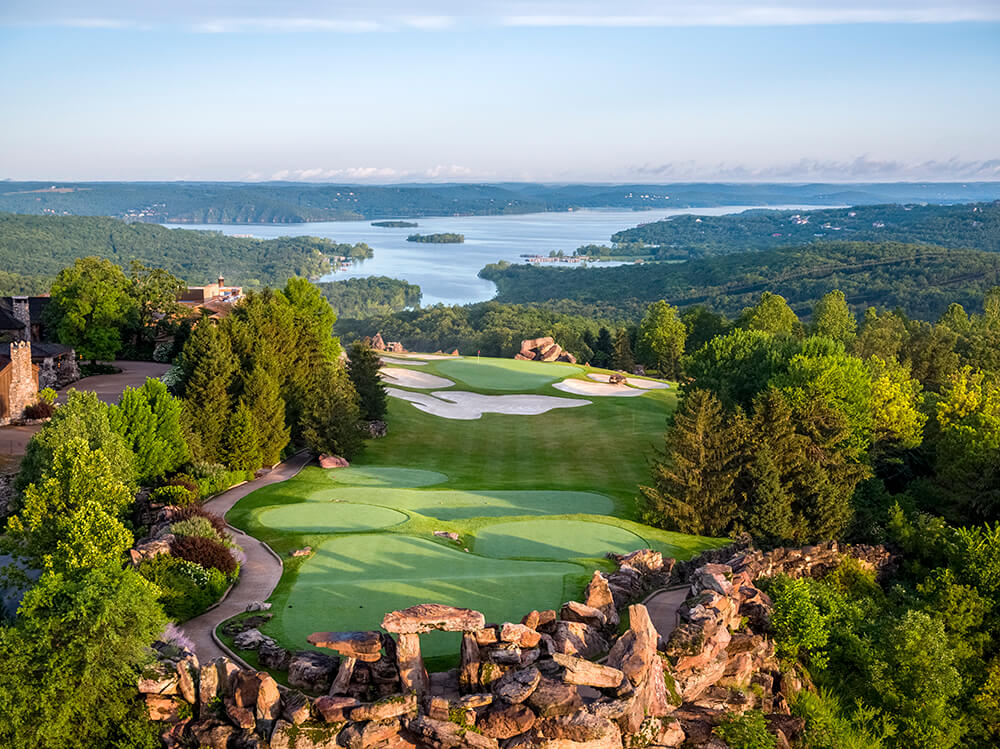 What is the best lakeside golf course you have ever played?