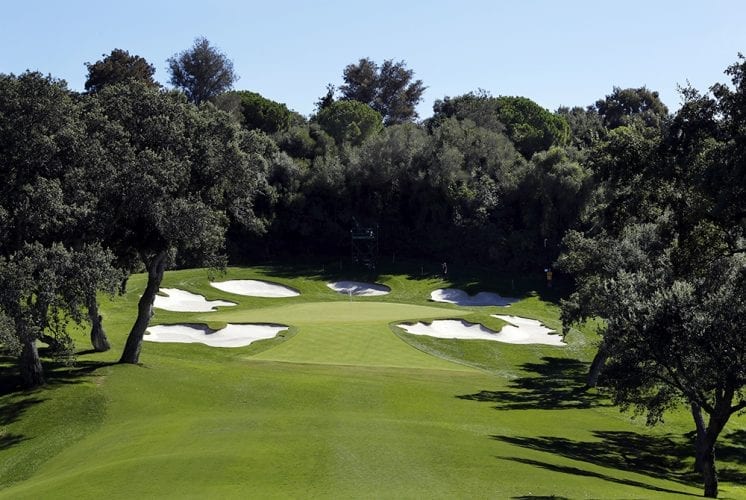 Well-known for its famous coastlines along the Atlantic and Mediterranean, Spain also boasts a flavorful variety of more than 300 golf courses. From shore to shore you can find some of the best Robert Trent Jones Sr. designs in all of Europe, see Seve Ballesteros's influence sprinkled across his homeland, and visit a plethora of tracks that are worth skipping a siesta for. Here are our Top 10 Spanish courses.
1. Valderrama, Cadiz
Widely esteemed as the best course in continental Europe, this Trent Jones Sr. design, site of the 1997 Ryder Cup, climbs and twists through cork and pine trees en route to fiercely protected greens, most infamously the pond-fronted 17th.
2. Sotogrande, Cadiz
Trent Jones's first Spanish design and the course that made the Costa del Sol a golf mecca, it is a neighbor to Valderrama and set on similar ideal-for-golf terrain but is shorter and less dramatic.
3. PGA Catalunya (Stadium), Girona
Dramatic elevation change combines with tightly tree-lined fairways and beckoning lakes to provide a challenge that is both scenic and unrelenting on this venue for several European Tour events.
4. Finca Cortesin, Malaga
Centerpiece of a five-star Mediterranean resort, this brute of a course (7,700 yards from the tips and a three-time host of the World Match Play Championship) was designed to have "no hole of less than championship quality."
5. El Saler, Valencia
This venerable links-like layout by Spanish architect Javier Arana is set in a nature reserve, its fairways unfurling across a mixture of sandhills and woodlands, all with stunning views of the Balearic Sea.
6. El Prat (Arriba & Bosque Nines), Barcelona
Thirty minutes from Barcelona, El Prat sports six nine-hole loops, all the work of Greg Norman, whose boldness and flair for the dramatic are in constant display.
7. Son Gual, Mallorca
Set on the largest of the Balearic Islands, this is an American-style resort course featuring enormous tees, wildflowers in profusion, and hazards with fountains—not to mention a killer finishing par five with a pond-fronted green.
8. La Reserva, Cadiz
The younger sister course to Sotogrande is perched on a hillside above the Mediterranean. Trent Jones disciple Cabell Robinson followed his mentor's penchant for expansive tees, fairways, and greens.
9. Las Brisas, Malaga
Designed by Trent Jones with a recent update by Kyle Phillips, Las Brisas sits on sloping, tree-clad terrain dotted with 10 lakes, making this the kind of course where precision and strategy are more important than power-hitting.
10. Santander, Madrid
Seve Ballesteros and Rees Jones moved five million cubic yards of dirt to craft a challenge that reflects Seve's playing style: it's long but there's little penalty for errant shots.