The third week of June brings the annual renewal of the Travelers Championship in suburban Hartford, Conn., the most raucous, best-attended PGA Tour event east of the Mississippi. Unlike that other rowdy tournament in Scottsdale, however, the host TPC River Highlands course in Cromwell is private. Fortunately, however, if you're visiting the Nutmeg State, there are plenty of worthy public-access options to explore. Here are the 10 best courses you can play in Connecticut.
Newly public in 2022 after years of being open only to students, faculty, and members, Yale University's golf course is an architectural treasure. C.B. Macdonald and Seth Raynor—with help from Charles Banks—created the exhilarating layout in 1926 and its quirks have held up beautifully, with holes that zig, zag, climb, and drop over rocky, forested slopes. The unforgettable "Biarritz" hole, the 213-yard, par-three 9th, features a 60-yard-long double plateau green that's divided front to back by a five-foot-deep trench. You can see every ripple from a tee box that's elevated 60 feet above Greist Pond.
The Manshantucket Pequots pioneered the tribal casino-resort with their prosperous Foxwoods in southeastern Connecticut, yet it wasn't until 2005 that they had a course worth bragging about. Rees Jones chiseled two formidable spreads from the rock-studded hills, the public-access North and the private South. Wetlands, rock ledges, and rolling, forested terrain provide all the golf you could want.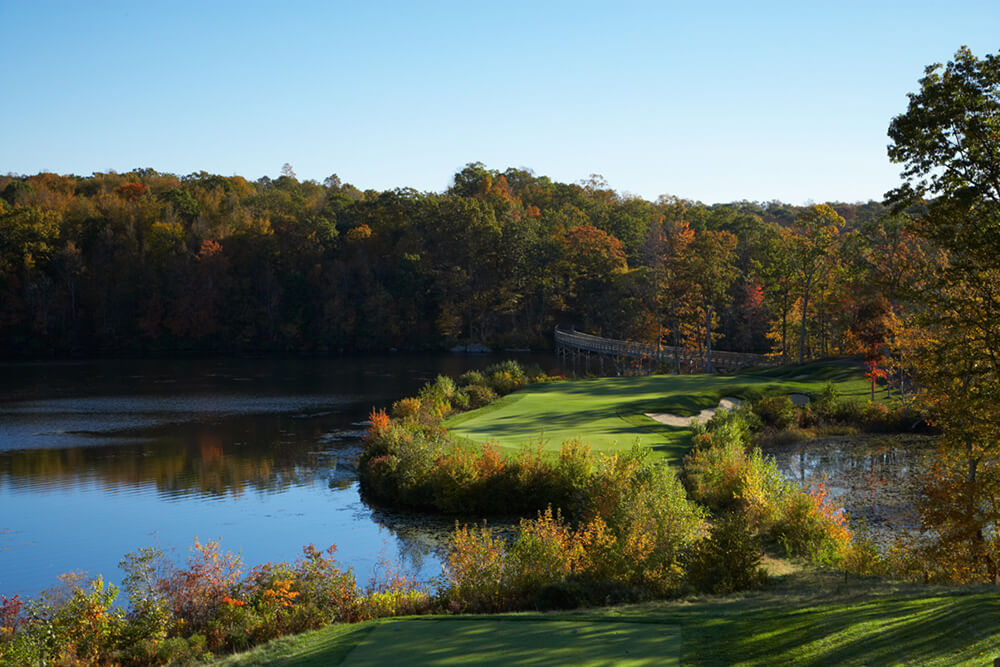 A tip of the golf cap to civic leaders who commissioned former Greg Norman associate Matt Dusenberry and his team—including local design scholar Bradley Klein—to revitalize its Golden Age course in 2016 and help breathe new life into a rough-and-tumble section of town. Its public park, core golf setting, and a design style that harkens back to original front nine designer Devereux Emmet (Garden City, Congressional) land Keney on the must-play list.
Pete Dye (together with protégé Tim Liddy) charged the town of Bloomfield just $1 to design its municipal course in 2003. You won't have to pay too much more than that to play a terrific, traditional, Hartford-area layout that offers up a blend of open and forested holes alongside the Tunxis Reservoir. Fast, sloping greens, 90 acres of ball-devouring wetlands, and 125 bunkers make the par of 70 a tough nut to crack, but you'll have fun trying, even from the manageable 6,711-yard back markers.
Located 11 miles southwest of New Haven and well-situated just off I-95, Great River is a 2001 Tommy Fazio design that alternates between beautiful and brutal depending on how you're faring with the many wetlands and other water hazards. Now owned by Scared Heart University, Great River's nines play differently, with one pure parkland, the other more linksy, albeit with water in play on every hole.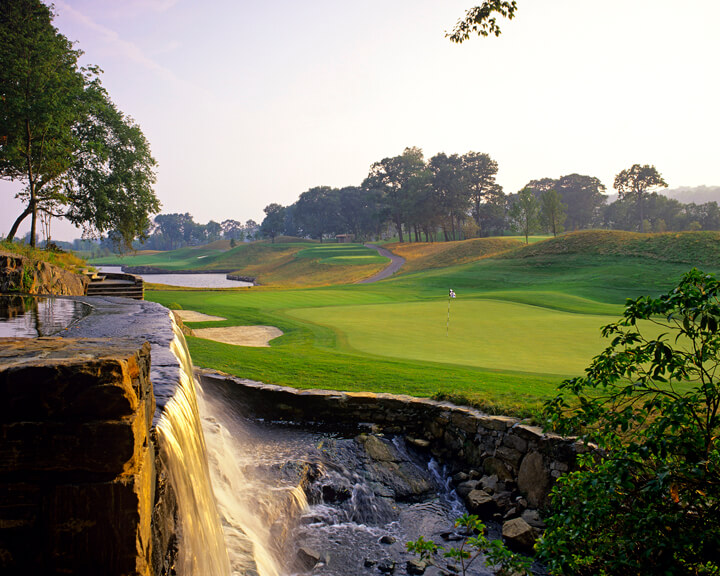 Nutmeggers in the know submerge at every opportunity to navigate the fairways of this 6,562-yard par-71 layout, one that boasts sensational views of the Thames River and Long Island Sound, where at any moment, a nuclear submarine might come skulking by. From 1916–19, Donald Ross worked his design and redesign magic, much of which remains today, but holes 15–17 (at water's edge) arrived in 1997 courtesy of architect Mark Mungeam, the result of a land swap with pharmaceutical giant, Pfizer.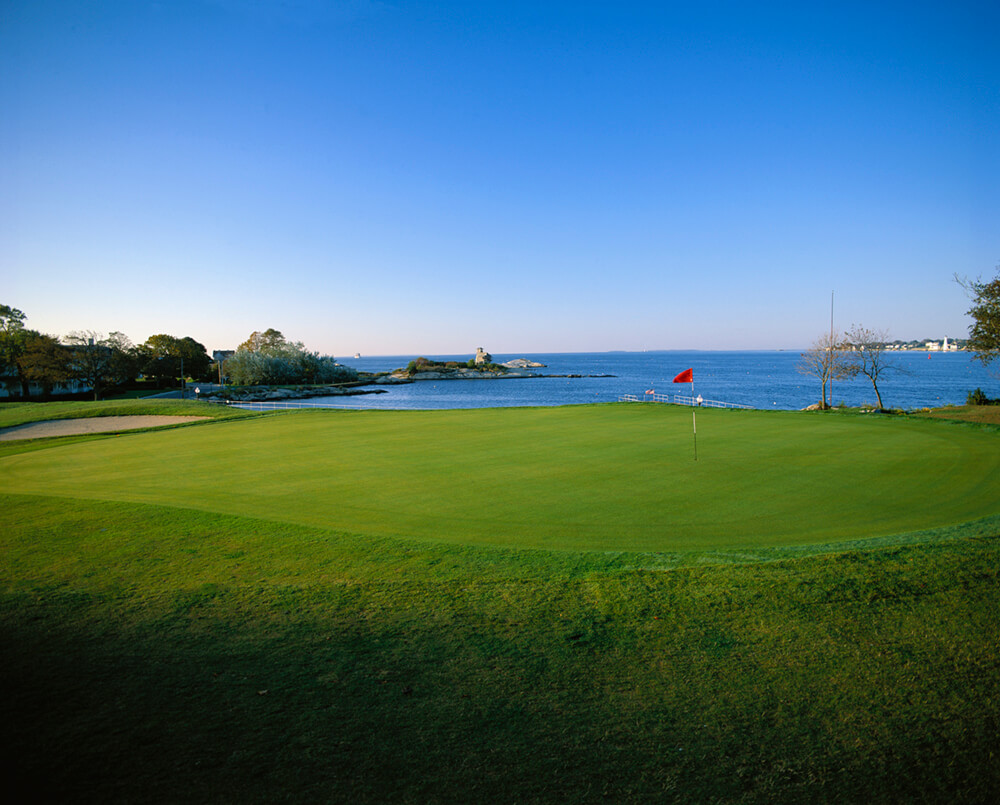 Fairfield County's Richter Park is now 51 years old and the 6,547-yard par-71 spread has matured in fine fashion, considering the heavy play it receives. Unheralded Edward Ryder successfully designed the layout to emphasize variety. He achieved this via the rolling terrain and also by incorporating West Lake Reservoir into four holes on the front nine and Boggs Pond on the back nine, notably at Richter Park's best hole, the par-five 12th, which features a peninsula green.
Northwest of New Haven, roughly halfway to Waterbury, sits this 2005 Mark Mungeam creation in a handsome woodland setting. Carved from the Naugatuck State Forest, Oxford Greens's blissful isolation is only nominally disturbed by homes, but at 7,100 yards with undulating greens to match the rolling terrain it's all the golf you could ask for. An exceptional set of par threes, including the "Redan" 13th, tops the list of memorable holes.
Critics harped that this 7,191-yard Arnold Palmer/Ed Seay design opened too early when it debuted in 2004, but after an extended closure 10 years ago, it reopened in 2017 and has recovered nicely, with refurbished greens and bunkers and new forward tees making it more playable. Nevertheless, plenty of trouble—and eye candy—are ever present. Crisscrossed with lakes and streams and built on a 600-acre CIGNA compound, the course calls for accurate driving through well-wooded terrain and equally precise approaches to boldly bunkered greens.
Opened in 1960 as the Geoffrey Cornish-designed Pautipaug Country Club, the course was purchased by the Mohegan Sun Casino in 2008 and renovated by Robert McNeill in 2011. Currently, Ron Garl is tweaking the layout. He has removed or relocated fairway bunkers that overly penalized less skilled golfers and did the same for fronting greenside bunkers to make the greens more accessible. Garl will eventually renovate every bunker on the course, including shallowing out some deep bunkers. He is also softening the heavily sloping greens at the par-four 3rd and par-four 12th holes. Risk/reward par fives and crossing streams are among the strategic and aesthetic highlights.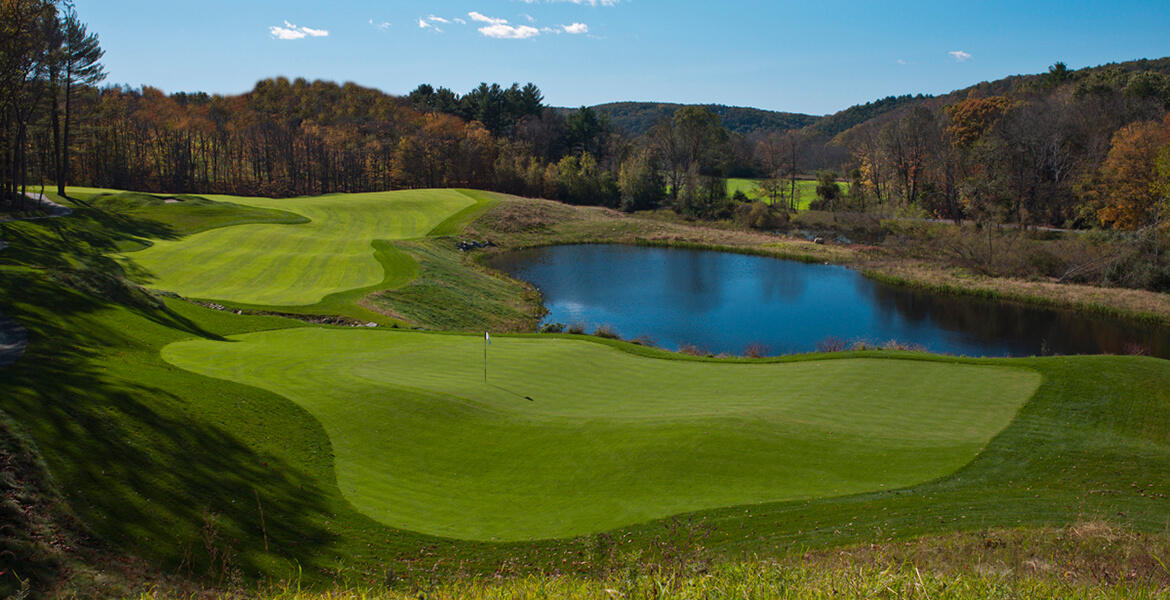 What are some other great golf courses in Connecticut you can play? Let us know in the comment section.