By Erik Matuszewski
During one of his recent visits to the Ozarks in Missouri, Tiger Woods brought his son Charlie along to help with the construction of the Big Cat's first public course in the U.S.: Payne's Valley at Big Cedar Lodge.
The team from Woods's TGR Design was leveling some of the severe terrain that defines the layout, drilling into a hillside and inserting dynamite. It was 9-year-old Charlie's job to depress the plunger, watching from safety about 150 yards away as the blast lifted the earth upwards and then back down with a muffled "whumph." The dynamiting process allows smaller pieces to be taken away, leveling the ground and leaving a dramatic exposed rock face in some areas.
"We choreographed it knowing that Charlie was coming," says Beau Welling, the Senior Design Consultant for TGR Design. "We had it set up so he could blow something up. It was awesome. He loved it. He was scared a little bit, but thrilled."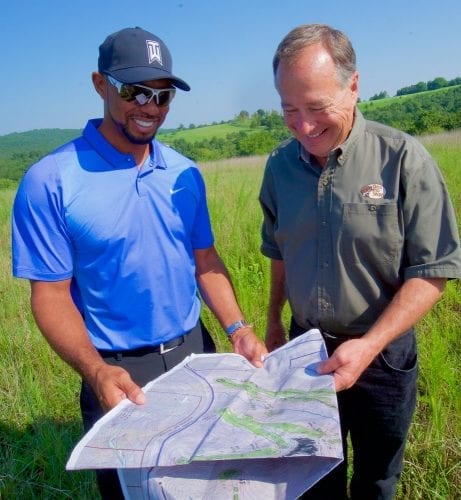 When Payne's Valley opens to play as the latest amenity at Big Cedar, golfers are sure to be similarly blown away, particularly by the stunning ridges, deep valleys and a truly dramatic conclusion.
I recently caught up with Welling, Woods's lead designer for more than 11 years, to find out the latest about a course named in honor of Ozark-native Payne Stewart.
Ten holes (including the bet-settler of a 19th hole) were fully grassed entering 2019 and look like they're ready to welcome golfers, but Woods, Welling, and the TGR team are still in the process of shaping and building the other nine. The geology of the site presents some technical obstacles, but Welling says those challenges are also opportunities to create something truly special.
"This is not where Donald Ross would have shown up and built a golf course," Welling said. "There's a lot of work, engineering and construction that has to happen to turn it into this. If it wasn't so difficult, it wouldn't be as spectacular."
The course will probably have a soft opening at the end of 2019 and open officially in 2020.
When it does, golfers will find a walking-friendly course with wide fairways. They'll play along, across and through exposed rock outcroppings, sweeping valleys, mature trees, rugged ridges and pristine streams. It's intended to engage players of all abilities, from Woods' peers on the PGA Tour to kids who visit the family-friendly resort with their families.
"There's 85 to 90 acres of fairway. We want people to be able to get off the tee and be able to find their golf ball, hit it and have fun," says Welling. "When you get closer to the greens, where somebody like Tiger Woods is trying to score, that's where you really dial it up and protect scoring."
The front nine is defined by a series of finger-like ridges, with the first two holes dropping about 200 feet in total after starting near the Mountain Top short course designed by Gary Player. Payne's Valley then becomes relatively flat, with the back nine on one long ridge. Around many of the holes are escarpments that drop off to valleys and canyons below. The rough that lines the fairway isn't meant to be penal or challenge better players, Welling said, rather it's to keep a ball that's traveling fast on the ground from going off one of the cliffs.
"It looks like a national monument," Welling said. "I don't know to this day how we're getting back from the 19th green to the clubhouse, but John says he's got it. That means it's going to be something off the charts unbelievable."
The 19th hole, called "The Rock," will be a jaw-dropper of a finish, a par-3 that features 200 feet of elevation behind it. After finishing, golfers will somehow traverse a natural cavern system to return to the clubhouse.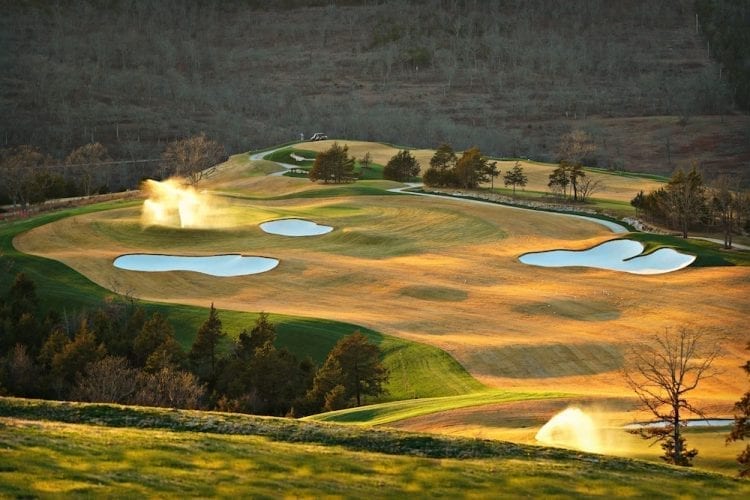 John is Johnny Morris, the founder of Bass Pro Shops and visionary behind Big Cedar Lodge. Course architect Tom Fazio, who built the Buffalo Ridge Springs course at the property, says Morris has the propensity to show up at a construction site early in the morning in his pickup truck and is often the last to leave.
"He has the ability to push the envelope," says Fazio. "If you find a sinkhole, he's going to dig it deeper."
Morris has known Woods for decades. They struck up a friendship when Woods bought a fishing boat shortly after winning the 1997 Masters. Morris and his son delivered the boat to Woods personally, then spent the rest of the day bass fishing with the now 14-time major champion.
Morris more recently took young Charlie fishing, along with his own grandson, while Woods worked on Payne's Valley.
"That was special for Tiger," Welling said. "He had this experience 20 some years ago, and his son got to do that too."
In a way, it sums up the overall ethos of Big Cedar Lodge, which aims to connect people to nature through fishing, golf, boating and a host of other recreational activities. It is the type of special experience Woods is trying to create at Payne's Valley.
While the rest of us won't get to push the plunger, soon enough we'll get to see the final product. 
_____________________________
What do you think of Payne's Valley and Big Cedar Lodge? Tell us in the comments below!