By Tony Dear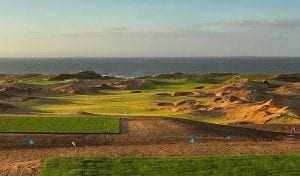 Some Scottish golf is royal. Much of it is ancient. It's the home of the game to which nearly a quarter of a million devotees travel each year in order to play the most sanctified courses in the world. To many disciples, this ground is holy. The country couldn't be accused of resting on its considerable laurels, however. Since the turn of the century, a number of superlative courses have opened or have been extensively remodeled—Kingsbarns, Castle Stuart, the Renaissance Club, Trump Aberdeen and Trump Turnberry (Ailsa and King Robert the Bruce), the Castle Course, The Machrie, Machrihanish Dunes, Dundonald, Askernish, and Craigielaw.
And still the investment continues with three brand new courses either currently under construction or soon to be.
We've been hearing about Coul Links in Embo, three miles north of Dornoch, for a few years now. A partnership between local hotel proprietor Todd Warnock and Mike Keiser who has been wanting to develop a course in Scotland since first playing Royal Dornoch 30-something years ago, Coul Links has been routed by Bill Coore and Ben Crenshaw. Everyone involved is eagerly awaiting a decision from the Scottish Parliament on whether the project may proceed.
"We've been approved by the Highland Council Planning Committee by a 17-1 decision," says Warnock. "The local community and all golf courses in the Highlands support us." The town of Embo has even signed on as an investor confident that, were the course to be built, it would mean a significant boost to the local economy.
However, Scottish Natural Heritage (SNH), one of the two statutory bodies that give advice to Parliament's Planning Committee (the other being the Scottish Environmental Protection Agency) is concerned the course would disturb 13.4 hectares of the 389-hectare site.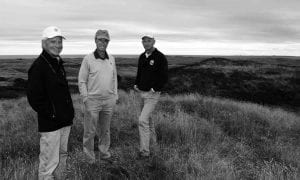 "Which is true," says Warnock. "The government has the right to review the Planning Committee's decision because a statutory body objected. They have chosen to exercise that right and review the decision with an outside investigator. We believe this decision was based on fears that the Trump course in Aberdeen and its failure to meet Trump's post-construction promises, was such a political disaster that they needed outside expert confidence. It's the right thing to do."
It will be a few months yet before the government decides Coul Links's future but Warnock is confident the course will win and that the process will reveal the site's ecological integrity will actually improve, and that the area, indeed the whole Highlands region, will benefit economically. Coul Links will be a daily-fee, public-access course (with 100 founding members) with no housing or lodging ("There's plenty of that in and around Dornoch already," says Warnock).
Then there is Dumbarnie on the south Fife coast, a 22-minute drive down the A915 from St. Andrews.
The man behind this project is ex Walker Cup, Ryder Cup, and European Tour player Clive Clark who commentated for the BBC for many years before moving to La Quinta, Calif., in 1994. Now 73, Clark began working on the development five years ago when he spoke with friend Malcolm Campbell (co-author of True Links alongside LINKS's own George Peper) about the site between the much-loved Lundin Links and Elie.
"I spent a lot of time researching the site, raising money (U.S. west coast investors mainly), and agreeing lease terms with the landowner of the 5,000-acre Balcarres estate," says Clark who experienced little of the permitting obstacles Coul Links has been subject to. "Fife Council voted unanimously (12–0) in our favor, and there have been no objections," he says. "We were granted approval in April, and began construction on May 29th."
American firm Landscapes Unlimited built the course under the watchful eye of Project Manager Paul Kimber of Kimber & Glen. Kimber worked for David McLay Kidd for nine years before setting up the new firm in 2009, while Glen is a former associate of Peter Harradine in Dubai, and also worked for Kidd. "My first involvement was back in 2013, although there was no contract," says Kimber. "I've been working on the project on and off since then before Clive made the appointment more formal in September 2017."
Kimber, a Scot with vast knowledge of links golf and experience in course construction, ensured Dumbarnie was built in just 16 weeks. "The site was very flat," he says. "There is one uniform escarpment running through the site that gave us two plateaus with a 60-foot height difference. We needed to move quite a bit of dirt to recreate a dunes landscape."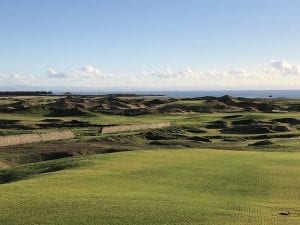 The course has now been seeded and will be playable by the end of next summer, though Clark says it won't open officially until the spring of 2020. "We want it to be perfect on opening day," he says. "It will be very playable with 45-yard-wide fairways and three driveable par fours. It will measure 6,850 yards off the back tees, though we can extend it to 7,600 for professional events. Grahame Roberts, former greenkeeper at the New and Jubilee Courses (and who also worked on the Old and Castle Courses) in St. Andrews has been appointed our Course Manager."
Unlike Coul Links and Dumbarnie, the Feddinch Club, just a seven-minute drive south of the Auld Grey Toon on the same A915, will be strictly private, and private in the way that prospective members are told on the club's website that the airfield at nearby Leuchars will accommodate their private jets. Conceived by Ewan McKay, a former potato tradesman who grew up in Dundee, Feddinch will eventually have around 600 members playing a Tom Wesikopf-designed course that the 1973 Open champion has routed and where contractors will begin moving dirt next spring.
Named after the 12th century estate on which it sits, Feddinch has been in the works for over 20 years. "The embryonic beginnings started around 1997," says McKay. "I was convinced St. Andrews ought to have an exclusive private club. I first met Tom at Royal Troon that year (the last Open Weiskopf played)."
In 2004, after planning consent had been given, McKay sold the project to U.S. developer Tim Blixseth. Following his financial meltdown, however, ownership was returned to McKay in 2010 and the first work on the site began in 2013.
McKay says he chose Weiskopf to build the course because of his reputation and status in the industry. "And also because I know he could build something that was fun and enjoyable for the members," he says. "We have no intention of creating a 'championship' course. It will be fun and challenging."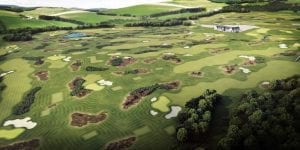 McKay estimates Weiskopf has been on site for roughly 30 days already and is planning on making five more trips at least before the course finally opens in 2021.
The course will lay upon heavy soils, but while it certainly won't be a links course, it will command fantastic views of St. Andrews and the bay.
A big fan of Donald Ross and his contribution to Scottish golf, McKay has asked private clubs with Ross designs if he can name holes in their honor. "The response has been terrific," he says. "Every invited club has agreed, so we now have a full list of Patron Clubs (which includes Aronimink, Oakland Hills, Scioto, Seminole, Oak Hill, Inverness, and Wannamoisset which will be the name of the 19th, or bye, hole)."
Three new courses coming to Scotland—two daily fee links, one inland private. As if the 21st century hasn't been exciting enough.
________________
What do you think of these three new courses? Do they make you want to go to Scotland more? Tell us in the comments below!