Although he's best known for his high-toned designs at private enclaves like at Quail Hollow Club, site of the PGA Tour's Wells Fargo Championship this week, Tom Fazio has imbued many resort and daily-fee courses with his trademark playability and aesthetic flourishes.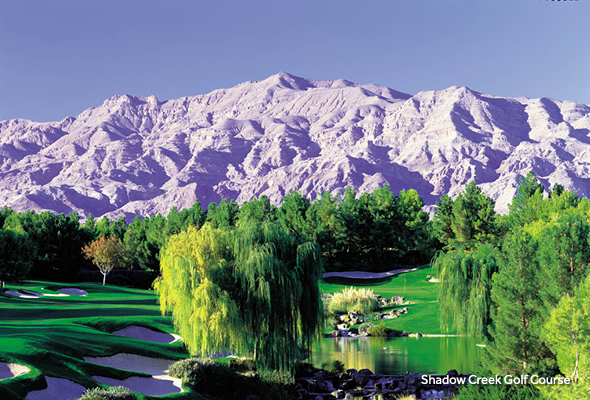 Shadow Creek
North Las Vegas, Nev.
Arguably the greatest manufactured course on earth, this Holy Grail for high rollers, originally built as a private facility by Tom Fazio and casino mogul Steve Wynn for an estimated $46 million in 1989, transports players from the Mojave Desert to a magical realm of lush gardens and exotic birdlife. Improbably, the oasis-like setting rises from a pancake-flat site backdropped by stark mountain peaks. Everything money can buy is here: specimen trees, gurgling streams, undulating fairways, and Augusta-like conditions. No Vegas illusionist can top it. The course is accessible to guests of MGM Resort International.
____________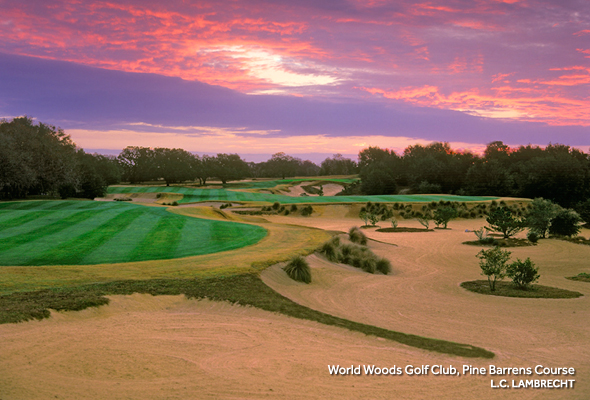 World Woods (Pine Barrens)
Brooksville, Fla.
When Fazio first explored the sandy wastelands, gnarly shrubs, and 60-foot drops on the vast World Woods site north of Tampa, he saw an ideal canvas on which to fashion a public-access version of Pine Valley, the famed New Jersey club where he's a member. Like its model, Pine Barrens looks far more intimidating than it actually plays, though shrubby ground serves as a transition area from tee to fairway, and approach shots must be pinpointed to well-protected greens laced with bold contours. A visual smorgasbord of tufted ridges, bottle-green pines, and gaping pits of native sand, Pine Barrens is a playable work of art.
____________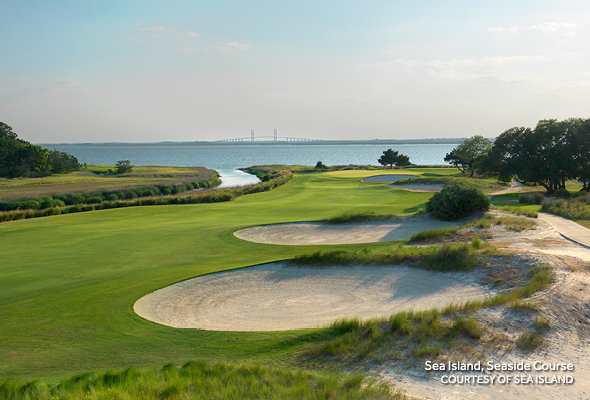 Sea Island (Seaside)
St. Simons Island, Ga.
Golfers can roll out of bed in the Lodge at Sea Island and stroll to the first tee of the Seaside Course, which consists of a pair of older nines by H.S. Colt and Joe Lee that were artfully restyled and melded together by Fazio into a firm, fast, links-style creation. Holes tumble across sandy ground exposed to the wind off St. Simons Sound, with tidal creeks, salt marsh, and brackish ponds dictating the line of play. The layout's perched greens, with their steep drop-offs, are tough to hit and harder to hold. Annual host of the PGA Tour's McGladrey Classic, Seaside is a championship-caliber course that doubles as a premier resort course.
____________
Fallen Oak
Saucier, Miss.
A prime amenity for guests of the nearby Beau Rivage Resort & Casino on the Mississippi Gulf Coast, Fallen Oak, spread across a 510-acre site framed by century-old live oaks, magnolias, and pines, is an exquisite 7,487-yard layout. Graceful landforms, numerous wetlands, and deep sculpted bunkers mark this Old South design. Site of an annual Champions Tour event, the course appears extruded from the Gone With the Wind landscape, though the large, finely manicured greens, averaging 7,500 square feet, are among the most intricately contoured on Fazio's long resume. Fallen Oak's risk-reward par fives are exceptional.
____________
Karsten Creek
Stillwater, Okla.
Opened 20 years ago and home to Oklahoma State University's men's and women's golf teams, this rugged, scintillating test is one of the top collegiate courses in the nation and also one of the toughest. The layout's front nine, carved from a thick forest of blackjack oaks and hickories, occupies hilly terrain. The back nine flattens out, its final three holes encircling Lake Louise, a man-made 110-acre lake named for the wife of Ping founder and course benefactor Karsten Solheim. The slick, subtly contoured greens are open in front to encourage bump-and-run shots, a sound option when the wind blows, which it does often in Oklahoma.
____________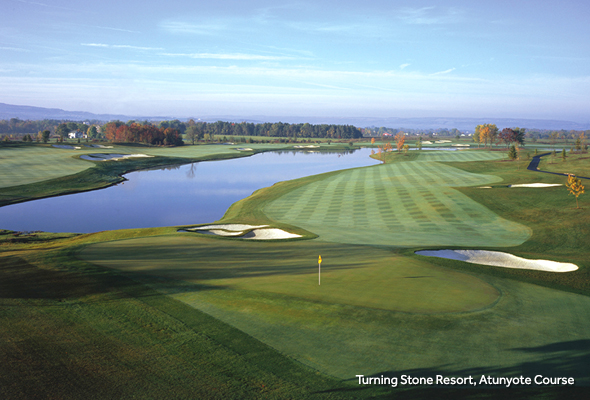 Turning Stone Resort (Atunyote)
Verona, N.Y.
Unveiled in 2004, this burly yet flexible course in upstate New York, stretching to 7,315 yards, is tucked away on a secluded preserve a few miles from the main property. Handed a rolling tract of wooded land, essentially a habitat for deer, fox, and a diverse array of birds, Fazio crafted a brilliant parkland course with vast stretches of open space and fine long views of distant farms. For strategic nuance, Fazio created numerous water features on site, including small waterfalls, lakes, and winding streams trimmed with broad slabs of local sandstone. Site of a PGA Tour event from 2006–10, Atunyote is a modern classic.
____________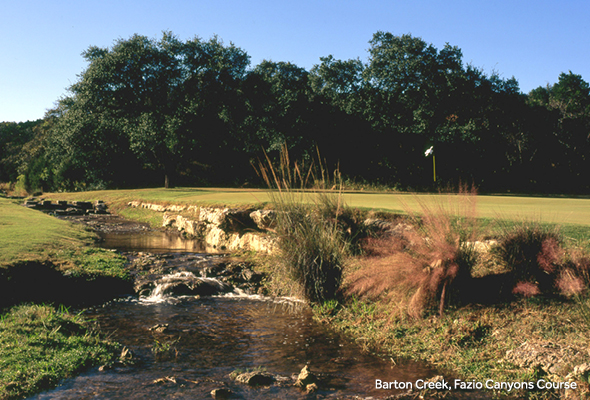 Barton Creek (Fazio Canyons)
Austin, Texas
Fazio Foothills, the architect's much-admired original course at Barton Creek built in 1986, was a tough act to follow, but Tom's encore at this beautiful Hill Country resort, opened in 2000, raised the bar significantly. Routed on rolling, boulder-strewn terrain, with streams, creeks, and ponds in play at 14 holes, Fazio Canyons is a sturdy 7,153-yard layout framed by red oaks, fragrant cedars, and well-placed bunkers. Forced carries over limestone escarpments are required from the back tees. The par-5 18th, with a winding creek in play from tee to green, is a potential card-wrecker.
____________
Red Sky Ranch (Fazio)
Wolcott, Colo.
Located near the Vail and Beaver Creek ski resorts, this spectacular layout, routed at more than 7,000 feet above sea level on a former sheep ranch, rises and falls through sage-covered hills and thick groves of aspen. A 7,113-yard stunner with a 600-foot elevation change, this top-of-the-world layout offers panoramic views of Castle Peak to the west and Vail's fabled Back Bowls to the east. The front nine ambles through a high-desert setting and is marked by a pair of gargantuan par fives, notably the 606-yard fifth, which skirts the base of a red-rock mesa. The back nine, marked by Fazio's elaborate filigreed bunkers, delves deeper into the Rockies.
____________
Pelican Hill (Ocean North)
Newport Coast, Calif.
On a broad slope spliced by coastal canyons high above the Pacific near the surfing mecca of Newport Beach, Fazio laid out a pair of exceptional courses at this Italianate resort in the early 1990s. Ocean South, a petite 6,580-yard, par-70 design, has four holes routed on seaside bluffs, but Ocean North is the grander and more majestic test. Open and windswept, with views of the sea from every skybox tee and tilted fairway, the sloping layout, etched across a plateau 300 feet above the Pacific, has small, undulating greens and enticing risk-reward scenarios that tempt bold players to try do-or-die carries over deep canyons.
____________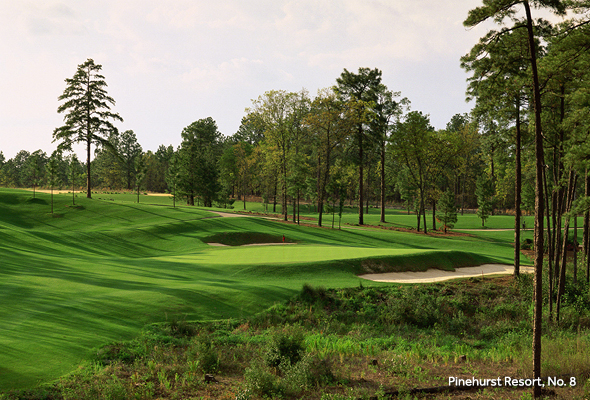 Pinehurst Resort (No. 8)
Pinehurst, N.C.
To celebrate its 100th anniversary in 1996, Pinehurst hired Fazio to design its centennial course on the grounds of its former Gun Club. The site had the requisite longleaf pines and rolling sand hills, but Fazio's inspired creation also skirts an old sand pit, a manufactured dune ridge, and a pair of freshwater marshes. Hillier than Pinehurst's other courses, the holes lead to inverted saucer greens rolled off at their edges to closely-mown dips, swales, and hollows. With their interesting angles and ample amounts of pitch and roll, these "tribute greens" are a tip of the hat to Donald Ross, whose crowned putting surfaces on fabled No. 2 are the essence of the course.
_________________