With the U.S. Open about to unfold at the "linksiest" venue ever to host our national championship it seems a good time to consider the whole notion of links golf in America.
Several years ago, along with my UK friend and colleague Malcolm Campbell, I did a book called True Links, the object of which was to define what a links golf course is and then catalog the genuine links courses in the world.
We struggled with the definition part. Depending on whom you talk to, the qualifications for links-hood can be extremely strict or fairly broad. The purists insist the course must be set beside an estuary, must offer at least partial or occasional views of the sea, must have few if any trees, and must be routed out and back, the front nine heading to a far point and the back returning to the clubhouse, in the manner of the Old Course at St. Andrews. By this definition, there are only a couple of dozen links courses on the planet.
Malcolm and I took a slightly more relaxed stance, requiring only that the course be near the sea, that its turf be sand based and grown with fescue grass on terrain that is open, firm, and fast-running, and that the site be exposed to the elements. Using these criteria we came up with a list of 246 links courses in the world.
Most of them—about 85 percent—are in Great Britain and Ireland. In the U.S. we found only four. Had our criteria been a bit looser, the fifth likely would have been the site of this year's Open, Chambers Bay, which looks and plays every bit like a links. But we felt compelled to disqualify Chambers on the basis that, although it sits beside Puget Sound, it is simply too far removed from the sea (nearly 100 miles from the Pacific) to be a true links.
So what are those four bona fide U.S. links courses, and where else can you find at least a links-like experience in the U.S? Here are the Top 10 you can play, beginning with three in the same location, Bandon Dunes.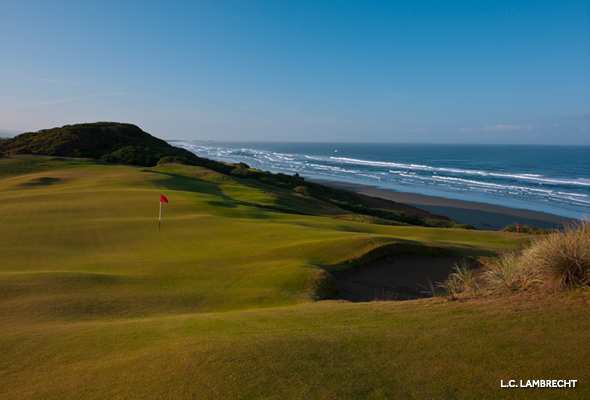 1. Old Macdonald
Bandon, Ore.
Tom Doak's homage to C.B. Macdonald, complete with replicas of several of his template holes, is as close to the Old Course you'll get on this side of the pond.
____________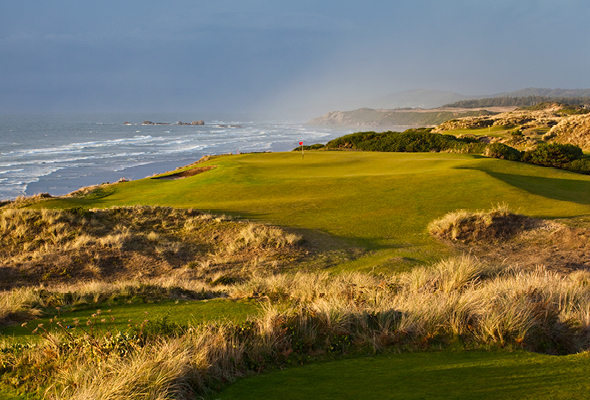 2. Bandon Dunes
Bandon, Ore.
The original Bandon course, by Scotsman David Kidd, has no steep hills and dales but endless dips and ripples, just like the best Scottish links.
____________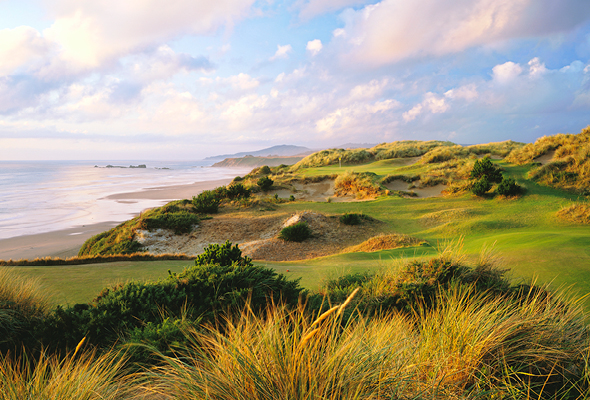 3. Pacific Dunes
Bandon, Ore.
Doak's masterpiece, set on Bandon's most dramatic land, its sea views and massive dunes reminiscent of Ballybunion.
____________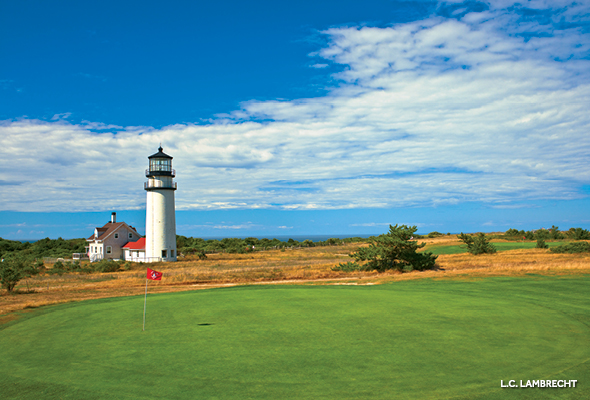 4. Highland Links
Truro, Mass.
A nine-hole period piece, designed in 1892 on a bluff at the northern tip of Cape Cod. Plush it isn't, but then, neither are most true links, and the green fee is just $35.
____________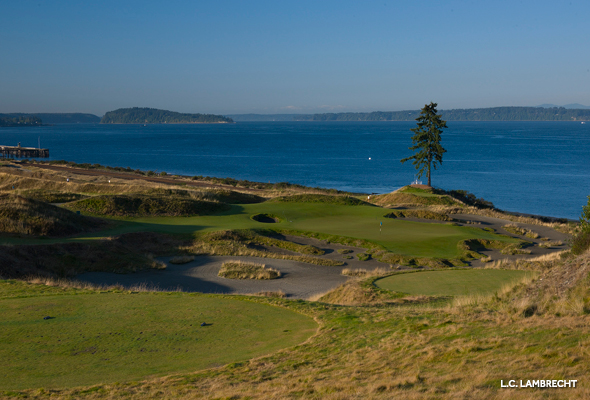 5. Chambers Bay
University Place, Wash.
Links golf on steroids—7,827 yards from the tips, with greens that have more pronounced sweeps and swales than anything you'll see in the UK.
____________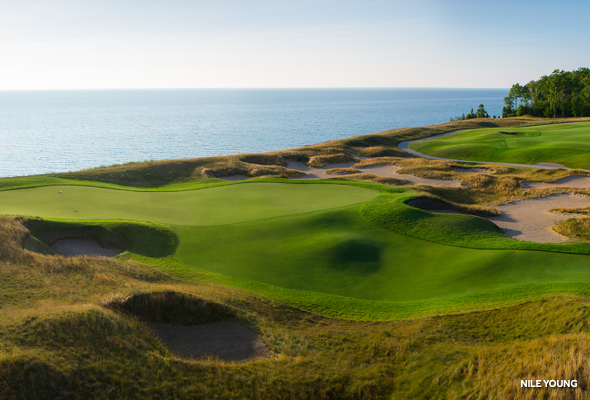 6. Arcadia Bluffs
Arcadia, Michigan
Shaggy dunes encase the fairways of this windswept beauty, perched high above Lake Michigan.
____________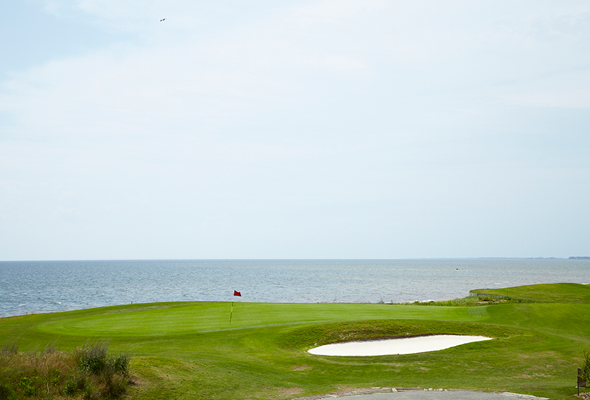 7. Nag's Head
Nags Head, N.C.
The best of the Outer Banks, set beside the Roanoke Sound. Barely 6,100 yards but when the wind blows, as it usually does, this is all the challenge you want.
____________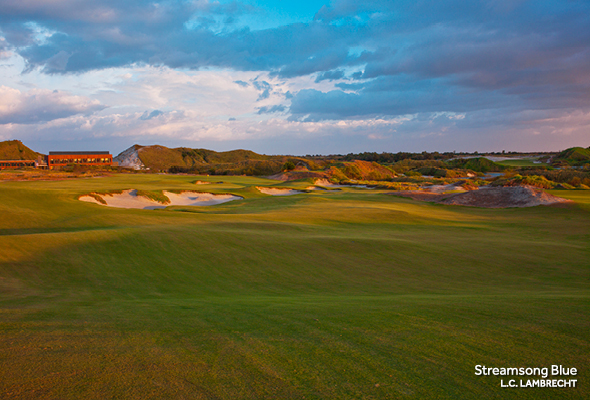 8-9.  Streamsong Blue and Red
Streamsong, Fla.
On Bermuda grass in the middle of Florida, this 36-hole resort is nonetheless the real links thing, thanks to a unique site and fine work by Doak (Blue) and Coore/Crenshaw (Red).
____________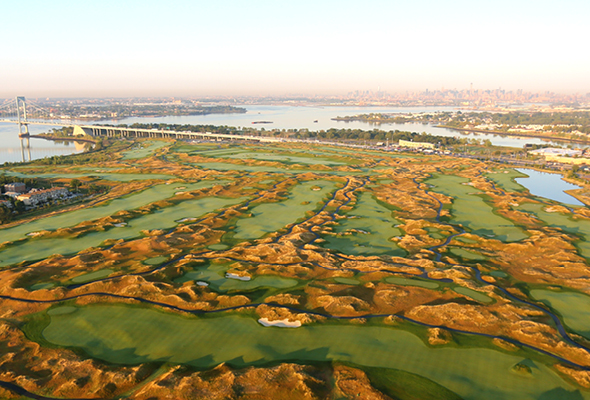 10. Ferry Point
Bronx, N.Y.
At this brand-new stunner from Jack Nicklaus and Donald Trump you'll find links-like golf just 15 miles from the center of Manhattan.
_________________