Do you have a little explorer in you? Every golfer should. In honor of Columbus Day on Monday, here are some great hidden gems that Columbus himself might have sailed halfway around the world to play.
Cape Arundel
Kennebunkport, Me.
Home to a vintage Walter Travis-designed layout circa 1922, this semi-private club, situated near the Bush family compound, was recently updated by Gil Hanse. Tidal creeks wind through several holes of this short, exacting, tightly coiled par-69 course, with several carries over water required. The tiny greens, a few of them framed by chocolate drop mounds, are exceptional.
Lawsonia (Links)
Green Lakes, Wisc.
Long before the 72-hole juggernaut at Destination Kohler (Blackwolf Run and Whistling Straits) commanded the stage in Wisconsin, Lawsonia's Links Course, a classic 1930 layout designed by William B. Langford, reigned as the state's finest public-access course. Recently restored to its original design, this firm, fast, walker-friendly layout presents a traditional links-style test.
Indian Canyon
Spokane, Wash.
Routed along the base of a canyon wall in 1935 by H. Chandler Egan, who had a hand in the redesign of Pebble Beach, this exceptional woodland layout overlooks Spokane from its exalted perch to the west. Hillside tee shots drop nearly 250 feet to twisting, hilly fairways. Owned and operated by the City of Spokane, this well-kept muni, boasting a $29 weekday green fee, is also a great value.
Jimmie Austin OU
Norman, Okla.
Home of the University of Oklahoma's golf team, this superb public-access course, designed by Perry Maxwell in 1951 and refurbished by Bob Cupp in the late 1990's, was more recently improved in advance of the 2009 U.S. Amateur Public Links Championship. Located 15 miles from Oklahoma City, the windswept layout, named for a prominent benefactor, presents a major-league test from the tips at 7,380 yards.
Old Silo
Mt. Sterling, Ky.
Situated 30 minutes east of Lexington, this lovely, pastoral layout, designed by Australian golfer Graham Marsh and Landscapes Unlimited course builder Bill Kubly, is a rolling, sparsely wooded course cleaved by meandering Somerset Creek and dotted with 84 large, white-sand placed bunkers. The well-contoured greens are fast and true.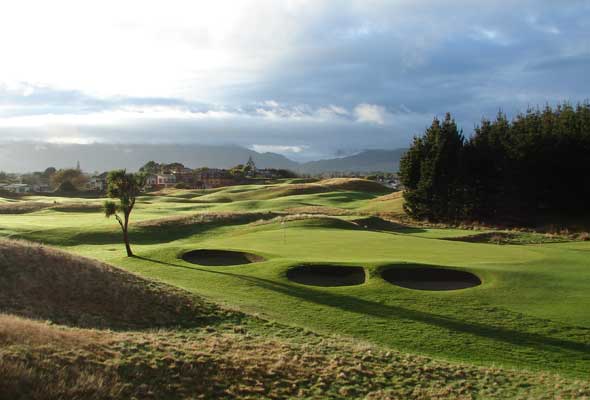 Paraparaumu Beach
New Zealand
New Zealand deserves its reputation as one of the most beautiful and remote nations on earth. Outside its capital city of Wellington is Paraparaumu Beach, one of least-heralded great courses in the southern hemisphere. This windswept links features narrow, heaving fairways laid between grassy sand hills and deep bunkers. The greens are swift, the mountain views are stellar.
Pine Dunes
Frankston, Tex.
Located 100 miles east of Dallas, this secluded layout, designed in 2001 by Jay Morrish with input from PGA Tour pro David Frost, is a sand-based, lay-of-the-land course lined by towering pine trees. Rustic and peaceful, the 7,117-yard layout, defended by nearly 90 bunkers, offers enticing risk-reward scenarios, including a short "driveable" par 4 on each nine.
Royal Portrush (Valley)
Portrush, Northern Ireland
This legendary club on the Antrim Coast is revered for the Dunluce Course, a spectacular clifftop links that has been short-listed for a future Open Championship. Less well-known is the Valley Course, a sporty, sheltered links routed below a tall dune ridge. The Valley, like the Dunluce, was laid out by H.S. Colt. At 6,304 yards (par 70), it's a splendid links designed for enjoyment.
Silloth-on-Solway
Cumbria, England
Situated on the Solway Firth in the far northwest corner of England near the Scottish border, this charming 1892 links has rumpled fairways laid into dunes framed by heather, gorse, and tall fescue grasses. The surrounding views of coves, beaches, and hills, with the Isle of Man visible to the southwest, are among the most arresting in Britain.
Stevinson Ranch
Stevinson, Calif.
For a touch of Scotland in California's Central Valley, head two hours east of the San Francisco Bay area, where the land flattens and the glamour gives way to agricultural landscapes. Designed by John Harbottle III, this middle-of-nowhere, 7,180-yard layout, accented by sand, water, hollows, and native grasses, is known for its large speedy greens.