Back in the day, it was all about the match, score be damned. The nation's Golden Era courses were specifically designed for match play, and now a new generation of designers, lead by Coore & Crenshaw, Tom Doak, and Gil Hanse, have built or restyled courses with risk-reward options that incite head-scratching, suspense, and sudden reversals of fortune.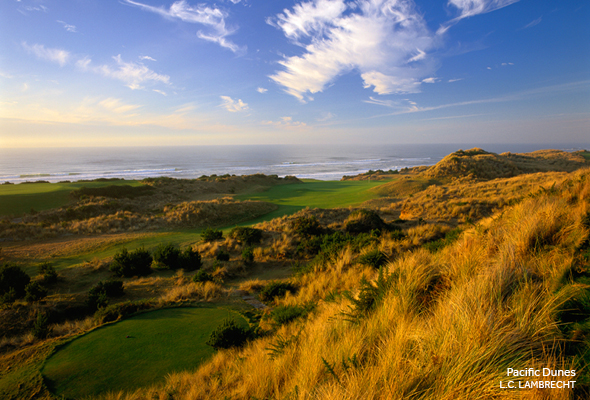 Bandon Dunes Golf Resort (Pacific Dunes)
Bandon, Ore.
As on a genuine Scottish links, the ground game dictates play on this epic Tom Doak-designed gem, which offers a man vs. nature setting that's ideal for head-to-head matches. Holes unfold on rippling, windswept duneland 100 feet above the sea on a course evolved by nature and refined (but only slightly) by man. Players anxiously watch the ball's journey as it bounces, rolls, and skids across firm, sand-based turf laid through pockets and valleys in the dunes. Matches at Pacific Dunes, which will hold the first U.S. Women's Amateur Four-Ball Championship May 9–13, are usually won or lost on and around the slick perched greens, where clever chips and crisp pitches are a necessity.
____________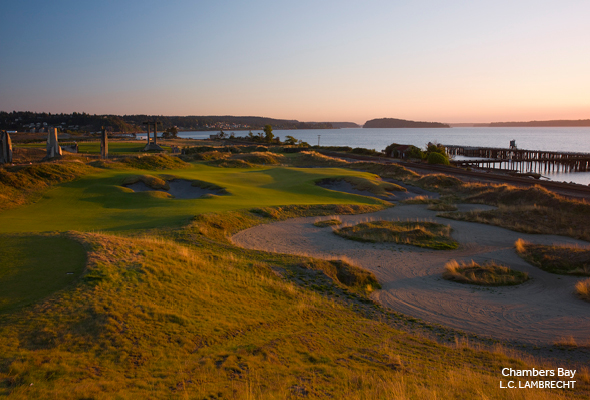 Chambers Bay
University Park, Wash.
There's a reason the USGA held the 2010 U.S. Amateur at Chambers Bay—it's a superlative match play course that tests all facets of the game. Dropped into a depleted gravel pit that bears the scars of a century of industrial mining, this mottled muni, treeless save for one iconic fir, is pressed to the shores of Puget Sound, with the Olympic Mountains rising to the west. Scenery aside, players must negotiate hulking sand hills, sharp elevation changes, steady onshore breezes, and undulating fescue greens. The meat and bone of Chambers Bay are its par fours, a collection of two-shotters designed to derail timid players and demolish overconfident golfers.
____________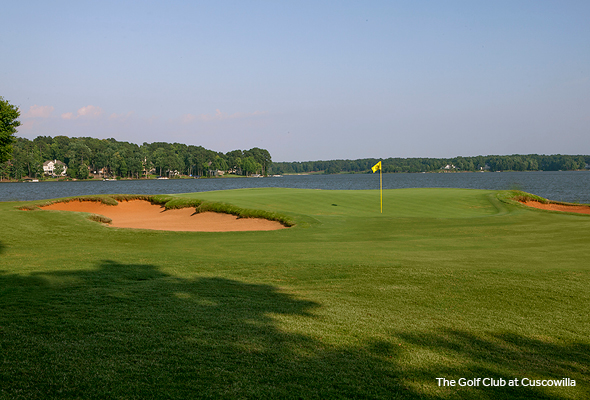 Golf Club at Cuscowilla
Eatonton, Ga.
Long celebrated as proponents of strategic design, Bill Coore and Ben Crenshaw have crafted modern classics for nearly 30 years. Cuscowilla, a semi-private club that debuted in 1996 shortly after the debut of Sand Hills in Nebraska, is a low-profile, less-is-more track pared down to the barest essentials. Each hole requires sound strategy and precise execution. Whether you play it safe or take a more aggressive approach, you'll face the consequences of every stroke, a key indicator of a good match play course. The pushed-up greens, staked out by ragged-edge bunkers, are deceptively difficult. Players who can read the ground contours and solve this layout's many riddles will triumph.
____________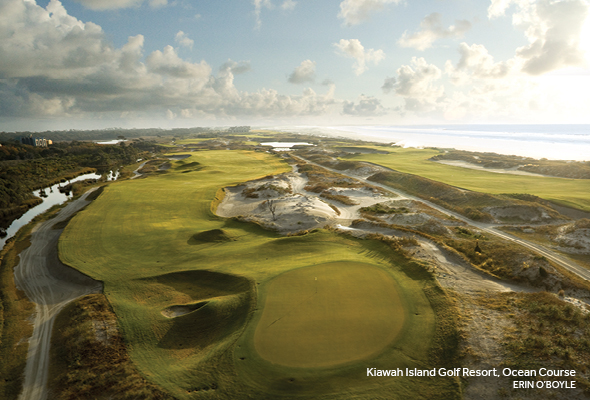 Kiawah Island Golf Resort (Ocean Course)
Kiawah Island, S.C.
Buffeted by coastal breezes, this Lowcountry leviathan, laid out by Pete Dye along a 2½-mile stretch of scrub-covered dunes and salt marsh, was worthy enough to host the Ryder Cup Matches, a.k.a. the "War by the Shore," the year it opened in 1991. With sandy waste areas girdling nearly every hole, sudden momentum shifts, a key feature of match play, are common on a bruising venue where players are routinely tempted to pull off a heroic shot. However, the penalty for a miscue on this moated sand castle of a links, which metes out punishment in major dollops, is usually a very big number.
____________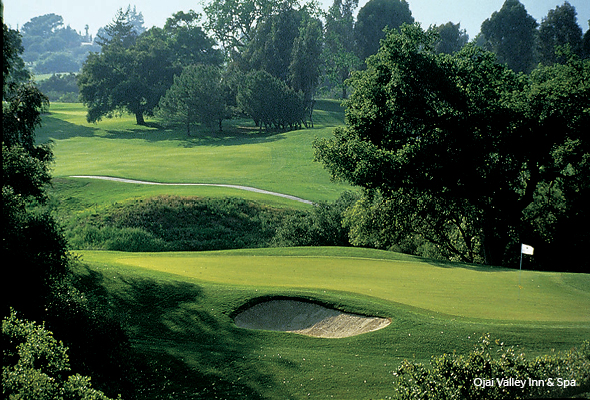 Ojai Valley Inn & Spa
Ojai, Calif.
George C. Thomas, renowned for his Golden Age designs at Riviera, Bel-Air, and Los Angeles country clubs, created a brilliant test at Ojai, which sits in the shadow of the Topatopa Mountains. Rolling fairways meander across open land dotted with oaks and flanked by barrancas. The scorecard is misleading: Ojai is a scant 6,292 yards from the tips (par 70), but many of the holes play uphill. With six par fours over 400 yards and three par threes topping 200 yards, not to mention swirling breezes and slippery greens, this is no creampuff. At Ojai, canny strategists can bankroll grip-it-and-rip-it opponents.
____________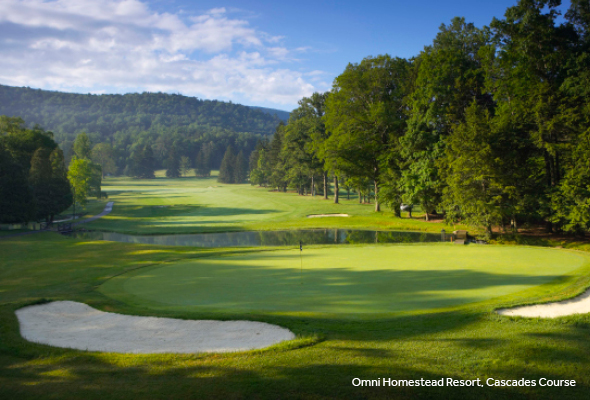 Omni Homestead Resort (Cascades)
Hot Springs, Va.
Designed by William S. Flynn eight years after he transformed Shinnecock Hills into a links for the ages, the Cascades Course, tucked in the foothills of the Allegheny Mountains, is where Hot Springs homeboy Sam Snead honed his game—and learned to win money matches. The rugged, naturalistic layout, one of the America's best mountain courses, was shoehorned by Flynn into the rolling, wooded landscape. The ability to drive the ball straight and make solid contact from a bewildering array of sidehill, downhill, and uphill lies usually spell the difference on the Cascades.
____________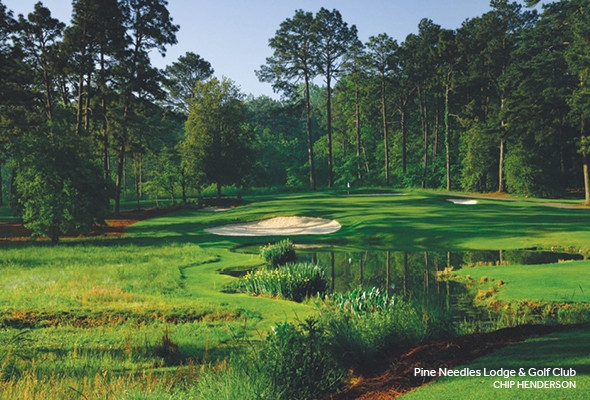 Pine Needles Lodge & Golf Club
Southern Pines, N.C.
Located four miles from Pinehurst in the quaint little town of Southern Pines, this homespun resort's centerpiece, host of three U.S. Women's Opens, is a restored Donald Ross layout with all his trademarks, notably spacious fairways, well-placed bunkers, and inverted saucer greens. Completed in 1927, Pine Needles was Ross's favorite course to play in his later years. Why? It calls for all the shots. The better player usually wins. A 36-hole match for all the marbles? Conclude the battle across the street at Mid Pines, an older, more compact Donald Ross gem carved from longleaf pines that reopened last year following a stunning makeover.
____________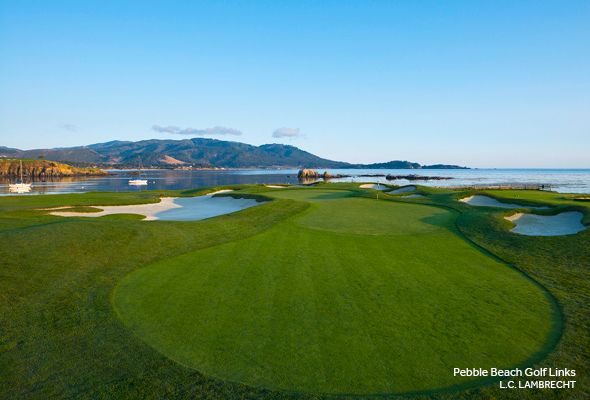 Pebble Beach Golf Links
Pebble Beach, Calif.
Laid out in 1919 by amateur champions Jack Neville and Douglas Grant, the elongated figure-8 routing on this American seaside treasure takes full advantage of the sloping terrain and sweeping headlands. Pebble's famed trio of cliff-hanging holes—Nos. 8, 9, and 10—reward only well-planned, well-executed shots, with the eighth requiring a full-blooded carry over an ocean cove to a tilted, linoleum-slick green. The grand par 5 18th, bent along the curve of wave-tossed Carmel Bay, is arguably the finest risk-reward finishing hole in the sport, especially now that equipment advances have enabled big hitters to think about going for the green in two, a dangerous proposition.
____________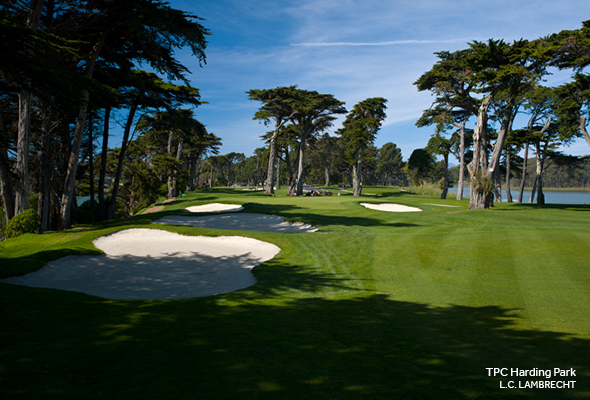 TPC Harding Park
San Francisco, Calif.
Framed by Monterey cypress trees and stretched across a peninsula near the shores of Lake Merced, TPC Harding Park, site of this week's WGC event and host of the 2009 Presidents Cup (as well as the 2020 PGA Championship and 2025 Presidents Cup), is a beautiful lay-of-the-land muni laid out in 1925 by Willie Watson, the same man responsible for Olympic. Accuracy and creative shotmaking are rewarded on a gently rolling course where Ken Venturi, Johnny Miller, and many other greats sharpened their skills. Completely renovated 10 years ago, the final five holes run high above the shores of tranquil Lake Merced.  The Cape-style par-four 18th is a classic closer that has decided many a match.
____________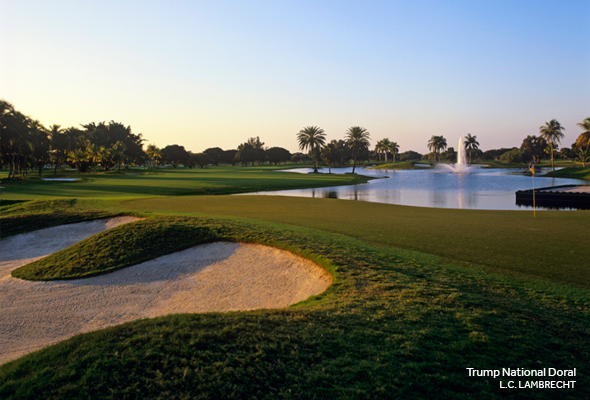 Trump National Doral
Miami, Fla.
When New York real estate tycoon Donald Trump acquired Doral three years ago, he brought in architect du jour Gil Hanse to put the teeth back into the Blue Monster, a tired Dick Wilson design that has been transformed into a risk-reward tour de force with danger at every turn. Hazards range from huge daunting bunkers to numerous lagoons that indent the fairways and front the greens. Discretion is the better part of valor on this ball-gobbling beast, especially on a windy day. Par will win most matches at the killer par-four 18th, which brings water into play on both the drive and approach.
_________________