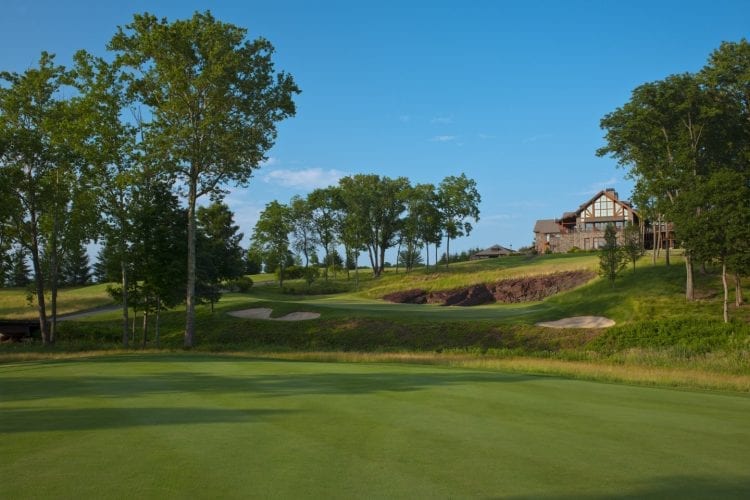 Motorists who think New Jersey is nothing more than highways, oil refineries, and rest stops will be surprised to know that a very different Garden State lies but a few miles away.
In Hunterdon County, for example, highways are replaced by equestrian trails. The oil comes from fields of sunflowers soaking in the warmth of their namesake. And the rest stops are farm stands selling locally grown sweet corn and the country's best tomatoes.
Also in this western county, snuggling up against Pennsylvania, the terrain begins to rise and fall, becoming thick with forests and ribboned with rivers and streams. Minutes from the corporate parks of Princeton it is still possible to find land that seems untouched by time and man.
Joel Moore found 300 such acres, and there he built his dream club, The Ridge at Back Brook. Moore and his wife Pam had belonged to a succession of local clubs. But they knew the only way to find exactly what they wanted was to build it themselves.
Their goal was a golf-only club—no pool, no tennis, no homes—casual and unique in atmosphere but serious about the game. He wanted exceptional practice facilities, with lots of room, separate bunker and short-game areas, numerous practice greens, and a separate teaching tee. And Joel had one other criterion: "I was going to have a Tom Fazio course or I wasn't going to build it."
In the autumn of 1998, Joel began walking parcels of available land within driving distance of their eastern Pennsylvania home and his accounting practice near Princeton. Discouraged by one piece after another of dull, flat farmland, he nearly abandoned the hunt. Then he took a late-afternoon walk on a piece of property like no other.
"There were woods, streams, elevation changes, rock outcroppings, and huge specimen trees," he says. "I found a natural red-rock wall nearly 100 feet tall that's now behind the 8th green. I came home and told Pam, 'I think I found it.'"
He was able to buy four parcels, including the 30-acre piece with the exposed red New Brunswick shale. Land in hand, the next job was getting Fazio.
Through contacts at Black Diamond, the Florida club with two Fazio layouts where the Moores also belonged, Joel got in touch with the architect's office. He sent a topographic map and a few days later was leading a group of Tom's associates through the spectacular setting. It took a few more months, countless phone calls, and a meeting with Fazio himself to get the deal done.
In late summer 2002, the course opened. The members loved it and word slowly spread beyond the confines of the county and the state. Golf Digest named "The Ridge" the best new course east of the Mississippi in 2003 and the sixth best new course in the country. Other accolades followed: In 2006, the New Jersey Course Owners Association named The Ridge the state's course of the year; readers of GolfStyles New Jersey voted it the second best course in the state after Pine Valley; and in 2010, GolfWorld named it the eighth best private club in the U.S.
Yet most people still haven't heard of it. The designer knows that given a glimpse, they will be smitten. "Golfers will be shocked by the natural beauty and drama of this course," Fazio says. "Just when you think you've played the best nine holes you've ever played, you step up to the 10th tee and it starts all over again."
True to his word, Fazio made every hole at The Ridge special. During a round the land climbs, drops, and rolls. Giving definition and offering framing are fields of flowing fescue, stands of tall trees, a lake, and two ponds. There really is a Back Brook and its tributaries come into play on nine holes. Sand is used sparingly, but the bunkers that exist are large, deep, and cleverly positioned. The fairways are wide but many are sloped so it's impossible to get around without having to negotiate at least a few uphill, downhill, and sidehill lies.
Then there is the eponymous ridge, a crest of land entirely contained within the course. Under its surface are outcroppings of barn-red shale that weren't fully exposed until the builders started boring and blasting. The rock first appears behind the 5th green and then rises out of the earth in the middle of the 7th hole, a dramatic split-fairway par five that begins on an elevated tee and doesn't show its stuff—shale, sand, and landing areas at different levels—until it's time to hit the second shot.
"That was the hardest hole to build," remembers Joel.
"Until they started digging and hit the rock, we didn't know how hard or soft it was. It was hard and kept breaking machinery. That hole took about six months to shape."
The 100-foot-high red-rock wall backstops the 8th green. But what makes the hole memorable—a tactic used on nearly all of the one-shotters (of which there are five, as there are five par fives)—is the diversity of tees. Set at different angles and different elevations, their placement day to day dramatically changes how the short holes play, adding to the course's endless variety.
Two holes—Nos. 5 and 18, both long, downhill par fives—finish at greens perilously close to the brook, tempting long hitters but forcing most mortals to lay up to flat spots in the landing area and then negotiate less-than-full shots to greens much wider than they are deep.
The putting surfaces are the one constant at The Ridge, each one big, deceptive, fast, and always maintained in perfect condition. Just a touch can propel a slight miss well past the hole. It's not uncommon to see a relatively short putt roll way too long on the greens.
A round at The Ridge ends too quickly, to be recounted in a clubhouse that is casual in feel and expert in service. Once again, Moore knew he wanted something different: a mountain chalet built of big timber and stone, a taste of the Rockies in the Mid-Atlantic.
From the aerie billiard room to the handsome locker rooms, the clubhouse is designed for comfort and use. The restaurant prepares casual fare as well as gourmet cuisine. There are private corners to sit in, have a drink, conduct a meeting, and watch the big screens, but no big banquet rooms. ("They sit empty 80 percent of the time," says Joel.) And with a wall of windows and an outdoor deck overlooking the rolling countryside, this is a grand location for weddings and other memorable member celebrations.
Pam oversees the social side and membership (a variety of membership options are available), and ensures that the club is gender-blind. Women are equal members, with their own calendar of events. Juniors are also embraced, treated to clinics on summer Fridays followed by a family buffet. The Ridge even holds an annual Junior Member-Guest. More tournaments may be coming: Joel is considering hosting a PGA Tour event. In 2007, The Ridge held local qualifying for the U.S. Open and no one broke 75 from the championship tees on a windy day.
Should the game's finest come to The Ridge, the course will be ready for them. Former head pro Steve Scott—who nearly beat Tiger Woods in the 1996 U.S. Amateur—knows what makes a course great, and he says it's all here.
"I've played in many PGA Tour events, including two majors, and the quality and consistency of the course is equal to or better than any of them. Especially the greens, which are always in tournament-caliber condition. If they grow the rough a bit they could have any tournament there within a week. The members and their guests have that sort of playing experience every day."