The Los Angeles area boasts many terrific courses, including Riviera, Bel-Air, and Shady Canyon. But nearly all of them are private. For years, there was no comparable daily-fee property with the same sort of great design, conditions, beauty, and service.
That all changed with the opening of the Ocean South Course at Pelican Hill Golf Club in Newport Beach in 1991. Not only did the nation's preeminent architect, Tom Fazio, design Pelican Hill with classic risk-reward propositions, but it also offered stunning ocean views with two holes right on the water—L.A.'s answer to Pebble Beach. Then, two years later, Fazio opened the longer, wider Ocean North, which sits higher on the hill and offers even more dramatic scenery. Local golfers swooned, and justifiably so.
The final piece to the puzzle was the opening of an ultra-posh resort in 2008. Suddenly, the courses were no longer simply regional favorites: They became national, if not international, must-plays.
Inspired by 16th-century Italian architect Andrea Palladio and featuring 204 bungalows and 128 villas accessed by small streets lined by 750 mature olive trees, Pelican Hill more closely resembles a Tuscan seaside village than a golf resort. The feeling is so palatial that visitors regularly stop in their tracks to admire the construction and design, starting with the main driveway, which features a herringbone pattern of elongated bricks patterned after the piazza in Siena. After admiring the lobby's 28-foot rotunda, the Great Room demands attention with its hand-cut-and-carved Italian limestone fireplace flanked by 17th-century Flemish tapestries. Outside, below a columned terrace, sits the world's largest circular saltwater pool (136 feet in diameter) with its radiant blue bottom of 1.1 million glass mosaic tiles and its amphitheater of terraced decks with furnished cabanas.
All stunning but perhaps the prettiest sight of them all is the expansive view of the courses and the shimmering Pacific beyond. "We're more than just a hotel," says the 21st-century "doge," Managing Director Giuseppe Lama. "We are a destination. People don't come here just to stay here. They come for what they can do here."
The staying is so good, however, that it's difficult to venture out of the tastefully decorated and way–too–comfortable bungalows and two- to four-bedroom villas, most of which come with ocean views. But when guests do decide to explore, their thoughts are sure to turn to food. This is a little slice of Italy, after all. The signature restaurant, Andrea, is well known for hand-made pasta dishes and artisan-style gelato served to big booths with lumbar pillows for long bouts of epicurean lounging. Executive Chef Jean-Pierre Dubray has exclusive access to Irvine Ranch farms and specialty crops like white asparagus. The terrace and bar area has radiant floors and ceiling heaters for comfortable outdoor dining year round. Heated al fresco dining is also available at the Pelican Grill in the golf clubhouse, where the wide variety of dishes includes fresh seafood, grilled steaks, and olive-wood-oven pizzas prepared in the open kitchen. For sporting events, there are two giant HDTVs.
Guests can also enjoy a meal or drink at Crystal Cove Beach, a short shuttle ride away. For those who want to do as well as dine, the beach offers water activities such as paddle boarding (with lessons), sea lion eco-kayak tours, and Scuba diving.
Different sorts of water therapy are available at the Acqua Colonnade inside the 23,000-square-foot spa, a Forbes Five-Star facility with 22 treatment rooms, full-service salon, and barbershop chair for hot-lathered shaves.
Close shaves will also be found on the two golf courses, where the greens are razor-fast and the conditions immaculate. Both 18s were shut down while Pelican Hill Resort was going up, during which time they underwent major renovations to the infrastructure—drainage, irrigation, soils, and green systems. Fazio's team also redid the greens with the latest hybrid grass and planted all new landscaping.
"It was very expensive, but the Irvine Company is in it for the long term," the architect says, giving credit to the resort's owner. "We didn't change the design. It's just better built."
Getting Fazio to build them at all took some cajoling.  He concentrated his work in the East so he could stay closer to his family. And Pelican's elevation changes and canyons presented engineering and routing challenges that would require numerous site visits. But Peter Ueberroth, then on the Irvine Company's board, worked his charm.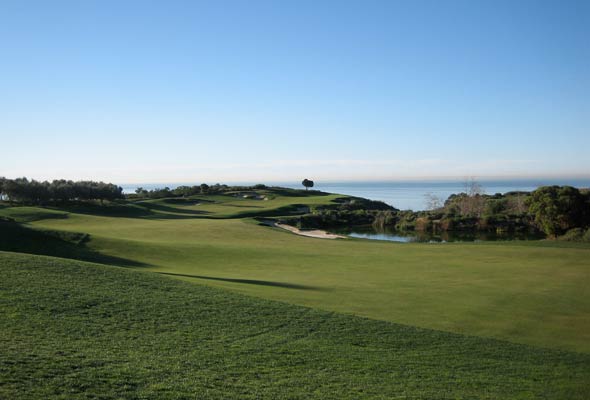 "He's very persuasive," says Fazio with a chuckle. "I've thanked him endless times because it turned out so well."
Indeed it did. Carved through coastal hillsides, canyons, and arroyos lush with fragrant sagebrush, both the North and South challenge golfers on almost every shot, particularly the approaches since many of the greens sit hard by deep, overgrown chasms. Many of the site lines show off Fazio's considerable design skill, such as on the South's 193-yard 7th or the North's 558-yard 17th, where the views beyond the greens are all ocean.
"Tom does such a great job making the courses fit the terrain that they look like they have been there forever," says Vice President of Golf Steve Friedlander. "They're very pleasing to the eye. The fairways roll and the greens don't look forced. They sit in areas that seem natural. He's very good at creating illusions and making you think."
Or making you stop and stare. The South's back-to-back par threes—the 159-yard 12th and the dual-green 131-yard 13th—hug the coast. "The number-one-ranked course in the state, Cypress Point, has back-to-back par threes, so there's nothing wrong with that," notes Fazio. "The bottom line was we only had 1,000 feet of oceanfront. That's 330 yards, a very short par four. Why don't we try to put two tees and two greens so you spend more time there and enjoy that beautiful waterfront?"
Pelican Hill members get to spend more time than most. Within the resort is a club that golfers can join and play unlimited golf without worrying about assessments and minimums. And with some 25 members getting together every Friday and Saturday, there are plenty of games, too. There's also a super-twilight program that allows kids aged 8–18 to play free. The new, 44,000-square-foot clubhouse has spacious men's and women's locker rooms and a Tour-level practice facility that is home to one of the state's best instructors, Glenn Deck.
"It's a country-club feel without being a country club," says Friedlander. "The members always tell me we have created an environment where they can entertain their clients or their friends, and we've got two courses whereas most private clubs only have one. Culminating all of that is the knowledge that we will always maintain the property at the highest possible level because it's a resort. You are assured 365 days a year of a golfing experience at the highest level."
No doubt about it, this Pelican really soars.