Bahamian Rhapsody
Chris Kirk was looking to take a family vacation somewhere off the beaten trail. Kirk and his wife, Tahnee, did some research online and decided to go to Eleuthera, an obscure island in the Bahamas with turquoise waters lapping pink-and-white sand beaches.
"We wanted to go kind of in the middle of nowhere, and it certainly was," says Kirk, 27, during the week of the McGladrey Classic at Sea Island Golf Club's Seaside Course. "It was very deserted, which was nice. There's one road on the entire island—it's 100 miles long and one-half a mile wide."
After the BMW Championship in September, Kirk, along with 15 family members, rented a few houses and hung out on the beach for five days. Kirk said he found a cliff to jump off of into the ocean with his dad and brother.
Kirk personally didn't make it, but some of his family went on a fishing trip. He said they caught a few bonefish and even a sea turtle, which they put back in the ocean after playing with it for a bit.
"I was hanging with my little boy (Sawyer)," says the University of Georgia alum who's ranked 75th on the money list this year. "He's seven months, so he's not quite old enough to go fishing yet, but he goes to the beach all the time."
The Kirks live on St. Simons Island, so they're fortunate to enjoy the coastline of the Atlantic Ocean, but even professional golfers need time away from the job.
"There's not a golf course on the island and I wouldn't have brought my clubs, anyway," says Kirk, who won the 2011 Viking Classic as a rookie. "It was nice to unwind and to hang out with my family. I just took it easy and I drank a lot of Pina Coladas by the pool."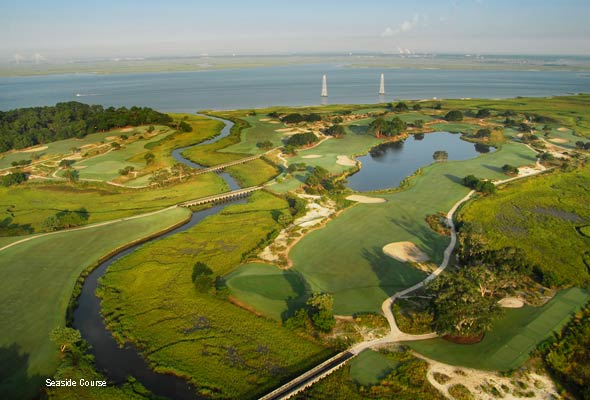 Sea Island Staycation
 "The last vacation I took? I don't even know," says Charles Howell III, after firing a final round 68 at Sea Island Golf Club's Seaside Course to finish tied for 7th at the McGladrey Classic.
His wife Heather chimes in, "Here's our vacation."
The Howells consider their main residence Orlando, Florida, but they also have a house in St. Simons Island, Georgia, where they spend a lot of time in the off-season, along with the summer.
Charles is a member at Sea Island Golf Club, so the McGladrey Classic was kind of a home game for him. He also plays at Ocean Forest Golf Club.
There's a rather healthy contingent of PGA Tour players who live or spend part of the year on St. Simons Island, which is often referred to as Sea Island, the southern area of the island where the resort is located.
Among them is 2012 Ryder Cup captain Davis Love III, Zach Johnson, Matt Kuchar, Lucas Glover, Brandt Snedeker, and rookies Harris English and Brian Harman.
The McGladrey Classic is a new Tour stop, but already a favorite for many players since St. Simons is such a lovely destination, especially in the fall.
"Well, I like Sea Island, where you have beach, water and the good golf," says Howell.
It's also one of the best places for food. Howell's favorites are (in order): Bubba Garcia's, Crab Daddy's, and Palmer's Cafe.
"Those are our three spots," he says. "For anyone who comes here, you have to hit those three places."
What does he recommend to order?
"At Bubba Garcia's, you have to get the Mack Daddy Margarita," says Howell, who has won twice on the PGA Tour since turning pro in 2000. "I don't drink alcohol, but that's what they're famous for, so I've had some virgin ones. Then it's Mexican, so you can handle the rest from there.
"Crab Daddy's has the best blackened grouper in the world," he adds. "Then, Palmer's is our breakfast spot. I like the omelets—with grits because we're in the South."
Howell and his wife have also taken up paddle boarding, a common hobby among Tour players living on St. Simons, led by Love, who established a store in town called Davis Love III's Classic Paddle and Putt Shop.
"I think I've swam every square inch of this ocean falling off of it (a paddle board)," says Howell with a laugh. "But I try hard. We love paddle boarding. We bought two from Davis' shop, so we donated to the local economy."
Love and Glover are responsible for getting the Howells hooked on the sport.
"Davis has taken us out (paddle boarding) quite a few times," says Charles, who picked it up about six months ago. "He's very good. He can surf the waves. I just paddle. He's like the Steve Stricker of paddle boarding when Steve was ranked No. 3 in the world. He's going to play good and he's not really going to fall off the board and hurt himself. I would say I'm a 12-handicap. I fell a lot in the beginning, and then Davis gave me a lesson to never look down, always look up and I've gotten better."