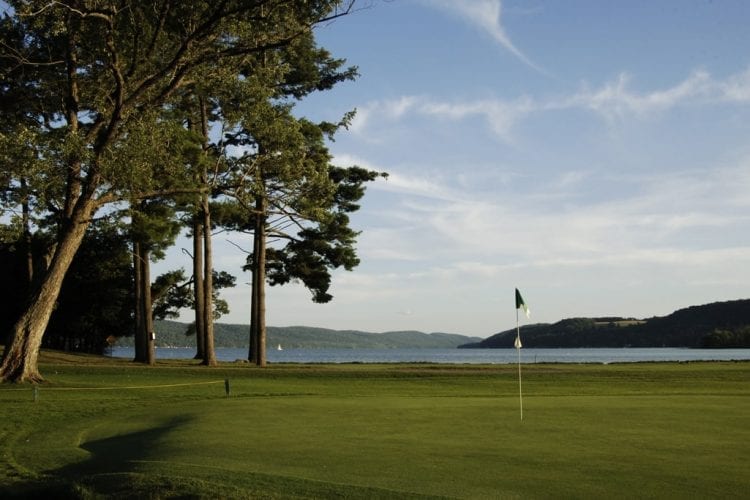 Mention Cooperstown and baseball invariably springs to mind. Home to the National Baseball Hall of Fame, this charming village in upstate New York is a sacred spot to purists of the game.
At the opposite end of town are a grand hotel and golf course that you might not be so aware of. But The Otesaga and Leatherstocking Golf Course are as full of charm and tradition as the national pastime.
From the moment you pull onto the circle drive fronting the hotel's white-columned entrance, you know you're in for an elegant experience. Full of turn-of-the-century class and hospitality, the five-story, 136-room structure overlooks shimmering Otsego Lake, the "Glimmerglass" so oft-praised by novelist James Fenimore Cooper, whose father, William Cooper, founded the town in 1786.
The Otesaga takes its name from an Iroquois Indian word meaning "place to meet." You'll see why when you step onto the massive, curving veranda out back, where dozens of wooden rockers are nearly always occupied.
The golf course, whose moniker was inspired by Cooper's Leatherstocking Tales, is likewise brimming with personality. Bounded by the water on one side and Lake Street, Cooperstown's main boulevard, on the other, it's a delightful journey, full of quirkiness—tiny greens and blind shots abound.
Highlights include the fantastic closing holes: No. 17 is a 182-yard par 3 that demands a knee-knocking carry over an inlet of the lake; the risk/reward, par-5 18th begins at an island tee and ends at a long, narrow green in full view of the iced tea-sipping guests up on the veranda. Leatherstocking is a highlight for golf nuts like Mike Schmidt, Rollie Fingers and George Brett when they visit each summer during Hall of Fame Week.
From the Otesaga, the Hall is only a 10-minute stroll through the village, although it's likely to take longer as you discover a rich slice of Americana along the way. Adjacent to the golf course is the Fenimore Art Museum, an impressive collection of folk and Native American art. Across the street is the Farmer's Museum, a sprawling complex that depicts rural American life, right down to its live roosters and milk cows. Village sidewalks are lined with locally owned shops, restaurants and cafes, and tree-lined neighborhoods sport a generous display of Victorian gingerbread homes.