Sitting in his office in a building next to Arnold Palmer's home in Latrobe, Pa., Doc Giffin is in a bit of a funk. Normally this time of year he'd be down in Orlando enjoying the Florida sunshine and doing his part to make sure the Arnold Palmer Invitational at Bay Hill comes off without a hitch. But the installation of a pacemaker/defibrillator on February 12th means that he'll miss the tournament for the first time since it started in 1979.
"I had been a little short of breath lately so the doctors did some tests and found my heart wasn't pumping as efficiently as it should and said I need the booster," says Giffin, 87, who has many fond memories of tournaments at Bay Hill. "We've had so many interesting tournaments over the years, particularly in the era when Tiger was dominating almost every year."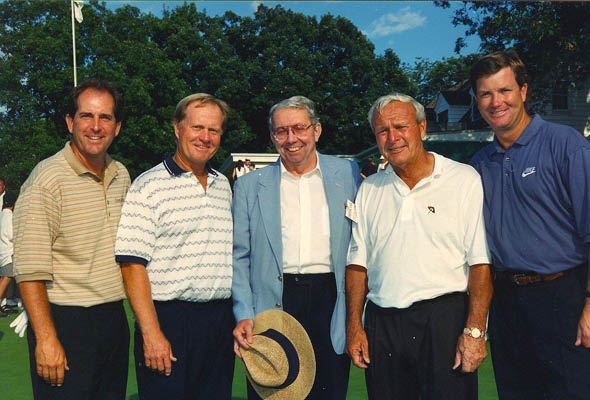 But perhaps his most vivid memory is Dave Eichelberger's win in freezing conditions the second year of the event in 1980. "The guys played the final round with ski caps and pantyhose," he recalls. "It was just so damn cold. The wind was so strong it brought down a TV tower."
Missing Bay Hill is bad enough, but adding insult to injury is the fact that Giffin can't play golf for five months. "I usually play at Latrobe Country Club two or three times a week," he says. "One of the first things Arnold did for me in 1966 when I started working for him was give me a membership there, although he didn't own the club then. That was a great perk."
His boss isn't able to play either these days, ever since injuring his shoulder in a fall in December 2014, and won't even be able to hit the ceremonial tee shot at the Masters. "He would need to go in and have serious surgery and hasn't wanted to do that," Doc reports. "He's not pleased about not playing. Whenever he tries it he just can't do it."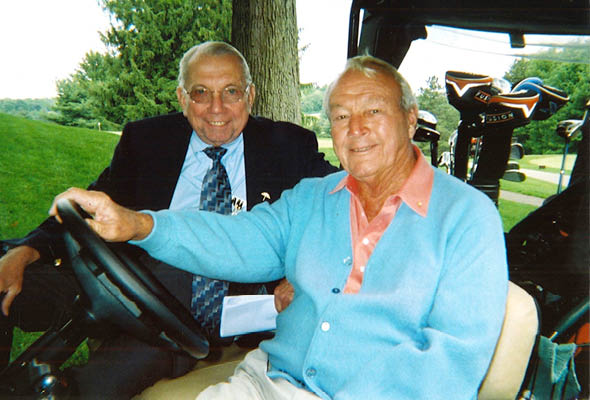 So it's doubtful the two will be able to tee it up together to celebrate his half-century in the King's court this July. Just like Palmer, Donald W. Giffin hails from western Pennsylvania, where the other kids called him "Doc" because he was good at tending minor playground injuries. After graduating from the University of Pittsburgh, where he was editor of the school paper, Giffin was drafted into the Army in the early '50s and was stationed at Fort Gordon in Augusta, Ga., ironically. By the end of the '50s, the khaki-wearing soldiers from the fort manning the scoreboards at the Masters would give rise to "Arnie's Army."
Following a reporting stint at The Pittsburg Press, Giffin was offered the job of tour press secretary for the PGA of America in 1962 and helped "Champagne" Tony Lema—"one of my favorite guys"—earn his nickname the first year. After the third round at the Orange County Open in Costa Mesa, Calif., Lema told the three or four sports writers there that he'd buy them all champagne the next day if he won. Giffin made sure some bubbly was on hand and when Lema beat Bob Rosburg in a playoff, a legend was born.
Giffin clearly remembers the day he went to work as Palmer's assistant four years later because it happened on the day after Lema and his wife, Betty, were killed in a small plane crash on July 24, 1966. "I was wrapping up work late that day at the PGA Championship at Firestone when word came in that Tony had been killed," he recalls.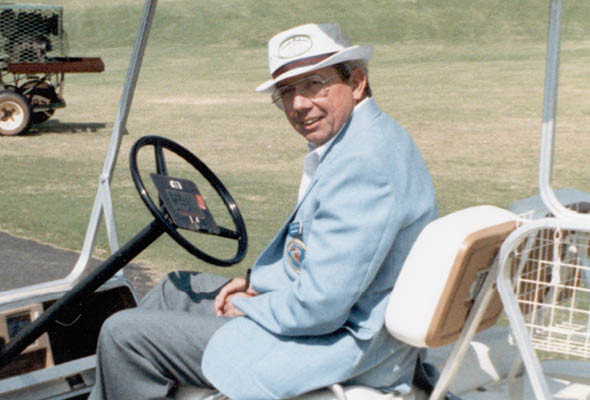 Despite working for Palmer for 50 years, the most memorable event happened two months after he started when Winnie Palmer secretly arranged for Dwight D. Eisenhower to surprise her husband for his 37th birthday. "Eisenhower knocked on the front door and Winnie said, 'Arnold, answer the door,'" Giffin recalls. "To his great shock and pleasant surprise, there was the former president and five-star general standing there in casual clothes. He said, 'Do you think you might find room for an old man overnight?' Mrs. Eisenhower arrived later by car. She wasn't a big fan of flying. They were then living in Gettysburg, so it wasn't that far a trip, but when we sent Arnold's plane down to get Ike, that was the only time in Arnold's history of aviation that one of his airplanes went anywhere without his knowledge."
For a birthday present, Ike brought Palmer a painting of a farm scene he had done. "It's one of Arnold's most prized possessions and hangs in his home here," says Giffin, who just shrugs when asked the secret to their longevity working together. "I don't know. I guess I've just done things the way that suits him."
With all due respect to Tywin Lannister et al on Game of Thrones, the true Hand of the King is Doc Giffin.