By Dave Seanor
Let's play word association. When you hear "Florida golf," what comes to mind?
Cure for cabin fever? If it's February and you live in Buffalo, absolutely.
Courses galore? No question. Florida comfortably leads these United States with more than 1,200 places to play.
Water hazards and alligators? Fair enough. Much of Florida is flat and featureless, so when you build a golf course and need to create elevation, you dig holes, fill them with water, and pile the dirt elsewhere. Gators are an indomitable byproduct.
Mr. and Mrs. Havercamp? Surely it's no surprise that, according to the most recent U.S. Census analysis, Florida is the state with the highest percentage (18.2) of residents 65 or older.
Mickey Mouse, Harry Potter, and Shamu? The Orlando Convention & Visitors Bureau thanks you. That great triumvirate helps draw 71 million visitors annually to the Disney, Universal, and Sea World theme parks.
So yes, those perceptions all may be true, but they're not particularly nuanced. Florida is simply too big and too diverse to pigeonhole.
Consider: With 19.3 million residents, Florida is the fourth most populous state, nipping at the heels of number-three New York. The drive from Walnut Hill, the westernmost outpost in Florida's Panhandle, to Key West, the tip of Florida's southern archipelago, is 865 to 893 miles—depending on which coast you follow—and will shorten your life by at least 15 hours behind the wheel.
While Florida is a haven for retirees, it's also home to five brick-and-mortar universities (Florida, Central Florida, Florida International, Florida State, South Florida) that rank among the nation's top 25 by enrollment. That's a lot of 20-somethings.
Yes, Florida golf can be monotonous—a succession of water hazards that distort the game and frustrate the golfer by unfairly punishing marginally errant shots. On many courses, maddening Bermuda-grass rough envelopes balls that stray only inches from the fairway. But even purists who deride Florida's brand of avoidance golf will gladly concede the trade-off of playing year round.
As a thankful Sunshine State resident for 19 years, count me among them. Yet I've also come to appreciate Florida's variety, be it contrived or natural. I've trod (OK, ridden) my fair share of its golf grounds, and cultivated enough sources to supply the anecdotal and circumstantial evidence needed to divine five distinct zones in Florida, defined as much by attitude as demographics or geography.
What follows are general dissections of each, revealing how they differ from one another and what makes them tick. An abundance of golf, of course, is the common denominator, and in an effort to navigate that thicket I've included one man's recommendations for reliable resorts or daily-fee courses where you can't go wrong; exclusive private clubs that will test the effectiveness of your LinkedIn account; and "sleepers" favored by locals. So here are my Five Floridas:
THE OLD SOUTH ZONE
Miami Beach boasts Art Basel, billed as the "favorite winter meeting place for the international art world." Equally anticipated in the Old South Zone—better known as Florida's Panhandle—is the Flora-Bama Mullet Toss. Need we say more about the first of our Five Floridas? Actually, we do.
Golfers who stream into the state via I-75 or I-95 rarely swing west on I-10. Those who descend on the airports in Orlando, Miami, and Tampa likely never give a thought to disembarking at Tallahassee or Pensacola. They're missing arguably the most scenic part of Florida, and certainly the least stressful.
The Panhandle is one time zone and a world away from the rest of the state. Its sugary white sand beaches, pine forests, and rolling farmland stretch 200 miles, sandwiched by Pensacola to the west and Tallahassee, the state capital, to the east. The Old South Zone actually has discernible seasons, with winter temperatures that occasionally stymie even the most avid golfers. It is home to about 1/20th of the state's population, with an unpretentious vibe that oozes Southern charm. Those who follow pro golf know the Panhandle for spawning Bubba Watson, Boo Weekley, Heath Slocum, and Joe Durant.
My familiarity with the Old South Zone comes via my son Nick, a University of West Florida grad and seven-year Pensacolan. He's an occasional golfer with a zeal for hunting and fishing. He'll vouch that you're more likely to run into Mr. Weekley deep in Blackwater River State Forest than on a local golf course. When Nick waited tables at a popular Pensacola Chinese restaurant during college, he could count on frequent diner Durant for a generous tip.
Alas, the Mullet Toss is still on Nick's to-do list. The late April event on Perdido Key draws thousands of revelers who've come to watch contestants ($15 entry fee) hurl these indigenous fish—not the haircuts—across the Alabama-Florida state line.
For those disinclined toward such debauchery, Perdido Key offers two quality golf courses, the Arnold Palmer designed Lost Key and Perdido Bay, a 1963 Bill Amick layout that had a 10-year run hosting the PGA Tour's old Pensacola Open.
There's a big military presence in the western panhandle, thanks to the sprawling Eglin Air Force Base, the Naval Air Stations at Pensacola and Whiting Field (Milton), and Tyndall Air Force Base. The Eglin, Pensacola, and Whiting bases have golf courses that are open to the public."
There are a lot of retired military personnel up here," says Jack Slocum, a lifelong Panhandle resident, golf pro, Heath's father, and mentor to Weekley. "They play more disciplined golf, and by that I mean they show up on time, are more competitive, and play faster. It's definitely more laid back on the beaches. People vacation here more for the beach than the golf."
One of the most popular places to do both is the Sandestin Resort, on a barrier island about 40 miles east of Pensacola. There are four quality courses at Sandestin, with the Raven offering the most challenge. In Tallahassee, the top daily fee is Southwood Golf Club.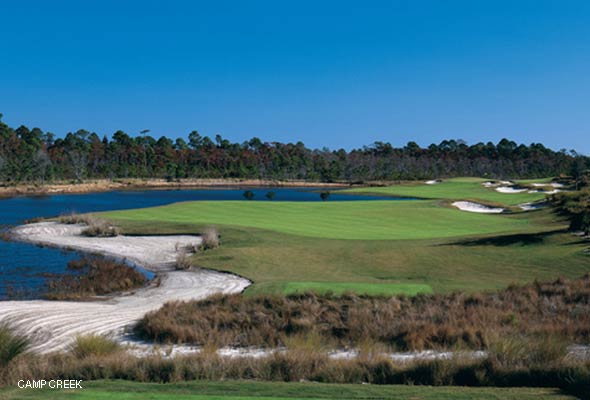 Can't go wrong: Among Old South Zone courses, Camp Creek regularly garners the most accolades. Located in Santa Rosa Beach, between Destin and Panama City, the Tom Fazio design may be the most tranquil experience in the state, with no homes, condos, or hotels in sight from the fairways.
Got connections? Capital City Country Club is Tallahassee's "old money" club. Its close proximity to state legislative offices make it a regular haunt of politicians and lobbyists. Former governor Jeb Bush had a standing Saturday morning game, playing his family's brand of ready golf with regular guests who included a taxi driver and an auto mechanic. At the other end of the Zone, the resurrected Pensacola Country Club shows off the design talents of Jerry Pate. Its original nines—built in a Donald Ross style by members in 1910 and 1925—were in dire shape before being mercifully destroyed by Hurricane Ivan in 2004. The club's fate was debated for two years until Pate, who learned to play there as a youngster, was chosen to create a new course. The result is a superb Ross imitation that skillfully exploits its prime location on Pensacola Bay.
Sleeper: The 27-hole A.C. Read facility at Pensacola NAS. "The best daily fee around," says Slocum. "Really windy and tight. That makes it a lot of fun."
THE FINCHEM ZONE
With its epicenter at Ponte Vedra Beach, northeast Florida owes much of its appeal to the PGA Tour. The imposing clubhouse at TPC Sawgrass is a monument to Tour Commissioner Tim Finchem under whose administration Tour purses have grown—with a little help from Tiger Woods—to $260 million from just over $62 million when he took the helm in 1994.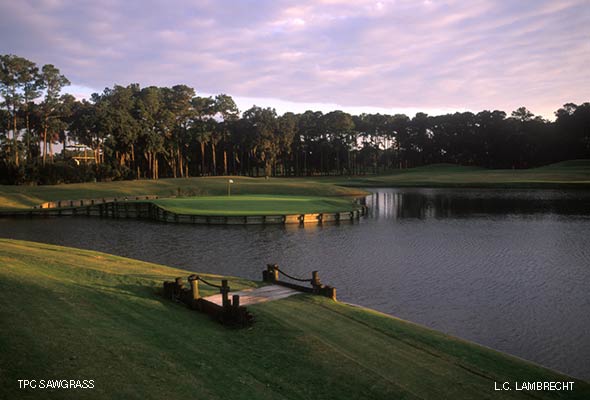 The big attraction in the Finchem Zone is the Stadium Course, the beguilingly brilliant Pete Dye layout that hosts The Players. Thanks to a 73.9/146 rating/slope from the blue tees, and a green fee in the $400 range, figure on leaving with a higher handicap index and a lighter wallet.
For an experience that predates the current Commissioner, short-term guest memberships (requiring on-site villa rental) are available at Sawgrass Country Club, original home to The Players. (The different nines at the 27-hole club are being renovated through Summer 2015.) Nearby is the elegant Ponte Vedra Inn & Club featuring the Ocean Course, a 1932 gem designed by Herbert Strong. It's one of the few Florida courses that actually hug the Atlantic, although you'll find another 50 miles further south, in Palm Coast, at the Hammock Beach Resort. Six holes of its Jack Nicklaus-designed Ocean Course are on the beach.
Can't go wrong: Amelia Island. Pete Dye's Oak Marsh, Tom Fazio's Long Point, and Bobby Weed's Ocean Links (with five holes on the beach) are affiliated with the recently renovated Omni Amelia Island Plantation Resort. Guests at the Ritz-Carlton have access to the private Golf Club of Amelia Island.
Got connections? The nouveau riche, including Commissioner Finchem himself, favor the 18-year-old Pablo Creek Club, which Tom Fazio carved out of pine forest, wetlands, and dense underbrush west of Ponte Vedra Beach. It has a Coastal Carolina feel; beware the gators. Traditionalists gravitate to Timuquana Country Club, the 1923 handiwork of Donald Ross, set amid 290 acres along the St. Johns River. Rich in history and groomed to perfection.
Sleeper: Hyde Park Golf Club. If you're a Donald Ross fan but don't have the juice for Timuquana, this historic course in central Jacksonville is a suitable, if less swank, daily fee alternative.
THE EURO ZONE
Perception isn't reality in Orlando and environs: The Euro Zone only seems as if it's inundated with visitors from overseas. Rather, the vast majority of Disney devotees who jam the so-called "I-4 corridor" are from the U.S. and Canada. Maybe those who do venture across the pond make more of an effort to play golf.
And why not? Their choices abound. Plus, the prevailing attitude at Euro Zone resorts is one of, dare we say, permissiveness. They encourage golfers to enjoy themselves, with decorum often lapsing after several rendezvous with the beverage cart. So be it; the object in the Euro Zone is to have fun.
The Disney complex still relies on the original (circa 1971–72) three layouts designed by Joe Lee—Magnolia, Palm, and Lake Buena Vista. Tom Fazio's Osprey Ridge, widely regarded as the best course on property, has been closed since last summer: It was sold as part of the two-year-old Golden Oak luxury residential development, and whether it will reopen as a private club, or be accessible to guests at the Four Seasons Orlando Resort at Disney (slated to open in July), or some combination thereof, is TBD.
ChampionsGate and Reunion resorts, on Orlando's southwest outskirts and within three miles of each other, offer five "signature" courses: two Greg Norman designs at ChampionsGate, and layouts by Arnold Palmer, Tom Watson, and Jack Nicklaus at Reunion. Shingle Creek and the recently renovated Metro West are nice tracks nearest to the mayhem of International Drive. Unfortunately, the most highly acclaimed Euro Zone course of recent years, the Coore-Crenshaw-designed Sugarloaf Mountain, quietly closed its doors in October, 2012, at age six, unable to absorb a one-two punch by the recession and a regional golf course glut.
Can't go wrong:  Grand Cypress Resort has 27 holes of typical central Florida golf (translated: lots of water), but Jack Nicklaus's New Course, a St. Andrews replica, breaks the mold.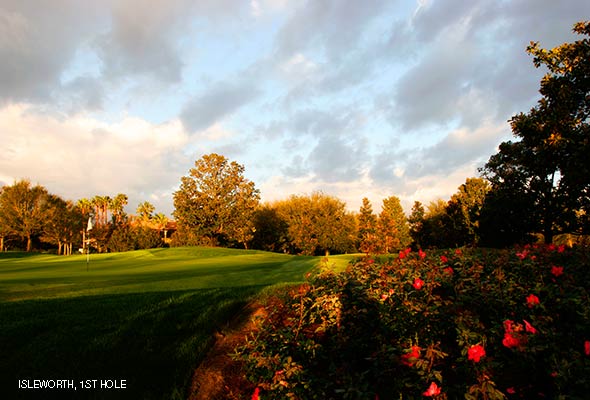 Got connections? Good luck penetrating the fortress of Isleworth Golf & Country Club, the community that agreed to toughen its Arnold Palmer-designed course to accommodate Tiger Woods (resulting in a 76.9/146 challenge from the way backs), then heaved a collective sigh of relief when he left. Woods's former home, now occupied by Bubba Watson, is at 6348 Deacon Circle, across from the practice range. (Should you feel compelled to exploit the photo op with the fire hydrant, you won't find traces of the infamous collision. It, too, had to be rehabbed.) If you're less voyeur and more golf purist, try Mountain Lake in Lake Wales. Inexplicably, this exquisite 1917 Seth Raynor design draws little attention outside the small circle of golf-architecture buffs. Meticulously restored by Brian Silva in 2002, it is the centerpiece of an understated private community evocative of a bygone era. Accommodations can be had, if booked well in advance, at the historic Colony House guest residence on property.
Sleeper: Tuscawilla Country Club in the Orlando suburb of Winter Springs. Okay, I'm biased; this is my home course, a 1971 Joe Lee design that bares its teeth on the greens. It's a private club, but members can sponsor guests with only a phone call. If you're wary that my judgment is clouded, consider instead New Smyrna Golf Club, a sporty Donald Ross muni frequented by Orlandoans who have second homes at the beach.
THE HIGH-T ZONE
Think South Florida and you think glitz and glam, Miami Vice and Little Havana. It is Latin America's gateway to the United States, a destination for wealth, legitimate or not.
Census Bureau statistics can be parsed in many ways, but a 2010 list of Florida's top 25 cities ranked by per capita income reveals that 19 are in the High-T Zone, including the first 10. It should come as no surprise that two of the highest-testosterone golfers around, Tiger Woods and Greg Norman, are south Florida residents.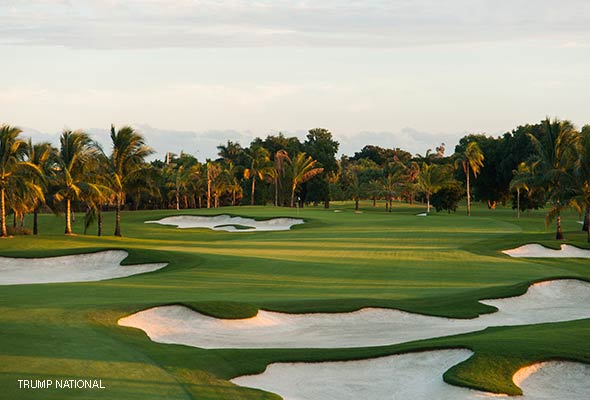 It figures, too, that Donald Trump would have three properties in the High-T Zone. Trump National in Jupiter and Trump International in Palm Beach are both private, but the doors are open to anyone at The Donald's most recent acquisition, Trump National Doral Miami (see pages 36–37). There are five courses at Doral, including the crown jewel Blue Monster, a longtime Tour stop that hosts the WGC-Cadillac Championship. This winter, visitors to the Blue Monster will pay a $450 green fee and be among the first to file reports on the extensive redesign by Gil Hanse.
Can't go wrong:  Turnberry Isle Golf Club in Aventura—14 miles north of South Beach on A1A—features two highly regarded courses designed by Robert Trent Jones and updated by Raymond Floyd. It's a private club, but guests at Turnberry Isle Resort have access. And for a Tour-quality experience, there's PGA National in Palm Beach Gardens, home to five courses and host each spring to the Honda Classic.
Got connections? Seminole Golf Club in Juno Beach is Florida's crown jewel. Not only does it rank second behind Pinehurst No. 2 among Donald Ross creations, but the simple elegance and sense of history in the men's locker room also make it a place to linger long after your round. Interestingly, this bastion of USGA power has agreed to finally open its doors to one of the association's events, the 2021 Walker Cup Matches. If you'd rather mingle with pro golf's elite, get a game at the nearby Bear's Club, where NBC/Golf Channel's Tim Rosaforte gathers much of his "insider" info from the likes of Luke Donald, Rory McIlroy, and Ernie Els; or Medalist Golf Club in Hobe Sound, which is Woods's current home course and counts Rickie Fowler and Dustin Johnson among its members. (In an ironic twist, Medalist founder and designer Greg Norman quit in a huff last year after members approved a plan to make changes to the course, under the supervision of architect Bobby Weed.)
Sleeper: West Palm Beach Golf Course. This Dick Wilson design was built in 1947 and renovated four years ago by Mark McCumber. "With the wind, waste bunkers, and green surrounds, it's a total reflection of South Florida," says my friend Eddie Peckels, an aspiring club professional who grew up nearby and was a standout college golfer at Notre Dame.
THE TWILIGHT ZONE
Most people associate Florida's Gulf Coast with senior citizens. Census numbers verify that notion, at least compared to our other zones. Of the 10 Gulf-Coast counties that comprise our Twilight Zone, nine have a median age of 43.6 or older.
Migrants to the Twilight Zone's 220-plus miles of coastline typically arrive via I-75 from the Great Lakes region or the corn belt. "They're the salt of the earth," says David McQuade, a club professional in the Twilight Zone for 17 years, the last 11 as director of golf at Collier's Reserve, a well-heeled residential community in Naples. "I had to learn to slow down when I got here [from Connecticut]. The people who live in this part of Florida have Midwest sensibilities and values. They're not as high strung as the folks who live on the east side of the state."
My parents moved to the Clearwater area in 1979 from western Pennsylvania and spent their final 20 years basking in the Twilight Zone. They were avid golfers well into their 80s, playing several times a week at their retirement community course. Thus I have intimate knowledge of the geriatric aspect of Twilight Zone golf.
My father's best golfing buddy was a 90-something former steel mill foreman who had lost a leg to diabetes and played with the help of a prosthesis. One day they were returning from a morning round with Dad's pal at the wheel of his golf cart. That is until he suddenly passed out and the cart veered into a curb. The three of them—Dad, his pal, and his pal's fake limb—were pitched in different directions onto a front lawn. Only pride was injured, and Dad regaled us with that story until he died.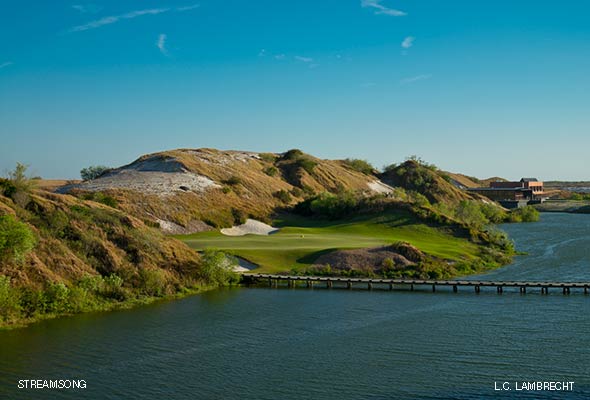 Can't go wrong:  Florida's most talked-about golf courses in decades are the two at the new Streamsong Resort. Streamsong is unlike any other golf complex in the Southeast, with 36 holes woven among huge dunes and quarry lakes on a reclaimed phosphate mine. Because of its proximity to Tampa (47 miles to the airport), as well as its remoteness, Streamsong best fits the Twilight Zone.
The minimalist courses designed by Tom Doak and the Bill Coore-Ben Crenshaw partnership live up to the hype, making Streamsong a must-play for golf-architecture aficionados, and the recent opening of a 216-room hotel should make this isolated, land-locked resort a destination in itself. Also worth a trek off the beaten path is the World Woods resort in Brooksville with two Tom Fazio gems that have long been ranked among the nation's best you can play. For those who prefer something closer to the sea, there is Innisbrook in Palm Harbor, a 72-hole resort that has hosted both the PGA and LPGA Tours.
Got connections? When I asked David McQuade to name the most prized "get" in the Twilight Zone, he didn't hesitate: Calusa Pines, an ultra-private Michael Hurdzan-Dana Fry masterpiece in Naples. In the same neighborhood and in the same vein is Old Collier with one of Tom Fazio's finest courses. Further north, in suburban Tampa, is Old Memorial, a walking-only enclave designed by Steve Smyers (the man who gave Isleworth its teeth). Fred Ridley, a former USGA president and chairman of the Masters Competition Committee, is an Old Memorial member.
Sleeper: Listed on the National Register of Historic Places, Temple Terrace, near Tampa, is a 1922 Tom Bendelow design. It's a down-to-earth private club that offers "Member for a Day" tee times.
Dave Seanor is the former Editor of Golfweek magazine.