As Pete Dye celebrates his recent 90th birthday, we would like to celebrate his legacy as the most influential golf architect of his era. Only a select few have pushed the envelope of what golf can be as far as the former insurance salesman. From his base near Indianapolis, he began building small-town courses in the early-1960s, constantly refining his construction technique and honing his knowledge of agronomy. A 1963 trip to Scotland proved a key moment in his evolution as a designer, but Dye has long had an affinity for the works of Ross, Raynor, MacKenzie, and other Golden Age greats. And in his wife, Alice, he has benefited from a savvy accomplice and co-designer—one responsible for several of his most famous master strokes.
Like Arnold Palmer, Dye's career coincided with the rise of golf on television, and the "Marquis de Sod" knew how to exploit the medium. From innovative stadium designs at Sawgrass and PGA West to the "abstract expressionist" mounding and bunkering at Whistling Straits, the visual impact of his courses has always made for great TV, as has their frequently polarizing effect on the players.
Beyond his own courses, one of Dye's most important contributions has been his mentorship of the next generation of architects. It's an impressive "family tree," both literally—his sons, Perry and P.B., have had long careers—and figuratively, as designers ranging from Tom Doak and Bill Coore to Lee Schmidt, Jim Urbina, and many more cut their teeth with the Dye organization. While many proteges have developed their own design philosophy and aesthetic, most share his belief that the best courses are not built from plans but evolve in the field, with plenty of breathing room given to serendipity and on-the-fly inspiration.
Design Signature
Dye's courses are some of the most immediately recognizable in the world. While the first impression is often one of hellish difficulty, his golf holes usually give the attentive player a feel for how they are meant to be played. Dye favors long lines—frequently well-defined by railroad ties or some other form of bulkheading—to direct the golfer's eye all the way to the green. A threatening hazard, be it water or sand, then runs some distance along that line. Those skilled (and brave) enough to challenge that line are rewarded. It's a key detail that both Pete and Alice were national-caliber amateur players in their day. Their fundamental goal is to push the golfer to the edge of his or her abilities without crossing into unfairness—though everyone from Dustin Johnson to the resort warrior at Kiawah's Ocean Course may feel that line is crossed at times. Dye stridently maintains his designs are  manageable, provided the golfer plays from the appropriate tees. Thanks to Alice, his courses always have smartly placed forward boxes for shorter hitters.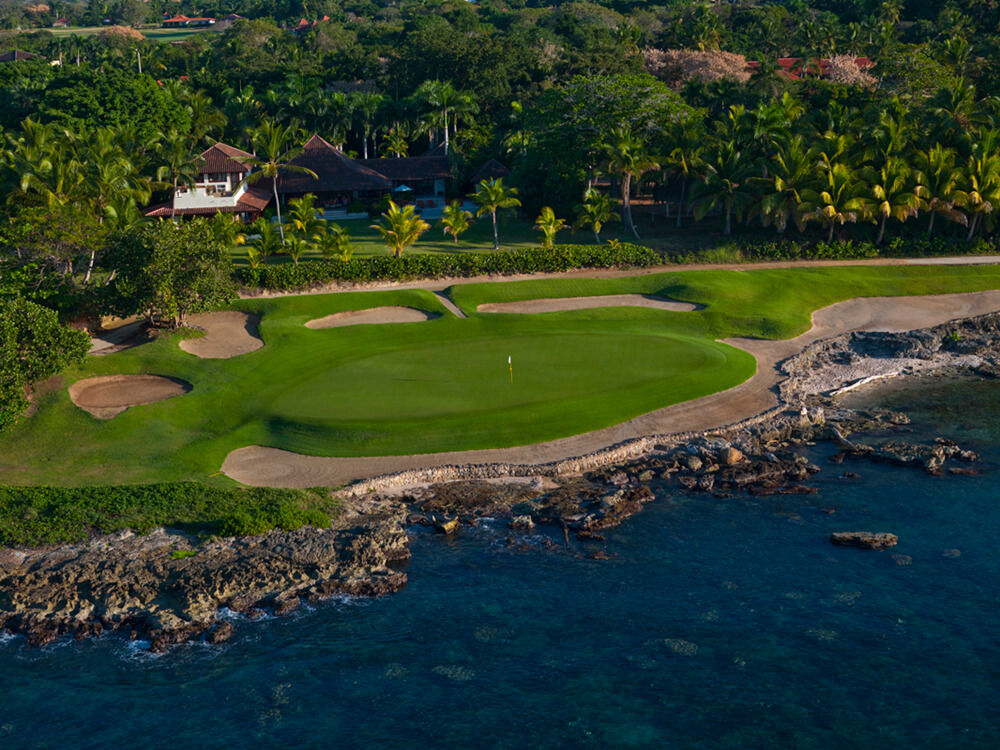 Best Course
For our money, Casa de Campo's Teeth of the Dog is Dye's masterpiece. Not only is it seaside and tropical, the architect made full use of his Scottish sketchbook here, with wickedly angled tee shots combining with open-fronted greens that allow for a running shot. The coastal run from 14 through 17 is one of Dye's best.
Most Representative
Dye's career arc has seen him move from low-key, ground-hugging early designs like Crooked Stick and The Golf Club to the wild histrionics of Whistling Straits and French Lick. Many golfers, though, have their first Dye encounter at either TPC Sawgrass or Harbour Town. Sawgrass is long on another Dye tendency—the switchback hole, where left-to-right and right-to-left shots alternate—and it can be fun to discover the many cool mid-round holes that get overshadowed by the infamous finish. Harbour Town, the Hilton Head collaboration with Jack Nicklaus, is a bit tighter than the average Dye design. But it packs many classic touches of his style into a compact arena, including brutality (its set of par threes induces shivers), imagination (the heart-shaped green at the 9th), and dramatic showmanship, as seen at the superb long par-four 18th backdropped by the resort's candy-striped lighthouse.
Sleepers
These are courses that were designed with the amateur front and center—private gems like Hilton Head's Long Cove Club and The Honors Course, near Chattanooga. They're still tough as nails, but they also inspire lots of love. His resume also contains a fair number of modest daily-fee facilities—a bunch in his adoptive home state of Indiana, including Brickyard Crossing (which features four holes inside the famed Speedway), have been gathered up and promoted as the Pete Dye Golf Trail.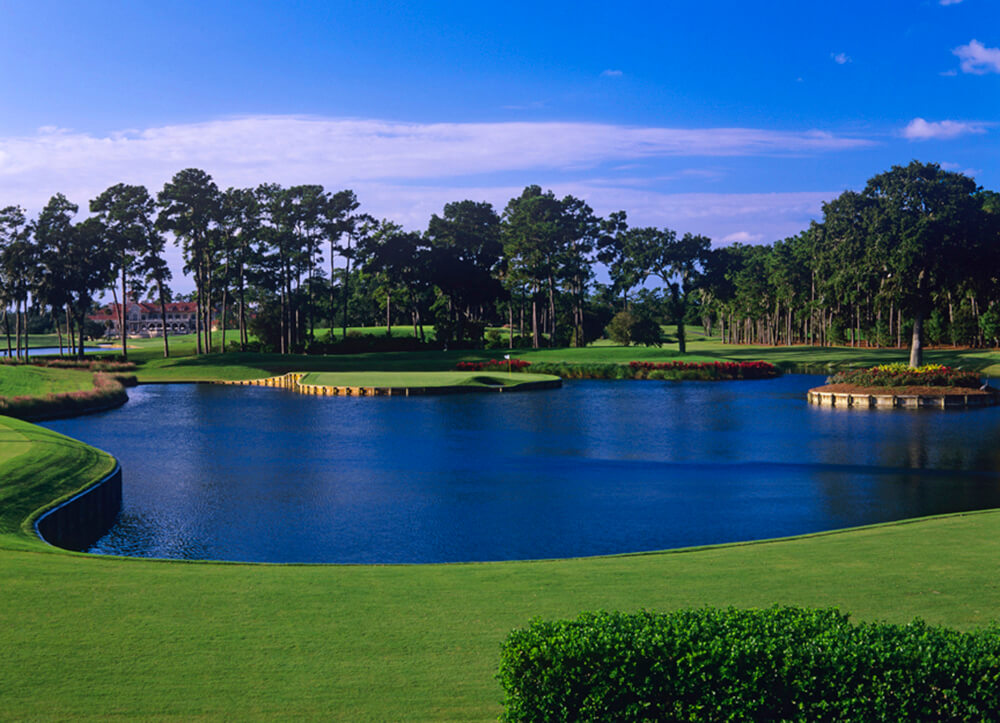 Most Famous Hole
The 17th at TPC Sawgrass is arguably the most famous hole in golf, and inarguably the most copied—for better or worse.
Further Reading
Dye's entertaining and informative 1995 autobiography, Bury Me in a Pot Bunker, written with Mark Shaw, is the place to start. There's a lot of architectural detail and his distinctive voice comes through clearly. More recently, Joel Zuckerman's Pete Dye Golf Courses covers 130 designs.