Albert Warren Tillinghast was born in 1874 to a prosperous Philadelphia family. The quintessential spoiled rich kid, he spent a dissolute youth running with a gang, so it doubtless came as a surprise to many of his contemporaries that "Tilly the Terror," as he was known, would find his calling in golf course design. And what a calling it was! His first design at Shawnee Country Club in Pennsylvania, which debuted in 1911, launched him on an illustrious career that included championship venues and treasured club courses from coast to coast.
Tillinghast became a rich man in the process, but like many he saw his fortune undone by the Great Depression. With new course commissions drying up, in 1935 he took a job as a consulting architect for the PGA of America, criss-crossing the country making recommendations to private and public courses alike. He frequently focused on eliminating "Duffer's Headaches"—features that were costly to maintain and only served to frustrate the high-handicapper. After a few years of hard travel, he and his wife retired to Beverly Hills and briefly ran an antique shop until a heart attack sent Tillinghast into decline. He died in 1942.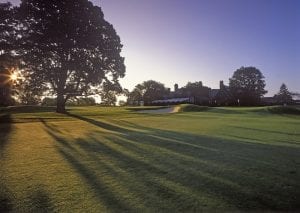 For many years, Tilly and his peers were largely ignored. That changed in 1974, when Frank Hannigan of Golf Journal, realizing that four of that year's USGA championships would be played on Tillinghast designs, published Golf's Forgotten Genius. This seminal work not only revived Tilly's legacy, but awakened a greater interest in the Golden Age of golf architecture. Tillinghast will be inducted into the World Golf Hall of Fame this summer, an honor that could not possibly be more richly deserved.
DESIGN SIGNATURE
Tillinghast drew grandeur from bold properties and more intimate ones alike. On San Francisco Golf Club's compact site, he cleverly "layered" his bunkering—sometimes sharing hazards between holes, multiplying the visual impact throughout. It's remarkable how many of his courses offer both something uniquely their own as well as something that echoes another of his designs. He didn't quite go for template holes, but he had a deep bag of tricks. He was a pioneer of the double dogleg, and he liked short, nasty, uphill par threes. He also loved the concept of the "Great Hazard": Tilly sometimes gets credit for "Hell's Half Acre" at Pine Valley (he was a close friend of George Crump) and repeated this heroic carry over sandy wastes on many of his own designs.
BEST COURSE
Though some pan Winged Foot (West) for its length and punishing rough, it features a collection of Tillinghast greens unrivaled in their intricacy. Gil Hanse completed a sympathetic restoration of Winged Foot's also fantastic East course, with the results so impressive that he was re-hired to freshen up the West for the 2020 Open. For everyday play, his best could be Somerset Hills. Set on a gorgeous hilltop site in New Jersey horse country, this early-career design finds Tilly in an experimental mood, almost as if he were in search of a personal style. It blends archaic and homespun features (chocolate drop mounds, a sunken racetrack, an apple orchard) with lay-of-the-land hole corridors (semi-blind shots abound) and a wildly diverse set of greens. The result is thoroughly charming.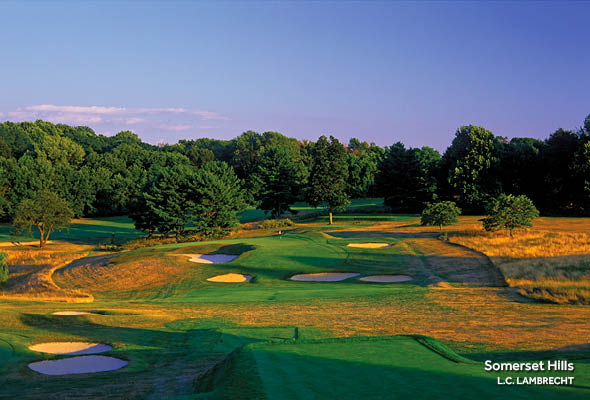 MOST REPRESENTATIVE COURSES
Tilly himself might well have said Baltusrol: He regularly touted the club's two 18s in his advertising. The roots are still there, but hard to detect after more than a half century of association with the Joneses—first RTJ Sr. and now son Rees. Forty minutes to the north, the 27-hole Ridgewood Country Club has rock-solid credentials as a tournament venue, but its moderate scale and lack of "headaches" make it a delight for daily member play. The holes lie gently on the ground—a Tilly specialty—and it also has that unique stroke of his genius, the 291-yard, par-four 6th on the Center nine, "Nickel and Dime," where those who pull driver can expect an adventure.
SLEEPERS
Dwelling in the long shadow of Winged Foot and Quaker Ridge is Fenway Golf Club. This 1924 design features a wicked set of one-shotters as well as one of the coolest Tillinghast holes anywhere— the 301-yard, par-four 15th, which features a pitched, rectangular green only slightly wider than the average parking spot. Besides his Bethpage State Park courses, one of Tilly's few public designs is San Antonio's Brackenridge Park, which offers affordable golf with great "bones."
MOST FAMOUS HOLE
Few golfers forget the moment when they first emerge from the trees and onto the tee of the 4th at Bethpage (Black), one of the grandest stages in the game. With its diagonal wall of bunkers threatening the second shot and a heavily defended pedestal green, it combines two Tilly signature flourishes—the Great Hazard and the double dogleg. Another contender, the province of the fortunate few, might be the excellent downhill par-three 7th at San Francisco Golf Club, the legendary "Duel Hole," where a small plinth marks the site of the last legal duel in California, contested back in 1859. "Many, many courses have these historic and romantic corners," Tillinghast once wrote, "But I venture to say that but few of the players, intent on their golf games, ever give them much thought as they press along."
FURTHER READING
Tillinghast was a prolific contributor to the golf magazines of his day, and his voice and ideas remain very much alive. Baltusrol-based historians Bob Trebus and Rick and Stuart Wolffe published a trilogy of books comprising the architect's articles, essays, and photography, The Course Beautiful, Reminiscences of the Links, and Gleanings From the Wayside, all on Amazon at affordable prices. The Tillinghast Society's website offers Hannigan's magnificent feature and more.