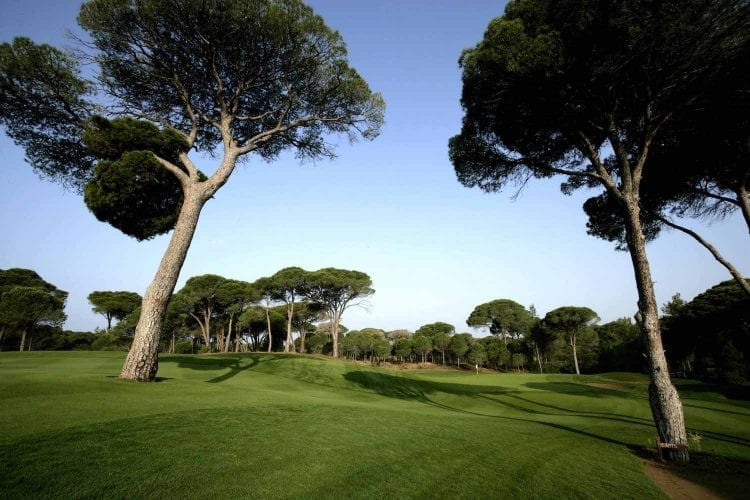 For decades, the only intersection between golf and turkey was a club sandwich in the grillroom. But Turkey, the country that sits at the timeless crossroads between East and West and has been a cradle of civilizations, is now embracing another culture-crossing endeavor: golf.
The only question is what took so long. Turkey's Mediterranean coast, first colonized by the Greeks and later controlled by the Romans, fronts an azure-blue sea long popular among sun-starved Europeans. They have been arriving to eat tasty kebabs at outdoor cafes overlooking the sea, to savor aromatic tea or strong Turkish coffee with the ebullient locals, to peruse local markets for hand-woven kilims and other handicrafts, and perhaps most of all to see the imprint of history. The world's first agrarian settlers put down roots in the south of Turkey in 9,000 B.C. Other visitors have included Alexander the Great, who wrested the Anatolian peninsula from the Persians in 334 B.C., and St. Paul, who traveled to the south of Turkey on his first missionary journey.
Nowadays, it's the people who are the big attraction. Unfailingly courteous and welcoming, modern-day Turks consider hospitality both a civic duty and a source of pride. While predominantly Muslim, Turkey, a longtime NATO member and strong American ally, is a modern secular republic. As such, the nation is very tolerant of Western lifestyles.
So the Tourism Ministry pointed to Belek, 25 miles east of the walled port city of Antalya, as the area to develop for visiting golfers. It was a good choice. Set back from the shore beneath the Taurus Mountains, which rise to more than 10,000 feet and are snow-capped in winter, sits rolling, sand-based terrain covered in umbrella pines and eucalyptus trees.
The obvious comparisons are to Spain's Costa del Sol and Portugal's Algarve. Belek lacks their inventory of courses, but the region's well-preserved classical sites outshine those of any golf destination in Western Europe. Each site in this area, an hour's flight from Istanbul, opens a window to a lost world, offering an unforgettable outdoor history lesson.
At present, Belek has nine courses open for play; five will open soon, with several more on the drawing board. Many are attached to resort hotels strung along the beachfront. With each new course opening, Turkey, with one foot in Europe and the other in Asia, raises its profile as a winter golf destination. It's not quite the Myrtle Beach of the Med, but it is a land that gave Alexander the Great a tussle and delights those who enjoy retracing history's footsteps.
As for golf, it's a modern golfer making history of his own who fascinates young Turks keen on the game. Tiger Woods is their idol; once they find out you're an American, they ask you what he's like. Not as a golfer. As a person.
Mainstays
Debuted in 1994, Belek's first course was the National Golf Club, by the Irish duo of David Jones and David Feherty. A clever blend of British and American features, the gently rolling layout wanders through a forest of eucalyptus and pine, with several natural lakes in play. The distant Taurus Mountains loom into view at several holes. It's a subtle, lay-of-the-land design with small greens and enough length at 6,896 yards to keep better players honest.
Host of a European Seniors Tour event in 1996–97, National sets the standard for the area. The courses that have cropped up since, all within a 20-minute drive of each other, range from very good to excellent. Tat Golf Belek International Golf Club (Tat means "taste" in Turkish) is a relatively flat 27-hole layout by Englishman Martin Hawtree, a third-generation designer. Opened in 1997, it offers a diverse mix of inland, tree-lined holes as well as links-style holes stretched along the beachfront, with a river in play at roughly half the holes. Tat's only failing is its conditioning, which can be iffy.
The region's sleeper course is Robinson Club Nobilis, which occupies the site of a former Roman settlement. English course architect Dave Thomas routed holes through tall umbrella pines near the Acisu River, the landing areas and slick bentgrass greens staked out by rolled-down, grass-faced bunkers. And just in case you neglected to remember where you are, there's a colonnaded clubhouse and a statue of Julius Caesar swinging a club atop a Roman arch to remind you.
Belek's largest facility is the 45-hole Gloria Golf Resort. The Old course was laid out in 1997 by Michel Gayon, a little-known Frenchman who created an impressive, tree-lined venue that emphasizes the tee shot: The layout's seemingly wide, inviting fairways actually call for well-positioned drives to open up a clear shot to the green.
The major-domo at Gloria is Tony Martin, a former European Tour player who has tirelessly promoted Turkey as a first-class destination. "The future of golf tourism in this country is looking very positive," he says. "Some compare Turkey with Spain 30 years ago, but we are moving faster here and the quality and service are higher."
The region's most recent developments have given Belek enough critical mass to enter the big leagues. The 36-hole Antalya Golf Club, opened in 2002, occupies gently rolling terrain and has a different look than the region's other courses. With fewer trees and numerous lakes, it could almost pass for a Florida spread. The Sultan, at 7,011 yards, is a pro-style test; the Pasha, relatively short at 6,268 yards, compensates with small, very undulating greens.
Top Newcomer
Cornelia Golf Club is a superb 27-hole facility that amply justifies the long journey. Named for a beloved Roman matron, Cornelia opened its Nick Faldo-designed Tiberius and Sempronia nines last November. The Gaius nine will debut this fall. (The nines are named for Cornelia's children.) The core 18 is, without question, the top course in Turkey. Cornelia was revered in the ancient world for her character; the club will share her reputation.
Faldo was a tactical thinker as a player, and it shows in his course designs. On a sandy, pine-clad site with a broad dune ridge running through the center of the property, Faldo created a strategic gem. Straightaway holes are in short supply at Cornelia. Par 5s are subtly Z-shaped or make hairpin turns through the woods. Among the more memorable holes is Tiberius' short par-4 7th, called "Faldo's Choice." The safe play is to the higher ground, though big hitters can take dead aim over sandy wasteland and trees to a sprawling green that slopes to three deep bunkers intended to swallow pushed shots. Cornelia is an eco-sensitive design that shelters hundreds of plant and bird species, notably the hooded owl, symbol of the Belek region.
Coming Attractions
Belek's newest venue is Papillon Golf Resort, which is scheduled to open its Colin Montgomerie design in late 2007. While more open than Cornelia, the course's site, a mixed pine forest interspersed by sandy ridges, is exceptional. The resort is angling to host a European Tour event.
The ribbon-cutting will continue this fall at Sueno Golf Club, its Pines and Dunes courses proceeding from a new hotel. Pines is the region's longest course to date at 7,057 yards.
Thirty minutes east of Belek is Lykia Links, yet another newcomer scheduled to open this fall. The nearly treeless course by Perry Dye is set along the sandy shore a stone's throw from the beach. Looking ahead, Carya Golf Club, a heathland-style course by Thomson Perrett & Lobb, the firm founded by Australian great Peter Thomson, will debut next year. Like Cornelia, the expansive site, a mere 200 yards from the beach, is bisected by a sandy ridge and is heavily forested.
Hotels
Arguably the finest property in Belek is the Kempinski Hotel The Dome, a 157-room resort that fronts a private beach and is next to Antalya Golf Club. The hotel's ornate architecture was inspired by the Seljuk dynasty, which dates to the 11th century. The Dome Spa is one of the largest spa and Thalasso facilities in Turkey.
Among the newcomers, the top choices are Gloria Serenity Resort, a nicely landscaped, low-density property with 270 rooms and three a la carte restaurants, and the 178-room Sueno Hotels Golf Belek, which fronts a pair of courses and is slated to open in late 2007.
History Lessons
Belek is a perfect base for exploring the region's antiquities. Perge bears the imprints of a once-prosperous, well-planned Roman city: stadium, handsome theater and extensive baths. A pair of Hellenistic towers marks the entry to the city. The grooves in the paving stones are ruts worn by chariot wheels. St. Paul preached here on his first missionary journey.
Equally impressive is Aspendos, which boasts one of the best-preserved Roman theaters in the world—it is still in use with seating for 15,000. Aspendos also has an impressive aqueduct that traverses the valley, another superb example of Roman engineering.
Moving to the east is Side, one of Turkey's best-known classical sites. This lovely seaside town was founded by early Greeks, but its touchstones are mostly Roman. A popular resort, Side's narrow streets are lined with merchants selling handcrafted leather goods and jewelry. There are beautiful seaside temples dedicated to Apollo and Athena and a unique archeology museum contained in a Roman bathhouse.
An hour's drive west of Belek is Antalya, an ancient city (founded in 159 B.C.) with a modern pulse and a population of 1.1 million. The most important remains are the Roman city walls and Hadrian's Gate, built in honor of the emperor's visit. However, a distinctive fluted minaret of red brick, built by a sultan in the 13th century, is Antalya's most distinctive landmark.
Cuisine
Turkish cuisine is as varied as its history. Mezes, or appetizers, are usually served cold, running the gamut from elaborately stuffed vegetables to imam bayildi—slow-roasted baby eggplant topped with fried onions and tomatoes, and seasoned with garlic. Kebabs—marinated cubes of meat, often lamb, grilled with vegetables on a skewer—are excellent. As a main course, all preparations of lamb are recommended. Fresh fish, notably sea bass, is seasoned simply with olive oil and lemon and grilled whole. Save room for dessert. Baklava—a Turkish pastry made with phyllo dough, honey and chopped nuts—is rich and satisfying.
Turkish coffee—dark, strong and a little gritty—is an acquired taste. The local beer is Efes Pilsen, a fine pilsner. Raki, Turkey's national drink, is made from grapes and aniseed, and is similar to Greek ouzo. It's usually served as an aperitif. How you end the meal—and the end of a day of Turkish golf and sightseeing—is up to you.