In 1899, an American professor on holiday in Scotland surprised and flattered the 27-year-old club professional and greenkeeper at the links of Dornoch—who had apprenticed at St. Andrews under Old Tom Morris—by encouraging him to come to America and share his knowledge of the game. Friends and family were equally shocked when Donald James Ross announced that he would be forsaking his secure paying position at one of the world's purest links to immigrate to America.
Ross arrived in Boston at the turn of the century with a mission to teach the game. In one of his early golf schools at Oakley Country Club—where he again was greenkeeper as well as pro—was a lawyer who introduced Ross to James Tufts, a local entrepreneur. Tufts was creating a holiday village and winter health retreat on property in North Carolina's Sandhills called Pinehurst. Seeking to capitalize on golf's bourgeoning popularity, Tufts had added a rudimentary layout to his property. He invited Ross to his home for an interview and then offered him a job as his resort's first Director of Golf.
Thus began a lifetime gig for Ross, who would design and build four courses for Pinehurst, none with more affection than his No. 2 layout, which he called "a pet of mine" and "the finest test of championship golf I have ever designed."
Ross would go on to eventually produce courses for scores of the country's most revered private clubs—places like Seminole Golf Club in Juno Beach, Fla., Michigan's Oakland Hills, and the East Course at Oak Hill Country Club in Rochester, N.Y.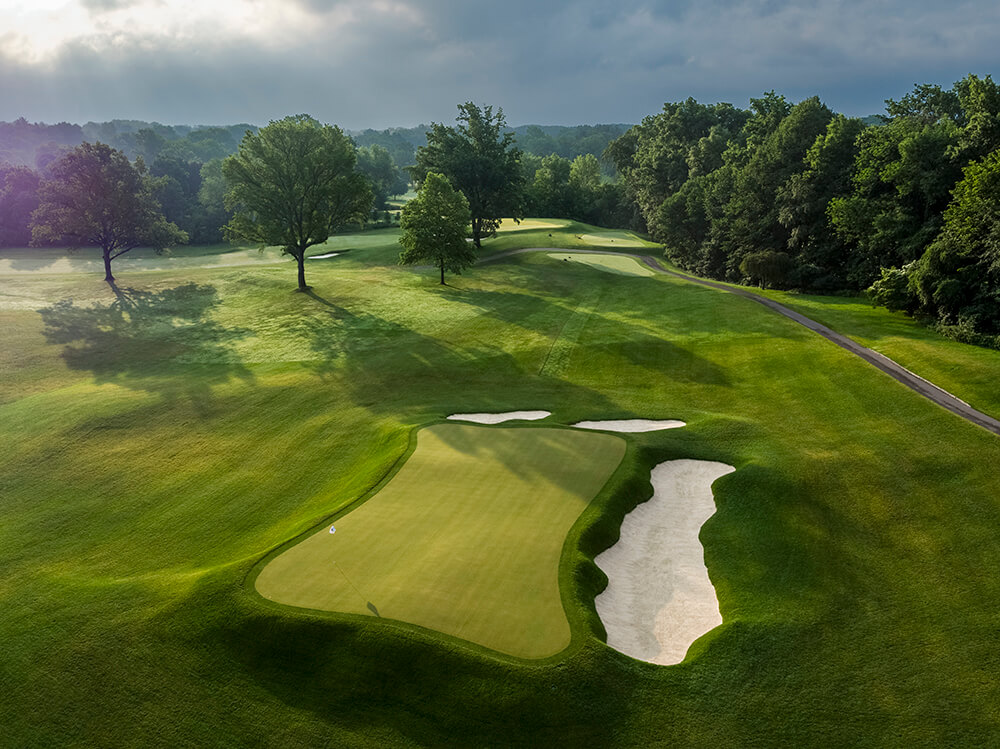 But the humble son of a Scottish stonemason strongly advocated golf as a game of the people. Many of Ross's finest layouts were sketched with the common man in mind as public and municipal. He also designed dozens of outstanding resort courses across the length and breadth of America.
In large part due to Ross, by 1921 business around Pinehurst was so good that the architect, along with Leonard Tufts—son of the resort's founder—and other prominent area denizens, founded the Mid Pines Club on land Tufts acquired about four miles east of the resort. Within five years, the Mid Pines project proved such a success that a handful of local businessmen and a few repeat visitors decided to establish another new club directly across the street. Construction on Pine Needles began in 1927, and the course and the first cabin hotel were finished and opened in 1928.
One might assume that a pair of courses built across the street from each other just six years apart by the same architect might be carbon copies, but nothing could be further from the truth. In fact, the resort complex that now includes both the Mid Pines Inn and Pine Needles Lodge, and has for years been owned and operated by professional golfer and Hall of Fame member Peggy Kirk Bell and her family, may well be the finest original Ross duo in golf today.
Mid Pines is a gentle venue, a delightful romp through mature stands of longleaf pines. For its renovation, the Bell family turned to former Tom Doak shaper Kyle Franz, who pored over Ross's Mid Pines files at the Tufts Archive before he began restoring the Ross classic back to its former glory.
Its more broad-shouldered sister course, Pine Needles, where Ross played most of his golf in the last 15 years of his life, has hosted three U.S. Women's Opens—1996, 2001, and '07—its champions a trio of the game's greats at the height of their powers: Annika Sorenstam, Karrie Webb, and Cristie Kerr. "I've been playing Opens for almost 20 years now and [Pine Needles] is one of the better Open golf courses that I've played," says another former Women's Open winner, Pat Bradley. "It just flows from start to finish. And there are no gimmicks out there."
Ross's presence in the Tar Heel State extends far beyond Pinehurst. According to the Donald Ross Society, he shaped more than 50 courses between Asheville and Wilmington, about 40 of which remain in play with their attribution intact; the public has access to about half of them. One of the best is Linville Golf Club, set in a valley beneath North Carolina's famed Grandfather Mountain, where guests of the renowned Eseeola Lodge have access to this peaceful retreat that may be the ultimate in challenging yet scenic and relaxing golf.
Across the state line at The Homestead in Hot Springs, Va., Ross remodeled the storied Old Course, another sporty mountain layout that features six par threes, six par fours, and six par fives, and, true to its name, boasts the country's oldest tee (the 1st) in continuous use, dating to 1892. Ross expanded the layout from six to 18 holes in 1913.
A voracious traveler, during his summers Ross also designed and constructed courses throughout New England, maintaining a summer office in Little Compton, R.I., and satellite offices in North Amherst, Maine, and Wynnewood, Pa. Eventually, his practice spread down the Southeast coast, into the Midwest, and even farther west. As a result, Ross courses open to the public can be found almost everywhere.
At the venerable Stockton Seaview Hotel & Golf Club near Atlantic City in Galloway, N.J., the Ross-designed Bay Course boasts a 2nd hole described by Ben Hogan during the 1942 PGA Championship as the "toughest par four in tournament golf." Annika Sorenstam, Juli Inkster, and Betsy King are among the legends who have won at the Bay Course, which annually plays host to the LPGA's ShopRite Classic.
In 1928, Ross designed The Sagamore Golf Course in Bolton Landing, N.Y., on rolling, forested terrain atop Federal Hill in the heart of the Adirondacks. Ponds, birches, and an elevated tee spice the play at the stern par-four 13th, while the excellent Sagamore Resort hotel adjoins the course. The Sagamore is a marvelous, difficult venue and a feat of early-day engineering.
View this post on Instagram
The Poland Spring Resort in Poland Spring, Maine, touts itself as having the oldest resort layout in America. Indeed, American legends from Babe Ruth to Walter Hagen to President Taft have traversed the 18 holes—most offering scenic views of the nearby White Mountains—which Ross helped redesign in 1913.
Omni Mount Washington Resort in Bretton Woods, N.H., features an 18-hole Ross classic with the spectacular Presidential Mountain Range as a backdrop. Restored to its original circa-1915 plans by noted Ross specialist Brian Silva in 2008, this layout has hosted four New Hampshire Opens, as well as the prestigious New England Open Championship in 2010.
The Balsams Grand Resort Hotel in Dixville Notch, N.H., boasts a 1912 Ross-designed course that is consistently listed among the finest in the state, while its brutal, 560-yard par-five 18th, which catapults 145 feet uphill, is rated among the toughest challenges. Ross laid out the holes of this classic to traverse the hilly terrain of Keysar Mountain.
Ninety minutes from Pittsburgh in south Pennsylvania's scenic Cumberland Valley, the Omni Bedford Springs Resort in Bedford features one of the first golf courses in America, originally designed by Spencer Oldham, later redesigned by A.W. Tillinghast and then Ross after that in 1924. Architect Ron Forse performed one of 2008's finest renovations on the course, helping the Old Course maintain its status as one of the state's top public-access facilities.
Since it opened in 1912, the East Course at Pocono Manor, a five-square-mile mountaintop resort in eastern Pennsylvania, has welcomed many of the game's greatest names including Sam Snead and Arnold Palmer. To add to the amenities offered at the inn, a nine-hole golf course was constructed by Ross and then expanded to 18 holes by William Flynn. More than a century later, the game is still thriving on this quintessential mountain layout.
Also known as the "Hill Course," the Donald Ross Course at French Lick in southern Indiana underwent a recent $5 million restoration in collaboration with the Donald Ross Society. Originally designed in 1917, just seven years later the course hosted the 1924 PGA Championship won by Walter Hagen, who topped Englishman James Barnes on the 36th and final hole of the two-round match.
View this post on Instagram
The 2011 U.S. Women's Open was the sixth USGA championship contested on The Broadmoor's headliner, the East Course. But the layout is only half a Ross creation, as the resort in Colorado Springs, Colo., split his original layout into the East and West courses, with additional holes in 1952 by Robert Trent Jones Sr. But on the East, Ross's designs are the crucial holes, the outward six and the home trio. The East Course has been home to many other major tournaments, including the 1959 U.S. Amateur (Jack Nicklaus's first major win) and the 1995 U.S. Women's Open (Sorenstam's first major title).
In the 1980s, golf architecture began featuring dramatic, browbeating water hazards, synthetic fairway contouring, and severely undulating greens. But one family of Ross devotees decided to battle back. Everett Kircher and his son Steve, owners of the Boyne Highlands Resort in Harbor Springs, Mich., built a course comprised of 18 reasonable likenesses of holes from Ross classics including Seminole and Scioto, where Jack Nicklaus learned the game.
In 2007, employing routing plans, aerial photos, and Ross's original notes, Brian Silva restored the lushly landscaped Ross design at the venerable Biltmore Hotel in tony Coral Gables, Fla. The 6,742-yard layout originally was constructed in 1930 and has opened its doors to many of the game's greats over the years, from Bobby Jones to Tiger Woods.
When Ross died of a heart attack in 1948 at the age of 75, he left behind a legacy of 413 courses known for their natural beauty, clever development of strategy, and meticulous attention to detail. Together, they've hosted more than 100 national championships.
Today's historians duly credit Ross with transforming the American sports landscape in the first half of the 20th century, turning his industry into an art form through deceptively simple designs that have not only stood the test of time but continue to confound and enchant the world's finest players.