As Martin Mull is often quoted as saying: "Writing about music is like dancing about architecture." Point taken—leave the ineffable to its own mysterious devices. A piano sonata, sitar raga, even a lowly pop song are to be absorbed osmotically, felt, not dissected like a poor laboratory frog. As with golf, analysis equals paralysis!
Nevertheless, it has fallen upon me to freestyle on "Music and the Masters" and, frankly, I find myself on doubly thin ice—as if a mere playlist could encompass the universal feelings of nostalgia, grandeur, and heartbreak that lovers of the game associate with those hallowed four days in April at venerable Augusta National.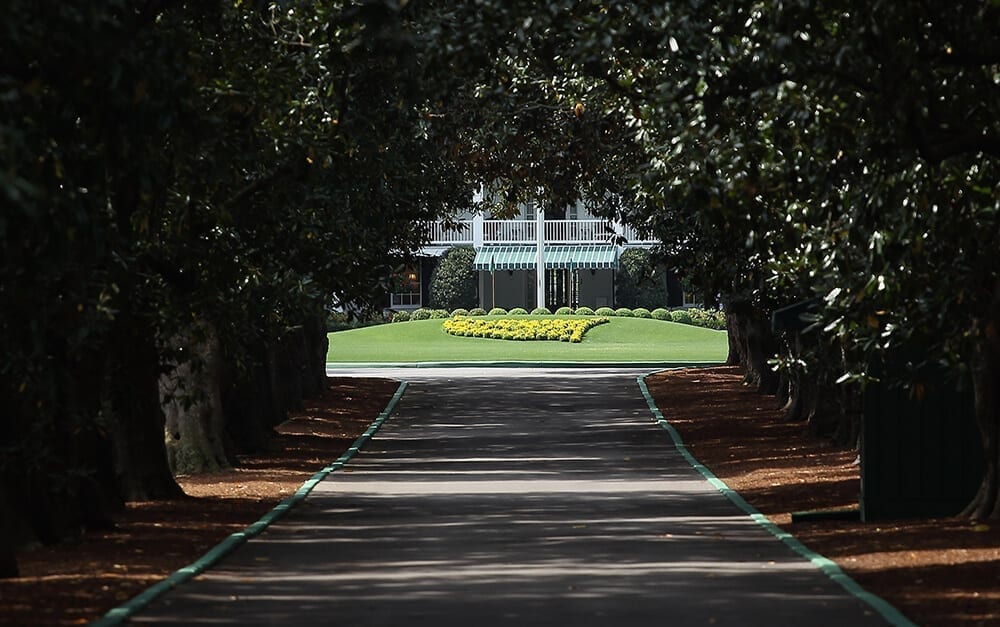 Herewith are songs and sounds meant to rhyme or wriggle with the spirit of the Masters. Drumroll, please, maestro!
1. 18 Holes by John Denver: Earnest, doe-eyed John Denver wasn't known for his funny-bone, but this parody send-up of Tennessee Ernie Ford's "Sixteen Tons" bespoke the singer's love for the game of golf, and actually featured a few witty ripostes. The chorus? "St. Andrew don't you call me 'cause I can't go—I owe my soul to the country club pro."
2. Straight Down the Middle by Bing Crosby: This gently swinging Bing Crosby ditty recalls the halcyon days of Bobby Jones and his ilk, recorded in 1957 with a proper orchestra, strings, and all. It debuted in the film Honor Caddy with Crosby and Bob Hope and a couple of hackers named Ben Hogan and Sam Snead.
3. Rainy Night in Georgia by Tony Joe White: While one never prays for rain during the tournament itself, green jacket wannabes don't mind a little precipitation whilst they dream, in the faint hope that Augusta's exacting bentgrass greens receive the odd approach shot and roll a mite slower than twelve or thirteen on the old stimpmeter. Aside from all that, this Tony Joe White classic is a study in R&B songcraft, especially Brook Benton's original version.
4. Your Cheatin' Heart by Hank Williams: This Hank Williams chestnut is a veiled warning to any PGA pros who even think of bending the rules to their advantage (you know who you are!). And the song also honors course founder Bobby Jones, who sacrificed a 1925 U.S. Open win by penalizing himself for accidentally nudging his ball. No one saw but Jones and his maker, but he erred on the side of salvation and took one for the game.
5. I've Got a Tiger By the Tail by Buck Owens: This twangy Buck Owens classic is the central story of golf in the last twenty-five years, and is especially apropos given Eldrick's stunning Augusta win in 2019. Book your bets now for back-to-back magic when the gentlemen return to Georgia someday in the near future. Fingers crossed.
6. When the White Azaleas Start Blooming by Louise Massey and the Westerners: Louise Massey and the Westerners are long forgotten, but this little waltz allows us to pay tribute to Augusta National's signature "azalea" cocktail, a pleasantly sweet mixture of vodka, grenadine, and lemonade. There are no songs about $1.50 pimento sandwiches, so this will have to do.
7. Amen by Otis Redding: No proper playlist to do with all things Georgia could leave out native son Otis Redding's stirring rendition of this gospel classic. Holes eleven through thirteen at Augusta do require inordinate faith and a few good bounces to survive being "cornered." Here's hoping the cruel and capricious golf gods respond to prayer.
8. U Better Recognize by Sam Sneed: A nod to hip-hop, if only because this song's sly beat is equal only to the cheeky nom-de-guerre of the artist known to his fans as "Sam Sneed." We're not sure if this rapper can flop a sixty-degree wedge, but his brazen bravado and demand for respect are required for those in search of the magical green garment.
9. I Shall Be Free No. 10 by Bob Dylan: Yes, that is a Bob Dylan song title, and yes, he does play the game, albeit poorly (he admits he swings a club as if it were a baseball bat). But Bob does manage to name-check the great game in this rambling, Woody Guthrie-esque strummer: "Gonna ride into Omaha on a horse/Out to the country club and the golf course/Carry the N.Y. Times, shoot a few holes, blow their minds." For that they give you a Nobel Prize?
10. Sunday Bloody Sunday by U2: Moving day is behind the field, and all that's left are the last, brutal eighteen holes. Sunday at The Masters is a holy day for those of us with golf tees littering our floorboards, and a soft spot in our hearts for grinders of all shapes, sizes, and countries of origin. Bono is not singing of birdies and bogeys, but does this ring a familiar bell? "And the battle's just begun/There's many lost, but tell me who has won." Fore, please…
What song reminds you of the Masters? Let us know in the comment section.