The Ocean Course, host of the 103rd PGA Championship and one of Pete Dye's seminal works which was completed just in time to host the Ryder Cup in 1991 (and previously hosted the PGA Championship in 2012), may be the crown jewel at Kiawah Island Golf Resort, but the luxurious resort's four additional courses collectively form the crown itself.
Designed by some of the sport's most revered architects—names that include Jack Nicklaus, Tom Fazio, and Gary Player—these courses (as well as the Ocean Course) all benefited from recent renovations that included reseeding with Paspalum on every tee box, fairway, and green. Moreover, the distinct layouts of these four lesser-acknowledged courses, as well as the respective environments in which they are set, allow each course to deliver a unique experience. "That's what makes Kiawah such a special place for golf," says Josh Wagaman, the head professional at the resort's original golf course, Cougar Point. "The five courses are all very different. You won't get the same experience at any of them."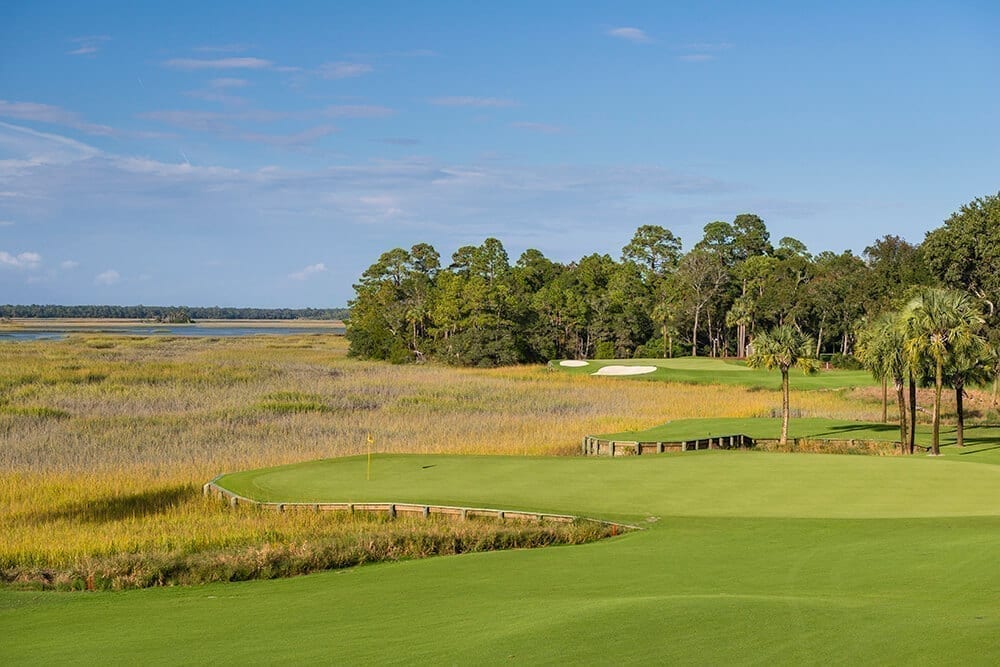 So while they may be less-heralded when compared to Kiawah Island's most famous layout, each of the following courses deserves your attention—and a spot on your itinerary when you book your next visit to Kiawah.
Cougar Point
Talk with the caddies looping on the Ocean Course and many will tell you that their favorite course to play—perhaps after Dye's championship layout—is this 6,800-yard jewel, which was designed by Player and built in 1976. The course winds its way through wooded areas punctuated by striking live oaks and brings players to picturesque marshland along the Kiawah River.
Beyond its scenery, Cougar Point is beloved by caddies because it requires a strategic approach. "You can play the golf course in any number of ways, but it's not a golf course where you're getting up to the tee and hitting driver as hard as you can on every par four and par five," says Wagaman. "You have to think about where you want to place your tee shot."
Wagaman goes so far as to say that Cougar Point is one of the island's most player-friendly courses, but he conditions that by acknowledging that the course changes dramatically the farther back a player goes on the tee box. Brian Gerard, the resort's director of golf, shares that opinion: "It's very open and friendly, but when you get back on the tees it's all the challenge you want."
Turtle Point
Five years after Player planted the first golf flag on Kiawah Island, Nicklaus arrived and designed Turtle Point. Today, the course shines for offering an equal marriage of two distinctive environments. The front nine plays around many large live oaks that line the fairways and frame the holes; while the back nine brings the Atlantic's coastal dunes into play. Says Wagaman of holes 14, 15, and 16, "You're as close to the ocean on those holes—maybe even closer—than you are at any point on the Ocean Course."
Most Nicklaus-designed courses are famous (or infamous) for their difficulty, and such was the case at Turtle Point prior to its recent renovation. When Nicklaus returned to the course to update it five years ago, he and his design team pushed fairway bunkers farther away from the tee boxes and relocated some greenside bunkers to open up the front of the greens on many of the holes. "Turtle Point remains a more difficult golf course for the better player," Wagaman says, "but it's more enjoyable for the higher handicapper than it's ever been."
Oak Point
Built in 1989 by Clyde Johnston, Oak Point is surrounded by maritime forest and plays alongside the Kiawah River and Haulover Creek. Although it's officially a part of Kiawah Island Golf Resort, the course is actually located on neighboring John's Island. Because it's slightly removed from the main area of the resort—and because it's not connected to as recognizable a name in course design—Oak Point is the layout most overlooked by golfers as they plan their stays. "It's truly a hidden gem because it is across the river," Wagaman says. "It doesn't get quite the attention as the other four courses and, frankly, it should."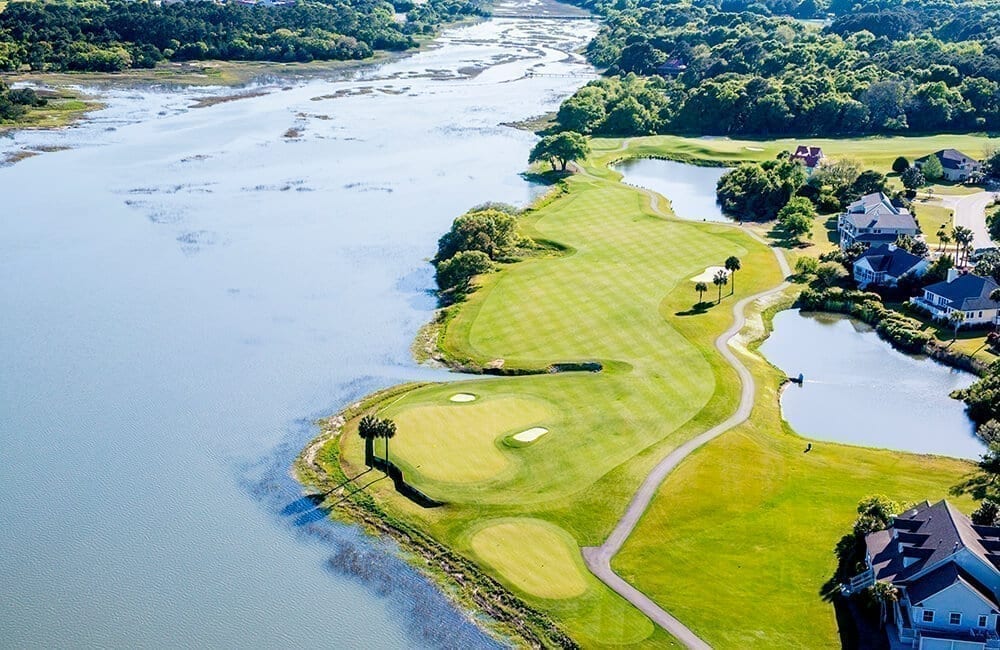 Described by Johnston as "a Scottish-style links course," Oak Point incorporates plenty of open space, but it also meanders through tree-lined sections and later brings lagoons and marshland into play. In fact, in Wagaman's opinion, the landscape's natural beauty and a plethora of wildlife define the golf experience at Oak Point more so than at any of the resort's other courses. Even though golfers are likely to see plenty of alligators at Oak Point, those players will also need to envision specific shots that must be played to score well.
Osprey Point
The most recent addition to Kiawah Island's golf lineup, Osprey Point, which was built in 1988, shines for its wide fairways and expansive greens. This Fazio-designed layout plays around four natural lagoons, so water is always in sight, yet generous landing areas and very few forced carries mean that the water is rarely in play. For those reasons, Osprey Point is often the most popular course among first-time (and returning) resort guests. "It's our guests' favorite golf course, and part of the reason is that you have equal opportunity to score on it," Gerard says. "You don't feel like you're so locked into a tree-lined fairway and that puts a lot of people at ease, which takes away tensions, which takes away indecision, which leads to better scores."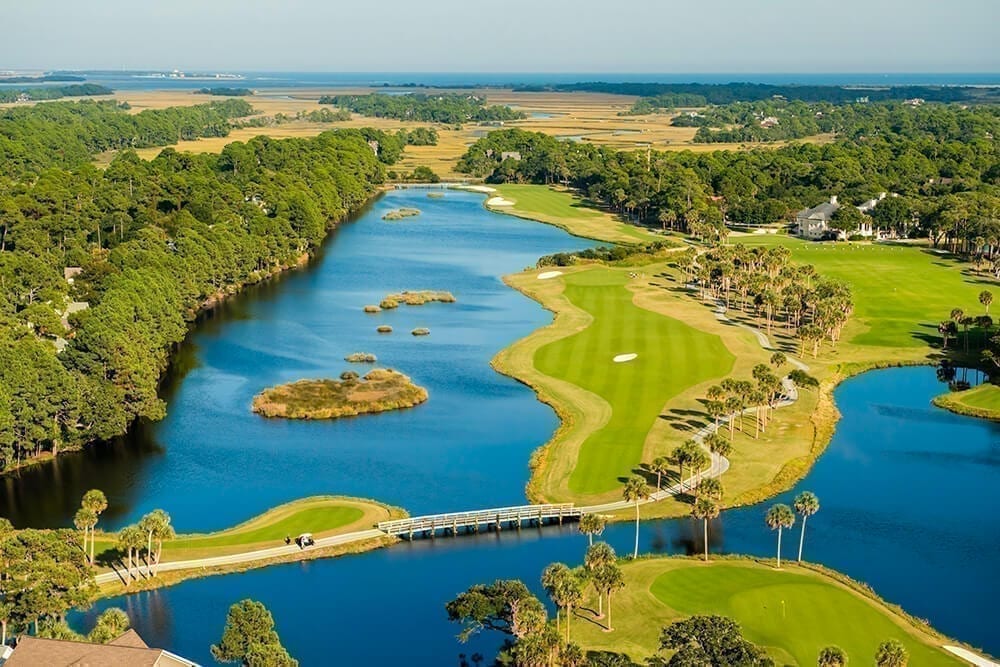 Have you played any of the lesser-known golf courses at Kiawah Island Golf Resort?