Meet Andrew Green, architecture's low-profile master of restoring vintage golf courses, including the venue for the 2023 PGA Championship
WHEN THE NEWS BROKE IN 2016 that Oak Hill Country Club had retained an architect to restore its Donald Ross-designed East course, a collective cheer erupted. When the club revealed that the architect chosen was Andrew Green, collective head-scratching ensued. Who? Not even seasoned architecture journalists had encountered the name before.
They know it now. It took 15 years to become an overnight sensation, but the commissions and awards don't lie: Low-key Andrew Green ranks among the best, most in-demand restoration specialists in the business.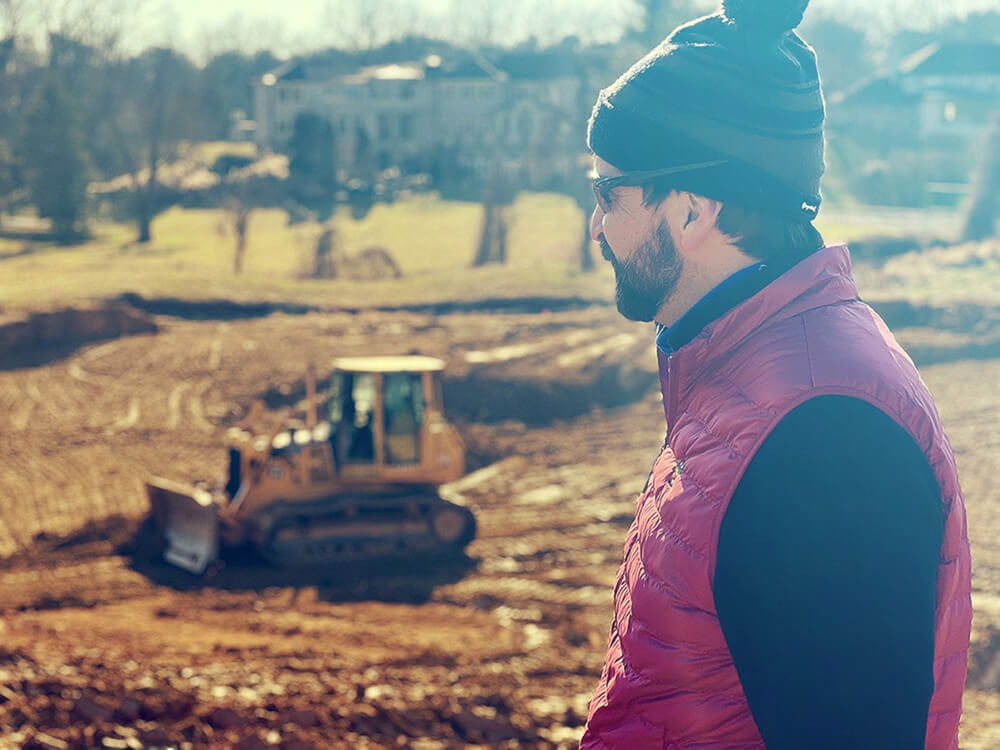 That Green was off the radar when Oak Hill enlisted his design services isn't that surprising. He had hung out his shingle only two years earlier, in 2014. Yet, what he brought to that venerable club near Rochester, N.Y., was an unmatched background and serious scholarship. He also carried with him his first renovation trophy, awarded for his work on one of Philadelphia's most historic clubs, Whitemarsh Valley, a 1908 George Thomas Jr. design. In addition, he had already begun tinkering with the Oak Hill property on a tree removal project. Green's life and professional experience had him perfectly prepared for when the call came.
Now 45 years old, Green grew up in the western Virginia town of Daleville, "halfway between Roanoke and The Homestead," he says. He played all of the team sports as a kid, but became intrigued with golf after joining his next-door neighbor for a backyard version. His older brother also played, and by the eighth grade, Green was hooked. He was fifth or sixth man on his high school golf team and worked in the summer in the pro shop and as a cart boy at nearby Botetourt Country Club, "an everyman's kinda club" as he describes it.
The summer after 10th grade, Green switched to Botetourt's grounds crew and found his calling. "I loved the maintenance side of things," he says. "I loved being outside. I loved seeing some sort of product being generated. My brother was pursuing a turf science degree at the same time at Virginia Tech and going into the golf course superintendent side of the world. As a junior in high school, I said, 'Hey, I love golf. I love everything about it. I love technology. I'd love to be a golf course architect.'"
Green followed his brother to Virginia Tech and pursued a double major in Landscape Architecture and Turfgrass Management, with the sole purpose of becoming a golf course architect. Many around him cautioned him on how difficult it was to make a living in his chosen field, but it only made him more determined. "I just worked harder every day," he says. "Anytime somebody told me I couldn't do it, I doubled down and worked harder."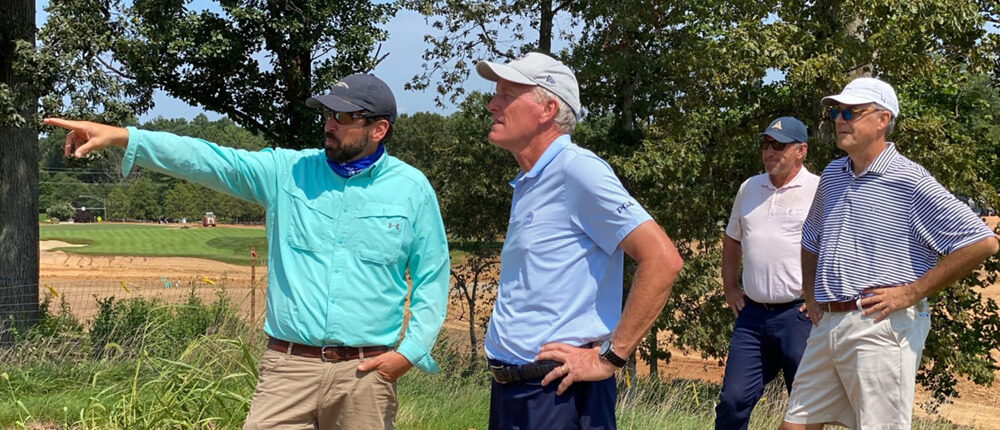 While in college, he assisted Congressional Country Club superintendent Paul Latshaw with course preparation for the 1997 U.S. Open, which instilled in him the notion of what a proper presentation should look like. At that tournament, Green met Chip McDonald, who helmed McDonald & Sons, one of America's top golf course builders: He spent his summers working for McDonald and went to work for them full-time in 2000.
Over the next 14 years, Green learned the business from every angle, with emphasis on how the architect and contractor needed to meld on a project to maximize the outcome. Renovation projects during Green's time with McDonald included a fistful of America's Golden Age greats, including Pine Valley, Shinnecock Hills, Merion, and Oakmont. Concurrently, he devoured all he could about Golden Age architecture, from articles to course visits. He was even able to have some design input while working for McDonald, "starting with maybe one bunker here or there, very small, modest projects." When passion and know-how bubbled over, it was time for Green to plant his own flag.
In 2014, A.H. Green Design/Green Golf & Turf Inc. debuted with a greens restoration at ultra-exclusive Bidermann Golf Club in Wilmington, Del. Soon after, Green nabbed the Whitemarsh Valley job that would kick-start his solo success and also began his association with Oak Hill. Since then, a cavalcade of classics has benefitted from the Green touch, among them Inverness, Congressional (Blue), Scioto, an most recently, Indian Creek, a William Flynn design in Miami.
Whitemarsh Valley was critical in Green's journey. "Whitemarsh was such a great study in golf history and golf design, because it was George Thomas's family property," says Green. "A lot of other architects worked on it after Thomas went west, including Ross and Flynn. That project got me digging deeper into appreciating history and the uniqueness of each golf course and its legacy. When I was given the opportunity to talk to the folks at Oak Hill about their restoration, I had all the original Ross drawings with me when I sat down. I started passing them around and we started this conversation on what the course used to be like, the vision Ross had for the property, and how we might blend the modern game and modern demands of a championship venue with what Ross envisioned. They talked to a lot of different architects, but I think that initial sit-down with the documents resonated with the folks at Oak Hill. And they took a chance on me."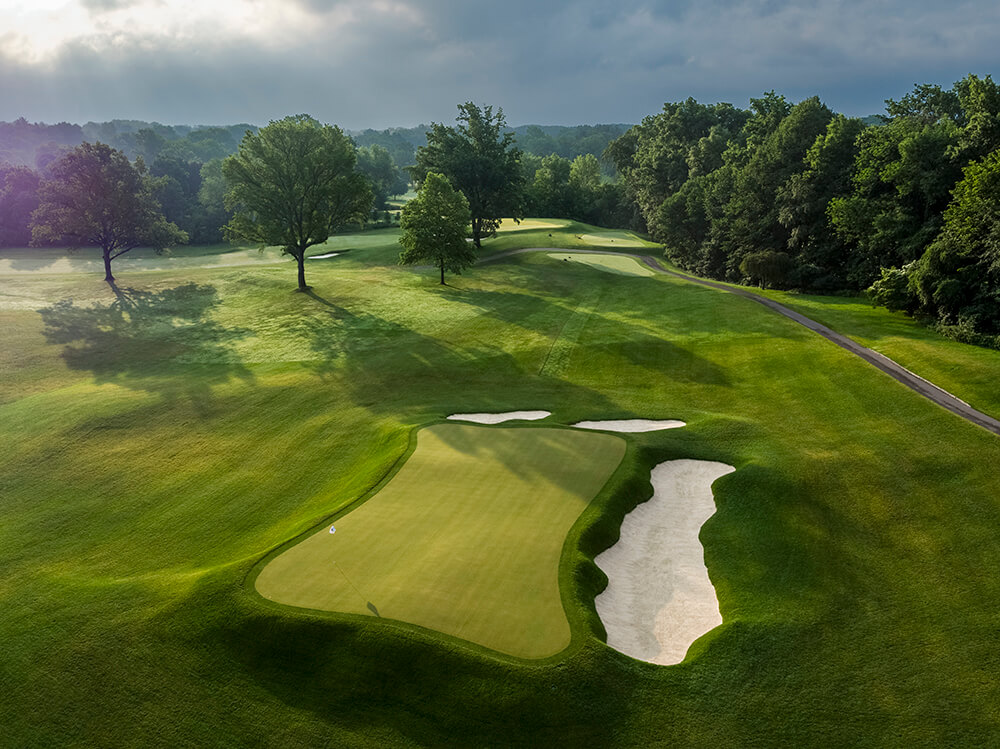 Green doesn't mind being pigeonholed as a restorer, but feels he would relish the opportunity to create a course from scratch if the right project came along. "I have never thought of myself as anything but a creator," he says. "I have recently fielded many new offers and haven't found one that I was 100 percent in on. Congressional, in reality, is a renovation only due to its footprint. Otherwise, we all refer to it as the New Blue. I figure any number of new projects will happen as they naturally fall into place."
With more than 20 successful restorations and renovations to his credit in the past decade, Green is red hot, with no signs of slowing. Two modern courses await his wand-waving and earth-moving—Vaquero in Westlake, Texas, and Karsten Creek, home course for the powerhouse Oklahoma State University golf teams. Green is especially enthusiastic about his upcoming restorations at a couple of Donald Ross classics, Interlachen in Minnesota, site of Bobby Jones's 1930 U.S. Open win, and East Lake in Atlanta, Jones's home course from childhood on. He confirmed to LINKS that what he said about his time working at Scioto, another Donald Ross masterpiece, and where Bobby Jones won the 1926 U.S. Open, remains true for all of his projects: "Every site visit is like waking up early on Christmas morning to get there, and hating leaving, just because of what we've uncovered and where it's headed," says Green. "It's a lot of fun. I say, 'I like to
build favorites.' I figure if I'm always building favorites, we're on a good trajectory, where every day I'm creating my favorite thing."
Andrew Green somehow stays as low-key as ever. Unquestionably, however, scores of classic golf courses are benefiting from the Green movement.
ANDREW GREEN ON OAK HILL EAST
ON ROUTING Donald Ross routings are spectacular. They blend a combination of variety of golf with the utilization of the ground. They maximize the space. They fit and flow so well. One golf shot to the next, leads to a really nice experience. Oak Hill is excellent at that. There's a nice high point that the 2nd green, the 3rd hole, 12th green, and 13th tee all share. It's a wonderful use of that ground. He also did a great job of mixing up the green concepts—not just green sizes, but their locations and elevations, the contouring, and shape are all unique.
ON RESTORATION A strict restoration wasn't possible, or in the cards, because the game of golf has changed so much. Our restoration effort had to focus on how we could infuse, and re-infuse, as much of the Donald Ross roots as possible, but leave it in a functional state for major championship golf. That meant golf holes that had not been moved were adjusted. We were as true to the original plans as we could be.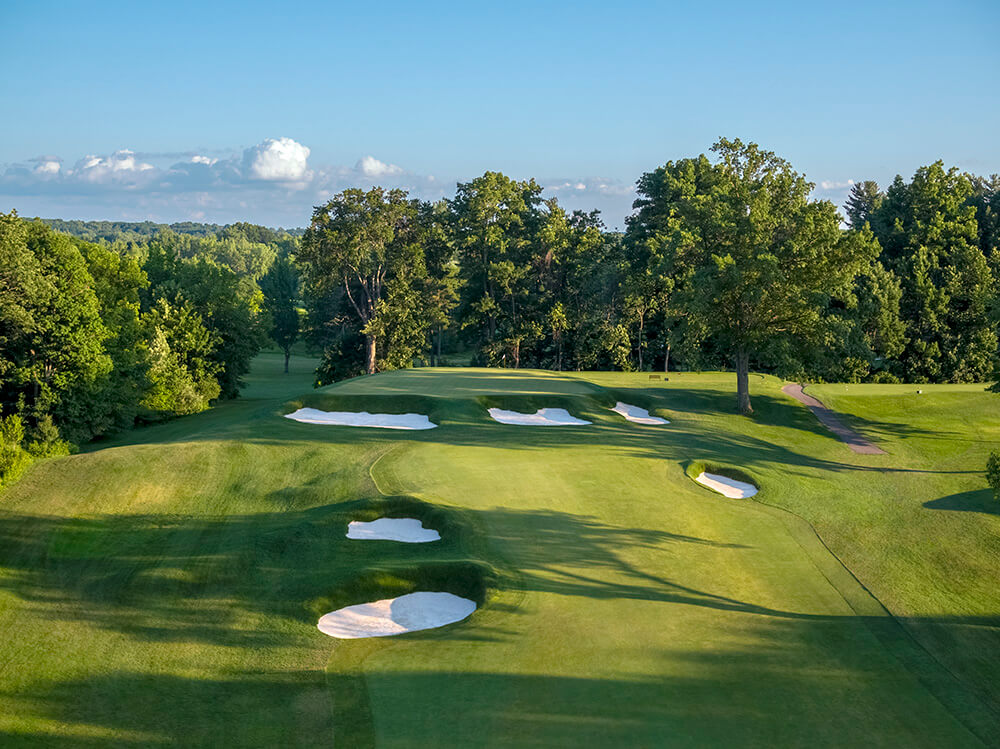 ON RECREATING ROSS We built two new holes from scratch, nos. 5 and 6, to represent Ross's original vision. The par-three 5th is in a space that Ross never used. My vision was to replicate his original par-three 6th in character and design (that was changed in the 1979 Tom Fazio renovation). The current par-four 6th hole represents as much of the original 5th as possible. It was basically flip-flopping those two holes from Ross's design. We also removed the rock wall and pond from the par-three 15th. The reality is that the hole was exciting for television, but not great for golf.
ON RESTORING THE ROSS MAGIC AND CHALLENGE We tried to be rustic and rugged and pretty aggressive. The bunkers are most definitely hazards. I might catch a little criticism from them being so penal in places. They're going to be tough. But part of the personality of this course is being a tough test. What we tried to do with green shapes, bunker shapes, the way they interact with one another, the way the golf shots flow through the property is very much the way Ross intended.
ON THE KEY HOLES FOR THE 2023 PGA CHAMPIONSHIP There's a higher level of risk around the green (on the 321-yard par-four 14th). We've added short grass along the back of the green, so if you get a little wild there, it's going to be tougher for sure. But there's certainly an opportunity to make a 2. Assessing the aggressiveness of the attack on the new 6th hole (496-yard par-four, no. 1 handicap) will be interesting. It's by far the hardest hole on the entire property. With the creek in play, you might see players lay up and try to get up and down for their par.