Last year, Colton Craig learned an important lesson about golf course architecture in the most unlikely of places. Walking through the Oklahoma City Museum of Art, full of what he calls "wild exhibits that stimulated the artistic side of my brain," the Oklahoma City-based designer came to an empty room with white walls.
"The vacant room was a deliberate move by the museum curator to give the viewer's eyes and mind a chance to rest and reflect before transitioning to the next room," he says.
Inspired by the bare room and how he relished the subsequent spaces, Craig, along with co-designer Brian Ross, has included a featureless hole in the routing of Park Mammoth Golf Club in south-central Kentucky which, after a few delays, is finally set to open in the summer of 2022.
A total rebuild of the former Cave Valley Golf Club, Park Mammoth will feature a rousing final quartet of holes referred to as "the Crescendo." But the 14th is a flat, relatively straight, bunkerless par four unlikely to trigger much emotion or have visitors reaching for their camera phone.
"That's by design," Craig tweeted in March. "It's a modest, relatively nondescript hole that will give the player a mental pause before the coming chaos."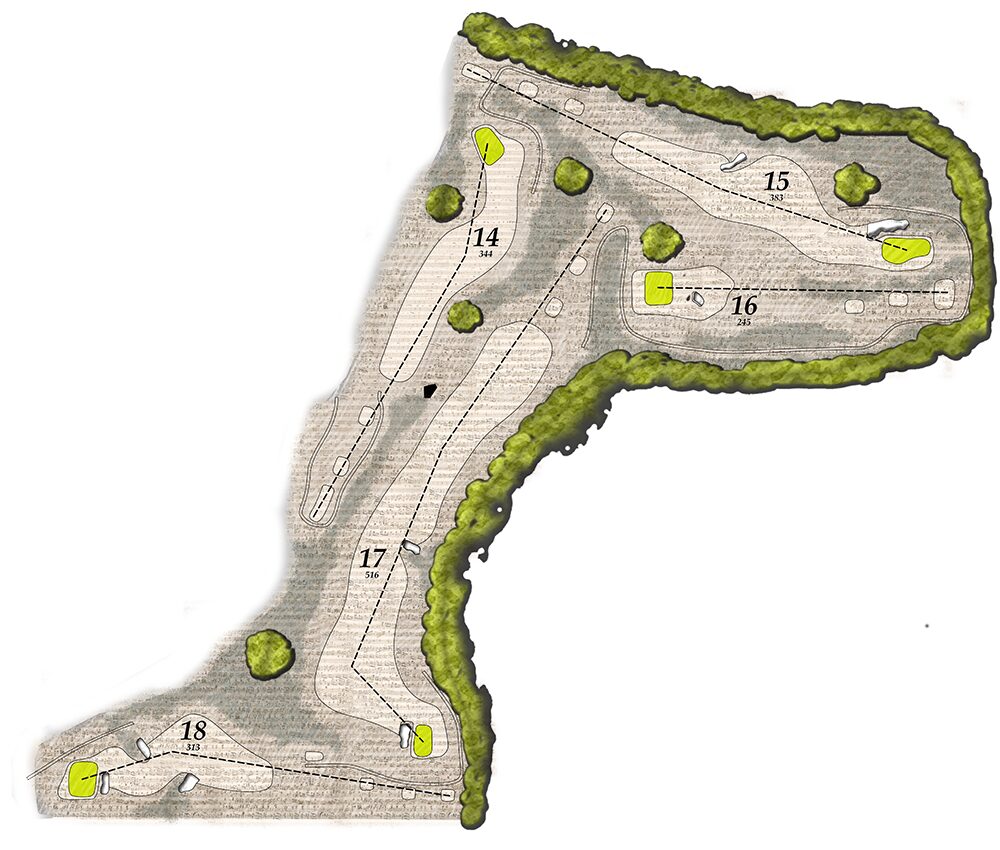 It's rare indeed to hear of an architect designing a non-descript hole these days, but the concept isn't new. Englishman Tom Simpson, active between 1910 and the mid-1950s, once famously said he always wanted to include "one thoroughly amusing but bad hole for the sake of variety and a brief interval of mental tranquility."
According to Canadian architect Keith Cutten, whose book The Evolution of Golf Course Design charts the progression of golf course architecture decade by decade, the practice was actually quite common during the Golden Age.
"The breather hole was a staple of architecture during that time. Its role was to place emphasis on the holes before or after it," says Cutten. But, he adds, it died out following the emergence of the Modern Age when owners and developers became enamored of ranking lists and began building ponds and other faux features in the hope of rising up the charts.
Like many of his architecture heroes from the past, Cutten believes variety is vital: "If everything is special, then nothing is. A great book or drama has ebb and flow. There should be peaks and valleys to the excitement."
Craig puts it like this: "Imagine if an entire symphony were a five-minute climax, or an action movie was one long fight scene. It would be ridiculous. There has to be a few quiet moments before the action."
Bill Coore has certainly designed some quiet moments with partner Ben Crenshaw, though he prefers to call those holes "subtle."
"We definitely don't set out to build a "bland" hole," Coore says. "But we certainly have built subtle holes. Subtle can be very interesting."
Coore tells the story of when the marketing department at Cuscowilla on Lake Oconee in Georgia asked him which hole on his and Crenshaw's design should be designated the signature hole. "They wanted to use it for promotional material. I told them the 13th—it isn't on Lake Oconee and doesn't have a striking photogenic feature, but it's a really interesting hole. They chose something else."
Likewise, the 8th hole of Sheep Ranch at Oregon's Bandon Dunes Golf Resort doesn't get as much love as the 6th or 17th and isn't the marketing team's dream hole. "I suppose some might regard it as bland compared to some of the other holes on the course," says Coore. "But it might be my favorite."
Tom Doak says he's never set out to build a bland hole either, but he has condoned their use. In his Little Red Book of Golf Course Architecture, a collection of his most notable quotes on golfclubatlas.com, he says "inferior" holes weigh less on his evaluation of a course than they used to.
"If nothing else, they nearly always add to the variety and pacing of the course," Doak adds. "I'd rather play a course with some great holes and a couple of duds than one with a bunch of good but unmemorable holes."
The closest Doak says he's ever come to building a bland hole, or rather not making it as "sexy" as it could have been, was at his Bandon Dunes design, Pacific Dunes. The par fives at the 12th and 15th were two of the last holes to be completed, and by the time Doak and his Renaissance Golf team came to build them, it was obvious the rest of the course was turning out pretty special.
"We decided not to add features just for looks," he says. "I didn't want to overdo them."
My favorite course in the world, St. Enodoc in Cornwall, England, was built 114 years ago and has a couple of holes that lack the flavor of the rest of the course. But they make the great holes come alive, so I love them for it.
No doubt you know a few with white walls and no fancy exhibits which, when you think about it, take one for the team and somehow make the whole 18 better. Tell us about bland holes you've come across in the comment section.