Whether you're a straight-hitting bomber or a higher-handicapper on the hunt for more distance, the club manufacturers have some attractive new options for you. But unless you have a full day to test-drive some of these new clubs, sorting them out and finding the best choice for you may not be so easy.
As has been the case for the past decade, the tech jargon is thick in every manufacturer's descriptions of their new models. That tech is there is do some simple (but important) things: increase clubhead speed and ball speed, yield more forgiveness on off-center hits, allow for more consistency, and build confidence. But deciphering all that engineering and marketing lingo isn't so simple.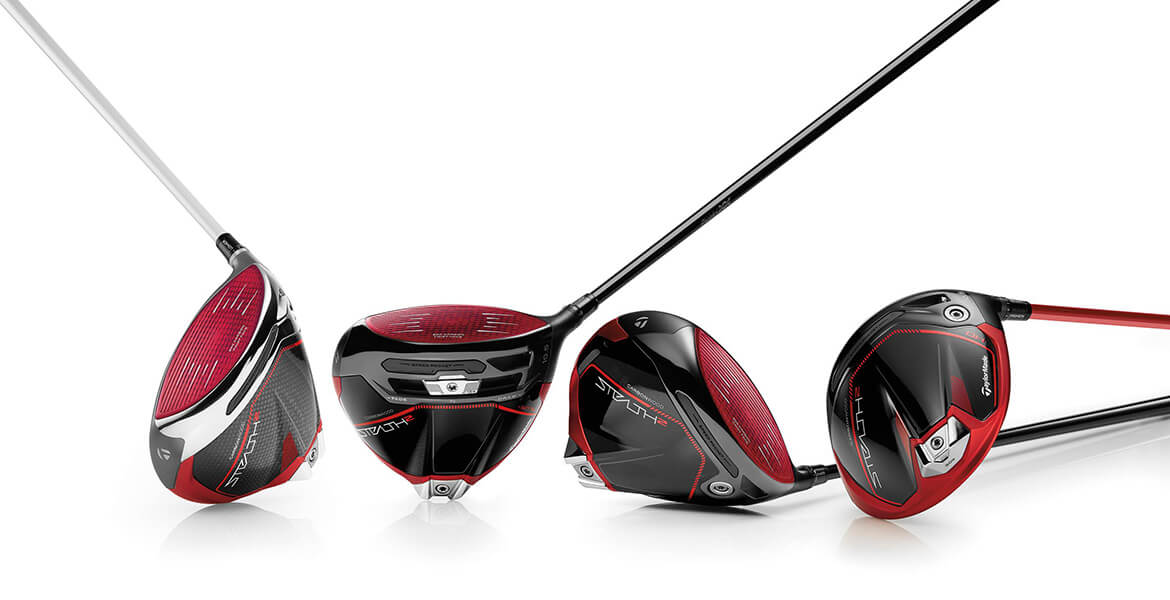 I'm going to try to boil it down for you in my look at some of the better new driver options for 2023. In all cases, because high-handicappers have different needs than tour pros, the clubmakers have created different versions for different kinds of players. Some key things to look out for in these 2023 drivers: clubface design advancements, expanded use of lightweight carbon fiber, and new perimeter weighting options.
When TaylorMade launched its Stealth drivers and ushered in the Carbonwood era in 2022, they didn't just look different with their bright red faces, they were different. They featured clubfaces constructed with carbon fiber rather than titanium or steel, and the tech behind that "Carbon Twist" face, which TaylorMade refers to as Inverted Cone Technology, was designed to boost performance across the entire clubface and provide improved distance and forgiveness.
The 2023 Stealth clubheads feature almost twice as much carbon. The face of the new standard Stealth 2 is even lighter than last year's and has a larger sweet spot for even more forgiveness on off-center hits. TaylorMade says that forgiveness is increased even more by the inclusion of the red Carbon-Reinforced Ring, which helps unify the head and, again, allows them to shift weight to other places. And they claim that the 2023 Stealth drivers have even higher MOI (Moment of Inertia) than last year's models, thanks to the 25g tungsten weight at the back and the smaller front weight located toward the heel.
On the Stealth 2 HD model, those weights are shifted even more toward the heel to promote a draw bias, making it the most forgiving driver in the Stealth 2 family, while the Stealth 2 Plus model features a 15g sliding weight that lets you customize the weighting in the head to your preferred shot shape. I think these 2023 versions are better-looking clubs, too, with traditional glossy crowns versus the matte 2022 version, and the red ring that's visible from address on the Stealth 2 and Stealth 2 HD models (but not the Stealth 2 Plus) also helps with aiming. These Stealth drivers are a prime example of a good thing getting even better.
Callaway is another manufacturer that has gone all-in on the use of carbon. For 2023, its new Paradym drivers feature a carbon crown and forged carbon sole that make the clubhead's chassis 44 percent lighter than a traditional titanium chassis. That's a lot of weight savings, and it allows Callaway to redistribute weight to places where it can be used to improve performance.
Callaway has continued to use artificial intelligence in the design of its new Paradym line. The clubheads' A.I.-designed Jailbreak construction promotes stability and is 33 percent lighter this year, while the all-new, A.I.-optimized, titanium "Face Cup" clubface was engineered to produce even faster ball speeds than previous Callaway drivers. Adjustable perimeter weighting in the form of a sliding 15g weight makes the standard Paradym model customizable. The Paradym X model is the line's game-improvement entry, with a slight draw bias and 5g weight to promote a higher launch. The Paradym Three-Diamond model is the better player's club, a lower-spin, lower-launch option with a slightly more compact 450cc clubhead.
Titleist drivers have always been known for their classic good looks and consistent performance. Where other companies may strut their tech on the outside, Titleist prefers to present a more traditional appearance, and their 2023 TSR line is no exception. This year's Titleist drivers—the TSR1, TSR2, TSR3, and TSR4—each present an appealing pear-shaped look at address, unblemished by overt signs of engineering wizardry. But beneath the surface, there's a lot going on.
They all feature Titleist's Variable Face Thickness—faces optimized in different ways to generate maximum ball speed across a broader cross-section of the face. Enhanced aerodynamics help generate more speed, too—without interfering with the club's classic appearance. The TSR1 is the ultra-lightweight version—It's ideal for players with moderate swing speeds. The center of gravity in the TSR2 has been shifted lower and more forward, to help elevate ball speed and promote a higher launch with low spin. The TSR3 is the choice for better players; its face features what Titleist calls its new Speed Ring Face Technology, with conical variable face thickness that allows it to generate the most power from a point on the clubface that you can choose via a sliding CG (center of gravity) track system located at the heel of the clubhead. The TSR4 model is the ultra-low spin option. If your swing produces more than 3000 RPMs, this club's 11g and 3g sole weights can be moved fore or aft to help you dial in the launch and spin you're looking for. And all models feature Titleist's adjustable Sure-Fit hosel, which helps match the loft and performance characteristics to the ideal specs for each player.
PING drivers have long been revered for their performance and forgiveness. PING's new G430MAX, G430LST, and G430SFT drivers continue that tradition. Unlike other companies, PING tends to release new club designs not every year but every two years. From all accounts, the G430 series was worth the wait.
The G430MAX sports the highest MOI in PING history, so it'll give you the most forgiveness of the three. Its forged, variable-thickness face is shallower than the previous G425MAX, and PING reports it generates faster ball speed for their biggest distance gains to date. They've tweaked the roll radius at the lower edge of the face to give it less loft there, reduce spin on shots hit thin, and generate more distance. PING also spent some time tinkering with the clubhead's internal rib structure and stiffened the crown, skirt, and sole to give the G430 a better sound at impact. And there's a 25g tungsten backweight that you can shift to create differences of up to eight yards between the draw, fade, and neutral settings. The G430SFT model takes shot correction a step farther, with backweighting options that can produce up to a 20-yard draw bias—something great to have if you're a chronic slicer. Finally, there's the G430LST, PING's entry for higher-swing-speed players. It features an ultra-lightweight carbon crown that wraps into the heel and toe sections of the club. Again here, the weight savings get redistributed to lower the head's center of gravity to increase ball speed and MOI.
The driver news at Mizuno revolves around what it calls its Cortech Chamber—a dense, stainless steel weight encased in an elastomeric material. It sits in the sole behind the clubface, adding weight there for spin reduction and allowing for increased sole flexure and face stress reduction (translation: more power). The variable-thickness clubface is forged 6-4 beta titanium, while the carbon sole plate is now a single piece to allow weight to be redistributed elsewhere.
The ST-X 230 is draw-biased, with a deeper profile. The ST-X PLTNM 230 is also draw-biased and is Mizuno's super-lightweight entry; with the premium Helium Platinum shaft, it's 30g lighter than its brethren and launches balls higher. If you're not looking for draw bias, Mizuno's ST-Z 230 driver is your choice. It promotes a ball flight that's straight, stable, and low-spinning. Mizuno reports it delivers 2-5mph more ball speed than its predecessor and 200 fewer rpms. All Mizuno drivers feature their Quick Switch hosel, which allows for up to four degrees of loft adjustability.
Cobra's new Aerojet drivers have a serious, traditional appearance on the outside—with a classic shape and glossy crown—but their tech has been dialed up to produce even more clubhead speed than prior Cobras. It starts with aerodynamics (hence the Aerojet name). Each model features a raised skirt (the rear part of the clubhead) and streamlined edges designed to reduce drag and increase clubhead speed. Their "H.O.T." face is A.I.-designed to deliver yet more speed and to optimize spin across a broad cross-section of the clubface. And each model employs what Cobra calls its PWR-BRIDGE, a suspended weight positioned forward and low behind the clubface to create even more ball speed.
The Aerojet Max model is Cobra's high-launch, low-spin entry. It's designed for max forgiveness and to produce the neutral to draw shot shapes that higher-handicappers can benefit from. The Aerojet LS is the player's club—with adjustable forward weighting to reduce spin and maximize speed. Note that each of these Cobra drivers is offered in what they call a "Tour Length" version, inspired by Rickie Fowler's preference for a shorter driver. Their shafts are 44.5 inches long (an inch shorter than the other Cobra drivers). Cobra states that these Tour Length clubs deliver maximum control off the tee without sacrificing distance. You'll have to judge for yourself whether they can bring that daily double to your game.
One Last Word
You may have noticed the effect that inflation has had on prices at the grocery store. Prices on today's top new golf clubs may not have risen quite as dramatically percentage-wise as they have on eggs, but be prepared. You'll be asked to shell out more than $500 for any of the clubs listed above—and in some cases, quite a bit more. How much more will depend on when and where you buy them. But suffice it to say: the kind of R&D that goes into creating the technology that allows 50-year-olds to hit the ball as far as they did when they were 35 isn't cheap. And if there's one place not to scrimp, it's on your driver. After all, it's hard to put a price on the joy you get out of hitting longer tee shots and finding more fairways. Here's hoping one of these clubs can help you do just that.