Pinehurst Resort is one of the biggest golf properties in the world with 10 courses, including one of the game's most iconic layouts in course No. 2.
For many golfers, that storied course defines Pinehurst itself, the site of multiple U.S. Opens as well as the 1936 PGA Championship and 1951 Ryder Cup. Payne Stewart's dramatic win at the 1999 U.S. Open is immortalized in a famous fist-pump statue that's been replicated and photographed by thousands of visiting golfers. Pinehurst No. 2 famously underwent a restoration at the hands of Bill Coore and Ben Crenshaw in 2010 and today the course and its fearsome turtleback greens are more popular than ever, thanks to its history, design, and status as an anchor venue for the U.S. Open for years to come.
More recently, Pinehurst No. 4 also underwent a major transformation under the direction of architect Gil Hanse. That effort has given Pinehurst a formidable 1–2 punch, with the duo of championship courses complemented by the property's newest addition: the fun and engaging par-3 course called The Cradle. And more golf is on the way, with Tom Doak, Angela Moser, and the team from Renaissance Golf Design building Pinehurst No. 10, set to debut ahead of Pinehurst's next U.S. Open hosting duties in June 2024.
Beyond the well-known No. 2 and No. 4, Pinehurst is a smorgasbord of great golf offerings. Here's a closer look at the top lesser-known layouts at the property known as the Cradle of American Golf.
Pinehurst No. 1
For some, there's a sense of order in starting a Pinehurst visit at the beginning. The No. 1 course is the original, with two 9-hole designs that Donald Ross combined into a unified routing in 1901. The sandy waste areas that existed back then have given way to more of a turf-to-trees look, meaning somewhat of a friendlier introduction and, hopefully, less trouble to get into. There are still challenges, such as one of the toughest par threes in all of Pinehurst—the 12th hole, which can play 222 yards to a raised green that tilts right to left. The course also takes visitors past the Pinehurst Stables and Harness Track, offering a peek at some of the area's other offerings beyond great golf.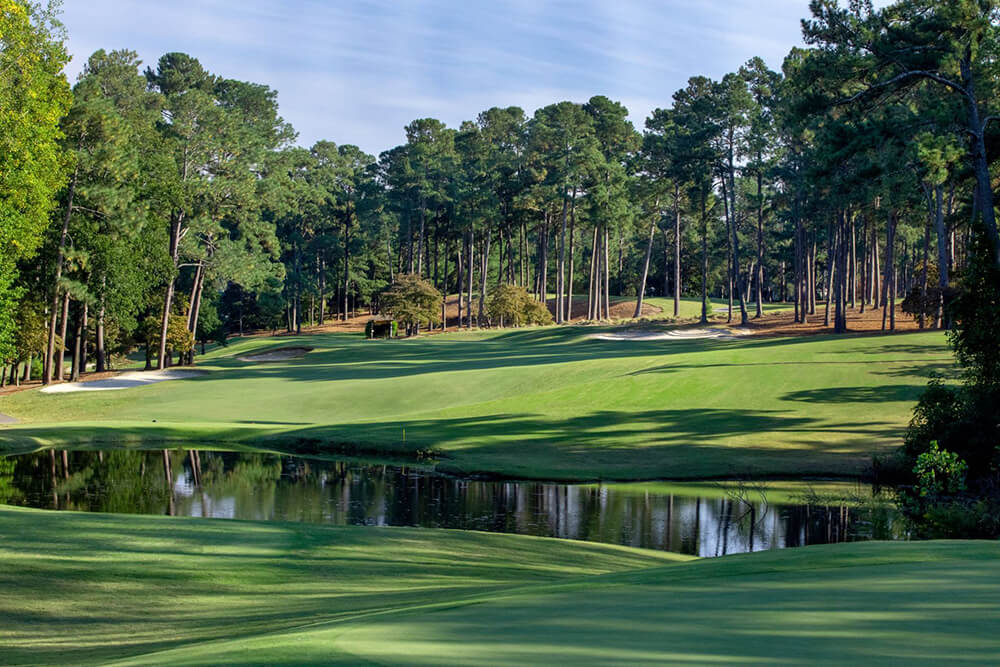 Pinehurst No. 3
The old saying, "good things in small packages," certainly applies to Pinehurst No. 3. Just across the street and train tracks from the main clubhouse, this classic Ross design that dates back to 1910 is the shortest regulation course at Pinehurst—a par 68 that tips out at just over 5,150 yards. Faithfully renovated and restored in 2017 by Kyle Franz, the turtleback greens here are tiny, averaging about 4,500 square feet. So, while length might not be a prerequisite, precision is. For anyone who pooh-poohs play at sub-6,000-yard courses, you're missing out. And you just might find the accuracy needed around the greens at No. 3 is pretty darn good prep for the demands of your round at No. 2.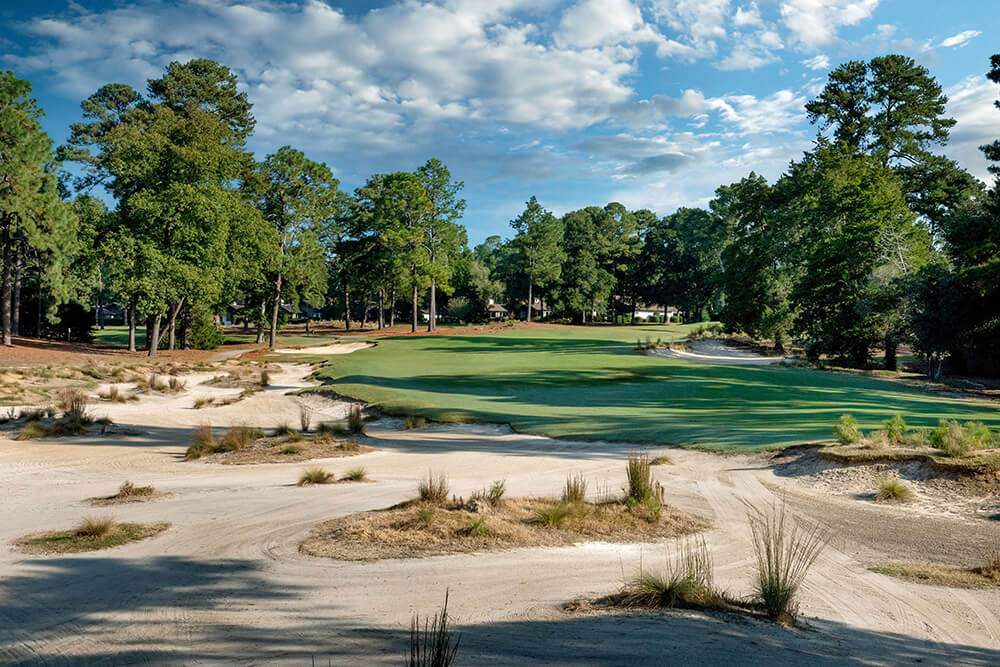 Pinehurst No. 7
Quick trivia question: Do you know where Tiger Woods won his only tournament at Pinehurst? It's the No. 7 course, where at the age of 16 he cruised to a nine-shot win at the 1992 "Big I" Junior Classic. Architect Rees Jones built this championship layout in 1986 on some of the most rugged land in the resort's portfolio. There are some fairly dramatic elevation changes at this course, which climbs hilly terrain and dives down to wetlands in the lower-lying areas. Located about three miles down the road from the main Pinehurst clubhouse, the property long ago had been home to a 9-hole employee golf course designed by Donald Ross.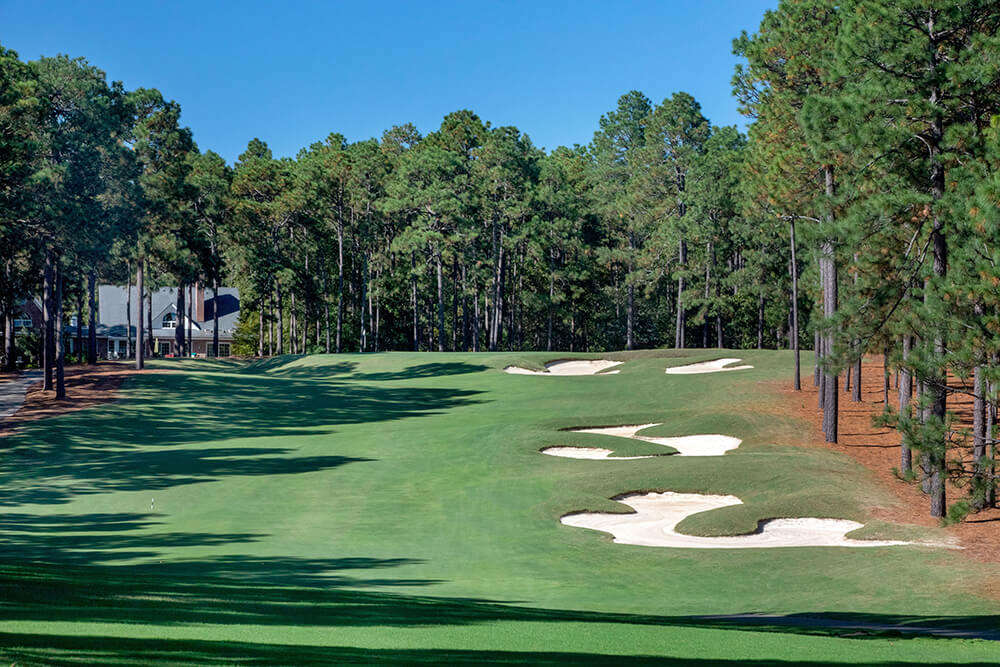 Pinehurst No. 8
While some of the other Pinehurst courses got recent restorations, No. 8 took a bit of a different approach—an agronomic remastering. This Tom Fazio design is one of the newer Pinehurst layouts, opening in 1996 to celebrate the resort's centennial and located about a five-minute drive from the main clubhouse and courses No. 1 through 5. It reopened in fall of 2022 with regrassed greens, fresh bunkers, improved drainage, and fewer invasive trees that had limited views and sunlight. The changes brought back the course's "edge." As Pinehurst Resort's Director of Agronomy Bob Farren says, No. 8 now appears "crisper to the eye and plays firmer and faster the way Tom Fazio originally intended it."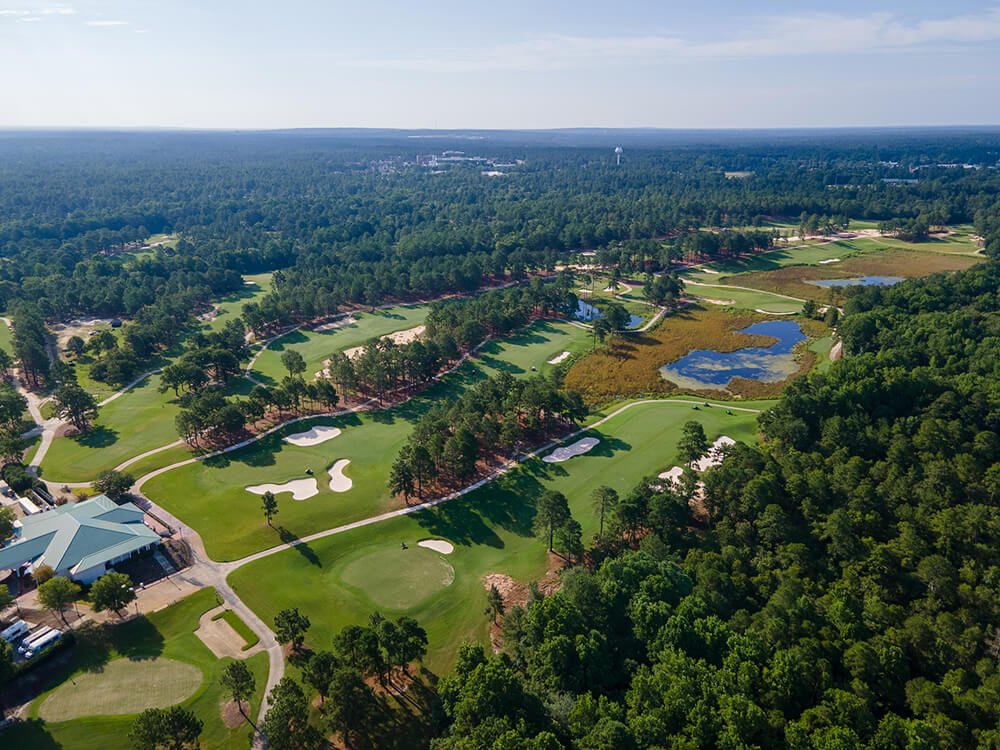 Which course at Pinehurst is your favorite?