After-dinner golf tastes sweetest at Scotland's Royal Dornoch
One of the underappreciated joys that the summer solstice yields is golf in the early evening. Some days are so much fun you simply don't want to stop. In June and July, every golf course offers supplemental sunshine, an artist's palette of changing colors, and fewer golfers roaming the grounds. However, for the optimum blend of extra daylight, stirring scenery, blissful tranquility, and architectural brilliance, one course stands alone: Royal Dornoch.
Greg Norman, for one, is gaga over the Dornoch twilight experience. In October 2020, he expressed his delight to Scotland's bunkered magazine, stating, "Throw your bag on your shoulder or put it on a trolley and go walk around Royal Dornoch at 8 pm. There's no better feeling of embracing the Scottish spirit and love of the game of golf than teeing it up at Royal Dornoch at that time of night."
For those familiar with Dornoch, such exuberance is easy to understand. Start with the club's location, north of the southern Highlands, on roughly the same latitude as Juneau, Alaska. At summer's height, the sun doesn't set in Dornoch until 10:20 pm. After a light supper, that leaves plenty of time for an emergency 18.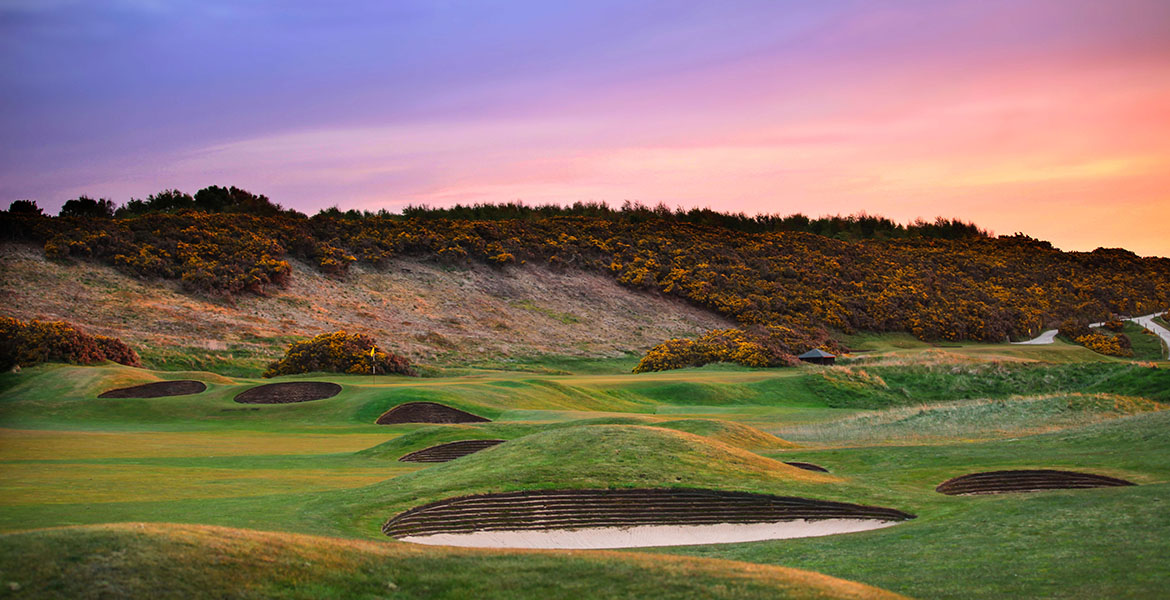 Strolling along the firm, sand-based fairways amid the yellow-blooming gorse bushes and panorama of beach, mountains, and the Dornoch Firth makes this a must-play for aesthetics alone. Those mountains to the west help keep the storms at bay, providing a wonderful microclimate for golf. Yet, it's the superior Old Tom Morris design over rippling terrain that elevates the layout.
A classic out-and-back links, Dornoch opens with eight holes on a bluff and comes home primarily via lower-lying holes closer to the shore. Most distinctive are the greens, perched atop natural plateaus and defended by steep, closely mown banks, making recovery shots vexing at best, maddening at worst.
Royal Dornoch's 161-yard par-three 6th is the most strikingly framed hole, its sternly bunkered, table-top green set into a gorse-studded hillside, with a frightening falloff to the right. Incomparable, however, is the heaving, bunkerless, 445-yard par-four 14th, called "Foxy," which six-time Open champ Harry Vardon deemed "the most natural hole I've ever played."
Donald Ross, who became America's most prolific—and perhaps finest—architect, grew up in Dornoch and its legendary layout influenced his every design. Of this singularly special course, Ross commented, "Modesty forbids me saying more than it is the most beautifully situated links in the world, and that no American golfer should omit to go there, where he will find the best golf, a royal welcome and no rabble."
"It's the most fun I've had on a golf course," gushed Tom Watson, who came upon it the first time in 1981, intending to play one round and instead played three.
Just imagine following in Watson's fun-filled footsteps—all in one day.
Three more courses that glow in the gloaming
Sunset in late June at Alberta's Fairmont Jasper Park Lodge doesn't occur until at least 10:15 pm, affording ample opportunity to enjoy bonus golf on a delightful 1925 Stanley Thompson design. Not long at 6,633 yards and an elevation of 3,412 feet, Jasper enchants with dramatic Canadian Rockies backdrops, artful bunkering, and a back nine that edges the blue-green waters of Lac Beauvert.
New Yorker Stephen Kay etched The Links of North Dakota atop breeze-fueled bluffs overlooking Lake Sakakawea in the heart of the region's Bakken Oil Formation. The Dornoch of the Dakotas features firm, rippled, fast-running fairways, 85 bunkers, and persistent prairie winds. Its fortuitous positioning on the western edge of the Central time zone permits height-of-summer play until 10 pm.
The ultimate evening loop can stretch to 36 holes—or more—at northern Norway's Lofoten Links, where in midsummer the sun never fully disappears. Extended to 18 holes in 2015, Lofoten's location within the Arctic Circle makes for a short season and iffy conditions, but for insatiable, scenery-loving golfaholics, the oceanside fairways and greens set into lakes and rock outcrops will wow all night long.