By Adam Schupak
As the old American Express tagline suggested, membership has its privileges. For some big-name golfers, celebrities, architects, and administrators, membership in the game's A List means access to the cathedrals of the game.
As Wayne Gretzky put it, "I don't mean to sound egotistical, but since I've retired I've played Augusta, St. Andrews, Prestwick, Pine Valley, and the list goes on. I've been so lucky in my life."
So fortunate, in fact, that he struggled to name the best course he's never played. "I don't know," he said, before it hit him with the intensity of a cross-check into the corner: "Albany Club in The Bahamas. I'm itching to play there."
The Great One isn't the only one with an itch he'd like to scratch, as LINKS learned when it canvassed golf's elites for their bucket-list contenders.
__________________
Gil Hanse
Course Architect
"I'm chasing Swinley Forest, the heathland course outside of London. Harry Colt referred to it as his 'least bad course' and he built some great stuff so it must be really special. I'm hoping I can get there this year. I'm planning a tour of the heathland courses in the spring and it will be the first place I write to try and get on. I had a chance to play there in 1988 while on my study abroad year from Cornell, but events conspired against me. My how time flies!"
Jay Monahan
PGA Tour Commissioner
"Lahinch. We took a family trip in 1991 and on the back end of it we were going to play Lahinch and Ballybunion. We were five so I sat out and my mother, father, and two brothers played it. All they did was talk about how great Lahinch was and I still haven't played it, so I feel like I need to go."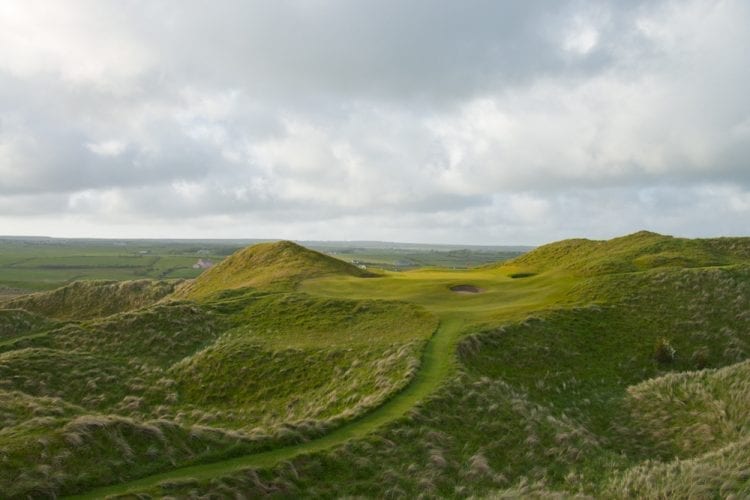 Mickey Wright
LPGA Hall of Famer
"The only course I wanted to play but didn't get to was Pine Valley. I was told women were not allowed. Had no problem with that at the time, but heard it was a wonderful and difficult course. Never pursued it. And that's about it."
Greg Norman
Two-time Open Champion and course architect
"Believe it or not, I have never played Pine Valley. As Pine Valley has never hosted a major professional event and I have never spent a significant amount of time up north, I simply have not had the opportunity to play. From what I've heard, read, and seen, I would love the classic design—pure golf at its finest. Natural integration of vegetation and surrounds, beautiful contouring of the fairways, impeccable bunkering, and beautiful green settings. There is also a 'mystical' history to the course that I find compelling. I'm hoping to maybe get up there this year!"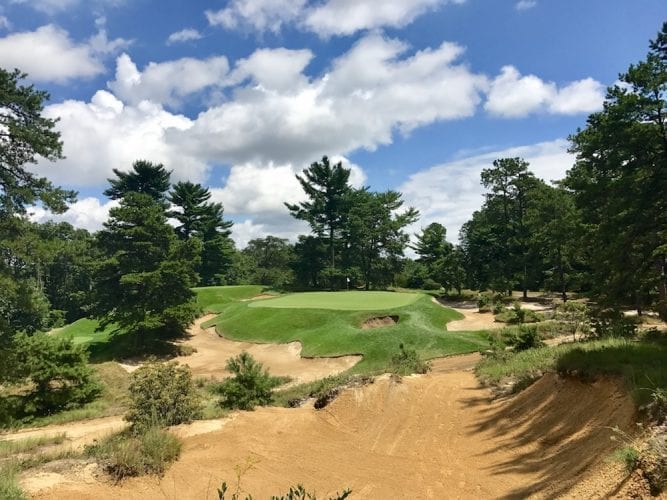 Suzy Whaley
President, PGA of America
"Olympic Club. I've always wanted to play it. I love Northern California golf and we're going to have a PGA Championship there in 2028, yet it's a course I haven't had an opportunity to conquer. I'm dying for the chance to try."
Mike Keiser
Golf course developer
"Royal St. George's Golf Club in England, with Augusta National running a close second. I've been told that the 2020 Open Championship venue is as good as Sunningdale, and both Sunningdale courses are out of this world."
Brad Faxon
Champions Tour/Fox Sports
"I get asked some version of this question a lot and what I always say is if I go through any top 100 list the first course I get to that I haven't played is the one I'm dying to see. Currently on the world list it's Royal Dornoch in Scotland. Every course I grew up playing in Rhode Island was a Donald Ross course and I'm embarrassed to say I haven't been to the course where he grew up. In the U.S., I haven't been to Sand Hills in Nebraska. It probably put Coore & Crenshaw on the map. It also started the whole movement of building courses in places that are impossible to get to, but the golf's totally worth it. It's something I really, really want to do."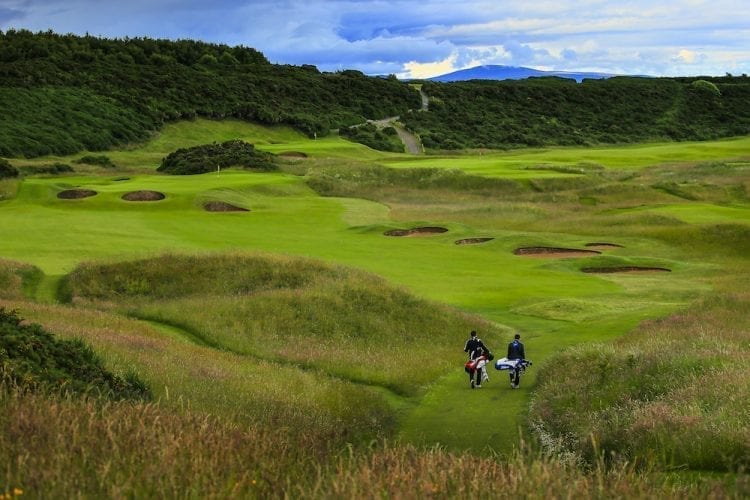 Pete Bevacqua
Former PGA CEO and current NBC Sports President
"I'd love to take a trip out to Bandon Dunes. I've heard so many great things from so many people and I've had several invites and opportunities to go, but it just has never worked out and it's something I look forward to doing at some point."
Jim Nantz
CBS Sports anchor
"The Old Course at St. Andrews. Walked it many times as a fan, including four Open Championships. Seen every inch of the mother ship—but outside the ropes, never inside. I've actually played it dozens of times…in my mind."
Adam Scott
Masters Champion
"Cape Wickham in Australia. It's on the northern tip of King Island, not a long flight from Melbourne but you have to take a small aircraft and you want to make sure you go when the weather is good. I'll make an effort to get there eventually."
Jon Rahm
PGA Tour rising star
"The Old Course. Seve won there and it's the home of golf. I'd like to walk in those footsteps and feel what that's all about."
Jim Furyk
U.S. Open Champion/Ryder Cup Captain
"Sand Hills. I'm fascinated that they built it for only $1 million, and I'm a fan of anything Coore & Crenshaw does."
Dottie Pepper
LPGA/CBS Sports
"Muirfield in Scotland. I've covered the Open Championship there, but I've never played it and it's my favorite walk in golf."
Davis Love III
PGA Champion and course designer
"I went to Maidstone on Long Island once for an outing and stood at a tee all day hitting drives. I played two or three holes but I really want to play the full course. If I could pick one more, it'd be Shoreacres in Chicago. Jeff Sluman tells me it's really good."
Gary Player
Nine-time major champion and course architect
"In all my years traveling around the world, Barnbougle Dunes in Tasmania is one course I haven't played. From what I've heard it's absolutely spectacular. Links golf is my favorite, and no doubt Barnbougle will test all aspects of your game. Maybe I'll make it one day."
Annika Sorenstam
LPGA Hall of Famer and course architect
"My course would be Royal County Down because I'm a big fan of links golf. The Irish landscape can be very beautiful with rolling hills and fantastic views. This club has hosted several championships through the years and the photos look stunning. By the sound of it, the bunkers are carefully placed, greens are relatively flat, so it should be a fair but challenging course."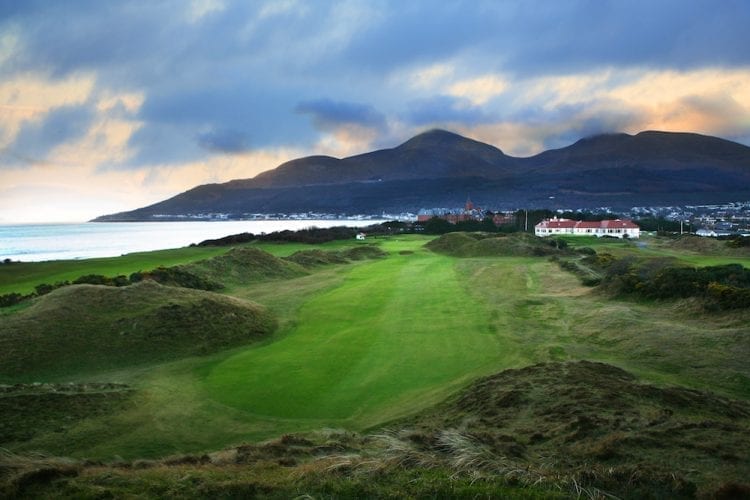 Zac Blair
PGA Tour pro and golf architecture geek
"Although there are a handful of courses that immediately come to mind—including Augusta, Sand Hills, and Crystal Downs—the course that I've had my eye on for quite some time is Myopia Hunt Club just outside of Boston. Built in 1894 by Herbert Leeds, this course remains virtually untouched over the last 100-plus years and tips out at just over 6,500 yards! From the pictures I've seen and what I've heard about the course, it seems right up my alley."
_______________________
What's the best course you've never played? Let us know in the comments section!