The twisted dead trees planted around the holes at the "Bad Little Nine" are a sure sign of what's in store for golfers at Scottsdale National Golf Club's fiendishly fun par-3 course.
Deep bunkers are everywhere, some sprawling and others a devilish pock. There are humps and bumps the likes of which you've likely never seen on a golf course. The wild greens look like a painter's tarp draped over furniture, with spill-off edges and rollicking undulation. It's not uncommon to see a delicate chip or pitch dribble off the green, pick up speed, and funnel down a slope that slaloms into one of the Bad Little Nine's treacherous bunkers.
The course's final 99-yard hole has a tiny tabletop green that's about a fifth the size of an average green and looks more like the top of a Volkswagen bug from the tee box.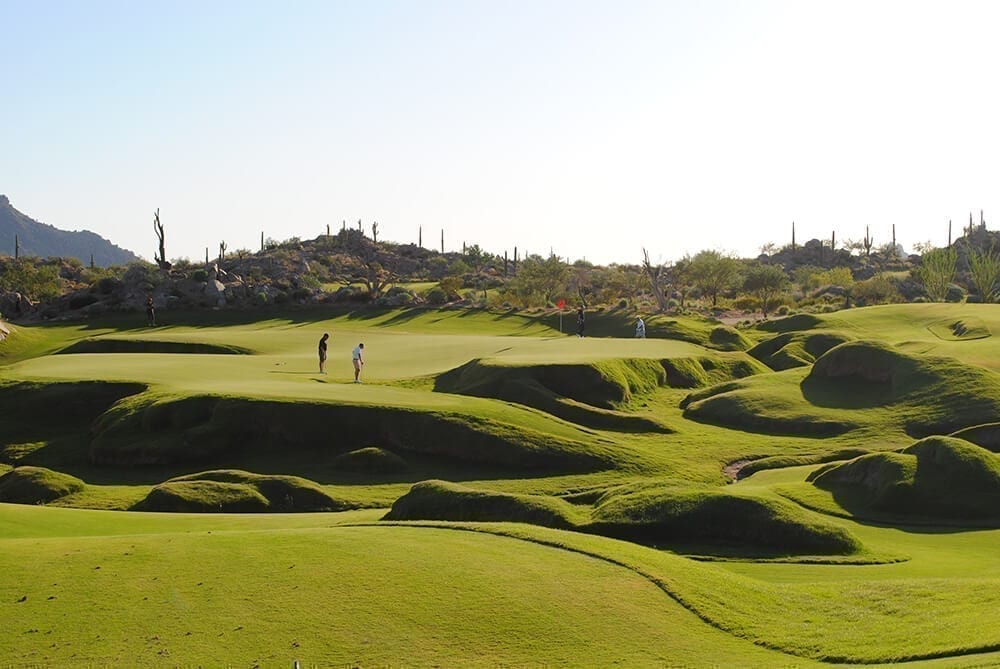 In keeping with the theme of the Bad Little Nine offering from Jackson Kahn Design in Arizona, here's a rundown of 15 of the other "baddest" par-3 courses in the U.S.
The Preserve—Bandon Dunes Golf Resort (Bandon, Ore.)
Starting high atop a sand dune and working its way toward the Pacific, this 13-hole layout from Bill Coore and Ben Crenshaw offers ocean views throughout and is a phenomenal complement to the other five courses at Bandon Dunes. It's particularly popular as an arrival or departure day option, delivering a fun-filled romp across the dunes often capped by guests trying to putt from the raised teeing ground at the final hole.
The Hickory—Hamilton Farm Golf Club (Gladstone, N.J.)
The first rated par-3 course in the U.S., the 18-hole Hickory layout at private Hamilton Farm demands an infinite variety of shots well beyond just those off the tee, says architect Dana Fry. With several holes exceeding 200 yards, including one that stretches to 230, golfers may need more than a Sunday bag.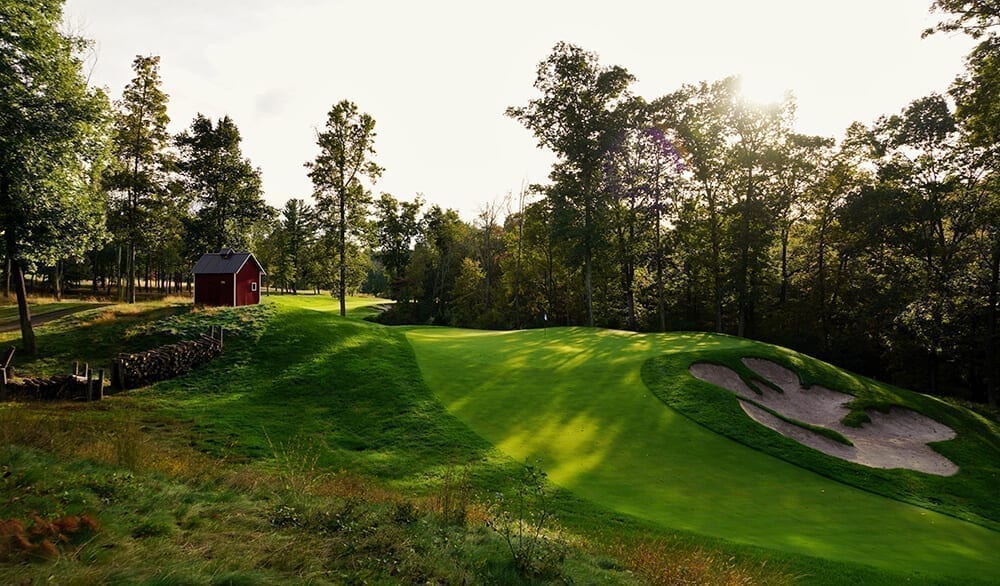 Top of the Rock—Big Cedar Lodge (Branson, Mo.)
With a Jack Nicklaus signature design in the Ozarks perched high atop Table Rock Lake, the surrounds are eye-popping for the first par-3 course ever included in a professional golf tournament (the Champions Tour's Legends of Golf). Lakes, creeks, waterfalls, and rock outcroppings abound, and the views from Top of the Rock are hard to match.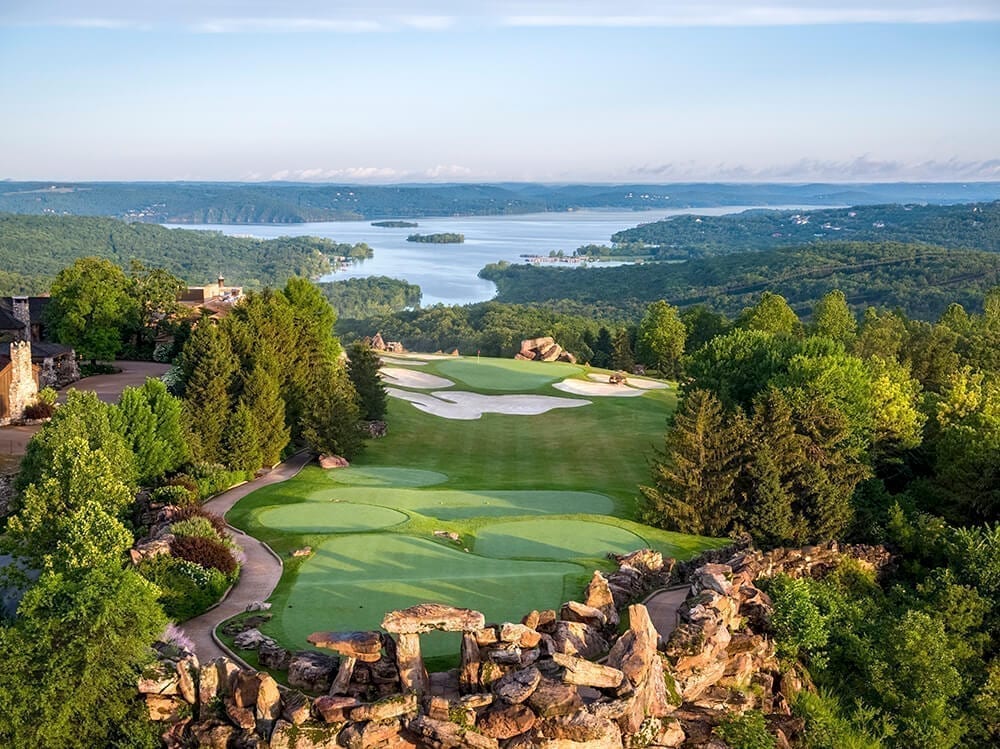 Pine Valley's Short Course (Clementon, N.J.)
While the main course at Pine Valley deservedly gets all the attention in best-in-world lists, the 10-hole short course at this New Jersey gem is unique in its own right. Eight of the holes replicate the magnificent approaches (or par-three tee shots) players will find on the main course.
The 10-hole Short Course at Pine Valley was designed by Tom Fazio & Ernie Ransome in 1992. A brilliantly simple concept, 8 of 10 short course holes mimic the approaches to holes on the big course, some to a remarkable degree. Compared here:
Big #14 | Short #2
Big #3 | Short #6 pic.twitter.com/R9Mho79gO8

— LinksGems Golf Photos (@LinksGems) March 16, 2020
The Cradle—Pinehurst Resort (Pinehurst, N.C.)
Known as the "Cradle of American Golf," Pinehurst added its Gil Hanse-designed short course 120 years after golf first took roots in the Pinehurst area. Built on the same sandy land where the original Pinehurst course was once carved, the creative and engaging 9-hole Cradle features music piped through the property and kids can play for free.
Par-3 Course at Augusta National (Augusta, Ga.)
Augusta National chairman Clifford Roberts once had plans for a 19-hole short course at the club that never materialized, but his "pet project" came to life in the late 1950s when George Cobb designed nine holes around DeSoto Springs Pond. Roberts was bullish on the idea of using the short course for a distinctive pre-Masters event and the Par 3 Contest remains a popular (and spectacularly scenic) tournament precursor to this day—though it was recently announced it won't be played in 2021.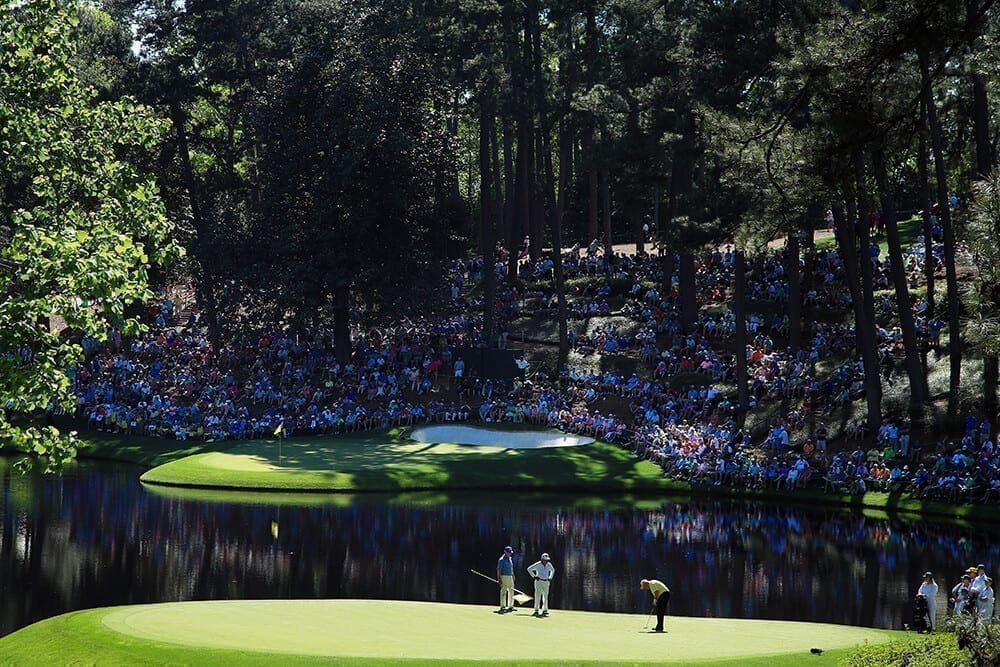 The Sandbox—Sand Valley (Nekoosa, Wis.)
Just beyond Sand Valley's lodges, the 17-hole Sandbox weaves its way through a restored sand prairie neighboring the resort's Mammoth Dunes course. The Coore-Crenshaw design boasts many unique green complexes, including a Biarritz, redan, and double plateau.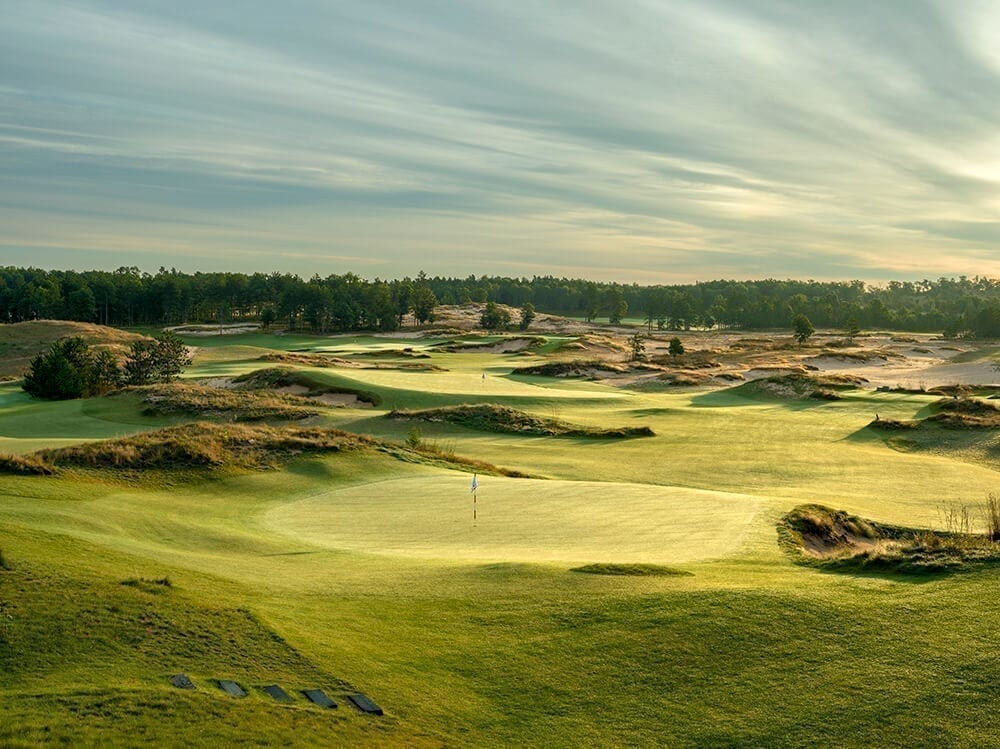 Horse Course—The Prairie Club (Valentine, Neb.)
There are no set tee boxes at this 10-hole short course, which gave new meaning to the game of H.O.R.S.E. within in golf. Hanse and Geoff Shackleford designed this experience in the Sand Hills of Nebraska with the intent that the golfer who earned honors chooses the next teeing spot.

Li'l Wick—Wickenburg Ranch (Wickenburg, Ariz.)
This 9-holer turns up the volume on fun and flexibility by blending golf and entertainment. Music is streamed throughout the 18-acre course, which features an outdoor bar area called The Watering Hole smack dab in the middle of the action. Li'l Wick also incorporates a giant hammock and seating areas for players—whether in flip flops or denim—to relax and enjoy the experience, and some holes have lights for nighttime functions.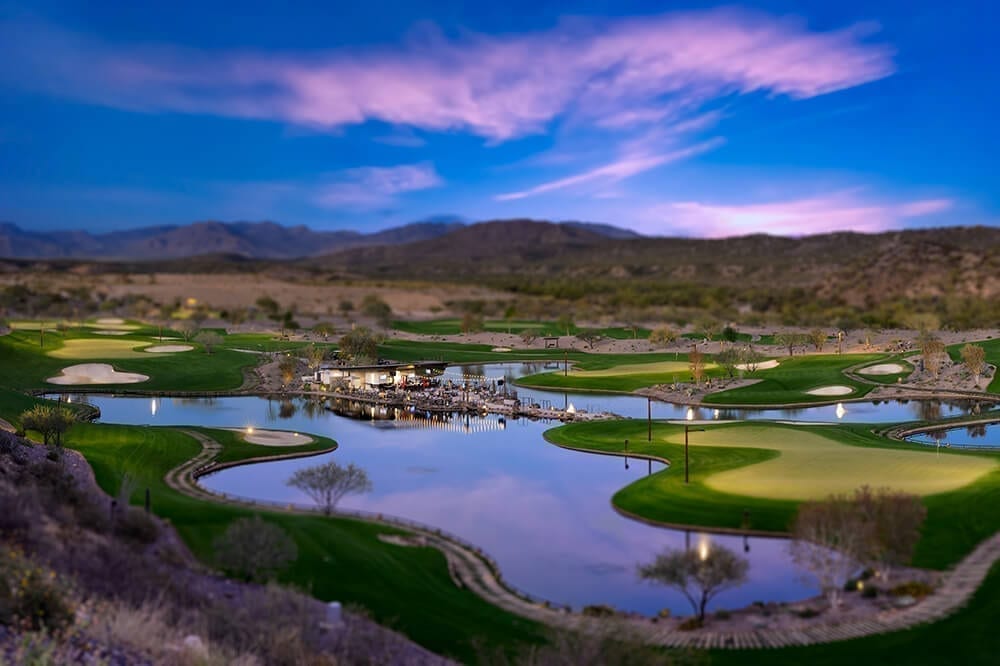 Threetops—Treetops Resort (Gaylord, Mich.)
Treetops has a wealth of golf—81 holes in total—but its Threetops course is particularly notable. The vision of golf instructor Rick Smith, who began clearing land for his plans before even getting permission to build, Threetops opened in 1992, hosted the ESPN Par-3 Shootout for eight years, and became a model for many other par-3 courses that followed.
Palm Beach Par 3 (Palm Beach, Fla.)
Originally designed by Dick Wilson and Joe Lee in 1961, the Palm Beach Par 3 was fully renovated in 2009 by Raymond Floyd. Its tropical setting is sublime, with ever-present breezes and 18 holes nestled between the Atlantic Ocean and Florida's Intracoastal Waterway.
View this post on Instagram
Cloud 9 Course—Angel Park (Las Vegas, Nev.)
If you're looking for fast and fun with everything else happening in Las Vegas, Cloud 9 delivers a terrific 12-hole, par-3 complement to Angel Park's two regulation courses. In true Vegas fashion, things get especially interesting at night, with nine holes under the lights.
One of the city's best and most affordable public golf properties. https://t.co/FAk1FbshRi

— Angel Park Golf Club (@angelparkgolf) March 18, 2019
The Mulligan Course—Ballyneal (Holyoke, Colo.)
In the high plains of Eastern Colorado, this private golfers' retreat added a second course from Tom Doak in 2016 that features a unique par-3 layout with 12 greens, allowing players to get truly creative in the shots they pick and the order in which they play the holes. The name has deeper meaning, too, honoring one of Ballyneal's now-departed original caddies, Charlie Mulligan.
We ❤️ Mulligan mornings! pic.twitter.com/1WvuYzgvQU

— Ballyneal (@Ballyneal) September 22, 2019
Cliffs Course—The Olympic Club (San Francisco, Calif.)
The exclusive Olympic Club boasts two championship 18s, but many consider the Cliffs to be the jewel of the bunch. The 1994 Jay Morrish and Tom Weiskopf design features sweeping views of the Pacific Ocean in a postcard-worthy setting.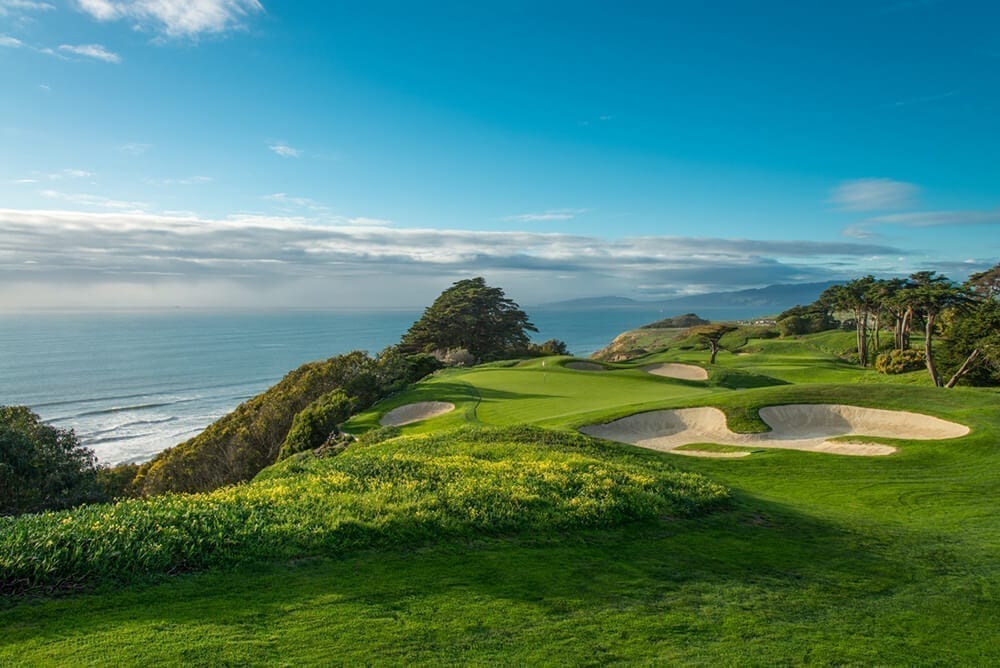 The Links at Terranea (Rancho Palos Verdes, Calif.)
Overlooking the Pacific Ocean and Catalina Island, Todd Eckenrode's 9-hole design at the Terranea Resort is masterfully routed through a beautiful, natural environment. This walking-only oceanfront par-3 is one of the most standout golf experiences on the Los Angeles coast.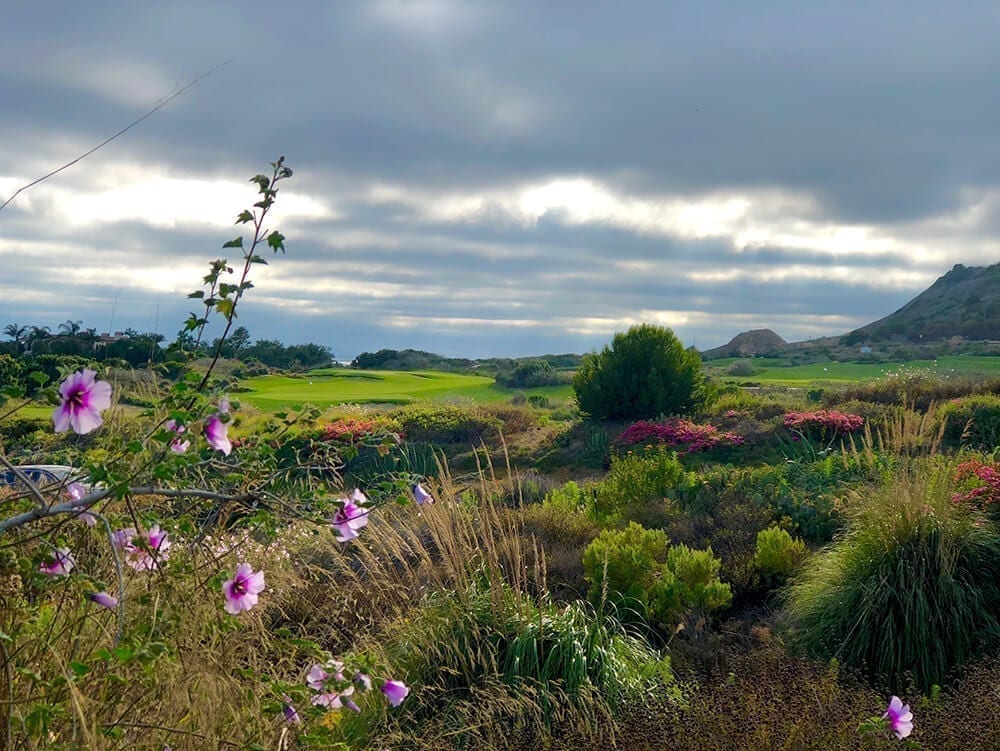 Let us know what par-3 courses we missed in the comments section.