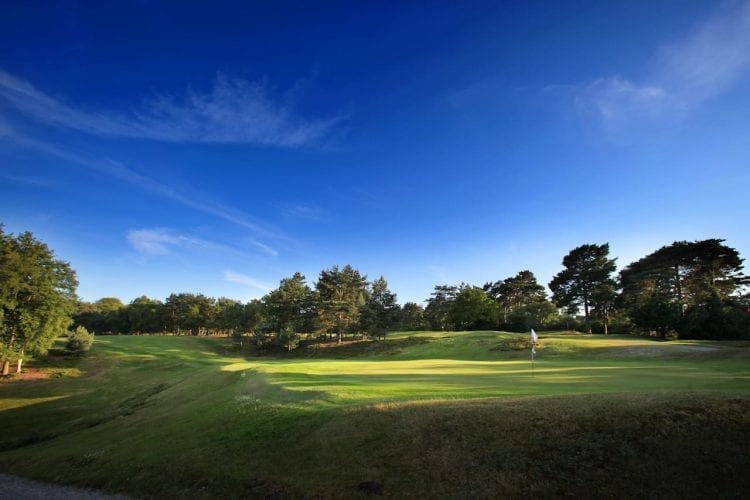 Idiosyncratic, brilliant, characterful, heroic. These are a few of the adjectives  associated with The Addington. Located just 10 miles south of London's Piccadilly Circus and hemmed-in by dense suburbia, it was built during the early years of the so-called "Golden Age" of course design with J.F. Abercromby creating and completing it either side of the Great War.
The Addington is "idiosyncratic" in that it is a one-of-a-kind course. Sandy underfoot with purple heather running riot, it is rightly classed as heathland, and yet none of the other great English heathland layouts look or play remotely like it.
"Brilliance" radiates from the spectacular nature of the terrain and the genius applied to it by Abercromby. There are a few modest holes, especially early in the round; the challenge intensifies at the 6th and thereafter the golfer is regularly dazzled.
"Characterful" describes the cavernous bunker beside the 6th green ("the chasm from which no 18-handicap player has ever emerged within the memory of man," as P.G. Wodehouse once wrote), the roller-coasting par-five 12th, and the many rickety wooden bridges above ravines that the golfer must gingerly traverse. As for "heroic," the 9th, 13th, 16th, and 17th are all of this genre, and none would look out of place at Pine Valley.
The club has appointed Guy Hockley, one of Britain's finest contemporary architects, to oversee a program of sympathetic restoration and refurbishment. So "rediscovered" and "revitalized" are two more adjectives likely to be associated with The Addington as it approaches its second century.