Golf photography has become one of the most beautiful things on the internet as places like Instagram are now hubs for showcasing stunning golf courses in all of their glory.
Yet many avid players—despite walking around with a high-quality camera in their pocket—still struggle to capture golf's best moments.
Enter the experts.
LINKS trusts some of the world's foremost photographers to fill its magazine and website with the best images on planet golf. They include Larry Lambrecht (who splits his time between Rhode Island and Florida and has been shooting golf for more than 25 years), Kevin Murray (who has shot more than 450 courses worldwide), and Evan Schiller (who boasts nearly 20,000 followers on Instagram and publishes an award-winning calendar).
Here are some tips from the pros on how to make 2020 picture-perfect.
STRIKE A BALANCE
As a photographer, you're responsible for the whole frame—so you better make it interesting.
Schiller says for most golfers out there who likely just have their phones with them, it's key to try to think of alternative angles than just standing in the fairway. For example, perch atop the highest elevated tee box and shoot down or take a visual to a green from a spot where a golf shot isn't a possibility.
"If you stood in the fairway and took a photo from a golfer's perspective, you won't like it because you're taking a life-size picture with 80-plus percent of your frame either just fairway or sky, and the most interesting thing is just 20 percent," Schiller says.
It's important to balance the sky, grass, trees, manmade structures, and everything else you might see within a frame to make your photos even more composed. A nicely framed photo will have many interesting things in the foreground or along the edges, according to Lambrecht.
Quick Tip: Keep your eye on the extremities of a photo—not just the middle of a landscape—and take in everything in front of you, Schiller says, to compose even better photographs.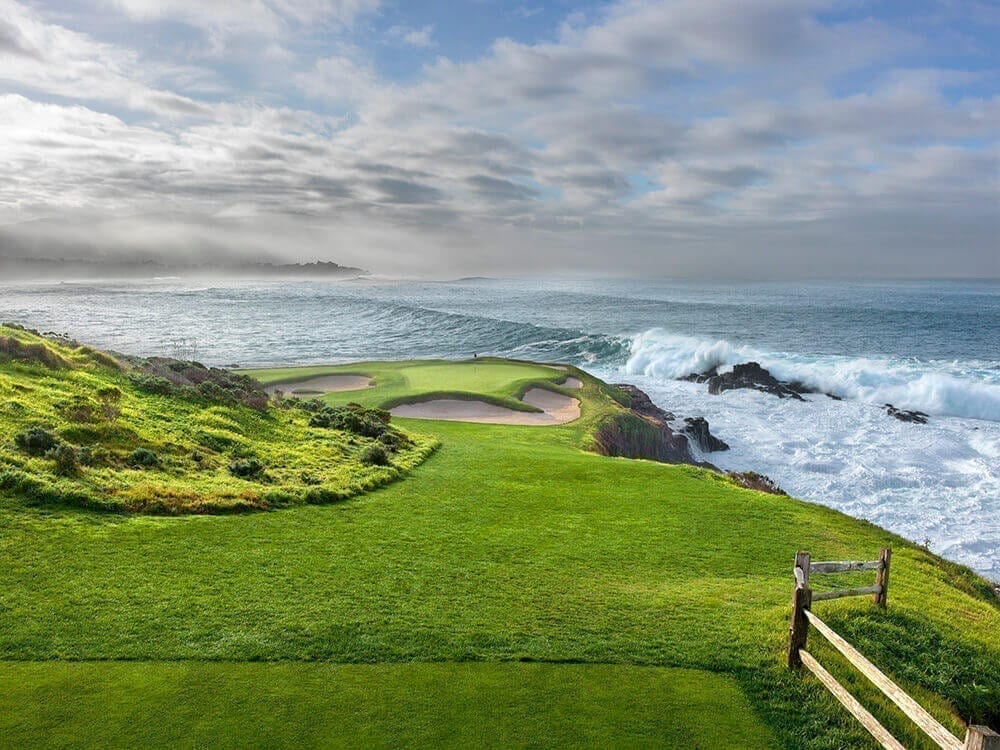 ADD DRAMA
Murray says adding some drama to your photos—no matter if it's a cloudy day or a brilliantly sunny day—makes them even more impactful.
Lambrecht agrees—when a storm clears, even for just a minute or two, you'll have the opportunity to create very dramatic photographs.
Try to take photos in the "golden hours" of a day—early in the morning or later on. In this case, Lambrecht suggests trying to take photos of holes that run north-south rather than east-west, if you can. With good lighting, you're already ahead of the game 
Quick Tip: Look for the interest in adverse conditions—a ray of sunlight peeking through a stormy sky or a vivid cloud formation. "There's been a lot of just blue sky, green grass, flat images (in golf photography)," says Murray. "We play golf in all sorts of conditions."
 SIMPLE SOLUTIONS
One of the easiest tips you get with your swing is you try to clear your mind of clutter—the same can be said for photography.
Per our experts, an image with a singular focus—a la the flagstick—is much more impactful.
"The thing here is to keep it as simple as possible," says Murray. "Keep it real. Don't take it to the point where it looks forced."
Another simple technique is the rule of thirds, by which you mentally divide your image into three sections and your subject is framed to one side. This can be traced back to the magazine industry—if a flagstick was in the center of the photo it would be cut off by the fold in a two-page spread.
Quick Tip: If you're taking a photo of a friend on the tee box, enjoy a fresh perspective by framing them to the left or right of your phone's camera frame with the rest of the hole in the distance.
TECHNOLOGY IS YOUR FRIEND
With one's phone, the outcome for photos is limitless.
"The algorithms that they have for photography is something you used to study for four or five years," says Lambrecht. "Now you just push a button and do it. You can fix the sky, you can fix the color of the grass. If you're technologically prepared and you know what you're doing with a computer and a phone, you can do amazing things with photos."
With the editing software available directly on a phone (or with free downloadable apps like Snapseed), you can re-touch your photos like a pro with a little extra work.
Increasing saturation makes the colors look richer, while touching up the brightness and contrast makes your photo look even cleaner. Fall golf photos can be improved by increasing the warmth of a picture. All editing can be done right in your phone—in a matter of seconds.
"You can make it look as natural as possible, or if you want to make it look like artwork, you can do that as well. There are a lot of really cool things for editing," says Schiller.
Quick tip: Search YouTube for picture-editing tutorials for your phone in case you're still wondering how to get started.