It surely wouldn't fly today. Golf architecture enthusiasts and history buffs would be up in arms. Breaking up a Donald Ross original, and adding nine Robert Trent Jones holes to make a new 18? Why, the very idea.
That's precisely what happened at the The Broadmoor when, in 1958, the Colorado Springs resort that had opened in 1918 with 18 Ross-designed holes decided it needed nine more to meet rising demand. But instead of preserving Ross's course and adding a new course, it was decided that these new holes, to be designed by Trent Jones, would join nine of Ross's to form what became the East Course. Ross's other nine would become known as the Social Nine.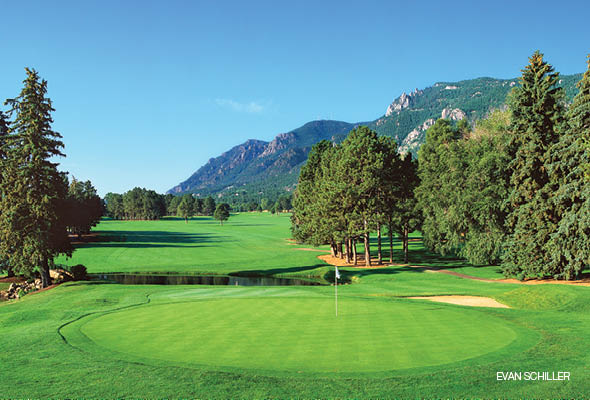 Seven years later, Trent Jones was back, designing nine more holes, which, when added to the Social Nine, formed the new West Course (the Arnold Palmer-designed Mountain Course was added in 1976 and revamped by the Nicklaus Company in 2006).
Ron Forse, a Ross expert who was contracted to restore the East Course prior to the 2008 U.S. Senior Open, agrees that such course surgery probably wouldn't happen nowadays. "It was a bit bizarre to be honest," he says. "But I kind of understand it. Ross wouldn't have been revered in the '50s as much as he is now, and Trent Jones was the architect of the moment. I also think the owner didn't want guests to have to cross the road to start their rounds. He wanted the beginning of both courses to be on the resort side."
Forse's instructions were to make the two contrasting styles of the East Course seem less incongruous, a task he found extremely challenging. "Ross and Trent Jones didn't have much in common," he says. "Not only were their holes' features unalike, the routing was very different, too. Unlike Ross, Jones built a lot of holes that ran parallel to each other." Forse didn't alter the routing but, working with a set of old aerial photographs, did reshape all the bunkers and took out much of the artificial mounding that surrounded the greens. You don't have to be an architecture nerd to recognize where the Ross holes finish and Jones holes start, but Forse did a good job adding harmony to an uncohesive layout.
Fortunately, he didn't feel the need to touch the greens. "Between 1910 and 1920, Ross's greens were more arbitrary than those he built later in his career," he says. "Jones tended to build fairly flat, rather mundane greens, but here they had quite a bit of movement in them. So the two sets of greens weren't too dissimilar."
When Jones redesigned another architect's course, Forse adds, he'd typically stamp his own signature on it: Oakland Hills in Michigan, where Jones totally transformed Ross's original ahead of the 1951 U.S. Open, is a good example. "But it's possible," says Forse of the East, "he was giving Ross a tip of the cap by building what, for him, were more adventurous greens."
No doubt there is much discussion in the fabulous clubhouse, opened in 1994, about whose holes are better. Ross's have a little more character and are more fun to play perhaps, while Jones's are definitely more challenging. What there can be no discussion about, however, is the magnificence of the resort. Current owner Philip Anschutz, head of the Anschutz Corporation which does business in numerous sectors including entertainment, sports, and energy, has invested well over $100 million in the The Broadmoor since purchasing it in 2011, money which financed enhancements, improvements, and new construction that earned The Broadmoor an incredible 54th straight five-star rating from the Forbes Travel Guide this year. A good chunk of the money went into Broadmoor West (across Cheyenne Lake from the main hotel building), adding three new floors and 31 elegant new rooms. The resort also built a new mountain retreat—Cloud Camp—on Cheyenne Mountain at an altitude of 9,200 feet. Guests can arrive at one of the 11 luxury cabins by hiking up the mountain, riding a mule, or taking the resort shuttle.
Eight miles to the west, the Ranch at Emerald Valley was added to bolster The Broadmoor's Wilderness Experience. Ten luxury cabins accommodate guests looking for tranquility mixed with a little outdoor action. Rates start at $500 per person per night.
With so many accommodation options you'll find yourself a suitable room, and with 19 places to dine you'll likewise have little trouble finding a great meal, from fine-dining in the Penrose Room, to superb Italian in Ristorante Del Lago, to contemporary American cuisine in Summit, to the Golden Bee piano pub.
The list of activities is extensive, too, going well beyond the usual hiking and swimming. Fly-fishing, horseback riding, ATV tours, rock-climbing, hot-air ballooning, rafting, visits to the Cheyenne Mountain Zoo, Pike's Peak, and Will Rogers Shrine of the Sun. Here, you can do it all.