When the Ironman World Championship comes to Hawaii's Big Island each October, it must be tough for the competitors who have to bike past a haven of luxury that has been attracting other weary travelers for 50 years: the Mauna Kea Resort. They also have to ride by the hotel's beautiful crescent-shaped beach along Kauna'oa Bay, as well as the property's calling card, the Robert Trent Jones Sr. golf course that was carved out of lava fields and features one of the game's most photogenic holes, the dazzling par-three 3rd (above) that calls for a carry over the bay to a distant green ringed by seven bunkers. Although considerably shorter than the run, swim, and ride the endurance athletes face, it's no less daunting.
When Mauna Kea opened in 1965, at a cost of $15 million, it was the most expensive hotel ever built. The development was the idea of Laurance S. Rockefeller, a conservationist and venture capitalist whose collection of Pacific Rim art has been displayed throughout the property since opening day.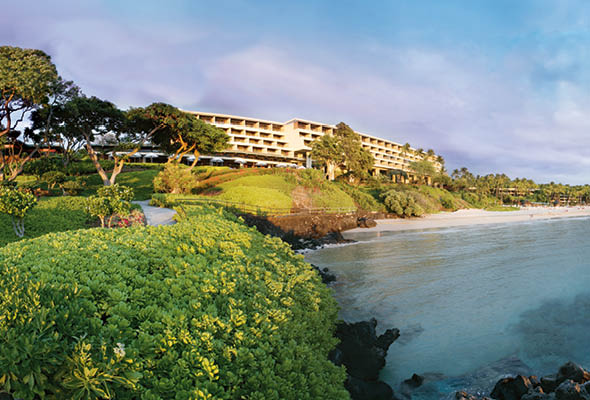 In 2008, the resort was treated to a $150 million renovation. The number of rooms was reduced from 310 to 258, but those that remain were enlarged. Today's guests can relax in soaking tubs, use wall-less showers, and take in sunset views from private lanais. Other contemporary touches included flat-screen televisions, no small step for a hotel that didn't even have TVs for its first 30 years. Rees Jones came in to update his father's course, as well. Bunkers were rebuilt, repositioned, and in some cases added, while tees were pushed back to add some 200 yards, stretching the tips to 7,370 yards while holding par at 72.
What hasn't changed, in addition to the ubiquitous scent of orange plumeria, are the reasons that generations of families continue to make annual visits. The amenities include 11 ocean-side tennis courts, a spa, the Manta & Pavilion Wine Bar (featuring local fish and produce), weekly luaus, signature drinks at the beachfront Hau Tree Bar, lei-making and sand-painting classes for kids, and a long list of water activities. On most mornings, stand-up paddleboarders and snorkelers take to the bay's calm waters, while art aficionados can learn about Rockefeller's 1,600-piece collection during a weekly tour (check out the lobby of the Beachfront Wing for especially notable pieces).
A short drive away is the Mauna Kea volcano, the highest point in Hawaii at almost 14,000 feet above sea level. (A visitor center sits at a more lung-friendly 9,000 feet.) To really see it, take a Paradise Helicopters tour, a splurgeworthy ride that begins and ends at Kona International Airport. You'll get up-close views of active lava flows, hover feet away from thousandfoot- long waterfalls flowing out of cliff walls, and go through a memory card snapping pictures of the incomparable scenery.
Another uphill ride worth taking is to the small town of Waimea, 20 minutes from the resort. There you'll find cooler temperatures and the Big Island Brewhaus, the state's highest brewery at almost 3,000 feet above sea level.
Elevation changes also mark the golf course, which remains among the state's toughest. The 250-yard 11th hole drops 100 feet from tee to green with the Pacific Ocean a distracting backdrop. Uneven lies are common, as are sharp doglegs, perched greens, fairways framed by coconut palms, and panoramic views of the sea. Just as awe-inspiring is the fact that the back nine record of 31, set by Arnold Palmer and Jack Nicklaus during a course-opening exhibition in 1964, has yet to be broken.
Other resorts and golf courses have opened on the Kohala coast in the 50 years since. But Mauna Kea set the standard and continues to raise the bar. As Rockefeller said of his creation, "We're not for everybody. We're for the fortunate few."