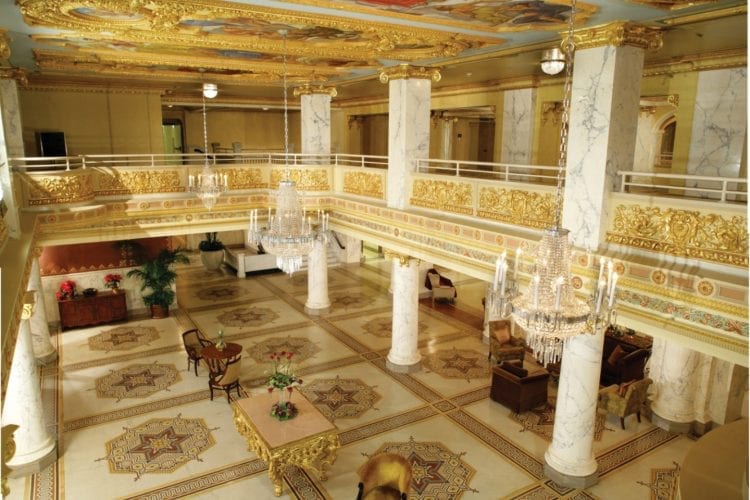 By Len Ziehm
A drive through southern Indiana is pretty uneventful, a trail of quiet countryside and a few small towns between Indianapolis and Louisville. Until you reach French Lick.
Dominating what passes for the skyline are two stately hotels, both obvious products of a bygone era. That they are still standing, and busy, speaks to what could be the biggest comeback in the golf-hospitality business of recent times.
From the early 1900s until about the 1970s, French Lick Resort was a vacation hotspot, swells flocking to its spa and casino. Then came an economic downturn that left the town noteworthy only as the boyhood home of basketball legend Larry Bird. Now the resort is humming again, thanks to a $500 million investment including the addition of the Pete Dye Course, a spectacular layout sitting on one of the highest spots in the state and providing views for 40 miles.
But there's more to this tale of revival than golf. The two landmark hotels—French Lick Springs and West Baden Springs—are as eye-catching as any of the surrounding scenery. Likely headed for the wrecking ball just a few years ago, they're welcoming guests again with a mix of old-time style, understated elegance, and modern amenities including fancy mattresses, thick-glass shower doors, spa products, and sumptuous bathrobes.
The grander French Lick Springs Hotel dates back to 1845. It has 443 rooms and suites and more upscale dining, highlighted by 1875: The Steakhouse. It's also where you go to gamble: Its 24-hour casino helped spark the town's revival when it opened in 2006.
A mile away, West Baden Springs Hotel, with 243 rooms and suites, was built in 1902 and boasts a magnificent circular atrium capped by a high, domed ceiling. The ground floor features Sinclair's Restaurant, a friendly, cozy bar, and an array of shops. Just outside are some beautiful gardens and walking trails.
Of the two hotels, West Baden is slightly closer to the Pete Dye Course. Shuttle buses climb a big hill to the layout, which is protected by a security gate. Inside, the course provides its own protection, the Hoosier State's own Dye having pulled out all the stops in the form of incredibly long holes (word is, the layout could stretch to nearly 9,000 yards), narrow, twisting fairways, and thick rough. Best for the best golfers, it has hosted the Professional Players National Championship, the Big Ten men's and women's tourneys, and the LPGA Legends Championship. In 2015, the Senior PGA Championship will be contested here. The only things small about the course are the modest pro shop and dining area.
Luckily, there is more golf, all well-suited to golfers of all levels. The Donald Ross Course, on the southern edge of town, was where Walter Hagen won the 1924 PGA Championship, and where Betsy Rawls (1959) and Mickey Wright (1960) won LPGA Championships. Renovated five years ago, its elevation changes—both on the fairways and the greens—make for a different playing experience, challenging but fair and fun. Don't miss the bar/dining room in the Ross clubhouse, a lovely spot for an after-round meal and adorned with art from the "good old days."
A century ago, visitors to French Lick could play an 18-hole course designed by Tom Bendelow, the prolific architect of golf's early years. His Valley Course, which opened in 1907, was redone as a nine-holer in partnership with US Kids Golf. Now called Valley Links, it was designed for teaching and for family golf with six sets of tees, the shortest only 1,100 yards long. Youngsters 12 and under play free when accompanied by an adult.
The resort also manages Sultan's Run in Jasper, 20 miles away, an 18-hole course designed by one-time Dye protégé Tim Liddy with a waterfall on its closing hole.
"That's one of the most talked-about holes in Indiana,'' says Dave Harner, French Lick's director of golf. "But there's not a bad hole, and that course is a contrast to both of ours. While [the Dye and Ross layouts] are more links style, this is a parkland course with tree-lined fairways and a fair amount of elevation.''