Tom Weiskopf won't be hounding PGA Tour Commissioner Tim Finchem any more. Now that his renovation of the TPC Scottsdale has been completed the original co-designer's long campaign to update the Arizona layout is over.
"I have written many letters to him over the past dozen years talking about what this course needed to do to be competitive in this marketplace," says Weiskopf, who worked with Jay Morrish to create the layout in 1986. "The Tour players deserved it. Equipment had eliminated a lot of the wonderful holes out there but now they finally did what was needed."
The seven-month project took place from April to October of this year and included a number of wholesale changes—new greens on four holes, the consolidation of a split fairway on the par-five 13th, and church pews added to a fairway bunker on the 18th hole—along with other new tees, bunker sand, and grass to go along with a renovated clubhouse.
"It's more defined and more challenging off the tee for the PGA Tour players," says Weiskopf. "It's prettier and the overall facility is better for them. I also think it's going to be much better for the average guy. Now they are going to be playing a quality-conditioned golf course. There are no excuses now. They have the proper irrigation system, proper drainage on every hole, the grasses they wanted. How can you beat that?"
One local resident who played the course during last week's unveiling agrees. "I've always thought the TPC Scottsdale was one of the best, if not the best, golf courses in Scottsdale," says Brandel Chamblee, Golf Channel analyst. "I thought this course had some of the greatest greens I had ever seen. And the 15th and 17th were two of the best holes I have ever played in my life. I don't think they did anything in this redo to detract from that. I think Weiskopf is a genius. He was an elegant player and he is an elegant architect."
Other than adding new landscaping between the tee boxes, the infamous par-three 16th remains the same. "I can't control what happens at 16 unfortunately," says Weiskopf. "It's iconic, there's no doubt about it. But it's not golf in my mind. I don't know how I would react playing that hole with the crowd. But you have to look at it this way. When do you have a chance to play in front of a half million people who support you and who buy your products? That's what it's all about."
The project only added 50 yards to a course that now totals 7,261 yards. "I don't get into yardage," said Weiskopf. "I never have. We did a 7,500-yard course that the Tour asked for in McKinney, Texas. For what? A handful of guys for one week a year? I think strategy is the most important thing, as is the beauty of the course and the difference from hole to hole. That's something we've always been able to do, highlight the differences between holes."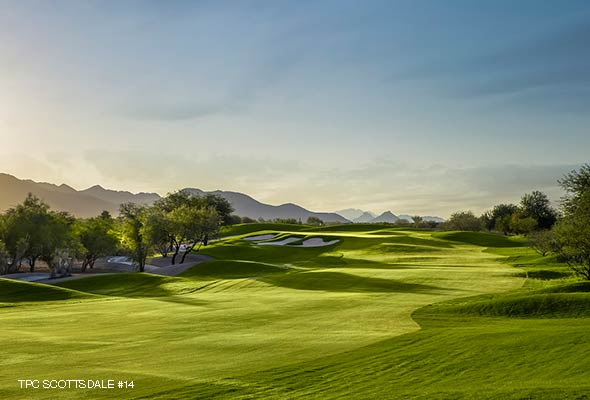 Weiskopf's favorite is the 490-yard 14th. "It's a classic hole with mountain views from the tees," he says of the par four. "It has an uphill tee shot and uphill approach, making it the only hole on the course that moves continually uphill. We added a directional bunker on the left side of the fairway and removed a bunker from the right side. The green complex was also moved up and left from the previous green."
Chamblee expects an overwhelmingly favorable reaction from Tour players. "They will love everything about it," he says. "I can't imagine anyone complaining about this course. People come out here and have fun. It's supposed to be fun. So many architects have lost sight of what the game is supposed to be. It's not supposed to be brutally tough. It's supposed to be enticing, seductive, and fun. That's what this course is."
A steep price tag—$299 from January through April—remains. "But they can say to golfers that you will get pristine conditions and the PGA Tour plays here," says Weiskopf. "People always want to play where the pros play. Always. That's the advantage the TPC Scottsdale has always had over everyone else in this market."
It will also bring some attention to the 72-year-old Weiskopf, who hasn't received a call for a new course design project in four years. "The last one I got was for a second course at Forest Dunes in Michigan (where he built the highly regarded first course in 2002). They gave it to (Tom) Doak and that's fine. But I think that will change now that the economy has turned. This (the TPC Scottsdale) will be a feather in our cap. I still have the passion and the interest in the game, especially in the challenge of design, to compete."
Weiskopf plans on attending next year's Waste Management Phoenix Open, scheduled for January 29th to February 1st, to watch how the world's best do on the renovated layout.
"I'm flattered they would think of me and bring me back (for the renovation)," he says. "There are other people who could have done this, but I don't think they have studied the course as much as I did. I always watch the tournament on TV and I know my holes. That's all I can say."