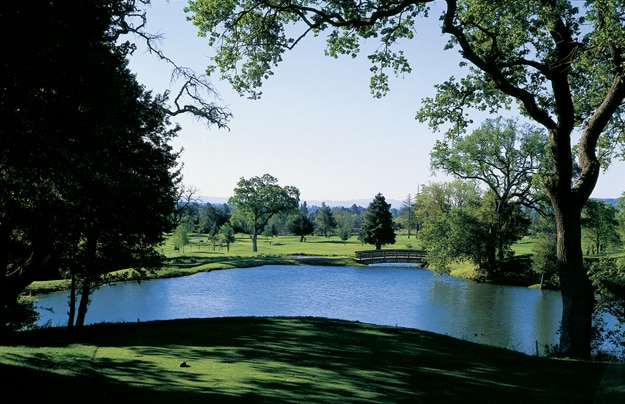 You would expect a golfer with a classic swing to recognize a classic course when he sees one, and sure enough, when Sam Snead was asked to name the best course design he'd ever encountered, the Slammer answered: "One you probably never heard of—the Sonoma Golf Course in California."
Something in the sinewy twists and unforced contours of this Golden Age layout looked just right to Snead's well-traveled eye. The course, in operation for nearly 80 years, is strong and demanding under all weather conditions and thus always interesting. As with a classic novel, each encounter reveals a nuance missed the last time around.
Any fan who admired Snead's melodic swing would likewise appreciate the economy and symmetry of the Sonoma Golf Club routing. There are no weak holes, and no outrageously difficult ones. No forced carries or Great Wall of China bunkers. Except for one semi-blind tee shot, every hole unfurls in front of you—no hidden bunkers, all tree and rough lines clearly delineated. The golf course will make an honest call on every club in your bag, demanding an array of shot shapes and trajectories along the way.
The greens are subtle. The facts you'll have to gather to judge break and speed won't jump off the putting surface like the roller-coaster dips and swerves we so often see on newer courses. If anything the course goads you to overthink; in its obviousness it is deceptive. Sonoma's 557-yard 13th, for example, is dead straight. At a glance it is not very complicated, but in fact it makes you sing for your supper. Any birdie on this three-shotter is well earned.
Along with the shotmaking delights there will be rarified winemaking to celebrate. Sonoma finds itself amid one of California's most fabled wine-growing regions. The Russian River, Carneros Creek and Dry Creek are a few of the area's better-known locales for viticulture. The broad view from the course is dominated by the Mayacamas Mountains, with part of the Sonoma Range rising to the east and west. Sonoma is believed to be a Miyakmah Indian word for "many moons"—according to local legend the early Indian inhabitants claimed to see the moon rise seven times a night over the series of jagged peaks along the valley's eastern rim. They blessed it with a name still in use, the Valley of the Moon.
The course opened for play in 1926 under the California-like name Valley of the Moon Golf & Country Club. As ownership changed it would be retitled Sonoma Golf Course, Sonoma National Golf Club and finally Sonoma Golf Club. The course was designed by an English scholar named Sam Whiting, who in 1921 had resigned as a professor of literature at the University of California at Berkeley to serve as clubmaker and golf professional at the Berkeley Country Club (now Mira Vista).
It might be said that at Sonoma, Whiting transposed the lyricism he once studied in literary works into the aesthetics of gentle mounding, judiciously situated trees and cunningly placed bunkers. The late Robert Muir Graves did some remodeling of Sonoma in 1990, but it consisted mostly of lengthening and resetting fairway bunkers to accommodate modern golf balls and clubs, not to mention exercise regimens. Essentially, the course Sam Whiting produced is very much as it has always been, an exquisitely set gem.
Sonoma Golf Club was for most of its long history a public or resort course open to everyone. In times past it was where chill- and fog-bound San Franciscans went to play in the "winter" months. Today, Sonoma is semi-private, its doors open only to members and guests of the Fairmont Sonoma Mission Inn & Spa.