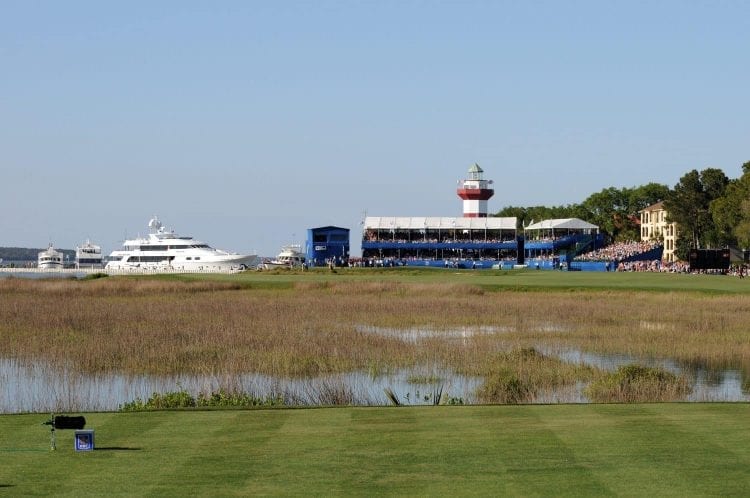 This past October, Harbour Town Golf Links and the entire Hilton Head, South Carolina area was struck by Hurricane Matthew. The devastating hurricane hit the area with 90 mph winds and storm surge that was estimated to be at least 12 feet high. The damaging winds and water resulted in significant damage to the area, including Harbour Town.
Harbor Town before and after #hiltonhead #HurricaneMatthew pic.twitter.com/D5ZCf3FFEB

— Lumpy_Swines (@s_swine) October 8, 2016
Just six months after the storm though, Harbour Town and the surrounding community are welcoming a more favorable guest this week, the PGA Tour for the RBC Heritage.
While the course ultimately lost 300 trees, the docks on the iconic 18 hole were all re-built.
"The whole decking of that pier was washed away. It took away our charter docks, 18th green docks; they were all down the fairway of the 18th green," harbourmaster Nancy Cappelmann told WSAV Channel 3 news in Hilton Head on Tuesday. "The marina's been virtually rebuilt; every dock in here has new whales and rods or new floats. Everything is brand new in the harbor and today is day one of our reopening."
Pictures posted throughout the week on social media show that the course is in immaculate shape. Short of those missing trees, there is very little evidence that a major hurricane even passed through the area, something that the players there this week have also noticed.
"We've been hearing about the golf course since the hurricane and decided to see what it looked like, and it really, actually, doesn't look that different," said Davis Love III, who's won the event five times. "It's in excellent condition. Obviously since I've been around here quite a bit, I noticed the trees that are gone, but it doesn't seem to affect the golf course very much. I'm excited to be back playing."