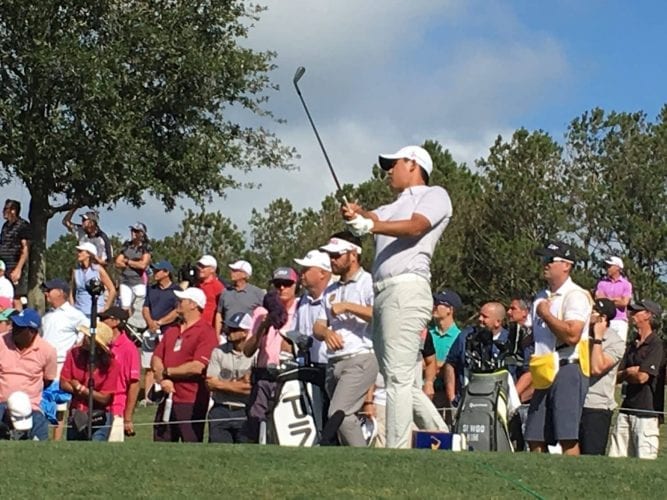 While not officially a major championship, The PLAYERS Championship is routinely viewed as the "unofficial fifth major." From the quality of the field, to the list of past champions and the difficulty of the course, everything about The PLAYERS has the feel of a major. So when the week began, it's safe to say that Si Woo Kim probably wasn't very high on people's lists of who they thought was going to win.
Well, he is now.
At 21 years of age, Kim became the youngest player to ever win the event, surpassing Adam Scott who won the 2004 PLAYERS at the age of 24.
"I still can't believe that I'm the champion and I'm the youngest champion for this championship," Kim said. "I'm very honored to be the champion for this amazing fifth major event and I'm looking forward to working hard from now on."
The win is his second on Tour, making him just the second player from outside the United States to win twice on Tour before the age of 22 since World War II. He won the Wyndham Championship in 2016 by five shots over Luke Donald. In addition, Kim joins a who's who of players to win twice on the PGA Tour before the age of 22 in the past 25 years. Before this week, only Tiger Woods, Sergio Garcia, and Jordan Spieth could claim that.
In addition to the notoriety of winning a PLAYERS Championship, Kim receives a laundry lists of perks for the win:
600 FedEx Cup Points
5 year PGA Tour Exemption
3 year Masters exemption
3 year U.S. Open exemption
3 year Open Championship exemption
$1.89 million winners check
Kim spoiled what could have been Ian Poulter's first stroke play win on American soil. The runner up finished three strokes back at -7 after failing to make a run on the back nine. Considering that a month ago Poulter didn't think he would even have his Tour card any more, let alone be playing here this week, he took it all in stride.
"There's been a lot of interesting things happen in the last 18 months which haven't been very helpful for playing golf," Poulter said. "You know, still a few of them we're working through, but I think when I look back, and I reflect on this week, it's been a big week. You know, to have two, three weeks ago been in a position where I wasn't playing THE PLAYERS and potentially didn't have a card to play and was looking to write nice letters to Jack for Memorial and all of those great tournaments that I'd like to play in, things change pretty quick with good golf, and that's what I've done this week. I've played good golf. I think I've still got some work to do."